Sunday Bubbles Brunch at the Swan and Dolphin Food and Wine Classic
September 1st, 2021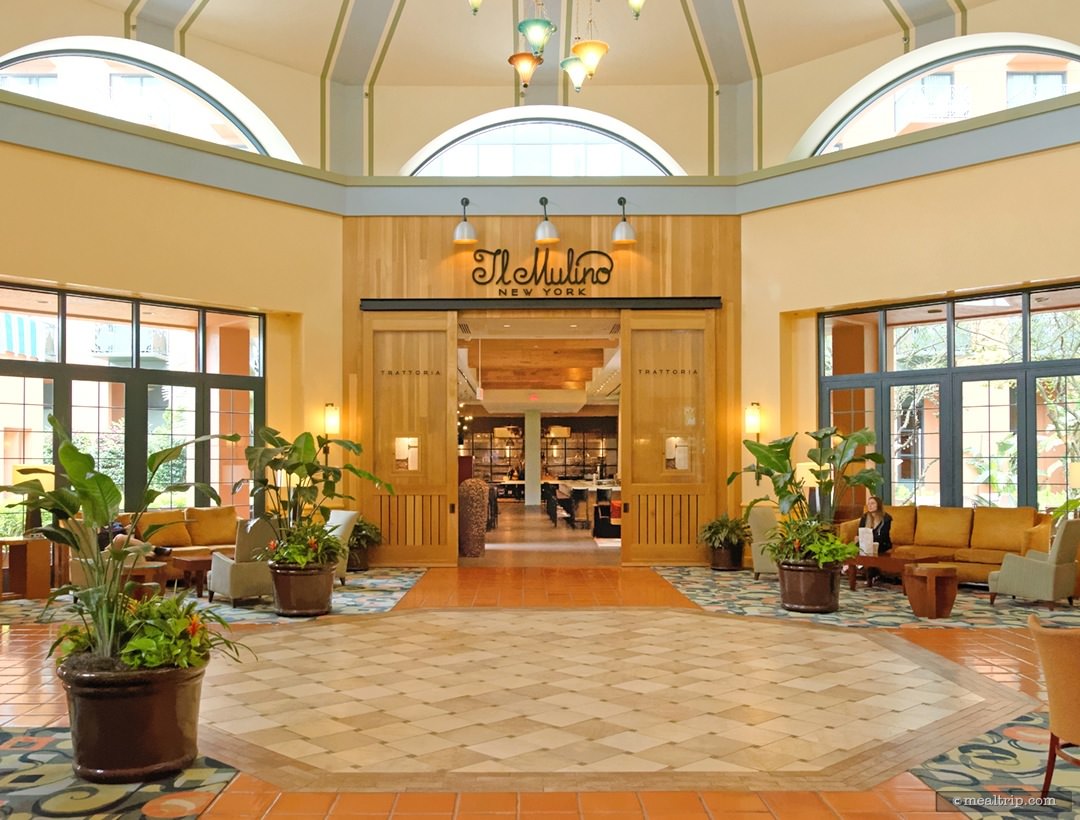 The Sunday Bubble Brunch
had been a part of the
Swan and Dolphin Food and Wine Classic
for around three years (if I'm not mistaken) from 2016 to 2018. The brunch was not scheduled to take place in 2019, and it hasn't appeared on the itinerary since then.
I went to the brunch in 2018 (the final year) because it was receiving such amazing reviews. It does take a few days to write an article or a review after visiting a place, and so I was looking forward to posting my Sunday Bubbles Brunch review for the following year's event — which never came. Sigh.
I'm posting it now, mostly as a historical reference. At this point, I'd give it a very low chance at coming back in this same format, at the same location, or at the same price point ever again. The brunch is still talked about though, as the "gold standard" of brunches — that really, only the
California Grill Brunch at the Top
has come close to replicating. (Of course now, the "
California Grill Brunch at the Top
" is also gone.)
I have just recently added the
Swan and Dolphin Food and Wine Classic
to "Festival" category in our menu system, because these brunches, extra dinners, and other culinary demo events had always been part of the very popular annual event weekend — making seem more like a complete festival. (The Swan and Dolphin Food and Wine Classic had been buried in a harder to find "
Special Events at Resorts
" category on the
Mealtrip
site.)
While I don't know if any "brunch" events will be scheduled in the future, we have received official word from the Swan and Dolphin, that culinary demos are being seriously considered for the 2022 event weekend — and so I wanted to give our shiny new page some additional articles and posts (even if they're historical), and because these past events might help shine some light on what the future holds.
The Sunday Bubbles Brunch event took place at
Il Mulino (New York Trattoria)
, a high-end, contemporary, restaurant located on the ground floor of the Swan Hotel and presented by J Vineyards and Winery (presumably the two had some wine connection that us guests are otherwise unaware of).
The cost of the brunch changed a bit over the three years, but hovered around the $100 per person mark, with bottomless Mimosas (or slightly less without bottomless Mimosas).
Il Mulino
is usually only open from late lunch to around 11pm, and has an Italian/New York interior design style. It looks great at night, so this unusual glimpse of the dining area in the morning was rare.
There are several dining rooms at
Il Mulino
(or wings really, jutting out here and there off the main entrance). The area that we were seated in was a little darker than the rest of the dining areas, and had a persistent overhead light — (which is not the best thing for photography), never the less, I managed to grab a slightly fuzzy shot of the menu.
The format was pretty straight forward, mostly buffet with one plated selection. There were several stations or tables set up for each of the themed areas… a Parfait Station, an Omelet Station, Salads, a Sushi Table, etc — along with your choice of a single plated entree that was prepared in the kitchen — and finally an amazing selection of chef Laurent Branlard's Mini Pastries. (And of course, those bottomless Mimosas.)
The quality of everything available was outstanding… with most of the items coming from the various resturaunts at the Swan and Dolphin. Fresh blended juices from the
Fresh Mediterranean Market
and
Sushi from Kimonos
, etc.
Since Il Mulino is not normally a "buffet" — bistro style bowls and plates were used to hold small quantities of prepared salads and such at the various tables — so everything that had been put out, was refreshed often.
I didn't feel pressured at any time to "order the entree and get out" — everything progressed at our pace, which was probably very slow by most standards. Our server and the various staff we had were also very good. From what I understand, this can be a bit hit-or-miss at Il Mulino — but everyone was very attentive and professional at the brunch!
I'll just spend the rest of the article going over the various stations that were setup, show some of the food they were offering, and close with a couple photo of the plated entrees that were served.
The entrance hallway and lounge that leads into the main dining area was used for most of the "breakfast" items. Several different stations were set up here.
The Parfait Station featured plain yogurt with several different topping options including fresh cut fruit.
On one side of the hallway, there was a made-to-order omelet station with quite a few options, including full egg and egg-white only omelets with… pretty much anything you could imagine as build ingredients — from the more common ham, tomato, cheddar, and onions to options like wild mushrooms, smoked salmon, poached lobster, and blue crab!
Most of those omelet build ingredients were also available as additional toppings once your omelet was made. You could just pile on as much extra as you wanted.
Back on the other side of the hallway, there was a compressed fruit station that also featured bruleed fruit.
On the same side, closest to the entrance there was a fresh waffle station that featured strawberry compote and chantilly cream. Also listed on the menu was "maple syrup" but what they didn't put on the menu, was the fact that it was Noble Tonic 02 Maple Syrup — which is off the chart amazing Maple Syrup that costs around $30 for a 500ml bottle — and Blis Bourbon Barrel Maple Syrup which is even a little pricier!
The omelet was pretty great, but for me, this waffle station (although somewhat simple in comparison) was a real treat. You'll only find those maple syrups at high-end places and there's just something amazing about a fluffy, fresh made waffle, a little strawberry compote, cream, and a boozy, barrel aged maple syrup!
Closer to the bar area there was a fresh juice station that featured three beverages, simply called "detox", "antioxidant", and "energize".
This breakfast hallway area also featured a few hot items that start to bridge the gap between breakfast and lunch.
Herb roasted turkey, breakfast potatoes, sausage, applewood smoked bacon and hand-made potato gnocchi with browned butter and sage were all available at a keep-hot station.
Sushi also played a big part at the brunch, even though it only had a small space on the menu! At the end of the breakfast hallway, a special sushi table was set up, and refreshed often.
The presentation and quality of the sushi was great. There were around eight different shush and sashimi style items and accompaniments like fresh ground wasabi.
Sushi is showing up more and more at high-end brunches… and to me, it's a great addition, that makes perfect sense when transitioning from breakfast to lunch.
The sushi area gradually transitioned into the "lunch" side of brunch, starting with a bread table.
A "leafy greens" salad station was also present.
Naturally with a bread station, there's a Fromage station!
Not to be outdone by the cheese, meat had it's own Charcuterie station!
Last, but not least, a prepared salads station was also set up, that included some amazing roasted veggies, a Panzanella salad, Caprese, and a couple of mushroom varieties to garnish with!
I know what you're thinking! You're thinking — I could really use a top-notch, made-to-order, hot plated entree from the kitchen right about now!
There were actually six different options available, from the traditional Steak and Eggs, to Saltimbocca, Lobster Benedict, and Penne Shirmp Alla Vodka.
Our table selected the Chicken Fried Chicken and Striped Bass Limone which featured seared Atlantic Striped Bass, aged carnaroli rice, romanesco, and a meyer lemon vin blanc.
Well, it's probably time for dessert! The dessert station featured several masterpieces created by head pastry chef Laurent Branlard!
I didn't get a really good shot of the entire station that was set up because it was right next to a window that had a lot of backlight — but there were probably eight to a dozen different dessert selections, that ranged from cakes and cookies, to layered dessert glasses and pot de creams, giant macaroons, and elegant dessert tarts and bars.
The Sunday Bubbles Brunch really was a special occasion dining event. At around $100 per-person, it's clearly not something you're going to do every weekend. But the quality and diversity of the food items was outstanding, and justified the cost of the brunch — which is not something I often get to write.
When asked about the Sunday Bubbles Brunch coming back to future
Food and Wine Classics at the Swan and Dolphin
— I'm usually directed to a brunch takes place on Sundays at the
Fresh Mediterranean Market
(which is an indication to me, that the big "Sunday Bubbles Brunch" is gone for good, but you never know).
I have never been to the
Fresh Mediterranean Market for brunch
(I should probably visit one of these days and check that out), but I have been told, that on "the" Sunday after the Food and Wine Classic 2021 (so that's October 31st, 2021) — they will offer a bottomless Mimosa option during brunch — for a total cost of $40! At half the cost, I can't image the special brunch at Fresh Mediterranean Market being quite as grandiose as the "Sunday Bubbles Brunch" event — but if there really are bottomless Mimosa for $40 — it might be worth checking out.
Swan and Dolphin are putting on (as far as I know) this year's only large-scale, multiple culinary and beverage station foodie party this year — something that Disney themselves aren't doing as part of the 2021 Food and Wine celebrations — that, together with the fact that they are considering bringing the Culinary Demos back next year — gives me hope that we might, maybe, one day, see a brunch return as part of the Food and Wine Classic one day. Until then, it will keep it's place in our archives as one of the best brunches out there.