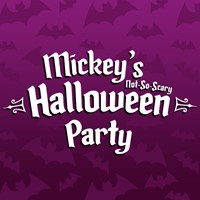 Mickey's Not So Scary Halloween Party
is a ticketed special event which includes Halloween-themed entertainment and takes place after dark at Walt Disney's Magic Kingdom theme park. This frightfully fun experience takes place on select nights — from August 11, 2023 to November 1, 2023.
Party guests can dress-up (as long as your face is not covered and your costumes don't violate any of the normal day-guest policies), but dressing up is not required. There's many, many guests just wearing normal street clothes, enjoying all the event has to offer.
Event Times
Mickey's Not-So-Scary Halloween Party
(also commonly referenced using the acronym MNSSHP) will take place from 7:00 PM to midnight on select nights.
Ticket holders will be admitted to Magic Kingdom park as early as 4:00 PM on the valid date of their ticket, giving them even more time to enjoy park favorites before the event begins! These date-specific event tickets do not require an additional day theme park ticket or theme park reservation.
Party Highlights
Rides and Attractions
Most rides and attractions remain open during the party and because total park capacity is a little lower than on a "normal" day, lines are a little shorter. There's also a 6:00pm virtual queue exclusivly for guests attending MNSSHP. You'll need access to the My Disney Experience app to make use of that.
Trick-or-Treating and Candy Bags
When you check-in for the event, you'll be handed a small trick-or-treating bag with Halloween Disney art printed on it. If you have any kind of food allergies, you'll get a slightly different colored bag. There's several trick-or-treating stations located throughout the park. The locations are marked on the special event map and they also usually have brightly lit "treat" signs near each location.

Cast members hand out candy and treats at the stations. You can visit any of the stations, as many times as you want over the course of the evening. There's usually around 12 stations (give or take) and one of the fun things to do at the party, is to see if you can find them all.

If you have a "food allergy bag" you'll receive a token, instead of candy. There's a couple special "token trade-in" locations on the event map, where you can trade in your "food allergy tokens" for treats that are made specifically for different allergy types.
Mickey's Boo To You Halloween Parade
The special Boo To You Halloween Parade takes place twice each night at MNSSHP (weather permitting) and generally runs from the Thunder Mountain area, down to Liberty Square, over to the Castle courtyard turnabout, and the down Main Street to the Train Station.

The parade features many Disney characters including Mickey and Minnie wearing special halloween costumes, hitchhiking ghosts and characters from the Haunted Mansion, and a couple of wicked Disney Villains that you don't get to see normally in parades. The parade music is memorable and the parade is very well staged… it's definitely one of the highlights of any MNSSHP event, and worth getting a good spot for.
Disney's Not-So-Spooky Spectacular Fireworks
There's a special fireworks and castle projection show that's around 12 minutes long and performed on each of the MNSSHP event nights. The show is set to spooky music and features some firework, laser, and projection effects (on Cinderella Castle) that aren't normally seen throughout the year.
Special Shows
There's a large production that takes place on the main castle stage called "Hocus Pocus Villain Spelltacular" that is hosted by the Sanderson Sisters from the movie Hocus Pocus. It's performed several times each event night (weather permitting).

The Cadaver Dans Barbershop Quartet can be seen wearing bone-rattling costumes and offer up "dead pan halloween puns" in-between seasonally themed songs. They perform in various Frontierland locations over the course of the night.
Meet Your Favorite Characters
There are many more character meet-and-greet locations during a MNSSHP... and some of the character are wearing "haunt-couture" costumes. For example Winnie the Pooh just loves dressing up like a little Bee because they make the honey he loves so much! All the character meet-and-greet locations are marked on the nightly event maps that you can pick up when you check-in to the event.