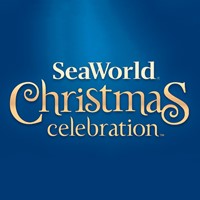 The Christmas Celebration at SeaWorld, Orlando
is festive celebration for the holidays! There are special meet and greets with Rudolph and Santa, an award-winning ice-skating show called "Winter Wonderland on Ice", the Sesame Street Christmas Parade, a holiday stage show with Elmo and friends, Snow Flurries, a brand new indoor performance series called "Sounds of the Season", sparkling holiday lights with a nightly fireworks finale, and of course — special holiday food and beverages!
The event is included with park admission.
Food and beverage samples require seperate purchase.
Pre-paid "Sampler Lanyards" are available.

Food and beverage kiosks are generally open from 12pm until 9pm. The kiosks that are located in the "Christmas Market" area open at 5pm until park close.

The festival is held on select days from mid-November until January 2nd.
A Hanukkah Celebration including a lighting of the menorah takes place from Nov. 28 – Dec. 6.
Kwanzaa Festivities include a nightly lighting of the kinara from Dec. 26 – Jan. 1.