VIP Cookies, Cocoa and Lakeside Bam!!! – Dates and Prices for this SeaWorld Special Dessert Party Event
October 26th, 2023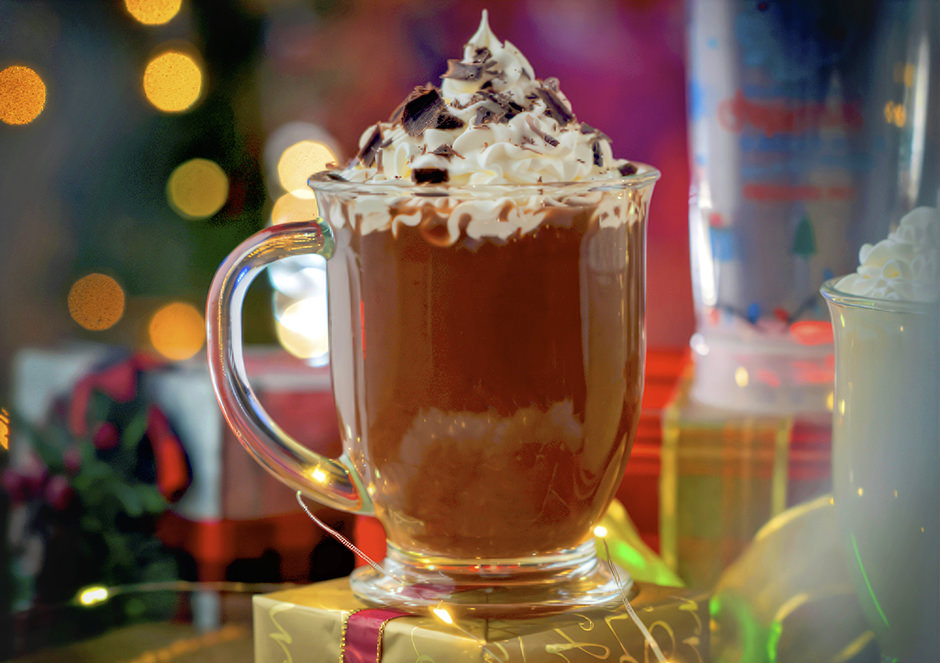 There's a cool new mini event on SeaWorld Orlando's calendar this year and it sounds pretty great, at one of the best "extra event" price points you'll find at any theme park!
Cookies, Cocoa & Milk with Special Holiday Guest VIP Fireworks Viewing
is the official name — and while it is a long title — it does pretty much sum up the event.
The event takes place at the
Lakeside Grill
Cantina on select nights only at 8:45pm. I haven't quite figured out what the Lakeside Grill "Cantina" is yet… but I suspect if you head over to the
Lakeside Grill Restaurant
15 minutes before the event start time — you'll see cast members checking people into a reserved area. Perhaps, this is just what they're calling the covered outside patio at Lakeside Grill??? I don't know.
Once you're checked in though — there's going to be cookies, sweet treats, warm cocoa, milk — and a visit by a special holiday guest!
Plus… the outside patio at Lakeside Grill is a great place to view the "Holiday Reflections : Fireworks Finale". Because "VIP Fireworks Viewing" is in the title — I could arrive at conclusion, that an outdoor viewing area will be reserved for this special "Cookies, Cocoa & Milk" group only. The Holiday Reflections Fireworks are set to take place at "park close" (10:00pm) on each of the VIP Event nights.
No matter what all is included here, the event will take place on 7 nights only — and I gotta say, I'd be really surprised if all the dates didn't sell out in advance. Park admission is required, but not included in the price of this experience. The reservation/tickets are non-refundable, so be sure you're good to go on the date that you decide to make reservations for.
Let's take a look at the dates and amazing price point here…
Cookies, Cocoa & Milk with Special Holiday Guest VIP Fireworks Viewing Dates
November 24th — Friday
November 25th — Saturday
December 2nd — Saturday
December 9th — Saturday
December 16th — Saturday
December 23rd — Saturday
December 24th — Sunday
Event Price for Cookies, Cocoa & Milk with Special Holiday Guest VIP Fireworks Viewing
Adult (ages 10+)

Non-Passholder :

$17.99

(plus tax)
Passholders : $15.29 (plus tax)

Child (ages 3-9)

Non-Passholder :

$12.99

(plus tax)
Passholders : $11.04 (plus tax)

Infant (ages 0-2)

Non-Passholder :

FREE

Passholders : FREE
Editorial Comment
: Now look, I don't expect the cookies (and/or any additional "treats") to be any different than the cookies you'll find at most of the SeaWorld restaurants, but honestly... those cookie aren't half bad. The "Chewy Chocolate Chip" is by far, not the worst cookie I've purchased in a theme park (yes, I'm looking at you Epcot Cookie Stroll).
By the time you add in a meet-and-greet / photo-op with a single character, along with "walk up / stress-free" viewing of the fireworks — $18 bucks is a pretty great deal.
Plus… I'm not sure the good folks at SeaWorld realize this… but I can eat a whole bunch of cookies and drink a lot of cocoa over the course of one hour and fifteen minutes. I'm just saying.
We've got a whole page dedicated to the C
hristmas Celebration at SeaWorld, Orlando
that includes an updated list of all the events and menus. If you want to take a look at that,
click here
and visit our
Christmas Celebration at SeaWorld Orlando page
.