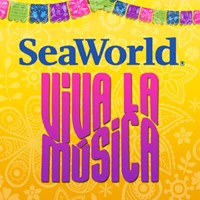 Viva La Música
is a family-friendly Latin celebration that has been around in one form or another for many years at SeaWorld. There's some larger concerts, smaller live performance stages, DJs with dance zones, kids activities, various street entertainers, and of course… food!
The event is included with park admission. Food and beverage samples require separate purchase.
Saturday and Sunday — Food and beverage booths are open from 12:00pm until park close.