2023 Viva La Música Concert List and Entertainment Zones at SeaWorld
April 27th, 2023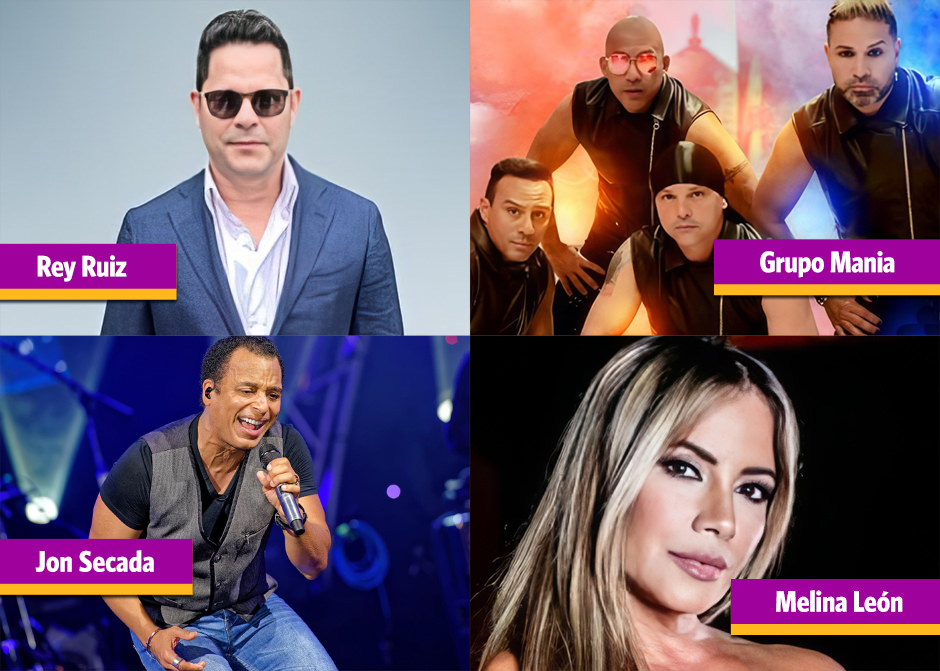 It's almost May and that means it's nearly time for the
Viva La Música Festival at SeaWorld, Orlando
! The popular mini festival is only going to be held on four days this year — which means there's only four big name concerts. The really great news is… those concerts are in the air conditioned Nautilus Theater!
Viva La Música also has zones this year!!! It looks like most of the festival activity for 2023 will be held between the Sharks Plaza Courtyard area and the Nautilus Theater.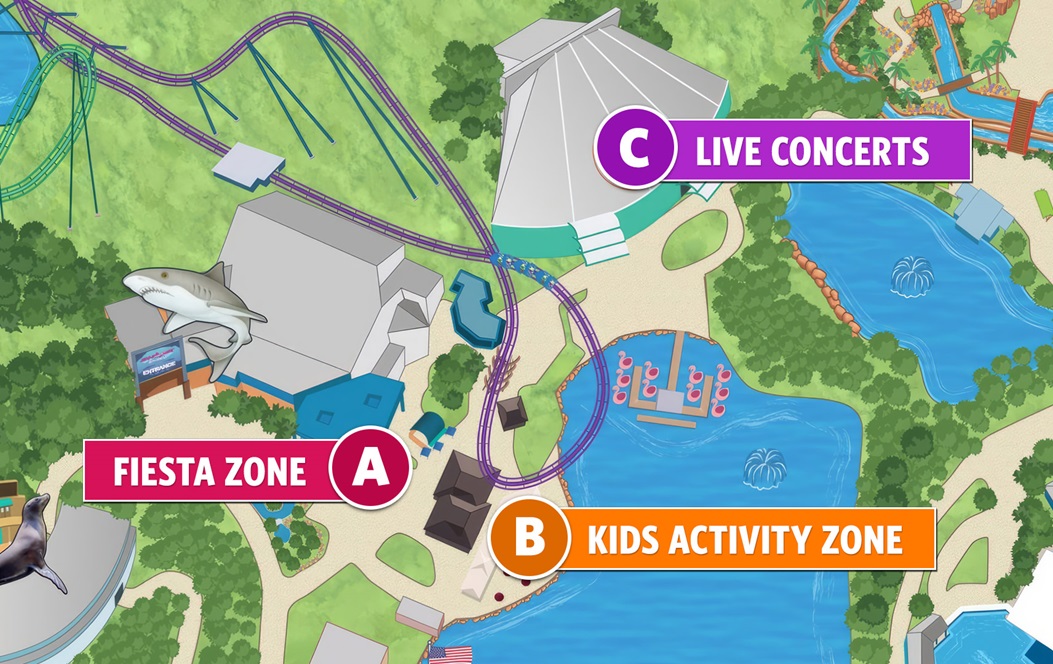 Most of Viva La Música at SeaWorld, Orlando will take place in three different zones for 2023.
A - The Fiesta Zone
This zone will feature a DJ, stilt walkers, and smaller live bands. The local bands playing in this area will feature Central Florida local groups playing Latin classics such as Salsa, barangay, Tango, and more.
Officially, "local live bands" are only listed for Saturday, May 20 and Sunday, May 21, 2023 at 12:30pm, 1:30pm, 2:30pm, 4:00pm, 5:00pm — and are subject to change without notice (mostly if there's inclement weather).
B - Kids Activity Zone
This is actually a great use of the "Behind the Un-named Gift Shop" area (I guess technically, it's called the "Lakeside Patio"). For the larger festivals, they put a food booth down here, and it usually a great little, out of the way, quite place to relax. For Viva La Música - this area will feature some hands-on fun where kids can make their very own musical maracas!
C - Live Concerts at Nautilus Theater
The big-name concerts will take place in the Nautilus Theater two times on each of the festival days (at 2pm and 5pm). The Nautilus Theater is actually a great concert venue — it's indoors so there's air conditioning and the audio team does a great job with the sound!
While the concerts are free for those guests in the park on any of the Viva La Música festival days — reserved seating is also available for each of these main feature groups and starts at $19.99. The reserved section is closer to the stage, but you should still plan on getting to the Nautilus at least 20 minutes before the show starts. Even though the "area" is reserved, individual seats are not.
Rey Ruiz — Saturday, May 13
2:00 p.m. and 5:00 p.m. at Nautilus Theater
Rey Ruiz, the Cuban-born salsero known as the "Elvis of Salsa," gained fame in the United States in 1992 after Sony Tropical signed him based on his demo, and his platinum-selling debut album showcased his style reminiscent of 1950s mambo singers, with subsequent successful albums establishing him as a prominent figure in salsa music.
Grupo Mania — Sunday, May 14
2:00 p.m. and 5:00 p.m. at Nautilus Theater
Grupo Mania is born in 1993 when the talented and visionary Hector "Banchy" Serrano is able to put together a group with three other talented young men. One of them is one of his eight brothers, Oscar Serrano, to form a 4 piece group and begin this enriching career.
Jon Secada — Saturday, May 20
2:00 p.m. and 5:00 p.m. at Nautilus Theater
Jon Secada, a Grammy-winning bilingual artist with a successful career spanning over two decades, has sold 20 million albums, starred on Broadway, and earned international crossover success with hits in English and Spanish. He is also recognized for impact on the music industry through his songwriting, producing, business ventures and philanthropy.
Melina León — Sunday, May 21
2:00 p.m. and 5:00 p.m. at Nautilus Theater
Melina León has been one of the most important voices in the tropical music scene for the last two decades. Celebrating 25 years in the industry for 2023, Melina prepares a one-of-a-kind concert to share with her Puerto Rican fans and celebrate her greatest hits.
If you're interested in purchasing reserved seating for any of the concert days — it's best to purchase those online before you go, as some shows will sell out in advance.
The official SeaWorld ticket page for those can be found here
. (Scroll down about half way to the section that reads "Upgrades".)
If you want to read and see more about the
Viva La Música Festival
at SeaWorld,
click here
and check out our
SeaWorld, Orlando Viva La Música page
!