Loews Resorts at Universal Orlando
Harbor Nights Primavera 2023 Menu Items and Prices
March 25th, 2023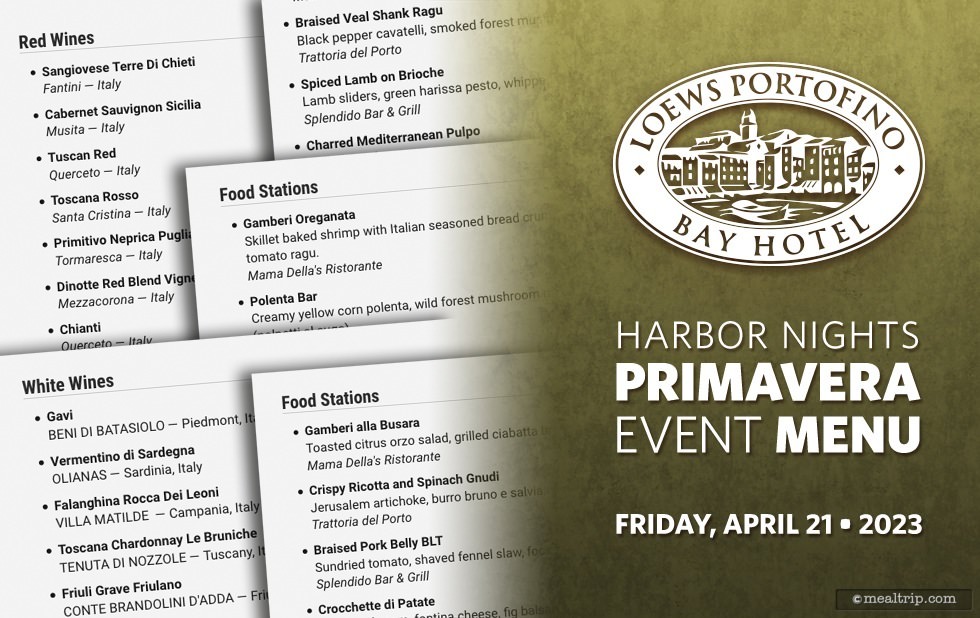 The Harbor Nights Primavera event
at Loews Portofino Bay Hotel is just around the corner. It takes place this year on
Friday, April 21st, 2023 — from 6:30pm until 9:00pm
.
All the ticket levels are still available (I'm posting this article about a month before the event starts), but the VIP tickets usually sell out sometime between now and the start of the event. The "Standing Tickets" are generally available right up until a couple days before the event starts.
All of the
Harbor Nights
events follow a similar format ... but each unique seasonal night features different decor, music, and food items. The resort's restaurants each feature a tapas style, plated version of a dish that represents their location, and there are Italian based wine pairings to sample with each dish. You can sample all the food and wine as much as you like over the course of the event (aka "all you care to enjoy" style).
If you would like to take a look at some
photos from one of the previous Harbor Nights Primavera
events,
click here
.
The all-inclusive event features some great entertainment with a live band and dancing area, along with a couple of opera singers for good measure, free self-parking, and as many samples of the food and beverages listed on the menu below, for the duration of the event.
A $79 Standing Ticket (per person, plus tax and ticket fee ends up being $91.74) includes all of the above, but does not guarantee a table or a seat. Some "high boy" type of strolling tables are available, but are very limited — and there really are only a handful of chairs here and there.
A $109 VIP Ticket (per person, plus tax and ticket fee ends up being $125.83) includes all of the above, plus gets you a reserved table and seating in a special area with an additional hors d'oeuvres plate — along with some exclusive food and wine sampling stations (where the lines aren't as long as they are in the general "standing" area).
Here's a look at the menu for the Harbor Nights Primavera 2023 event!
Food Stations
Fennel Dusted Braised Veal Stufato
Mediterranean cannellini bean and toasted farro salata, pickled kumquats, saffron and paprika rouille.
Mama Della's Ristorante
Blood Orange Glazed Pork Belly
Crunchy kale and brussels sprouts slaw, apricot mustard, sweet and spicy hazelnut crumble.
Trattoria del Porto
Hand Dipped Ricotta Spinach Gundi
Fava bean, roasted cherry tomatoes, limoncello butter.
Splendido Bar & Grill
Toasted Aged Taleggio Griddled Sandwich
Basil, pepperoncini, powdered sugar. served with roasted heirloom tomato bisque, handpicked green olive extra virgin oil, micro arugula.
Sal's Market Deli
Blue Crab & Lobster Biscuits
Grilled zellwood creamed corn, tarragon butter, calabrian honey syrup.
The Thirsty Fish
Orecchiette Pasta
Bolognese sauce.
Bice Ristorante
Desserts

Watermelon Sorbet
Dulce de Leche Brownie Gelato
Citrus Mascarpone Cheesecake
White Chocolate Raspberry Blondie Verrine
Sparkling Wine
Casa Canevel Prosecco DOC Brut
Canevel
Moncalvina Moscato d'Asti DOCG
Coppo
Moscato Veneto IGT
La Perlina
Rosé Wine
White Wines
Frico Bianco
Scarpetta
Pinot Grigio Delle Venezie DOC
Caposaldo
Pinot Grigio
Scarpetta
Vermentino
Morisfarms
Red Wines
Barbera del Monferrato
Scarpetta
Cabernet Franc
Scarpetta
Valpolicella Classico DOC
Allegrini
Cabernet Sauvignon
Prelius
Podere Montepulciano d'Abruzzo DOC
Umani Ronchi
Chianti Classico DOCG
Ricasoli
If you want to read a
review and see photos from a previous Harbor Nights event, click here
. We also have a Guidebook page for the event with lots of photos that outlines what and where everything happens, if you want to know before you go!
Click here to see our Guide for Harbor Nights
.
More information and a direct link to purchase tickets is available directly from the Harbor Nights Primavera 2023 event page (which is actually an "Eventbrite.com" page) —
click here to open that in a new window
.