Harbor Nights is a series of dining events that take place several different times a year at the Loews Portofino Bay Hotel, each with a slightly different seasonal twist that shows up in the food, wine, music and decore.

The "La Dolce Vita" event takes place right at the start of autumn, (which does't really mean much here in Florida ... I mean, it's not like the leaves change color or anything). But the menu at the Harbor Nights La Dolce Vita event is traditionally one of my favorites.

This review is based on the La Dolce Vita 2021 event and I'll get to some food photos in a bit here… but these Harbor Nights events are so fun, I've decided to add them to our "Festival and Events" schedule here at Mealtrip. That means, Harbor Nights now has it's own event information page, where any information we get about the next Harbor Nights will be posted. That one page will include menu and pricing information for all the different seasonal events.

That new "main" Harbor Nights event page also contains a link to a new "Practical Guide to Harbor Nights" page — which provides a detailed overview of the event. If you would like to check out the "main" Harbor Nights event page, click here. If you would like to read the Practical Guide to Harbor Nights article, click here.

Okay… back to La Dolce Vita 2021. This was one of the first large scale events I went to … once places started doing large scale events after the great pandemic shutdown. Most of the servers and culinary staff were still wearing masks… I think as time goes on, you'll see some cast members keep the masks on, and some will take them off. It's personal choice… and that's fine with me!


There's two ways to enjoy the Harbor Nights events… a Standing/Strolling Ticket and a VIP Seating Ticket. Both ticket levels provide guests with unlimited food and wine sampling for that night.


With the Standing/Strolling Ticket, guests can walk around the Harbor Piazza and visit culinary and wine stations that have been set up… but there's no chairs.


There are some high-boy tables the middle of the piazza for putting down your wine glass every now and then (because it's kind of hard to hold a wine glass and a plate, when you also have to use a fork or spoon) — but those high-boy tables are not reserved, they're for all the guests as you stroll around the piazza.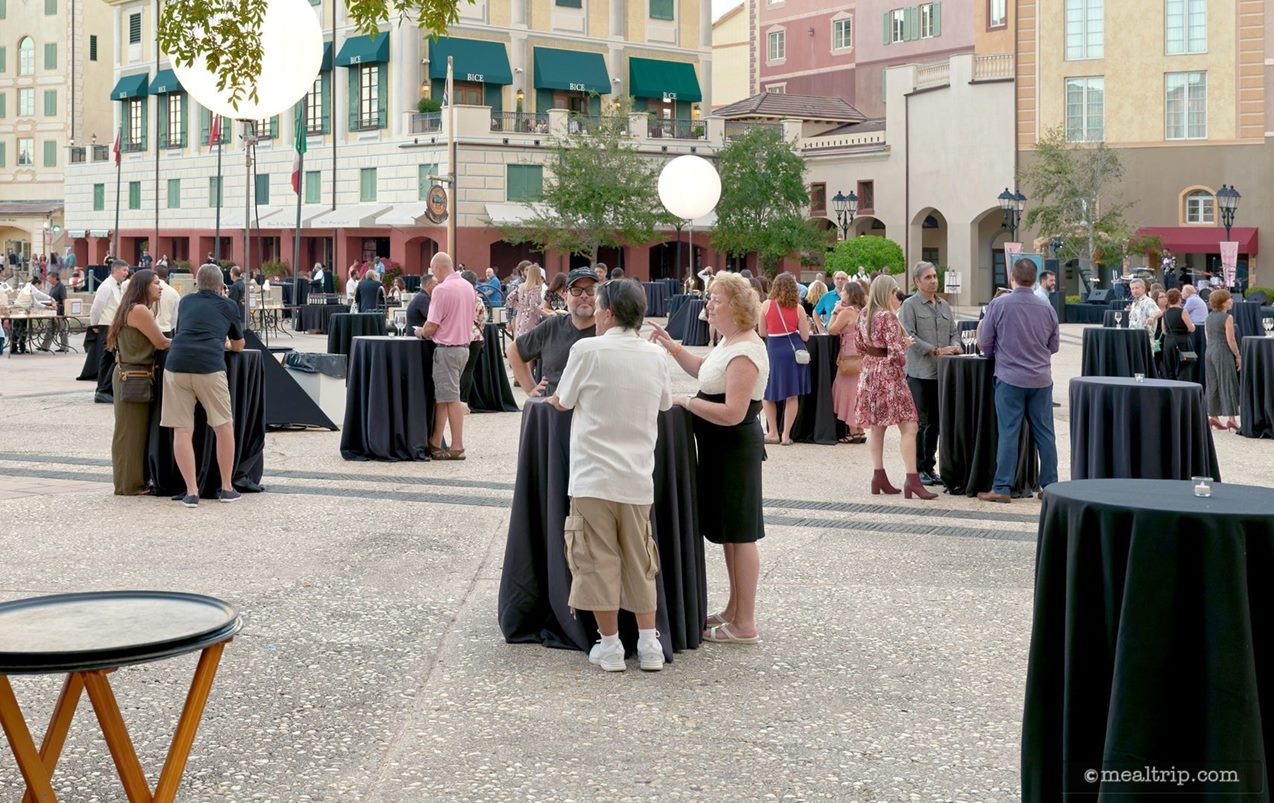 These high-boy tables in the Standing/Strolling Ticket area at Harbor Nights, are not really intended to be "held" by a party. The idea is, that guests will stroll around to the different food and wine stations, and stop briefly at the nearest table, before strolling to the next area.


The VIP Seating Ticket does cost about 30% more — but you get a reserved table and chair, that is yours for the entire night, and an extra hors d'oeuvres plate for your table. The VIP section is separated from the main piazza by short rows of planters, so it still feels like you're part of the action. You will need a special wristband (given to you at the start of the event) in order to get into the VIP area.


If you want to read more about the pro's and con's of each area, check out this section of our "Practical Guide to Harbor Nights" page.

There are also "corporate tables" available that you can purchase for a fixed price, that seat up to 10 guests.


You don't "have" to be a business to get a corporate table — they can be purchased by large families or social groups. You'll have to call or email someone to inquire more about one of those though… the "corporate table" option is not available to purchase online.

The group tables are not really part of the VIP area, but they are off to the side of the VIP area and have a couple of dedicated cast members to help with removing used plates, etc. over the course of the evening.


I usually opt for the VIP Seating Ticket, because I like having a dedicated place to sit, the extra hors d'oeuvres plate is really nice to have in-between all the other food and wine samples, and the other thing that's not mentioned too much — is the waitstaff.

The waitstaff in the VIP Section, are usually amazing! I can't say as though you'll be assigned one particular waiter or waitress — they seem to take care of various areas and all have different functions throughout the night — from picking up dirty plates and glasses, to making sure my wine glass was always full — they really stay guest-focused throughout the night.


My La Dolce Vita 2021 experience started at the VIP check-in area, which was located inside the Portofino Bay's main lobby. Standing/Strolling Ticket check-in was taking place outside and to the left of the main entrance. The two different ticket levels are given two different colored wristbands for that night's event — you'll need the VIP colored wristband to get into the VIP area.


Checking-in only took me about 10 minutes. The line wasn't very long … but I did get in line as soon as the Portofino Bay staff showed up and started checking people in. They really only start checking people in around 20 minutes before the event starts, and there was already a loose line of people meandering around. You can show a print out of your ticket or a barcode from your cellphone … tickets are sold by Eventbrite, and all the "proof of ticket" options are listed on their site when you purchase the tickets.


Since there's more Standing/Strolling guests than there are VIP guests — that check-in line outdoors can get a little long. They also only start checking people in around 20 minutes before the events start, so if you want to have your wristband and be all ready to go — it's better to get in that line sooner, than later.


The La Dolce Vita 2021 kicked off with a great hors d'oeuvres plate along with a flute of sparkling wine.


The VIP only antipasto hors d'oeuvres plate had three different kinds of cold cut meats, sliced Prosciutto, Salami and Pepperoni, three cheese selections… Bocconcini (which are basically bite-sized mozzarella balls), Provolone, and Manchego.


Also on the plate was part of a marinated Artichoke, a small dish that contained a mixture of different olive, olive parts, and pickled veggies. a couple pieces of cantaloupe and a breadstick.


I believe the sparkling wine was Cava's Poema Brut… which went so well with everything, I ended up drinking several flutes over the course of the event.


Within 5 minutes of the event's official start time, the main band started their first set.


The two sets that this band plays over the course of the night are very different — and they're both great! The first set usually features classics from the 50's… cover tunes from artists like Frank Sinatra, Tony Bennett, Nat King Cole, and Rosemary Clooney.


Time for some food! My first dish of the evening was this Panino Prosciutto from the "Splendido Bar & Grill" station. It's a warm and flat Napoletano style sub with prosciutto, artichoke and fresh mozzarella.


I think you can tell from the photo, the stuff inside my sub was a little lopsided … the right side with all the ingredients was really good! Actually, the left side with the fresh bread and mozzarella was good too … I think probably the whole sub should have looked like the right side though.

If you're wondering how to get food at Harbor Nights… it really depends on if you have a Standing/Strolling Ticket or a VIP Ticket. In the Standing/Strolling area, there's quite a few culinary stations set up around the main piazza.


There's also wine stations that offer two or three of the wines listed on the event menu. At the start of the event, you'll pick up a wine glass that will be your glass for the evening. It's not yours to take home, it's just the glass you're supposed to use for the night. If something happens to it… there's extra glasses around here and there, but you're not really supposed to get a new glass at every station. Each of the wine stations has fresh water pitchers for rinsing out your wine glass when changing between wine varieties.


You basically just walk up to any of the food or wine stations, and pick a wine or the food item — and that's it — easy and fun!


If you're in the VIP Ticket area, there are some food and wine stations located between the walkway pillars — that are just for guests in the VIP area. Since there's not as many VIP guests as there are Standing/Strolling guests, any lines that form to pick up food are only a couple people long.




The food in the VIP area is usually served on white restaurant grade plates, while most of the food samples in the Standing/Strolling are served on black plastic plates. The same format applies in the VIP area, just walk up to any of the stations and pick up a food or wine sample.



Next up, was this Chicken Cacciatore from "Bice Ristorante" that was served with rosemary roasted potatoes. While it might not look like much, it had great flavor and really reminded me of what "cacciatora" or "cacciatore" actually is… cacciatora is basically a meal prepared "hunter-style" with onions, herbs, tomatoes, peppers, and wine… it is not, simply spagetti sauce poured over chicken — which I've seen too many times. This was a more traditional preparation, and that rosemary potato wedge added a nice seasonal nod to autumn.


It was the only item that did not have a station in the VIP area (notice the black plate). Although this isn't an advertised feature, one of the waitstaff in the VIP area noticed I hadn't tried the Chicken Cacciatore yet, and offered to go get it for me. Why, yes … thank you very much!!!

So what about the wines? While I did actually stick with the Cava Poema Brut (Spain) and Lunetta Prosecco (Italy) for most of the night, I sampled a couple more varieties.


Actually, I think the wines are very well thought out. There's usually 12-15 different wines for each of the Harbor Nights events… which is less than the "over 100 beverages" you'll see advertised for some of the other large scale events (I'm looking at you Swan and Dolphin Food and Wine Classic). But you know what — I actually like the small number better. If you find one you really like, you can remember it at the end of the night… and so the sampling is in some ways, more meaningful. You're not going to get some rare wine to sample here, it's not that kind of event — most of these wines, I would consider "dinner pairing wines" should be available at your local wine store.

By this time (as the sun was going down), the band wrapped up their first set just in time for the opera singers to perform their first set from one of the balconies overlooking the piazza. Harbor Nights has such a classy combination of music between the two groups over the course of the evening.


Next up, I had a couple plates of this amazing Gamberi Genovese from "Mama Della's Ristorante" (Mama Della's is always one of my favorite food samples here at Harbor Nights). The dish featured sauté shrimp in pesto sauce with a side of roasted pepper sauce and microgreens. Simple, colorful fresh, and very tasty!!!!



Sal's Market Deli was serving a Focaccia Pizza with tomato ragu, cured meats and mozzarella cheese.


If I was eating this one as a main dish at Sal's Market Deli — I'd be a little disappointed that there wasn't more of that tomato ragu on the Focaccia. There was "just" enough for me to get an idea of what the item could be like — but the piece I got seemed a little dry.


However — since there was soooo much wine around and I had already eaten my single breadstick from the hors d'oeuvres plate — I just thought of this item as being as my "refreshed bread service" — and I kept a second one on my hors d'oeuvres plate, which I nibbled on all night long.

It was around this time, that the main band started their final set of the night. I've noticed that while the band members are the same, there's usually two (or more) singers that take turns.



The band's second set is more lively than the first and includes modern pop and even rock songs! There's a small area that's left open just in front of the band's stage — and there's usually some dancing before the night is over!



The last and best savory item of the night was this Red Wine Braised Beef from Trattoria del Porto which featured that amazing braised beef in a pool of cheese polenta rustica, and served with a couple pickled heirloom tomatoes and fresh chives.


I would totally order a larger portion of this dish at Trattoria del Porto as an entree! You really can't go wrong with lightly seasoned braised beef and perfectly cooked cheese polenta — hands down, my favorite item of the night. So much so, that I think I ended up getting three plates!


Dessert … of course there's dessert!!! The "Gelateria" brought out two flavors of Gelato to sample… a Pumpkin Spice Gelato and a Triple Chocolate Gelato.


While these may be a little more like America Ice Cream than traditional Italian Gelato — they're soooooo good after all that food. Everyone is a little different, but for me… even though Harbor Nights La Dolce Vita is an "autumn" themed event, it's still pretty hot out… and it's so nice getting a couple frozen treats. Like everything else, these are unlimited, so I usually end up with a several portions of each.

The Portofino Bay catering team created a couple mini deserts for the event, the first was a Milk Chocolate Raspberry Panna Cotta.


This was built in a little see-through plastic cup with the raspberry sauce on the bottom. It was a great great panna cotta. I could taste the chocolate and the raspberry in each bite — and some little chocolate branches and extra chocolate crumbles added a nice texture on top. The berries and whip cream that were also in the cup added another fresh set of flavors and textures… you could kind of mix and match different elements in each spoonful and get a different experience each time.


The second mini desert was an Apple Spiced Crème Cake with a little piece of white chocolate in the top.


While I didn't get too much "apple" from this one, I did taste the spices you would put in an apple cake… cinnamon, nutmeg, a little ginger… all with a really nice cream cheese style icing. The white chocolate topper did add an extra flavor and smooth texture, if you let it melt on your tongue slightly before taking a bite of the cake.


Once the main band finished their last set, the opera singers took to the balcony for a couple final songs of the evening. They are a couple stories high, but now's a great time to catch a little of their performance on a phone camera.


The final opera singer set is also your cue to go get some coffee, which is located in the center of the piazza.


Or if you prefer… one last glass of wine.


Right as the opera singers finish their last song (which is at the event's published end time) … they pretty much stop pouring wine — and the coffee station is one of the first stations they start putting away. While the event is technically over, if you still have some food or wine in hand or at your table, there's not a big push to get everyone out of the area.

Now's a great time to grab a couple of quick photos to remember the night by.


No matter which of the Harbor Nights seasonal events I attend, I've always come away feeling like I've had a great time. (The only one I haven't been too is the Valentine's Day event … I think showing up to that one by myself would be a little conspicuous.) The combination of food, wine, entertainment, and just having a nice, safe, bug-free large outdoor event space — adds up to a pretty good value. Sure, it's a little bit of a splurge, but getting to dine under the stars without having to worry about paying for anything extra (the tickets need to be pre-purchased), makes for a really fun, memorable evening.

If you want to stay up-to-date on when the next Harbor Nights is taking place and to see the next event's menu… click on over to our main event page for Harbor Nights at Loews Portofino Bay Orlando. We post menu and price info for the next event, just as soon as we get it (usually around 30 days before the event). Click Here to visit that page.