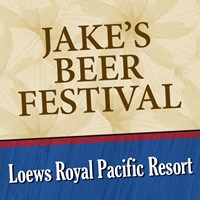 Jake's Beer Festival takes place at the Lowes Royal Pacific Resort (Universal Orlando) and is a "stand and stroll" event that takes place mostly in the outdoor "Wantilan Pavilion", a partially covered area behind Jake's American Bar. At least a dozen breweries are represented with a selection of a couple beers from each brewery. The event features unlimited 4oz samples of those select craft beers, various food pairings, and a live band.
The event takes place from 6:00pm - 9:00pm
Jake's Beer Festival is an "adults (ages 21+) only" event
There are two ticket levels to gain access to Jake's Beer Festival — a Standard Festival Ticket and a VIP Ticket. Pre-purchaing is highly recommended.
Check the most recent menu page (below) for updated pricing information and a link to purchase tickets.