Loews Resorts at Universal Orlando
Jake's Beer Festival Fall 2023 – Menu Items and Prices
September 16th, 2023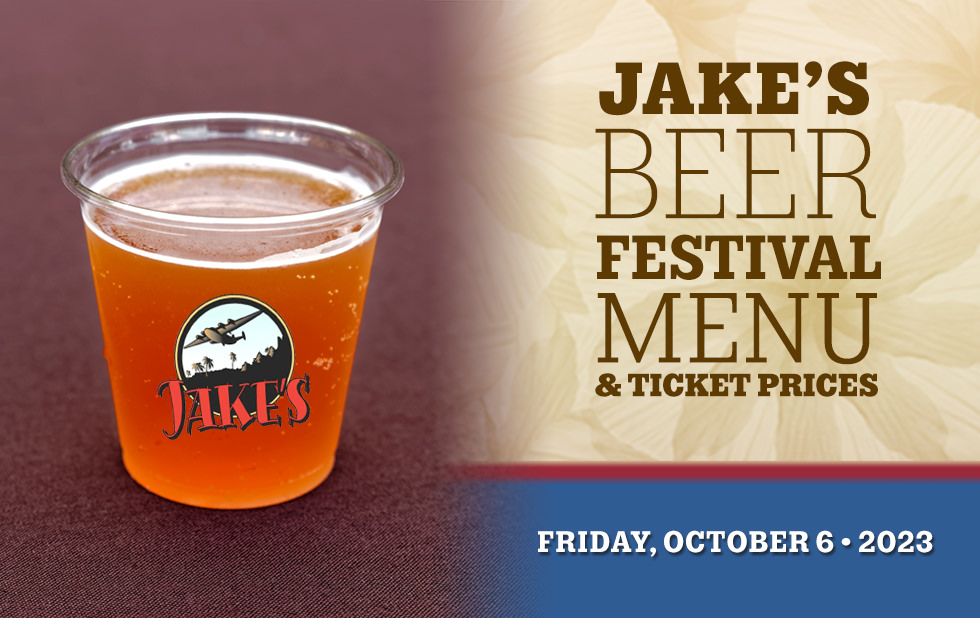 The end-of-summer edition of Jake's Beer Festival
is just around the corner. It takes place this year on Friday, October 6th, 2023 — from 6:00pm until 9:00pm.
The VIP Level Tickets do occasionally sell out in advance, but the Standard Festival Tickets are generally available right up until a couple of days before the event.
For the most part, Jake's Beer Festival takes place in a partially covered area called the "Wantilan Pavilion" behind Jake's American Bar at the Lowes Royal Pacific Resort. A small live band performs a couple of sets during the event.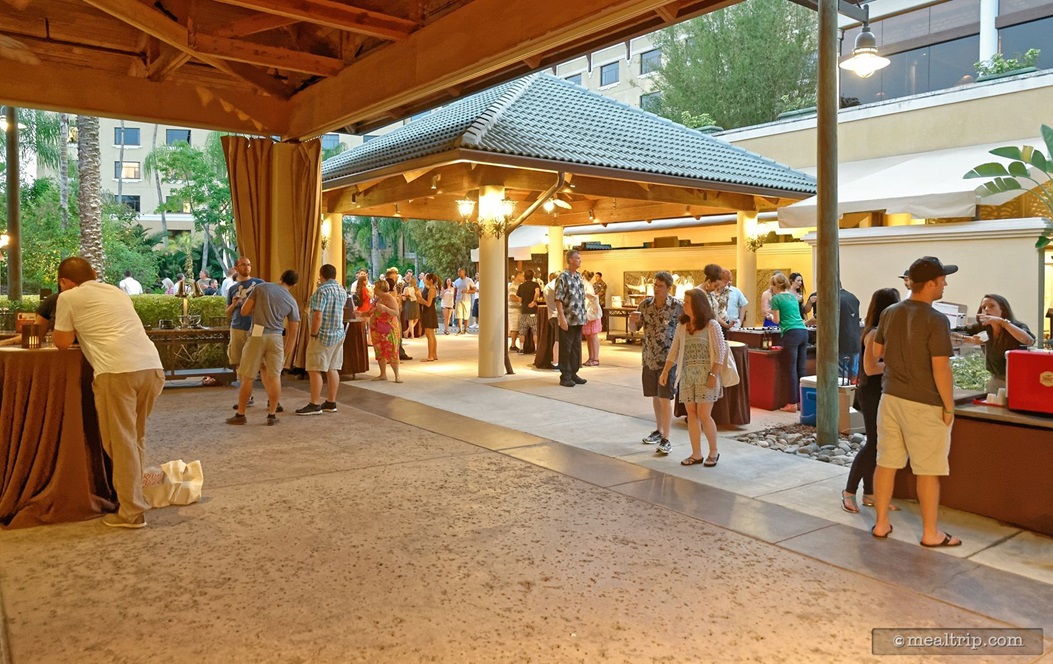 The "Wantilan Pavilion" is located behind Jake's American Bar at the Lowes Royal Pacific Resort. This is where most of the food and beer samples are located during a Jake's Beer Festival event.
This "stand and stroll" formatted event features at least a dozen (and sometimes more) craft breweries that each bring a couple of beers to the festival. Small plate food items which pair well with the various beers are also available. The food and beers are offered as "all you care to enjoy" for the duration of the event. The food, beer, and breweries change with each event, so no two Jake's Beer Festivals are the same.
A $65 Standard Festival Ticket
(per person, plus tax and ticket fee ends up being $75.84)
Includes all-you-care-to-enjoy beer tastings, festival foods, live entertainment and free self-parking. There are a couple of planter ledges and a picnic table or two available, but seating is very limited (i.e. only a handful of guests will get to sit down at any given time).
A $90.00 VIP Ticket
(per person, plus tax and ticket fee ends up being $104.24)
Includes all the above "Standard Festival Ticket" entitlements, plus a special reception in the private Clipper Room inside Jake's American Bar (which is air conditioned, but there's not too many seating options in here either), along with additional exclusive beer offerings and hors d'oeuvres. Also included is access to an open seating area near the live entertainment, an upgrade from self-parking to valet parking, and a collectible pint glass.
Here's a look at the food menu for the Jake's Beer Festival October 2023 event!
Food Stations
Chicken & Waffles
Crispy chicken cutlets, fresh made waffles, bourbon maple syrup, candied bacon.
Kombucha Squash Panna Cotta
White cheddar lace crouton, candied kumquats, frisée.
Red Snapper Ceviche Tostada
Roasted corn and poblano salsa, key lime curd, avocado, radish.
Grilled Vegetable & Herbed Goat Cheese Flatbread
Marinated grilled vegetables, herbed goat cheese, cilantro pesto, arugula.
Pink Peppercorn Pork Belly Bao Bun
Charred Brussels sprout slaw, pickled shallots, smoked jalapeño aioli.
S'Mores Mud Pie
Chocolate ganache, chocolate mousse, marshmallows, chocolate cake.
Strawberry Cheesecake Tacos
Whipped New York cheesecake, macerated strawberries, cinnamon sugar dusted taco shell.
Coconut Pineapple Popsicle
Coconut milk, diced pineapple.
I don't think the exact beer each brewery is bringing to the festival is ever published before the event starts — but there's usually a list of breweries. Here's a list of the breweries that are said to be participating in the October 2023 festival…
The Breweries
3 Daughters Brewing
Big Storm Brewing Co.
Central 28 Beer Company
Cigar City Brewing
Coppertail Brewing Co.
Crooked Can Brewing Company
Islamorada Beer Company
Ivanhoe Park Brewing Co.
Motorworks Brewing
New Belgium Brewing
Orange Blossom Brewing Company
Swamp Head Brewery
AND MORE!
If you want to see
photos from a previous Jake's Beer Festival event
,
click here
.
More information and a direct link to purchase tickets is available directly from the October 2023 Jake's Beer Festival event page (which is actually an "Eventbrite" page) —
click here
to open that in a new window.