The Epcot International Food and Wine Festival 2015 Rumor Season
May 26th, 2015
As far as "planning" goes... we're just too far out for anything to be written in pen yet, and as I'm sure you know all too well… things at theme parks can change very rapidly. Still, this is the internet. News travels at the speed of light and everyone seems to be hungry (pun intended), for any morsel of information that we can gleam.
For starters, it seems like the first bit of truly "official", non-rumor based information that we're going to get this year is once again going to come from a Tables in Wonderland event. The Food and Wine Festival Preview event that has been increasing in popularity since it's inception several years ago has been turned into a Lunch this year. (Probably because of the staggering number of people that want to attend.)
Tables in Wonderland sent out an email today notifying members to "save the date" for a Food and Wine Festival preview lunch (which will happen on Sunday, July 12th, 2015), but did not include any information about pricing or the menu. This was all done (presumably) so that if you want to attend and do not currently have a Tables in Wonderland Membership, you'll have time to go get one. Tickets for these things, sell out staggeringly fast, and you will most certainly need an active
Tables in Wonderland membership
number to purchase tickets when they go on sale later in June.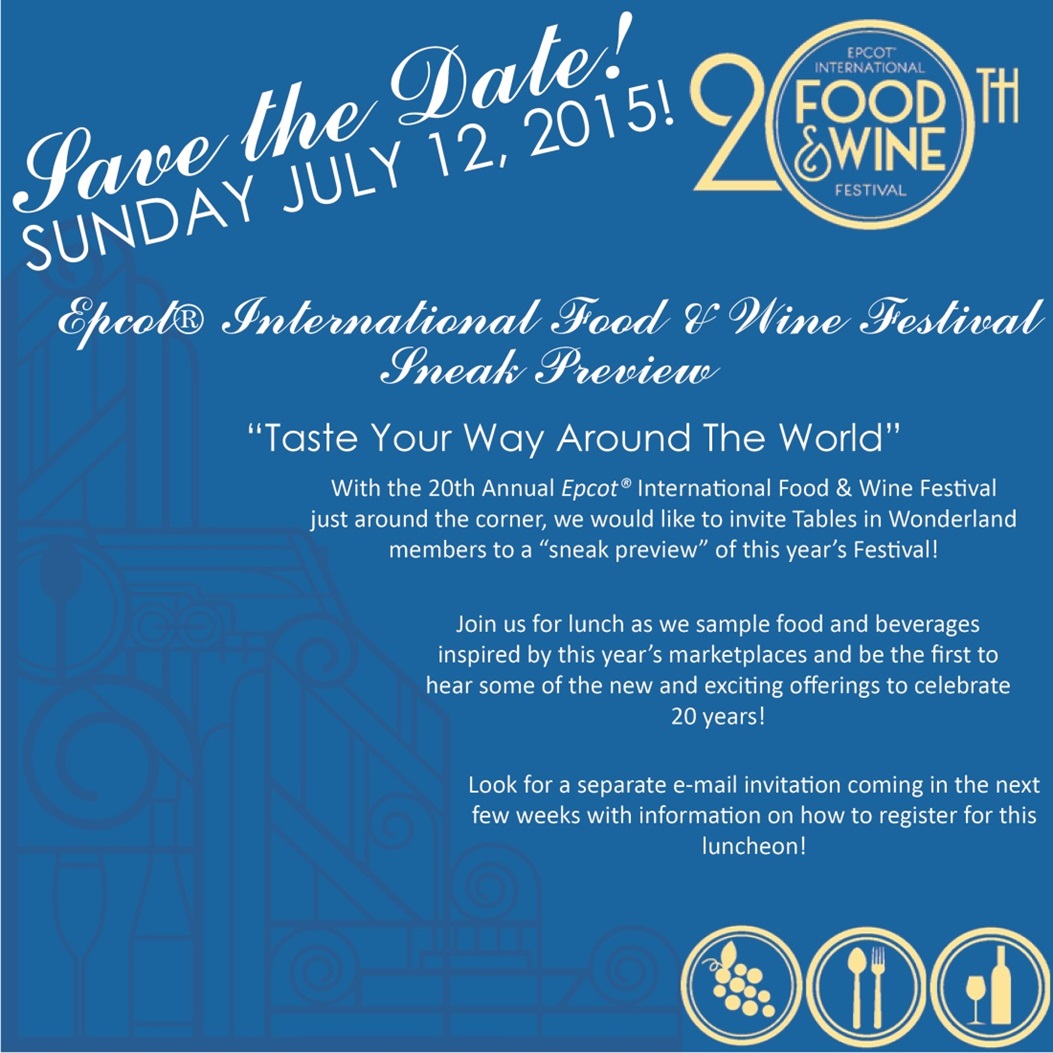 Tables in Wonderland Preview Lunch Email.
The actual festival itself runs from Friday, September 25, 2015 until Monday, November 16th, 2015 which about the same number of days as last year, but a week further back in the calendar (closer to Thanksgiving) than last year's event. Booking for the events should open up around August 18th-20th, but that's only based on previous year's booking schedule. We'll publish hard dates once we learn what they are.
As far at the food booths themselves, we're hearing that there will be between 25 and 30 kiosk, which is very similar in number to last year's festival. There has been no word on the very popular (new to last year's festival) Craft Beer pavilion in the Odyssey building, but we don't see why that wouldn't return.
Naturally, we'll be online quickly with some of the best food photographs of each small plates item from the Food and Wine Festival Kiosks again (we usually have all of those in place within a few days of the start of the festival). If you would like to check out all of last year's
Food and Wine Festival Kiosk photos and food scores, just click here
.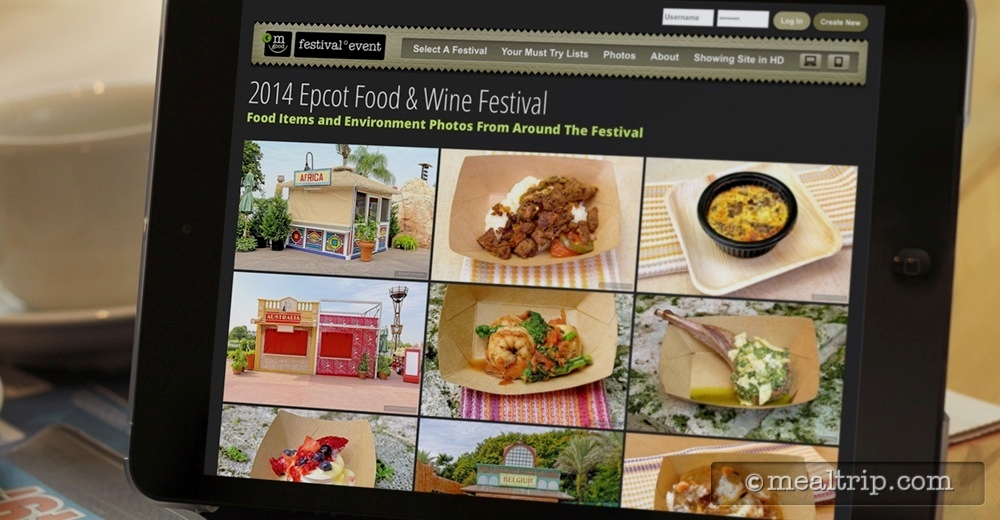 Food booth items from the Food and Wine Festival.
As far as new items go, we have heard about three new food and one new beverage offering, but nothing from any new countries or booths (yet).
New Zealand - Seared Venison Loin with Wild Mushroom Ragout and Kumara Dumpling
Australia - Grilled Sweet and Spicy Bush Berry Shrimp with Pineapple, Peppers, Onions and Snap Peas
Farm Fresh Marketplace - Mac 'n Cheese with Pepper Bacon
Scotland - Citrus Thistle (which we're assuming is a "Rusty Nail" with a large hit of citrus rather than the traditional elderflower. The normally "stiff" Scottish drink usually contains 2oz of Scotch and 1oz of St Germain. Far too much booze for a snack credit, but mix in equal parts orange juice, and bam, you've got yourself a walkin-around cocktail.)
It looks like the Ocean Spray Cranberry Bog may be back (yay for sponsors), as well as some of the tried and true Food and Wine Festival events such as Party for the Senses. There have been mention of some new programs and events, but here again, without those ever important descriptions, we try not to get too excited.
Rumblings of a "Rockin' Burger Block Party" seem very likely and plausible, as this was a top secret "on the drawing board" event from last year's festival. Names like rock legend Carlos Santana (who was part owner of Casa Noble Tequila) were being tossed around early in the planning stages... and burgers it seems, make a great savory pairing with Tequila and various craft beers.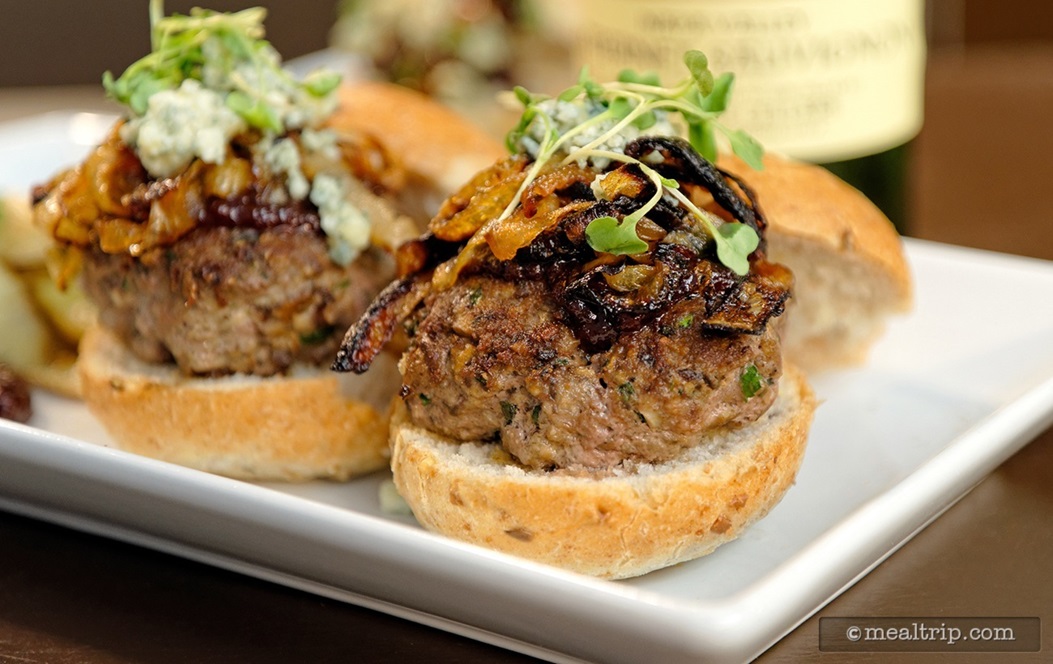 Small burgers may be on tap for the new Rockin' Burger Block Party event.
Our guess is, Carlos is probably a bit too busy to attend a "multiple event, on select dates" kind of party. In fact, he may be a bit to busy to stop by Epcot at all (especially seeing as how Constellation Bands Inc. gobbled up Casa Nobel resulting in a big payday for Santana) … still though… it sounds like a cool enough event that the fabulous event staff has found a way to make it happen… sans Carlos.
We would expect to see several kinds of gourmet slider-sized burgers, tequilas and beers at the new "Rockin' Burger Block Party"... naturally though, that's all just a guess at this point in time.
We have noticed that available booking nights for the
Illuminations Sparkling Dessert Party
disappear... right as the Food and Wine Festival begins. Reservations for the popular event do not resume when the Food and Wine Festival is over. This could be a bad sign for the Sparkling Dessert Party as it's currently structured.
We have heard that the popular Epcot party would go into an "offered every single night" schedule for the duration of the Food and Wine Festival, but not seeing it on the booking web site might be a pretty good indication that the price and the offerings will increase for the event. Hopefully, we'll see a return of the extremely popular "hot doughnut making person", who has been missing in action at some of the more recent Illuminations Dessert Parties.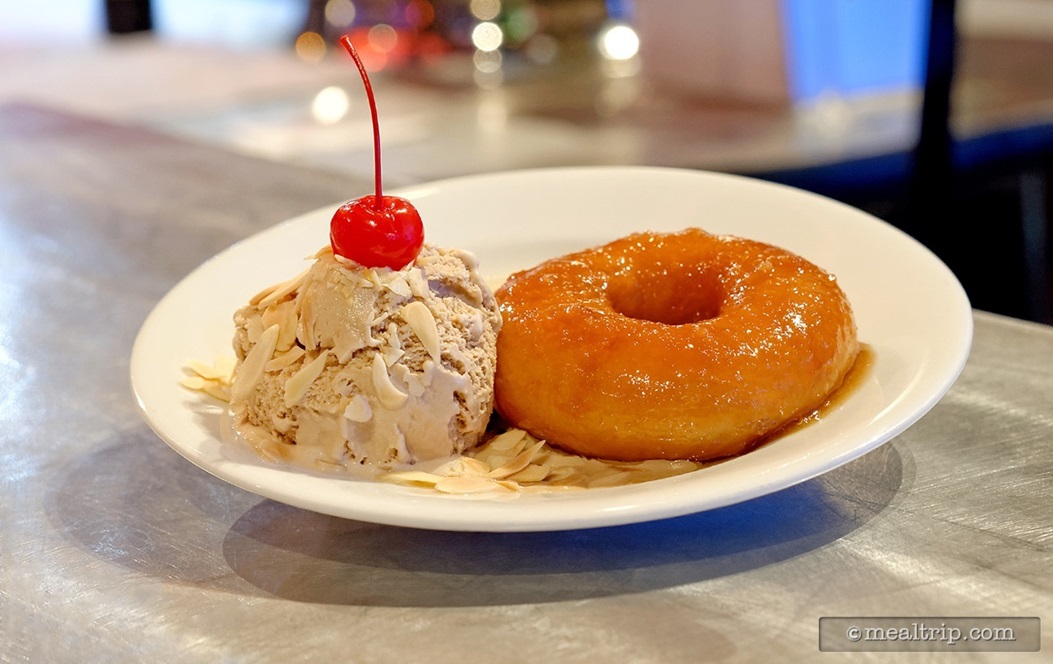 Hot Doughnut from the Illuminations Sparkling Dessert Party.
With the renaming and price increase that's happened at the
Magic Kingdom's Wishes Dessert Party
, we don't think the IllumiNations Dessert Party is going anywhere… it's just possible that it's going to get better, tweaked, possibly moved, and a bit more expensive… but hopefully it will return as a weekly offering after the Food and Wine Festival has ended.
We're not really sure how this will effect the (also very popular) 3D Dessert Discovery series that had been running as part of the Food and Wine Festival. Because the number of nights that it had been offered were dwindling over the years, we're not sure if it will be back this year. Only time will tell.
Over the next few months, we will be posting articles and reviews from some of last year's events and culinary demos, just to give some reference to what those events have been like in the past. With all things Disney, nothing it seems… is set in stone, until after it's happened. Looking at last year's events, may just be the best way to deduce what some of this years events will be like.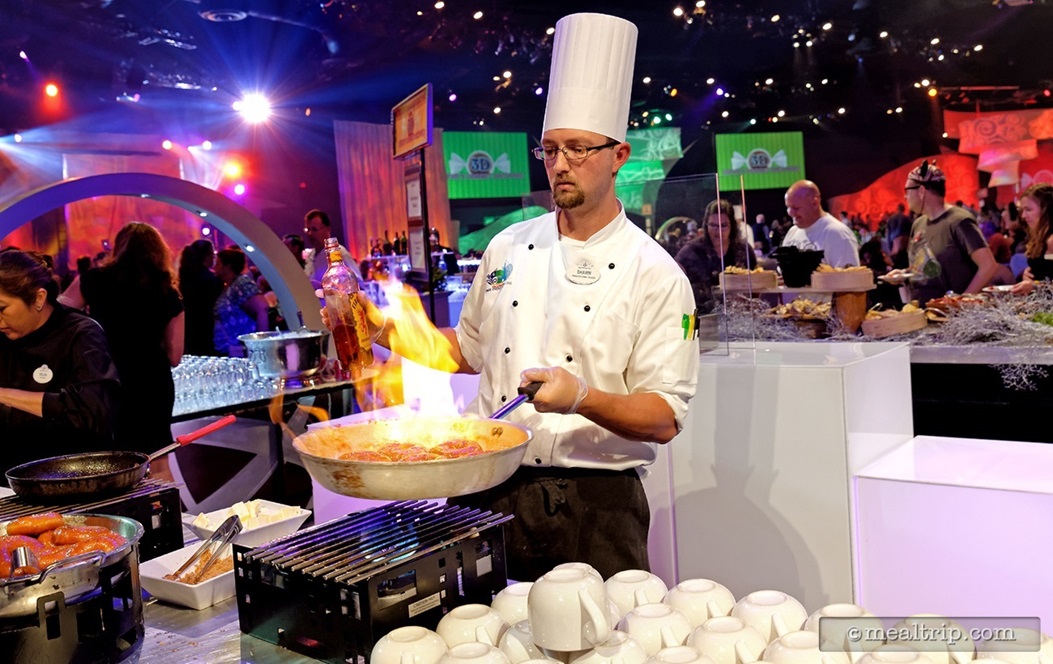 Epcot Food and Wine Festival events are truly show stoppers.
So stay tuned, and hold on tight… it looks like Epcot's Food and Wine Festival Rumor season is upon us! Happy Mealtripping!!!