Farewell Pizzafari Breakfast and Hello to Another Starbucks in the Kingdom
June 5th, 2015
We learned today that
Animal Kingdom's Pizzafari
will serve it's last breakfast on June 17th, 2015. This is significant to me for a couple of reasons.
I think the
breakfast period at Pizzafari
is better than lunch or dinner at Pizzafari. For starters, they don't serve that ubiquitous, too much crust, not enough topping, too small for $8 theme park pizza for breakfast. They actually have two and a half really decent entrees... an egg, cheese, and veggie multi-grain croissant that's served with some awesome breakfast potatoes, a breakfast burrito, and (the half point goes to) the also ubiquitous breakfast platter (but it's better than the pizza ever was).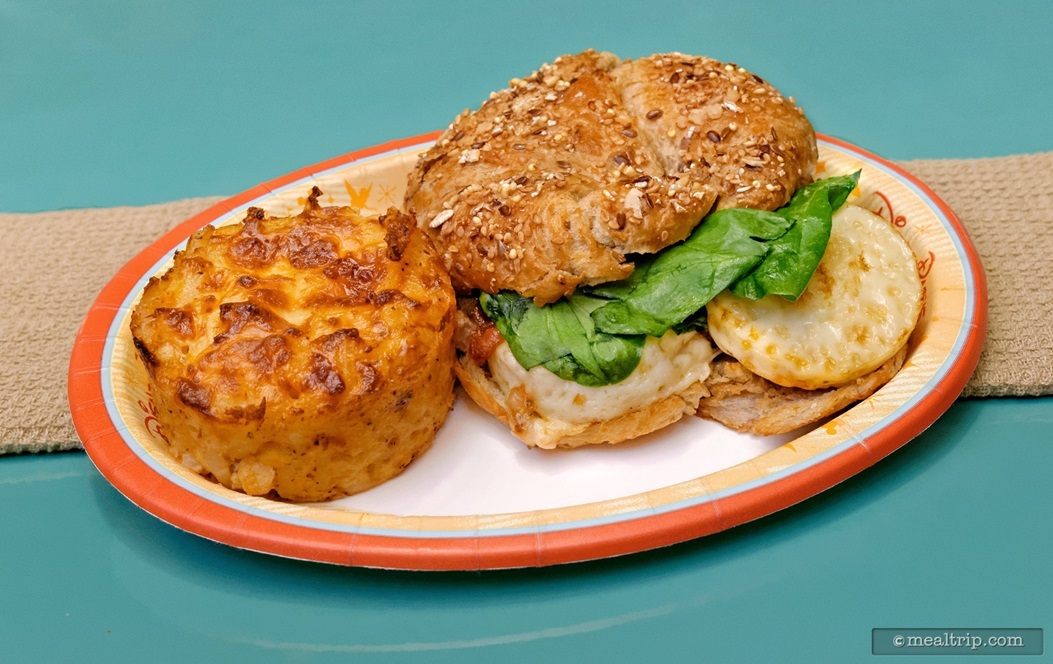 Breakfast Multi-grain Croissant from Pizzafari's Breakfast period.
The reason that Pizzafari will no longer serve breakfast... is not entirely as clear as it might seem . We have heard rumors that part of the Pizzafari building itself will soon be undergoing some renovations and expansion. There's an area behind the current building that is currently a construction zone. The rumors that we have heard would indicate that Pizzafari (or perhaps even some entirely newly named restaurant in that same space) would be part counter service (as it is now) and part full service restaurant. The details are obviously not available, but unless they're going to clear cut another large stand of trees, we don't think this is part of the Avatar expansion project. It's just a refresh for the Pizzafari space itself.
The more obvious reason for Pizzafari to no longer serve breakfast, is because on the very next day, Animal Kingdom's Starbuck's location will open up in what was the old Creature Comforts gift shop. Starbucks you see… offers the same Breakfast sandwiches and pastries that you can buy for breakfast at any Starbucks across the planet (the Starbucks on Mars isn't set to open until 2030).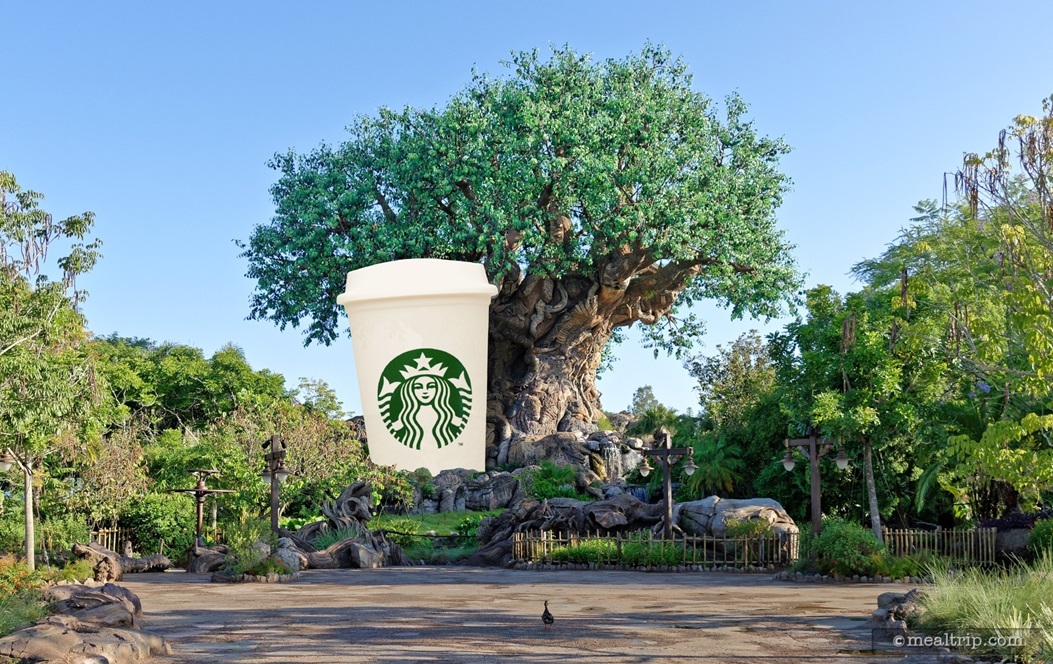 New Starbucks location opens in Animal Kingdom on June 18th, 2015. No, a giant cup is not being erected in front of the Tree of Life. The photo is editorial satire.
Now, I don't dislike Starbucks. I like coffee very much, and there are some beverages Starbucks makes, that are just plain good stuff. They're a solid brand with a loyal following and so it's a natural partnership.
What I don't like so much, is seeing food that used to be unique and custom to Animal Kingdom being taken away, and replaced by food that I can get in any food court, at any mall, no matter where I am… i.e. the also ubiquitous Starbuck "breakfast sandwiches".
Mealtrip is about the things and places you find to eat while you're on vacation. Food can be a powerful memory trigger, and it's often times the first and easiest thing to remember about your travels. It's what sticks with you. That giant hot cinnamon bun, the amazing swordfish or steak you had for dinner one night, even the Tequila and chips you enjoyed tucked away in some small unplanned location while you were ducking in from the rain (okay, that's a shameless plug for
La Cava at Epcot
and we all know it). What you don't remember, are those McBurgers you had at the airport chain store, or more appropriately, the same cup of coffee and cake-pop you buy every morning before going to work.
So it would seem that I find myself in an unusual editorial conundrum. I don't like that we're loosing a whole breakfast meal period that was unique to Animal Kingdom, and replacing it with a cookie cutter franchise that's conveniently opening a few short steps away.
What if it had been lunch or dinner at Pizzafari that we were loosing because a Domino's decided to lease the space. The pizza would improve, that's for sure, but I would still be loosing a large part of what a "vacation" is supposed to be… a sabbatical, a break from work and the "routine" of life, and a whole week where I could eat for fun and pleasure.
If I went to a theme park, and found all the things that I could find in my own back yard, then I wouldn't need to go to the theme park. Let's be honest, that forever and a day train ride to Rafiki's Planet Watch just isn't compelling enough for me to get on a plane and fly 1,500 miles... but toss in a giant
BBQ Rib Platter from Flame Tree
with a plate of those always perfect Onion Rings and a Tusker House Lager… then I'm in… even if I have to spend six hours of my life riding that stupid sideways train to nowhere. (Never mind the fact that Flame Tree BBQ, is also closed at the moment... sigh).
My ultimate wish is that Disney would improve the pizza at Pizzafari so much, that the place would be jammed packed full of people wanting to get some amazing pizza, and the thought of a small box food chain leasing a space out, just wouldn't make sense.
Maybe... just maybe that's what will happen. If the rumors are true, that some split experience space is going into the current Pizzafari location, it might just improve the concept and food quality across the board at Pizzafari (or whatever it may be renamed). No matter what though… I don't think the breakfast period will return to Pizzafari.
Only time will tell… but I for one will be heading over to Pizzafari for one last breakfast croissant before June 17th and lamenting the loss. Because I don't actually live 1,500 miles from
Animal Kingdom
, I only live 15 minutes from there (even though the Osceola County Expressway Authority charges just about the same amount to use its toll roads to Animal Kingdom, as a 1,500 mile, round-trip plane ticket costs)… it's still one of the best, "can't get it anywhere else", multi-grain croissant sandwiches with a side of golden-topped cheddar and black pepper au gratin potatoes that I can't find in any of the Disney parks.
Farewell my favorite breakfast sandwich, farewell.
How do you feel about loosing breakfast as a meal period option at Pizzafari?
How do you feel about another Starbucks opening a few steps away from Pizzafari? Let us know in the comment area below. You can comment anonymously without having to sign-up for a Mealtrip account.