Canons, Pam Smith and The Heart & Soul of Epcot's Food & Wine Festival
July 18th, 2017
Epcot Food and Wine Festival
information published. Oh sure, there's always a few schedule changes between now and then, but the bulk of
"who, what and where"
is in place and starting to set the framework for another amazing festival.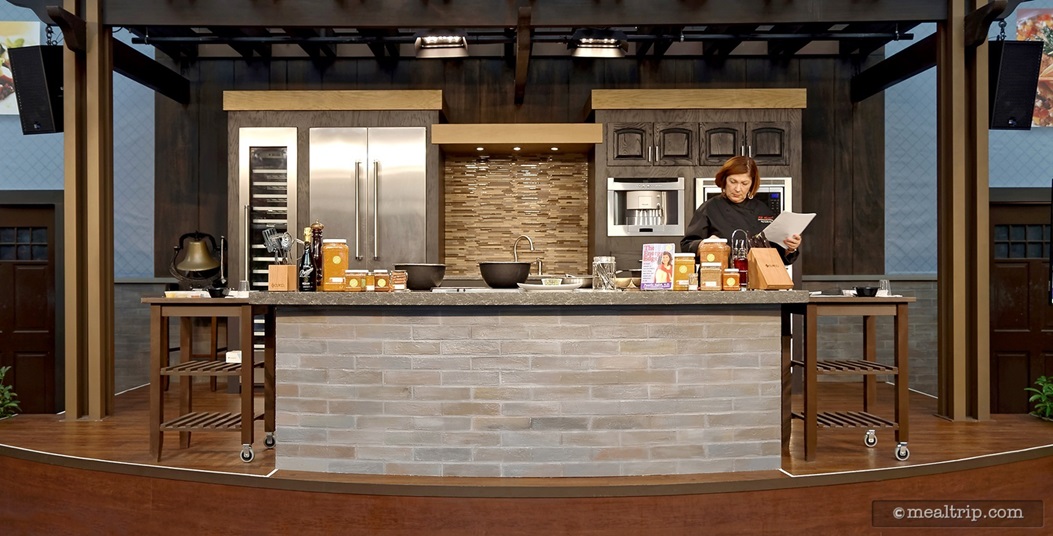 Pam Smith, RDN ... before the start of a Culinary Demo.
Living within a 20 mile radius of the Disney parks, it's easy to get jaded. Sometimes, the festival feels like that old box of Christmas decorations that you pull out of your garage earlier and earlier every year. It was special the first dozen times you did it, but you start to wonder sometimes if it's just a compulsory reaction that you continue to do... because you've always done it in the past, and it's just that time of the year again.
I have been to Food festivals in other theme parks over the years. It's becoming a thing… and I think it's great, for many reasons. The one thing that no other theme park has though... is a historical canon of sorts. It's getting to be a thin veil to be sure, but it is still there.
It's not in the food booths or the special dinners here and there. Those are all fun, just as they are fun in other theme parks. What I'm talking about is the original Project X concept that would have had the place being a creative, cultural learning and personal growth-based experimental community.
There's a lot of editorial commentary I could write with regard to this year's festival (to be sure)… but I'd rather draw the spotlight to what I still consider to be the heart and soul of the Food and Wine Festival… and that's the
Culinary
and
Beverage Demos
, the new "
Mix It, Make It
" program, and the bottle and book signings that take place in the Festival Center after those demos conclude.
These events are far more than just the park showing or selling you something as you pass by in a lap-bar laden plastic cart. These events allow you to touch the thing. To be part of the attraction. To become the attraction and to take a small piece of that feeling out with you when you leave. That harkens back to the original canon in a way that nothing else can.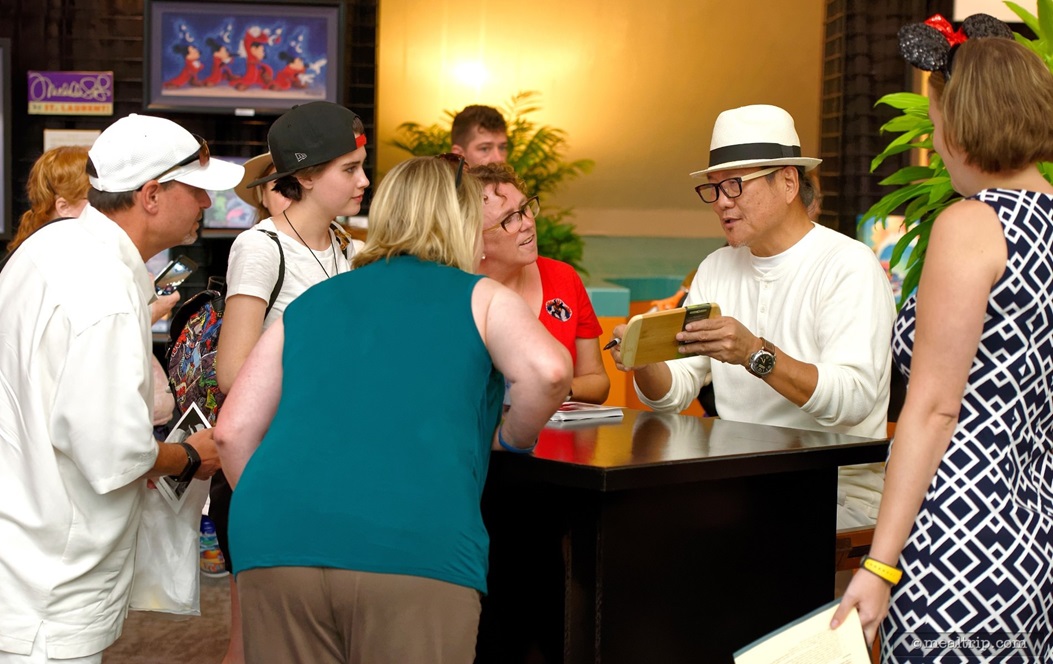 Chef Morimoto meets with guests after a 2016 demo.
It is, of course, people… and not the place per say… it would be impossible to talk about the vehicle without talking about the drivers. The planners behind the scenes are amazing, hard working, caring people that are very much overworked and far too thinly spread these days.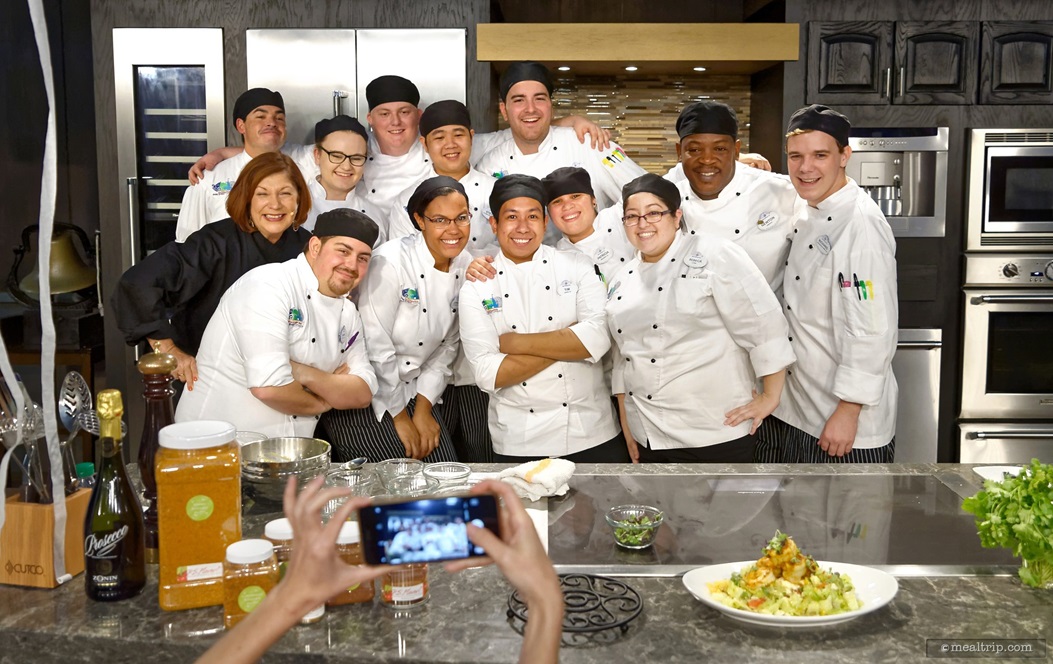 People... not Epcot, make the Food and Wine Festival happen. It's an easy thing to forget because you never see most of them.
There are precious few people that have been part of Epcot's Food and Wine Festival for all 22 years of it's existence. They come and go, and you're never the wiser. But there's one person in particular that you
can
see, who has been with the festival since it's inception, and does far more for the preservation of the thing than you'll ever know.
Chef, host, Registered Dietitian and Nutritionist
Pam Smith
has been greeting guests and officiating over various demos and special event programs since the festival's inception in 1995. She is one of the good ones… tireless, generous beyond words, wickedly smart… she, in my mind, deserves Disney Legend Status… as much as anyone.
Have you seen this person at Epcot's Food and Wine Festival? Pam Smith has been with the festival since it's inception in 1995.
While so many things behind the scenes change,
Pam Smith
has managed to give us a security blanket, a smiling face, a "welcome home" that is too easy to take for granted. It is harder to do than you can possibly imagine, and it is as meaningful to the preservation of that canon as anything is.
Creative cultural learning and personal growth are opulent activities that far too precious few beings have access to. You can't have them without a solid platform. You can't pursue them until you are safe and sound. You can't have them at all if you can see the dirty machine and gears that make the thing run in the first place.
For 22 years now, Pam Smith has been absorbing that machine on one end and providing us with a safe place and a smiling face that… if you choose to accept it for what it is… allows us all to touch, for just one second… the fun and wonder of it all.
It is all a lofty goal for a theme park... but I saw something at last year's festival that reminded me that it is still possible. Late in the season I was photographing a culinary demo hosted by Pam Smith with guest chef Tony Marotta (another tireless, amazing chef that should be at the center of his own article)... in which chef Marotta was making pasta from scratch… pulling it longer and longer each pass through the pasta machine.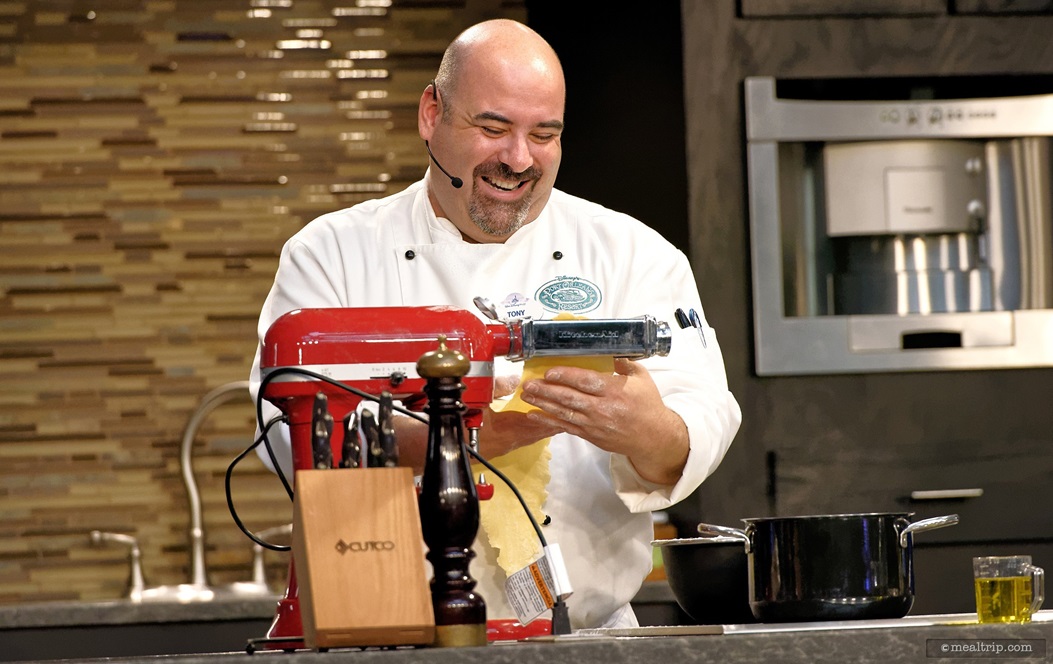 Long time Disney chef Tony Marotta making fresh pasta at a 2016 Culinary Demo.
A casually dressed, well-tattooed family late in their 20's with one stroller bound child and another inquisitive little girl of eight years or so under foot and holding hands with her mother was walking through the Festival Center as the demo was taking place… perhaps lost, looking for a restroom… but clearly not interested in the goings on.
They were making their way past the back of the demo area at a good clip when all of a sudden the little girl stopped... and stopped soundly. It was the kind of solid stop that just might dislocate one's arm if you're not ready for it.
I smiled at first and honestly, was slightly concerned that an emotional outburst of sorts was about to happen… only to realize that she was stopped, and simply gazing to the point of not being able to walk… at the sight and curiosity of fresh pasta being held in the air... being pulled longer and longer, like a ponytail I suppose.
Immobilized at the sight of two people, smiling, laughing and playing with food. None of us can know of course, what would make this all so interesting to a little girl… but it was genuine… and it wasn't a sales pitch or a photo-op with a character or a balloon. It was… wonderment.
Playing with pasta.
I have mentioned it before, and thank providence that I witness it at least once each year… this one singular whit of interest is at the very heart and nature of what Epcot should be about. That random spark and discovery with regard to science, culture, visual and culinary arts… not derived from a major attraction, but gleaned from the simple act of randomly passing through a building and witnessing the love of someone performing their life's work.
I hope it sticks with you like it sticks with me… live the moment, appreciate the people, embrace the wonder and see the world like an eight year old. Even though Disney is today, a margin driven enterprise, know that there are still a few individuals in the system that go above and beyond, to present a world to you that is magical.
If you are lucky enough to pass through Epcot's Food and Wine Festival this year on any given Thursday, Friday, Saturday, Sunday or Monday… make a point to stop by the Festival Center. If the timing is right… Pam Smith will be walking around somewhere.
Find her... and thank her for 22 amazing years of culinary wonderment.
It's far more difficult to do, than you can possibly imagine.
Better still… if you are going to be at the festival on September 9th, 16th, 29th or November 5th purchase a ticket to see chef Pam Smith actually prepare some of her own dishes! She's not just an amazing host and emcee, but has created signature flavors and menus for some of America's best restaurants like Seasons 52 and Bahama Breeze!
She always delivers the goods at her own culinary demos, creating signature-level small plates (each guest gets their own dish and beverage pairing of course), that are among the best plates in the series each year. I could not be happier that she will be cooking at four of her own demos, along with one "Mix It, Make It" demo for the 2017 season.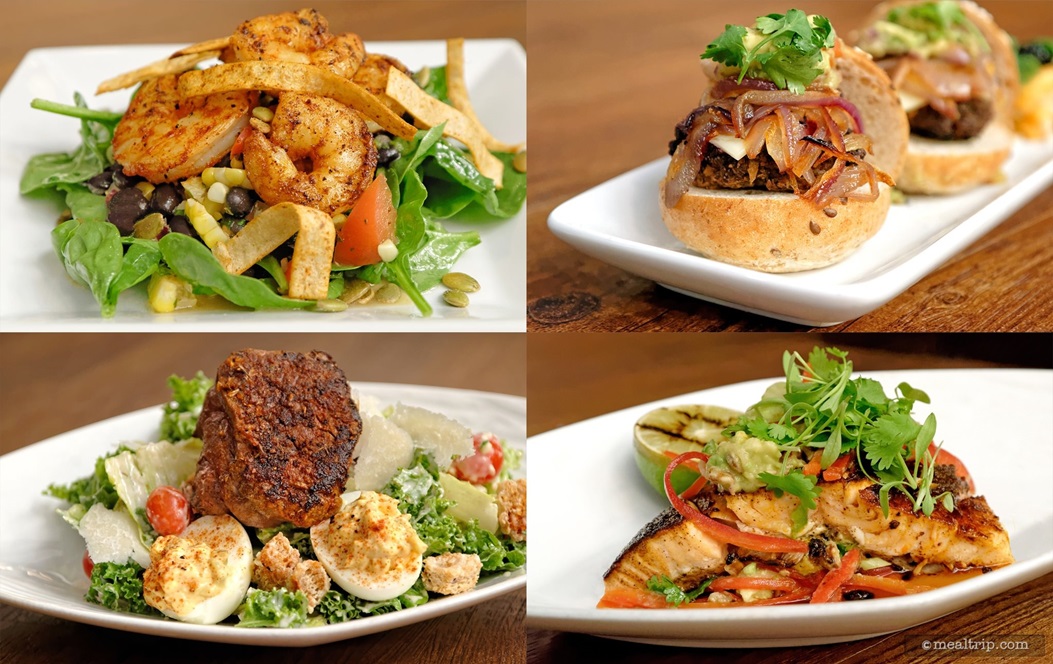 Just a few of the amazing dishes from chef Pam Smith's Culinary Demos.
If you would like to see a list of everything happening in the Festival Center at this year's Epcot International Food and Wine Festival,
CLICK HERE and visit our Festival Center schedule page
.
If you would like to see some of the chefs that have been a part of the Culinary Program at the festival over the years (and to see what some of the food looks like),
CLICK HERE and visit our "Festival Center Flashback" page
.