The Frozen Summer Fun Premium Package is Back for 2015
April 15th, 2015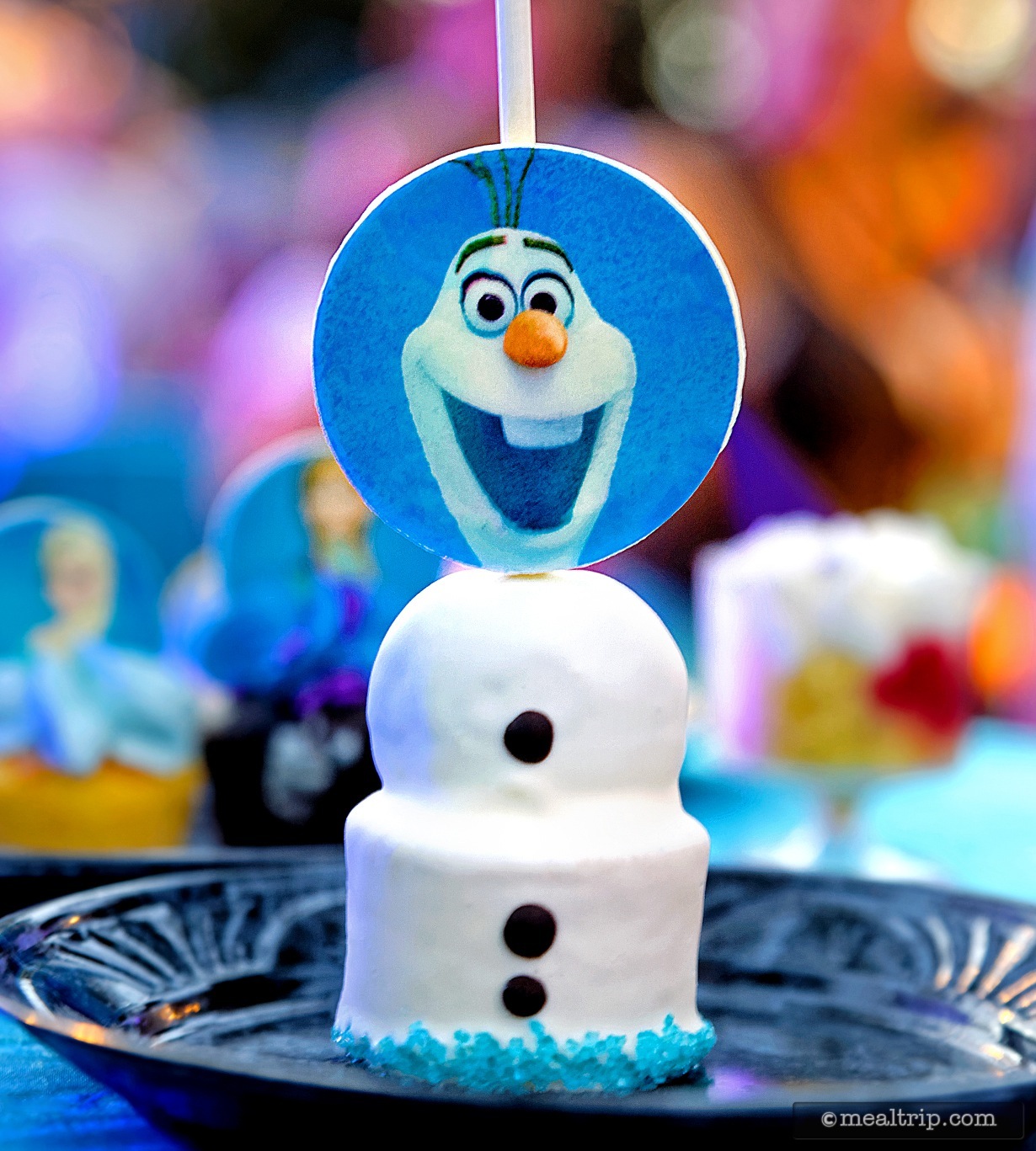 We just got word that the Frozen Summer Fun Premium Package is once again being offered at Hollywood Studios this summer, and is available for booking by calling 407-939-3463 or you can
click here to book the event online at the Disney.com site
. The event is planned every day from June 17th, 2015 to September 7th, 2015 (except July 4th and July 15th).
Of the three themed premium packages (StarWars, Frozen Summer, and Frozen Osborne Holiday), all of which included dessert parties at Hollywood Studios last year… we thought the Frozen Summer Fun Premium Package struck the best balance between cost, overall coolness, and dessert party quality.
The premium package includes a reserved space to watch the morning's Anna and Elsa's Royal Procession which runs down Hollywood Boulevard, and includes a little stage show presentation in an area that is now known as "the center stage courtyard" (i.e. where the giant sorcerer's hat used to be)… and the best part (for theme park foodies anyway), there were free sodas and ice cream bars… and it looks like that hasn't changed for this year's event.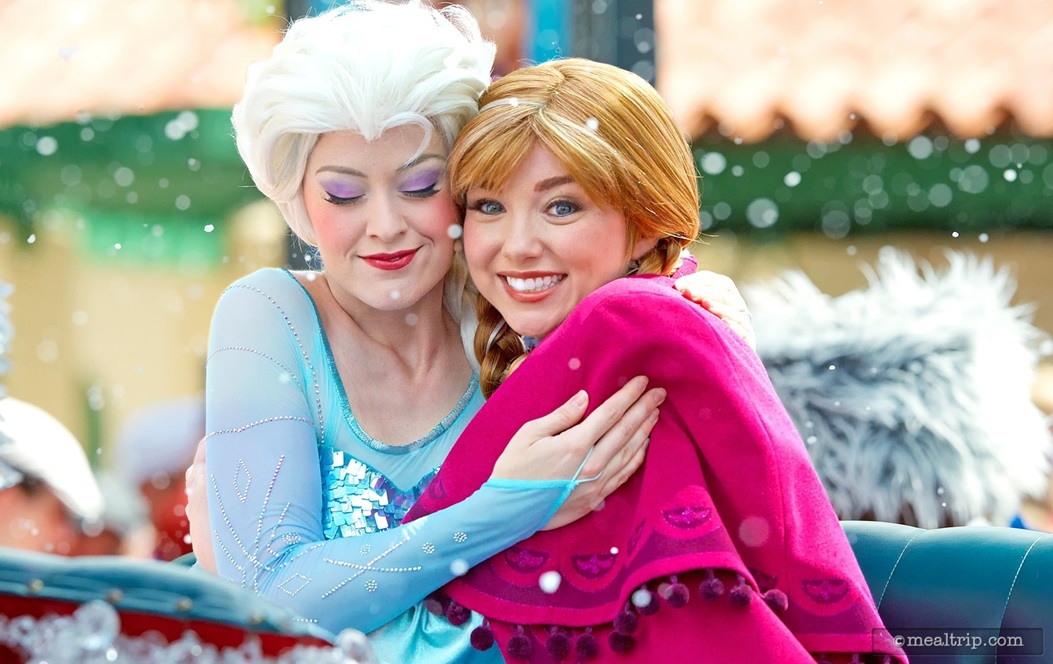 Anna and Elsa share a warm hug during the "Anna and Elsa's Royal Procession" which takes place in the morning, and is the first event that's part of the premium package.
Also included is reserved seating for the "For the First Time in Forever: A Frozen Sing-Along Celebration" show, at some point during the day. Basically, when you check-in for the morning event (at Min and Bill's Dockside), you will be asked which show time you would like reservations to. There really is no pre-planning that one, so if you really have your heart set on a specific show time, get to Min and Bill's early that morning.
Elsa sings her most famous songs during a performance of "For the First Time In Forever: A Frozen Sing-Along Celebration".
The Premium Package festivities end with a Fireworks Dessert Party in the same area that the morning's Royal Procession viewing was located.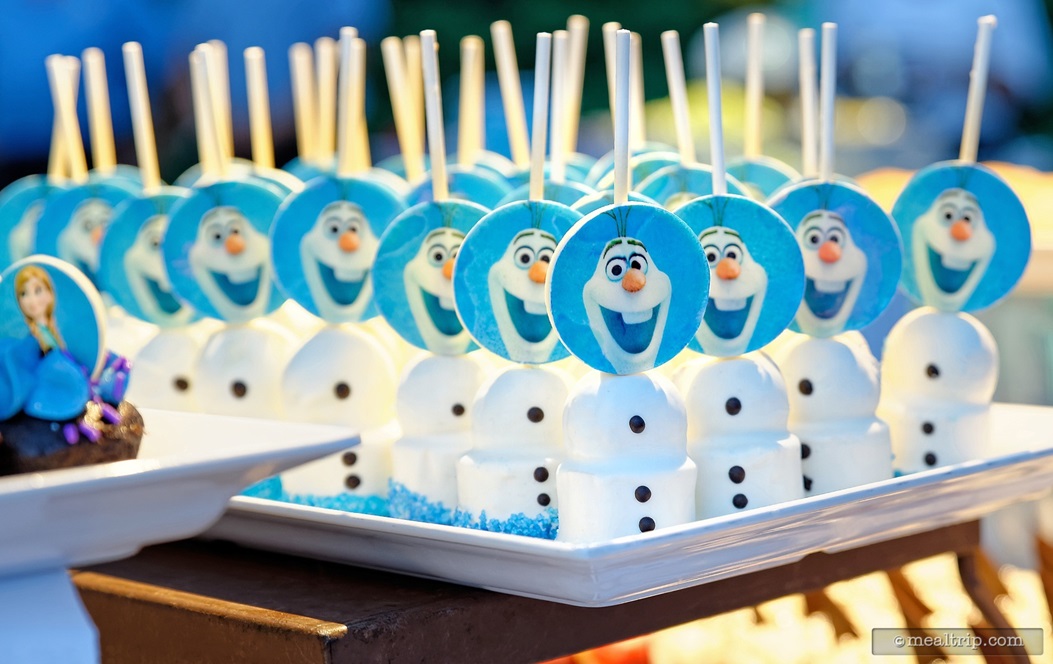 Olaf Cakepops all lined up and ready to go at the Frozen Fireworks Viewing area where the Dessert Party takes place.
Last year, there was no seating for the dessert party event, just high boy type of standing tables. We think that will probably be the case again this year. But, last year's dessert selections were very diverse and delicious
(click here to see our photos of the desserts from last year's event
).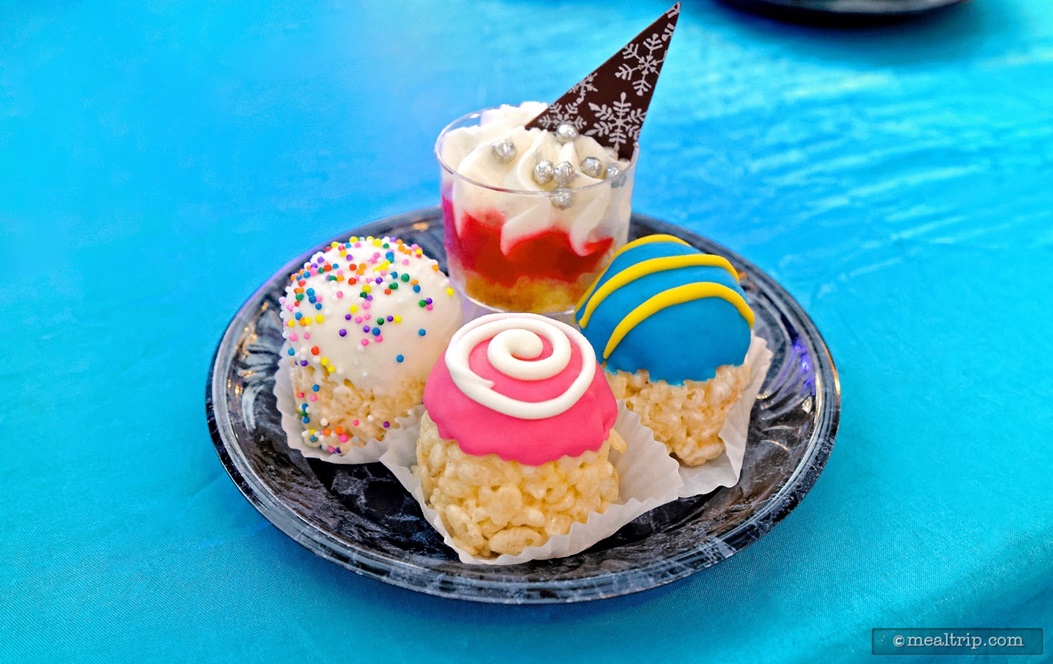 There were many different desserts available at the Frozen themed dessert party last year.
There's no way to tell if the same spread will be offered at this year's event of course, but we do know there will be two or three "adult beverages" on hand for the grown ups (yep, with endless refills on those, all you have to do is wait in line… hint… no one is in line when the fireworks start) … and take our word for it … these fruity cocktails last year were soooooo much better than the mixes they came up with for the "holiday" version of this dessert party.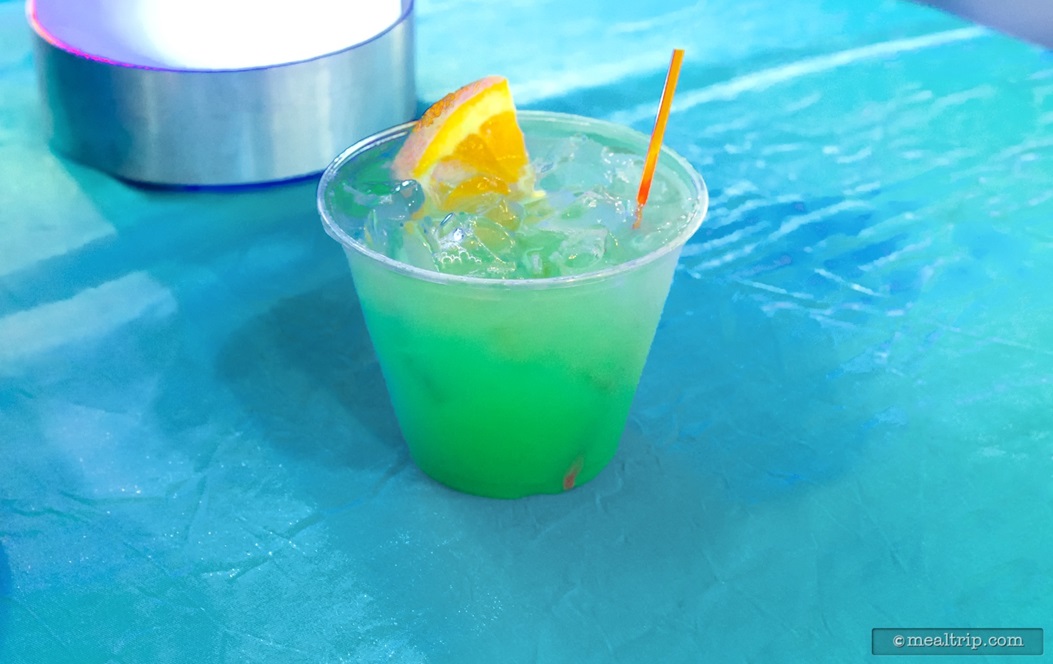 Those 21 and over can enjoy "adult" beverages. (Most of the cocktails are also available in "juice only" form for the little ones.) There are cute Frozen names for all of the drinks available, the one pictured here is basically a Blue Hawaii combining rum, pineapple juice, and curaçao.
The dessert party space also acts as a somewhat decent spot to watch the fireworks… but here again… we will have to wait and see how that plays out this year. Now, there's no giant sorcerer's hat to obstruct our view of the fireworks, and that seemed to be the one complaint about the party's location last year.
So, fingers crossed… this year's event might even be a bit better than last year's! The premium package is $69 for adults and $39 for children 3 to 9. Reservations do fill up quickly for this one, and very few spaces were available for walk-ups last year. Once again, the dates for that are from June 17th, 2015 to September 7th, 2015 (except July 4th and July 15th) … reservations can be made by calling 407-939-3463 or you can
click here to book the event online at the Disney.com site
.
If you attend this year's event, please leave a review here at Mealtip.com! We would love to know what you thought, and sharing your experience may help other guests decide if the Frozen Summer Fun Premium Package is something they want to do, or not do, on their visit to the parks!