Farewell Tomorrowland Terrace Fireworks Dessert Party... Hello Wishes Fireworks Dessert Party!
March 19th, 2015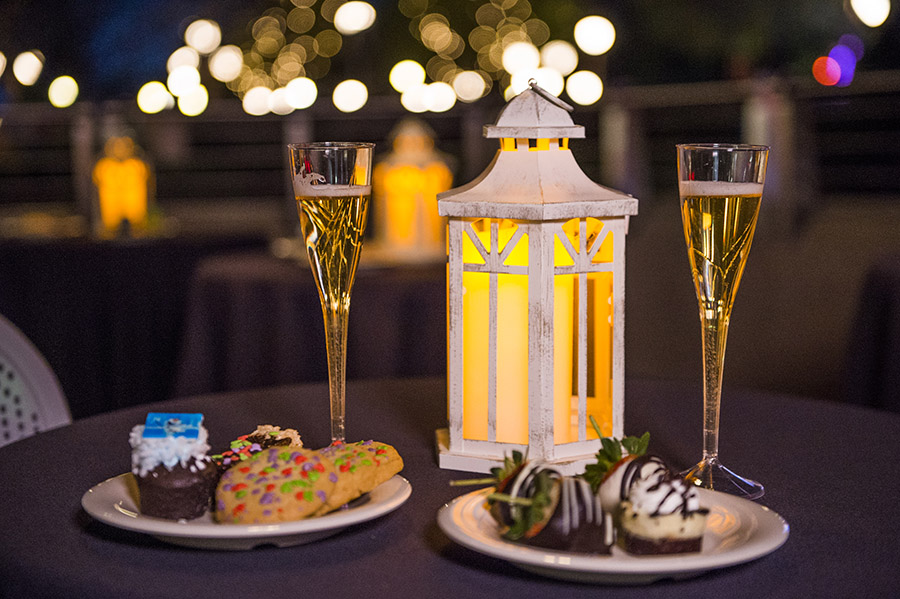 The almost always booked solid
Tomorrowland Terrace Fireworks Dessert Party at the Magic Kingdom
has just been replaced with a very similar sounding "new" dessert party experience beginning on July 5th, 2015, the more aptly named the
Wishes Fireworks Dessert Party
.
If you have existing reservations for (now old) Tomorrowland Terrace Fireworks Dessert Party, fear not… the price, location and name of the event will stay the same until July 5th, 2015.
We probably won't know just how much is "new" at the event until it begins, but we do know there's a major price increase (almost double) to $49 for adults and $29 for children (Disney Dining Plan not accepted). It seems as though, tablecloths and small table lights have been added (to the media photos anyway), and there now seems to be a plastic flute of sparkling cider involved somehow. There's no reason to believe that the location and relaxing pace of the event will change though… and that's great news!
The mini-pastries (such as Apple Pie Tarts, Cannolis, and tiny Creme Brulee cups) are not shown as much (in the media photos) as the more decorative (but from a foodie's standpoint, much more mundane) myriad of multi-colored mini-cupcakes. It's hard to tell if that was done just for the photos, or if delectable delights such as the Key Lime Tarts, Mango Shooter, and Banana Cream Tarts will remain a part of the event.
I have been a huge advocate of the Tomorrowland Terrace Fireworks Dessert Party since it began. It has been an amazing value and experience… a rare combination to be sure. You get a chair and breathing room to comfortably watch not only the Wishes Fireworks, but the Main Street Electrical Parade. Add in all of the different mini tarts, fruit and chocolate covered strawberries… and this was one great Disney experience.
The price point increase for this new Magic Kingdom experience squarely places the event head-to-head with Epcot's IllumiNations Sparkling Dessert Party. Selecting one to recommend over the other, might be a more difficult choice now. We won't know more until the new Wishes Fireworks Dessert Party begins on July 5th, but as always,
Mealtrip.com
will be there at some point on opening week to get the best photos and an honest review of the newly refreshed, renamed, and more costly event.
We have also added the new event to our database at the following page,
Wishes Fireworks Dessert Party, a review and photos will be available shortly after the event
. For the time being, our page for the
Tomorrowland Terrace Fireworks Dessert Party
, will remain open as well.
Reservations can be made beginning on March 20th, 2015 by visiting
DisneyWorld.Disney.go.com/dining/
, or calling 407-WDW-DINE.