The Walt Disney World Swan and Dolphin Food & Wine Classic Returns for 2021
October 10th, 2021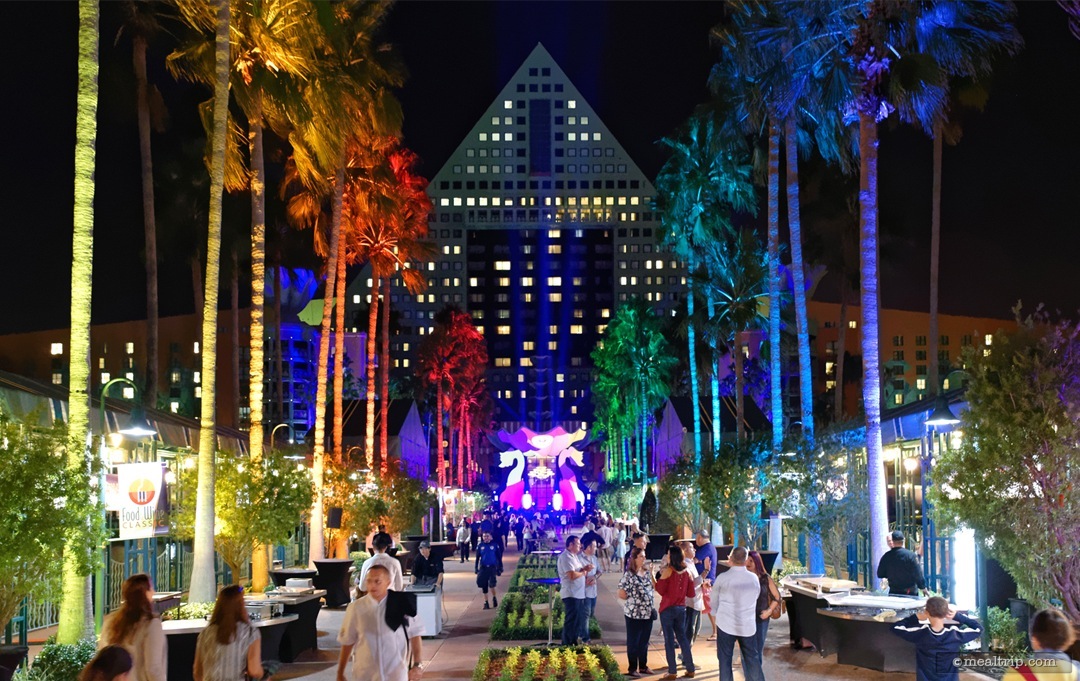 The Swan and Dolphin
Food and Wine Classic
is currently entering it's 12th year and I couldn't be happier that we're getting the full-on, outdoor, big party, festival experience that we've come to expect at the "Classic"! I've been to several of these events over the past decade and have posted about them here on Mealtrip — but (admittedly) under a not so easy to find category.
I recently moved the
Swan and Dolphin Food and Wine Classic
into the "Festivals" category and have given it a master landing page of sorts — so all the future info that we have will be posted under this new, single hop, festivals page (just like the various foodie events and festivals in the actual parks).
Why now? The Swan and Dolphin has managed to do something that even the big mouse next door couldn't pull off this year — a large scale, 500+ guest, multi-senses party, featuring unlimited tastings and wine samplings (along with some craft beers, hard seltzers and other libations too) with live entertainment. I had always (perhaps mistakenly) thought about the Classic as riding piggyback to Epcot's Food and Wine Festival — but not any more. If you like these big, all-inclusive food and wine stroll type of events — this will likely be your only shot this year — and perhaps going forward.
The Food and Wine Classic is taking place this year on October 29th and 30th only (the time of the event is from 5:30pm - 9:00pm each day) — and while the "Stay and Play" Room + Event overnight packages sold out months ago — there are still some Causeway Tickets that are available for purchase at $165 (plus service fee and taxes, etc., that ends up being $185, per person, for either Friday or Saturday night) — but probably not for too much longer. This event does sell out each year.
As soon as I turned on the new event listing for the Classic, I received some questions from our amazing followers here on Mealtrip about the 2021 event.
(As a side note, the 2020 event was a little different, smaller, and held indoors because of that pesky pandemic-level virus that closed everything down — so there's been at least 728 days since many have considered going to a large-scale foodie event like this.)
I've reached out to the Swan and Dolphin to get more details on some of the questions you were asking and have even done a little super sleuthing on my own — the results of which, make up the rest of this article — as we take a look back and a look ahead at this year's Swan and Dolphin Food and Wine Classic.
What Does a Normal Food and Wine Classic Look Like?
This isn't one of the questions that I was asked, but for reference (and to bring forward some of the photos that have been buried deep in the Mealtrip archives)… I thought it might be a good idea to go over what the event includes.
This is a large-scale annual event where 500+ guests can stroll around to various food stations and beverage stations located on the hotel's scenic causeway (a large outdoor event space) and sample tapas sized culinary selections created by the hotel's award winning chefs from the restaurants located at the Swan and Dolphin resort.
In the past, there had been a la carte tickets available, so you could purchase just one or two samples of the festival favorites, but those are not being offered for 2021.
(Editorial note : I'm personally not too upset about that. This is a special event and it's way more fun when it's "all inclusive" and you can enjoy unlimited food and beverage tastings — without having to think about paying for everything as you walk around.)
The "Causeway" ticket would get you a wrist band to wear for the evening. That wrist band would let you visit any (and all) food and beverage stations and get samples, all night long, as often as you would like. It's a pricy splurge, but it's the best way to experience the event.
The main Causeway that I keep referring to is technically the walkway that connects the Swan and Dolphin hotels to each other. There are a number of food and beverage booths on this main walkway.
In the very early years of the festival, the whole event took place just in this area. Over the last decade, the event has grown and now also encompasses several themed areas located off the main Causeway.
One of those themed area is the "Beer Garden" located close to the Swan side of the resort complex. The Beer Garden has it's own little round about walkway under some trees.
As the name suggests, the beverage of choice in this area is beer, and there are numerous selections to choose from.
The food samples in this area also have a Beer Garden theme, such as Pork Schnitzel with a Mushroom Sauce, warm Bavarian Style Pretzels, and for 2021 … even a Wagyu Sloppy Joe!
There's also usually some dedicated seating in each themed area along with a small band to set the tone and provide some live music and background ambiance.
This "themed area" concept is repeated in various locations around the main causeway, like the Chinatown neighborhood (which is returning for 2021) that served some some tasty plates with an Asian twist.
For the 2018 Food and Wine Classic, there was even a Polynesian themed area with a lu'au feel.
In the past, and closer to the Dolphin hotel, there's a main stage area where a large band provides a festive backdrop of live entertainment — with enough area for some dancing. We're not sure how this is going to be implemented for the 2021 festival… but the team at the Swan and Dolphin always has appropriate safety measures in mind. The event is still operating with "covid-safe protocols" in place — so it'll be as fun as it can be, but we might see some limits with regard to just how close guests can get to the band, and each other for dancing, etc.
Fireworks under the stars have been mentioned for the 2021 event as well, which I have never personally seen at the Swan and Dolphin Food and Wine Classic — so those will be a new-to-me bonus this year that I'll be on the lookout for!
How Are They Doing Drinks This Year?
The beverage tastings are certainly one of the highlights of the Swan and Dolphin Food and Wine Classic — but the actual process for getting those samples might be a little different this year.
In the past, you would get a little souvenir glass (a wine glass, a beer glass, or both) which was actually plastic — but it would be "your" glass for the evening.
If you wanted a beverage sample, you simply handed your glass to the wine sommeliers or beverage team representative at any given booth, and they would tell you a little about what they were pouring and give you a fairly decent amount in your glass to sample.
There were water stations around at various locations, so if you wanted to clean out your glass between pours (i.e. when switching from red to white wine for example) you could do that.
The process of handing your glass to someone that just touched someone else's glass, whom then hands the glass back to you — is on the no-no list for 2021. "Reducing Touchpoints" is the name of the game now — so expect to see single use plastic glasses being used at the various beverage stations — at least this year.
Does this still mean we'll be getting a souvenir glass? Only time will tell. All in all though — I think this is a good change. We're all more in-tune with "Reducing Touchpoints" these days, and while I do think a lot of little plastic cups are going to be used for the event, (and unmarked tiny plastic cups aren't quite as photogenic as a logo branded glass) — I'm not really sure how else you could do this with current covid safety protocols in place.
Surprisingly, it's not the first time plastic cups have been used though. If you take a look at this Moscow Mule station from a couple of years ago… they were mixing the cocktail in little single-use plastic cups, and then handing the cup to you.
Are There Still Going to be Themed Areas Like the Carnival Area and Chinatown?
Yes and no. The themed areas that have been confirmed for this year are...
The Bubble Lounge
China Town
The Pig & The Poke
Hang 10
The Biergarten
...along with the whole Causeway area. The Carnival Area is not going to be making an appearance for the 2021 event.
The Carnival Area had several carnival like game booths and activities set up — which was far too many touchpoints to keep clean. If I know our readers though — they probably didn't care so much for the Carnival Area (per say) as they did the Deep Fried Oreos and Frito-based food samples that came from this great little corner of the festival.
Oh, those weren't the most sophisticated items on the menu, but they quickly became guest favorites because they combined comfort food favorites with a little deep fried carnival goodness. Maybe next year Deep Fried Oreos — maybe next year.
It does sound like there's a greater emphasis being placed on restaurant names and culinary departments this year than we've seen in the past … Todd English's Bluezoo, Shula's Steak House, and the new Walt Disney World Swan Reserve team are mentioned in the menu. But I suspect those locations and sampling tables are going to be split into the familiar culinary neighborhoods that we look forward to.
What About Food for Vegetarians?
It wasn't apparent to me at first either — but there are actually three dishes on each night that are fully vegetarian. Options like the "Vegetarian Rice Bowl" from the Cabana bar and the "Hearts of Palm Ceviche" from Hang10 are fully vegetarian.
If you're a pescatarian (a person that adds fish to an otherwise vegetarian diet) there's even a few more options, like the Tonnarelli Alle Vongole that includes baby clams to an otherwise vegetarian based dish.
We've also been told that certain booths should be able to leave out the meat ingredient if it's a component that's being plated to order.
Didn't There Used to be Culinary Demos?
Yes there were... and there will be some educational seminars again! There are plans to bring these back for the 2022 event. Yay, I miss Culinary Demos! While these were extra cost, add-on events that took place before the festival started — they were a great way to interact with some of the amazing chefs and beverage suppliers that were participating in that day's event.
The hands-on classes were great for both beginners and seasoned pros as you were able to interact directly with a working chef that knows all the ins and outs of making their dish. You could ask questions as the class went along, and you even got to eat and drink what you made!
Usually info on these classes and the Food and Wine Classic in general are released quite early in the year (late spring or early summer) — we'll be sure to post any information that we get, to the new
landing page for the Classic here on Mealtrip.com
What About Each Night's Food and Beverage Menu?
I have each night's menu posted here on the Mealtrip site (
click here to see those
), but I don't really recall ever seeing a full beverage list published. The Swan and Dolphin website has a large main menu category named "Drink" which has some general info, but no specifics.
We have confirmed that there will be over 100 beverage selections available on each night, that fall into one of seven categories... Beer, Wine, Champagne, Sake, Spritz, Seltzers, and Spirits.
Most diehard foodies will probably be most interested in the wine selections — from past events, I would say the wines would be considered "popular" or "premium" level, maybe one or two "super premiums" — but if you're looking for a "luxury" or "icon" pour — you're probably not going to find it. This is an event for 500+ people after all.
I look at it as a great opportunity to sample some "weekend wines" that I wouldn't buy a whole bottle of, without trying out first. (ps - If you find a wine you really like, make sure to grab a photo of the bottle with your cell phone. I can never remember the names of everything the day after.) I am happy to report though — I have not yet found what I would consider to be a "value" wine being poured. The "two buck chuck" has been left at Trader Joe's.
Beers have been making a larger appearance at the festival, because craft beer brewers are popping up all over the US these days — so craft beers are well represented.
For everything else on the list — there's usually one or two stations set up… which you may have to hunt for a bit — but that's part of the fun of the festival.
I'd say you'll find the Champagne options in the Bubble Room area of the festival. Santé!
What Happened to All Those Amazing Desserts and Chef Laurent Branlard?
Well chef Laurent Branlard now has his very own restaurant called "LB Bistro & Patisserie". Unfortunately for us — it's in Chicago.
Wait — scratch that... chef Laurent Branlard is back in Florida (circa mid-October, 2021) — and will be the pastry chef at the not-yet-open "Lake Nona Wave Hotel".
Chef Branlard's attention to detail was second to none when looking at and tasting all those mini desserts that he brought to the Classic each year.
The menu information that's been published on the Swan and Dolphin official website — I'm not gonna lie — it's a little wonky. Most people are only seeing one dessert per night, but I have confirmed that they do intend on having both desserts available on both nights of the event.
So the
Bourbon Apples Cup
with Bourbon Vanilla Ice Cream, Caramel Whipped Ganache, Almond Pound Cake, and Honey Granola Crumble — along with the
German Chocolate Cake Cup
with Warm Chocolate Pecan Brownie, Coconut Cream, Caramelized Pecans, Toasted Coconut, and Fudge — will both be available on Friday and Saturday. Yay!!! I'm looking forward to trying both!
What about the Sunday Bubbles Brunch?
Ahhhhh — yes. The gold standard of brunches, to which all brunches that have come after have been judged against... the Sunday Bubbles Brunch at Il Mulino. Well sadly, it won't be around for 2021 — only time will tell about any future
Sunday Bubbles Brunches
.
In the past, there had been some extra brunches and dinners that surrounded the main festival event days… one of which was called the "Sunday Bubbles Brunch". I have posted a review from the last
Bubbles Brunch back in 2018 here
.
This year — honestly — just the fact that a full version of the Food and Wine Classic is taking place again is a huge win for foodies. If we can get the Culinary Demos back next year… it will be another step in right direction.
I have been told that there will be a Brunch taking place on Sunday (after the festival, so that's October 31st, 2021) at the
Fresh Mediterranean Market
(located at the Dolphin) — that's going to feature a full breakfast buffet AND those bottomless mimosas that we just can't get enough of — for $40 per person. I've never been to the
Fresh Mediterranean Market
but it sounds like a great deal to me (especially the bottomless mimosas part).
I suspect — the official "Sunday Bubbles Brunch" can't happen without a sponsor — because it was a pretty amazing event. Sure, it was around $100 per person (after service fees and whatnot), but it's one of those few events I can honestly say was worth the price that was being charged. It was a splurge — but the quality and diversity of what was being offered was top notch. Maybe one day the Sunday Bubbles Brunch will return… fingers crossed.
As I conclude my little wrap up of the past, present and future of the Swan and Dolphin Food and Wine Classic — I'll provide some quick links to some important info.
I'm super excited to be adding the
Swan and Dolphin Food and Wine Classic to it's own Festivals category here on Mealtrip
.
We saw a few mini-events taking place last year during the great pandemic, and they all looked pretty amazing as well. I'm hoping that as the Swan and Dolphin welcomes a brand new hotel to their growing family of buildings (aka The Walt Disney World Swan Reserve) — we might see a few more events happening at the resort throughout the year. Oh, that's probably more wishful thinking on my part than it is "news", but you never know. If I hear about anything — I'll post it on our shiny new
Swan and Dolphin Events and Festivals
page!
There's a gallery of 116 photos from a previous full-size Swan and Dolphin Food and Wine Classic located here.
A great recap of the Sunday Bubbles Brunch is located here.
And if you want to go to this year's Swan and Dolphin Food and Wine Classic — you should probably look into getting tickets sooner than later. The event does sell out each year… and I suspect there's only a few tickets left for 2021.
Here's a direct link to the official Swan and Dolphin Food and Wine Classic ticket page …
https://swandolphinfoodandwineclassic.com/tickets
I hope to see you there!!!