Last Call at the SeaWorld Craft Beer Festival 2021 - Walkabout Day Three
October 27th, 2021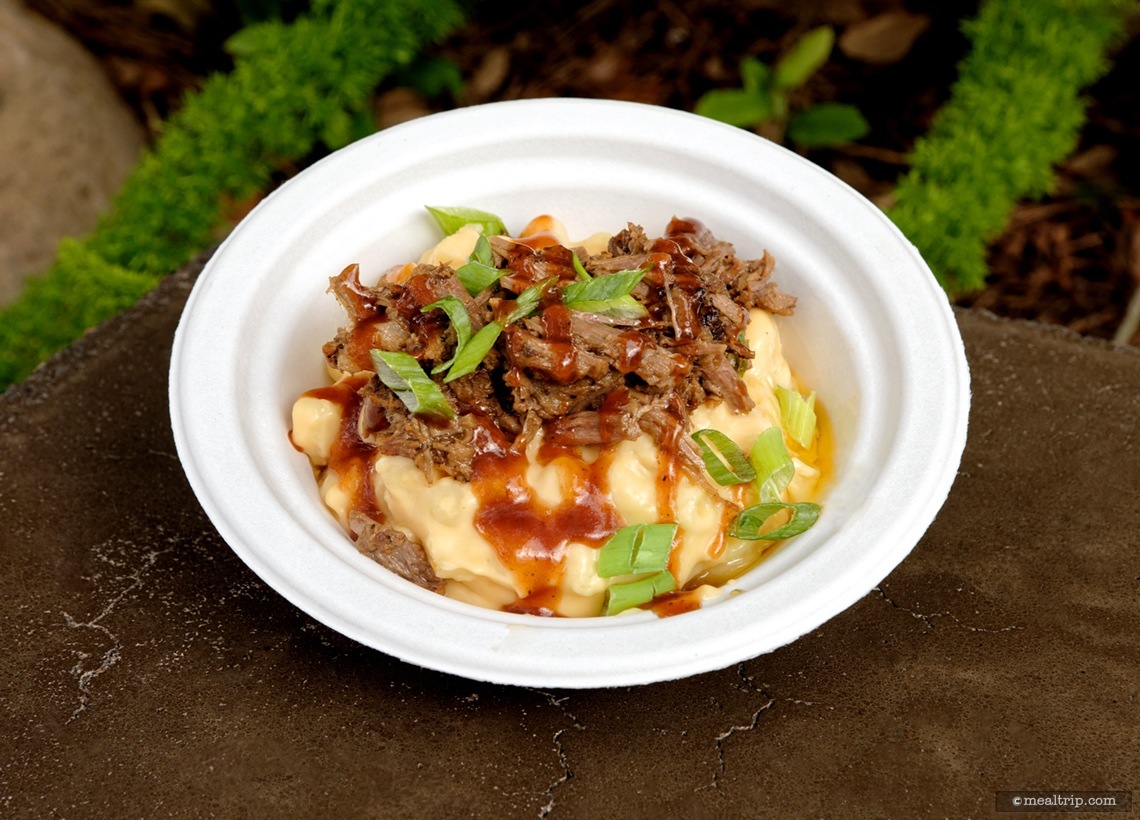 I'm so glad the Craft Beer Festival at SeaWorld, Orlando
was extended until October 31st this year. It gave me more time to enjoy walking around and sampling the food and beverage options, in slightly less humid conditions! But — it's already time for a "last call" — as this weekend (Oct 29
th
, 30
th
, and 31
st
2021) are the last three days of this year's festival.
In addition to the the Craft Beer Festival — SeaWorld's family friendly Spooktacular is going on at the same time. So if you have punches left on your Sampler Lanyard — this is your last weekend to get out there and stroll around in some amazing weather, eat some great food samples, and try a few beers (and frozen cocktails)!
This is my third walkabout article from the festival, and I think it contains some of my favorite food items so far!
First up, I tried some
Smoked Chicken Quesadillas
from the Brews & Chews kiosk. It's likely one of the first food kiosks you'll run into on the Craft Beer Festival trail.
This is a new item this year and is served with Jack Cheese, Fresno Salsa, and a little Sour Cream. Aside from being a little messy to pick up and eat, all of the elements of these Quesadillas tasted great!
Individual Item Price : $8.49
Eight Sample Lanyard Price Breakdown :
$6.68
Twelve Sample Lanyard Price Breakdown :
$5.80
AP Fifteen Sample Lanyard Price Breakdown :
$4.64
I've seen Quesadillas served all different kinds of ways ... I suppose this is the "traditional" method ... with just the chicken and the cheese inside the tortilla and the salsa and sour cream on top. If that's the case, technically — the salsa should be stuck on top of the Sour Cream and not off to the side.
I prefer the "modern quesadilla" — which would have everything (chicken, cheese, and the salsa), inside the tortilla, with just the sour cream on top. The flavors are all the same, but you'll probably need a fork to get some of that yummy fresno salsa into each bite of these slightly deconstructed quesadillas.
Next up, I headed on over to the Sam Adams Boston Brewery Best Bites kiosk, which has some of the more culinary adventurous options this year.
These little guys are the
Fried Sauerkraut Sausage Balls
and are a little like arancini, but not really… to me, these give off a little more of an Asian vibe than Italian (or German).
Individual Item Price : $7.99
Eight Sample Lanyard Price Breakdown :
$6.68
Twelve Sample Lanyard Price Breakdown :
$5.80
AP Fifteen Sample Lanyard Price Breakdown :
$4.64
Being filled with Pork Sausage, Sauerkraut, and Philadelphia Cream Cheese — I was expecting these to be really dense and heavy — but they were just the opposite! The Sauerkraut was not super "krauty", it was more like chopped cabbage than kraut, which is why my brain kept thinking about some kind of "Asian Stuffing Spoonbread" — and not a dense German dish. However, the spice notes were definitely "pork sausage"… maybe a little sage and/or thyme possibly… and a hint of nutmeg or star anise? Hard to tell, the spice notes were really subtle.
These were so light, crunchy, and delicate — you couldn't really pick them up with your fingers. Size-wise, they were larger than golf balls, but smaller than tennis balls. Once you started to draw a fork through them, they would just break apart into smaller pieces, that were much easier to scoop out with a fork.
I'm not sure what to call the orange sauce on top. It wasn't cheese and it's not super (capsaicin) "hot", but there are bits of red pepper in it. No matter, the sauce was great and I was glad to have a little extra moisture in each bite.
Time for a drink! I know, it's a "craft beer festival" but I do love those frozen cocktails on really hot days. This little cup of frozen sunshine is the
Fistful Frozen Peach Punch
available at the Sam Adams Boston Brewery Best Bites booth.
It has a little bit of tea, peach puree, and some bourbon (some "Fistful of Bourbon" to be exact — which is the brand name of a blended bourbon — hence the name "Fistful" Frozen Peach Punch) — all frozen up, slushy style! Oh, it's brain freeze worthy. This Fistful Frozen Peach Punch, the Frozen Hurricane and the Fistful Frozen Whiskey Sour have been my favorite frozen cocktails this year!
Beer and Wings go together like Peanut Butter and Jelly so naturally, there's some Wings — and conveniently, they're at the same booth as the Fistful Frozen Peach Punch.
These are the
Golden Pilsner Cured Chicken Wings
and they are slathered in a savory garlic chili sauce!
Individual Item Price : $8.49
Eight Sample Lanyard Price Breakdown :
$6.68
Twelve Sample Lanyard Price Breakdown :
$5.80
AP Fifteen Sample Lanyard Price Breakdown :
$4.64
I'm not sure if this was more like a crispy chili sauce or a sriracha — or maybe both — but they were savory and garlicy! Surprisingly, there was some actual chicken under that sauce too. Most of the time, I've found "wings" to be nothing more than a carrier for the sauce with a little chicken fat here and there, but these actually had some white meat chicken on them. There were three pieces on my plate — I think there were two legs and a thigh piece.
Staying with the "hot" theme, these
Crispy Buffalo Cauliflower Bites
with Buttermilk Garlic Dressing from the Cigar City Snacks booth were probably my favorite item of the festival this year! They're also one of the few vegetarian offerings.
Individual Item Price : $6.99
Eight Sample Lanyard Price Breakdown :
$6.68
Twelve Sample Lanyard Price Breakdown :
$5.80
AP Fifteen Sample Lanyard Price Breakdown :
$4.64
For starters, this is a huge portion! I'm really glad there's a pile of cauliflower on the plate because you really can't stop eating them. A crispy and hot (capsaicin) buffalo coating surround each cauliflower floret and the whole plate has a house made, herby, buttermilk garlic dressing drizzled over the top.
Heat-wise — to me it wasn't one of the "hottest" versions of buffalo I've ever had. This is a theme park, and like all theme parks, "hot" things are often on the safe side. So if you're looking for "knock your socks off hot buffalo", this isn't it. It's really designed to be something the masses will enjoy — but that's not knocking it at all. I wasn't looking for super hot. I actually really enjoyed tasting all the components of the dish, including that very herbal buttermilk garlic dressing!
Honestly — this was one of the best items, and if you're going to have something deep fried, cauliflower is probably one of the more healthy options. I'd totally order this one again and again.
And that brings me to my final item from the 2021 Craft Beer Festival at SeaWorld — but it's a pretty great one, that I'm sure everyone (except vegetarians) would enjoy.
It's a big bowl of
Smoked Brisket Macaroni & Cheese
from the Kraft Heinz & Sierra Nevada Brewing Company booth.
Individual Item Price : $9.49
Eight Sample Lanyard Price Breakdown :
$6.68
Twelve Sample Lanyard Price Breakdown :
$5.80
AP Fifteen Sample Lanyard Price Breakdown :
$4.64
If you can find a booth that has "Kraft" on it, and there's a "Mac & Cheese" on the menu — it's probably going to be pretty good — and this version of Mac & Cheese did not disappoint.
It's pretty straight forward — some Low & Slow Hickory Smoked Beef Brisket over Kraft Heinz™ Creamy White Cheddar Macaroni & Cheese. This was served hot and stayed super warm the whole time I was eating it — and naturally, it would pair well with any beer. The Sierra Nevada Pale Ale from the same booth is a great example!
There were quite a few plates this year that featured smoked meats, and I really enjoyed them all. SeaWorld does have the kitchen facilities (over at Voyagers Smokehouse) to offer up some amazing meat products, and the Smoked Beef Brisket on this Mac and Cheese was a real treat! There was little to no fat on my lean beef brisket, and it did have a really nice "smokehouse" flavor.
I can't believe another Craft Beer Festival will be in the books after this weekend! On the plus side — if you've got some Sampler Lanyard credits that you haven't used yet, or are just visiting this popular SeaWorld festival for the first time this weekend — the weather is going to be great!!!! It's going to be sunny and in the mid 70s, which is perfect for strolling around, eating food, drinking beer, and hitting the candy trail at Spooktacular with the little ones!
To see all the food and beer options available at this year's
Craft Beer Festival, click here
to see our handy, quick loading text list of everything that's on the menu boards! Or just
click here, to visit our main Craft Beer Festival
page.