Food, Beer, and Cocktail Menu Items for the 2021 Craft Beer Festival at SeaWorld, Orlando (Text List)
August 4th, 2021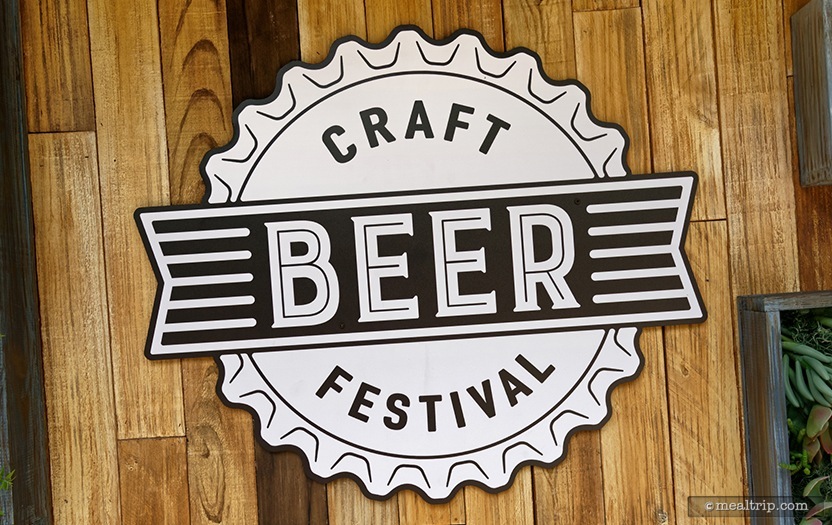 SeaWorld, Orlando's Fourth Annual Craft Beer Festival
kicks off on Friday, August 13th, 2021 and takes place on Fridays, Saturdays, and Sundays only, through Sunday, September 12th, 2021 — plus Labor Day, Monday, September 6th, 2021.
Check out the map below for a great overhead look at where the festival kiosks are located. I've put names next to the booths that have food items — because beer is basically available, everywhere.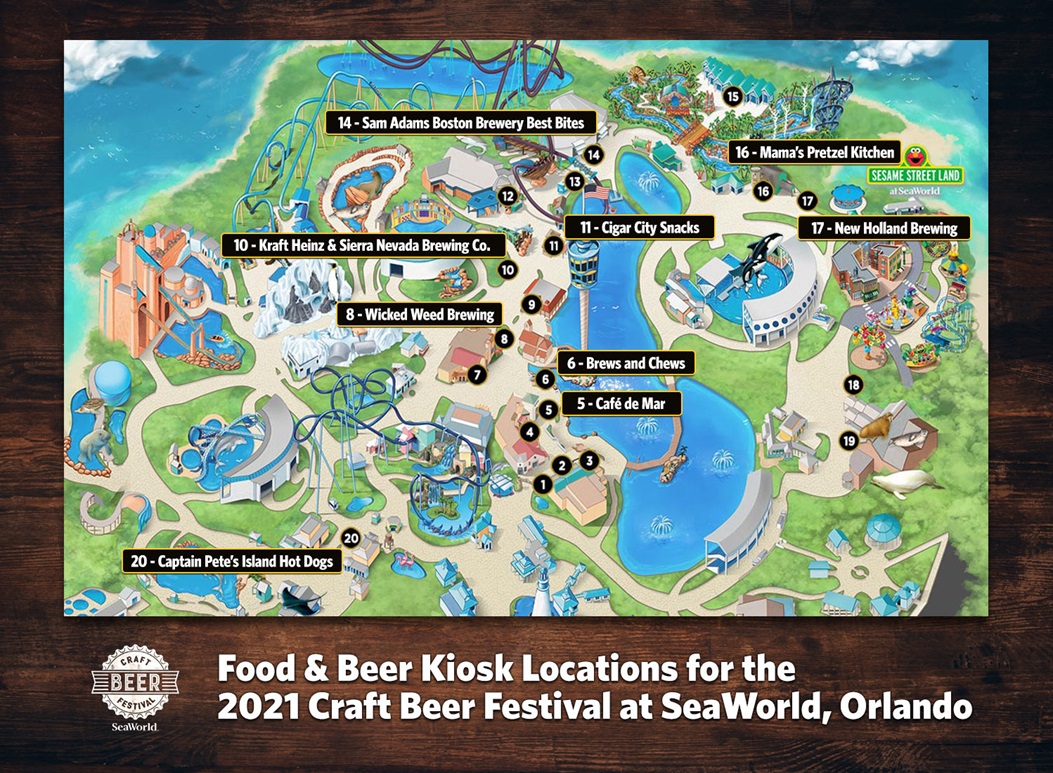 Food, Beer, and Cocktail Food Booth Locations for the 2021 Craft Beer Festival at SeaWorld, Orlando
Sampler Lanyards are Also Back for 2021!
The popular Sampler Lanyard system is back this year, where guests can enjoy 8 or 12 samples of food, beer, or cocktail offerings at the Craft Beer Festival for a one-time purchase. The punch card lanyard system is a very convenient and speedy "way to pay" for the food and beverage samples. The 8-Item Sampler Lanyard is $50.00 (plus tax) and the 12-Item Sampler Lanyard is $65.00 (plus tax) for 2021. Discounts are available for passholders.
1 - Yuengling Welcome Center
BEVERAGE
Traditional Lager
Oktoberfest
Flight
Golden Pilsner
Black & Tan
2 - Big Storm Brewing Co. at Seafire Grill
BEVERAGE
Bromosa Tangerine IPA
Tropical Pressure Golden Ale
Palm Bender Gulf Coast IPA
Sunny Key Lime Wheat Ale
Wave Maker Amber Ale
3 - South Beach Brewing & Suncreek Brewery at Flamecraft Bar
BEVERAGE
Blood Orange Sunset IPA
South Peach Shandy Sparkling Ale
Strawberry Orange Mimosa Sparking Ale
South Beach Seabreeze Sparkling Ale
Sun Squishy IPA

Clermont Champions Lagar
Save The Blonde Ale
Whistling Birds - Raspberry Sour
Moonlight Chocolate Milk Stout
4 - Ivanhoe Park Brewing Co & Crooked Can Brewing Co.
BEVERAGE
Joyland American IPA
Guavaction Sour - Berliner Weisse
Tupuc Shaporter American Porter
Uraysau Rice Lager
Higher Stepper American IPA
Florida Sunshine Pilsen Malt Lager
Up Yondah! Hazy IPA
Cloud Chaser Hefeweizen
Bandoleros Light Mexican Lager
FROZEN COCKTAIL
Tito's Handmade Vodka & Beso Del Sol Frosé
Sangria Frosé
5 - Vermont Cider Co. at Café de Mar
FOOD
Cheesecake Cones
Pumpkin, Blueberry, White Chocolate Raspberry
BEVERAGE
Woodchuck Pumpkin Cider
Woodchuck Amber Hard Cider
Woodchuck Sangria Cider
FROZEN COCKTAIL
Mudslide
Absolut Vanilla Vodka, Kahlua, Milk, Chocolate
Milagro Margarita
Milagro Tequila, Triple Sec, Lemon, Lime
Jack Daniels Lynchburg Lemonade
Jack Daniels Tennessee Whiskey, Lemonade, Triple Sec, Sprite
Mojito
Flor de Caña Rum, Mint, Lime Juice, Sprite
6 - Brews & Chews featuring Funky Buddha Brewery
FOOD
BBQ Roasted Heritage Pork Nachos
Waffle Fries, Cotija Cheese, Avocado Crema
Smoked Chicken Quesadilla — NEW
Jack Cheese, Fresno Salsa, Sour Cream
Beer and Cheese Stuffed Beef Slider — NEW
Pickled Mayo, Ale BBQ Sauce
BEVERAGE
Floridian Hefeweizen
Hop Gun IPA
Chant Repeatable IPA
Vibin' Groovable Helles Lager
Tropical Hard Seltzers
FROZEN COCKTAIL
Fistful Frozen Whiskey Sour
Fistful of Bourbon, Citrus
7 - JDub's Brewing Co. at Voyager's Smokehouse
BEVERAGE
UP TOP! IPA
Passion Wheat
Bell Cow Milk Chocolate Porter
Poolside Kolsch Style Ale
Bomb Berry Blueberry IPA
8 - Wicked Weed Brewing
FOOD
Beer Cured Smoked Pulled Pork Platter — NEW
Served with Cajun Rice, BBQ Baked Beans, Pickled Onions
Nathan's Featured Hot Dog
BEVERAGE
Pernicious IPA
Coastal Love Hazy IPA
Fresh Pressed Fruit Wheat Ale
Watermelon Dragon Fruit Burst Session Sour
COCKTAIL
Barrilitos Aguas Frescas
Watermelon (Non-Alcoholic)
FROZEN COCKTAIL
Frozen Hibiscus Mimosa
Prosecco, Monin Hibiscus Syrup
9 - Persimmon Hollow Brewing Co. at Lakeside Grill
BEVERAGE
Daytona Dirty Blonde Ale
Beach Hippie American IPA
Blood Orange Wheat
3 Wise Guys Coffee Porter
10 - Kraft Heinz & Sierra Nevada Brewing Co.
FOOD
Beer Battered Popcorn Rock Shrimp — NEW
Kraft Heinz™ Four Pepper Ranch
HONEYRACHA™ Buttermilk Fried Chicken — NEW
Kraft Heinz™ HONEYRACHA™ Sauce
Smoked Brisket Macaroni & Cheese — NEW
Low & Slow Hickory Smoked Beef Brisket over Kraft Heinz™ Creamy White Cheddar Macaroni & Cheese
BEVERAGE
Pale Ale
Wild Little Thing Slightly Sour Ale
Hazy Little Thing Hazy IPA
Oktoberfest Amber Marzen
Strange Beast Hard Kombucha
FROZEN COCKTAIL
Frozen Hurricane
Bacardi Light, Sailor Jerry Spiced Rum, Passionfruit, Grenadine
11 - Cigar City Snacks
FOOD
Stout Braised Beef Short Ribs
Smoked Cheddar, Onion Mashed Potato
Old Bay Steamed Giant Prawns — NEW
Fresh Lemon Tartar Sauce
Crispy Buffalo Cauliflower Bites — NEW
Buttermilk Garlic Dressing
BEVERAGE
Jai Alai IPA
Frost-Proof Belgian-Style White Ale
Guayabera Citra Pale Ale
Maduro Brown Ale
Florida Man Double IPA
12 - Woodford Reserve Bourbon The Bar at Sharks Underwater Grill
COCKTAIL
Woodford Reserve Old Fashioned Cocktail
13 - Jack Daniel's Whiskey Hut
BEVERAGE
Tennessee Quality Apple Fizz
Tennessee Quality Whiskey & Cola
Tennessee Honey Whiskey, Honey, & Lemonade
FROZEN COCKTAIL
Cold Fashioned
Jack Daniels Rye Whiskey, Tea, Citrus, Bitters
Manhattan
Jack Daniels Rye Whiskey, Sweet Vermouth, Bitters
14 - Sam Adams Boston Brewery Best Bites
FOOD
Golden Pilsner Cured Chicken Wings
Savory Garlic Chili Sauce
Stout Glazed Tuna Lollipop — NEW
Daikon & Wakame Slaw, Wasabi Aioli
Fried Sauerkraut Sausage Balls — NEW
Pork Sausage, PHILADELPHIA Cream Cheese™
BEVERAGE
Boston Lager
Octoberfest Traditional Marzen
Wicked Hazy Juicy New England IPA
FROZEN COCKTAIL
Fistful Frozen Peach Punch
Fistful of Bourbon, Tea, Monion Peach Puree
15 - Orange Blossom Brewing Co. & Sailfish Brewing at Waterway Bar
BEVERAGE
Orange Blossom Honey Pilsner
Orange Blossom Honey Pilsner2
City Beautiful IPA
Cranberry Crisp Pilsner
Sunrise City American IPA
White Marlin WIT Wheat Beer
Tag & Release Red Amber Ale
Sailfish Helles Lager
16 - Florida Ave. Brewing Co. & 3 Daughters Brewing at Mama's Pretzel Kitchen
FOOD
Pretzel Nuggets
Cinnamon Sugar Nuggets
BEVERAGE
You're My Boy Blue Blueberry Wheat Ale
Passion of the Heights – Herbal Wheat
Luminescence Hazy IPA
Rollin Dirty Irish Red Ale
Dead Parrot Light Lager
Tropical Hefe Hefeweizen
Coffee Blonde Ale
Maple Bacon Porter
Oktoberfest Märzen
17 - New Holland Brewing
FOOD
Pretzel Wrapped Bratwurst — NEW
Grain Mustard Sauce
BEVERAGE
Dragon's Milk Bourbon Barrel-Aged Stout
Dragon's Milk White Stout
Lightpoint Functional White Ale
Little Piglet Session IPA
FROZEN COCKTAIL
Hurricane
Bacardi Light, Sailor Jerry Spiced Rum, Passionfruit, Grenadine
18 - Beer Garden featuring Tito's Handmade Vodka & Motorworks Brewing
BEVERAGE
Pulp Friction Grapefruit IPA
Midnight Espresso Coffee Porter
Octoberfest Marzen
Hiya Gourdie Pumpkin Ale
COCKTAIL
Blackberry Peach Sangria
Tito's Handmade Vodka, Beso Del Sol Wine Sangria, Monin Blackberry & Peach Puree
19 - Elysian Brewing at Glacier Bar
BEVERAGE
Night Owl Pumpkin Ale
Space Dust IPA
Contact Haze Hazy IPA
Superfuzz Blood Orange Pale Ale
COCKTAIL
Sparkling Mojito
Flor de Caña Rum, Fresh Mint, Lime
Spicy Pineapple Margarita
Milagro Silver Tequila, Fresh Lime
20 - Alcatraz Brewing Co. at Captain Pete's Island Hot Dogs
FOODBEVERAGE
2X IPA Double West Coast IPA
Head South IPA
Double Cold Brew Imperial Coffee Stout
FROZEN COCKTAIL
Hurricane
Bacardi Light, Sailor Jerry Spiced Rum, Passionfruit, Grenadine
If you want to see some photos and read more about the
SeaWorld, Orlando Craft Beer Festival
— check out our
Craft Beer Festival event page
!