SeaWorld Orlando Adds a Craft Beer Dinner Series Series to it's Annual Summer Festival
August 3rd, 2021
Oooooooo... SeaWorld, Orlando has just added a swanky new, sit-down Craft Beer "Dinner" Series
to their popular annual craft beer festival! The new four-course dinner will take place at "
Sharks Underwater Grill
", which is SeaWorld's indoor, full service restaurant located (more or less) in the center and east side of the park.
The dinner series is slated to run from 4:30pm until 6:30pm and will be held on most Fridays, Saturdays, and Sundays during the
Craft Beer Festival
(there's no dinner scheduled for Labor Day Monday, Sept. 6th, 2021 though). There are also three dinners scheduled after the
Craft Beer Festival
has ended, on September 17, 18, and 19.
(Last year, the walk-around parts of the Craft Beer Festival were extended by a few more weekends though... so that could happen again depending on attendance levels, I'm sure.)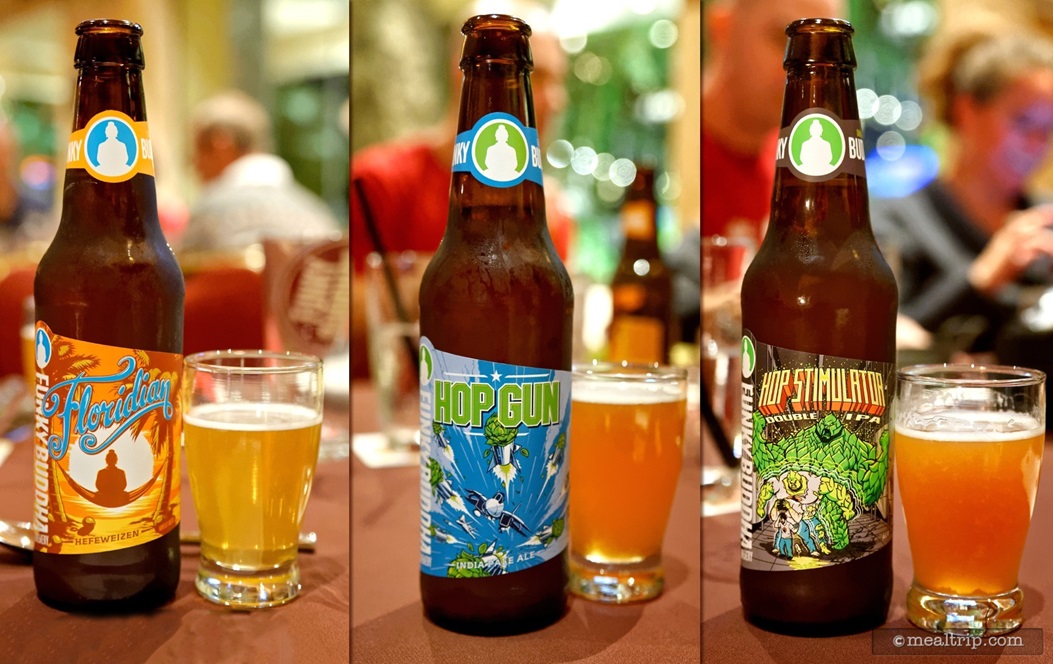 SeaWorld, Orlando's new Craft Beer Dinner Series will feature a four-course, sit-down meal and beer pairing, with a unique brewer or distiller represented on each night of the event . Pictured here are a collection of Funky Buddha beers, (which are not necessarily the beers Funky Buddha will be bringing to the first kick-off event, but I needed a picture to lead-off the article... and this seemed like a good one).
The private "Reef Room" is an area of the restaurant that can be separated from the normal dining area by a large curtain and is normally used for large groups or private parties.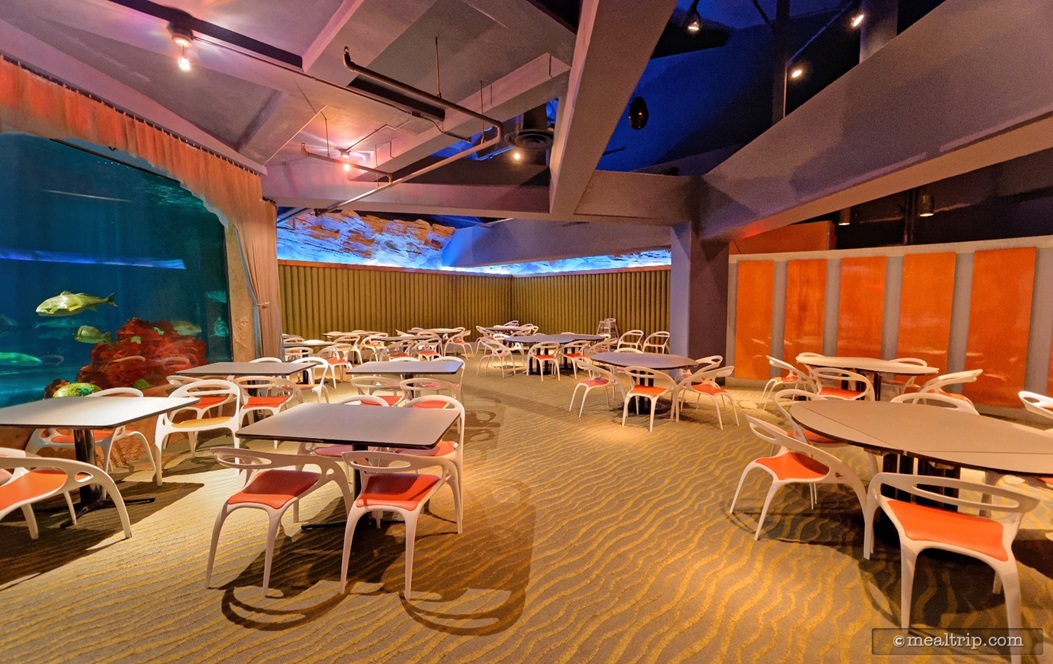 Located at the south end of the restaurant, there's a private dining area called the "Reef Room".
The four course meal will kick off with a Beer (or Cocktail) and Amuse (bite-sized appetizers) reception so be sure to check-in right at (or a little before) 4:30pm!
At 5:00pm a seated four-course meal will be presented with accompanying beer or beverage pairings. Each course will be preceded by a brief presentation given by the featured brewery or distillery representative.
It's also possible that some of the featured brewery or distillery's product will be used in the creation of the dish as well. For example, a "Pilsner Risotto" or a "Stout and Wine" Demi-Glace for a steak.
We've been to
similar dinners (at other resort locations) in the past
— they've not only been a lot of fun, but also a great opportunity to ask some questions about your favorite craft beer. The interactions with the brewery or distillery representative and the chefs are usually a memorable part of the experience. Beer is a surprisingly easy ingredient to work into some of your own culinary creations!
Here's some more pictures of beer cans, which may or may not be featured at the dinner.
Because each of the invited breweries or distilleries has different products, a specific menu for each night would be a little difficult to release, but SeaWorld has provided a "sample" menu, just to get an idea of what the four courses (and amuse) might be like.
Craft Beer Dinner Series Sample Menu
Welcome Amuse : 4:30pm - 5:00pm
Black Gold Truffle Dusted Popcorn
Pickled Tomato & Goat Cheese
Paired with the Brewery's Featured Beverage
Seated Four-course Signature Dinner : 5:00pm - 6:30pm
Pan Seared Scallop
Pilsner Mushroom Risotto, Pesto, Sriracha, and Basil
Paired with the Brewery's Featured Beverage
Grilled Lamb Chop
IPA Marinated Lamb, Roasted Potatoes, and Greek Tzatziki
Paired with the Brewery's Featured Beverage
Lemon Caper Salmon
Light Lager Wild Rice & Seasonal Vegetables
—or—
Grilled Filet Mignon
Stout & Cabernet Demi-Glace
Paired with the Brewery's Featured Beverage
Shark's Signature Chocolate Cake
Mascarpone Buttercream & Cabernet Ganache
Paired with the Brewery's Featured Beverage
The cost of the Craft Beer Dinner is $109.99 per person, plus tax and is for guests ages 21 and over (gratuity is included in the above price). There are three dinners that are priced a little higher at $129.99 per person, plus tax (on Sept. 12, 18, and 19, 2021) — these are signature dinners where slightly higher priced beverages will be featured (two are bourbon dinners and the other will feature Sheryl Yuengling, an actual family member/owner guest speaker from Yuengling). Park admission and parking are not included in the listed price. Reservations are required for this dining experience and seating is limited. The reservations page for this event is
located here, directly on SeaWorld, Orlando's website
.
So which breweries and distilleries are going to be featured? Here's the list of who's going to be there on each night of the new dinner series! There's no telling which beverages they will be brining to each event.
Event Dates and Featured Breweries:
Funky Buddha | Oakland Park, FL
Saturday, August 14
Big Storm Brewing Co. | Orlando, FL
Sunday, August 15
Crooked Can Brewing Co. | Winter Garden, FL
Friday, August 20
Orange Blossom Brewing Co. | Orlando, FL
Saturday, August 21
Wicked Weed Brewing | Asheville, NC
Sunday, August 22
Sam Adams | Boston, MA
Friday, August 27
Ivanhoe Park Brewing Co. | Orlando, FL
Saturday, August 28
South Beach Brewing Co. | Miami, FL
Sunday, August 29
JDub's Brewing Co. | Orlando, FL
Friday, September 3
Persimmon Hollow Brewing Co. | Orlando, FL
Saturday, September 4
Alcatraz Brewing | Lakeland, FL
Sunday, September 5
Sierra Nevada Brewing | Chico, CA
Friday, September 10
Elysian Brewing | Seattle, WA
Saturday, September 11
Woodford Reserve Bourbon | Versailles, KY **$129.99
Sunday, September 12
Cigar City Brewing | Tampa, FL
Friday, September 17
Yuengling | Pottsville, PA **$129.99
featuring Sheryl Yuengling
Saturday, September 18
Jack Daniel's Family | Lynchburg, TN **$129.99
Sunday, September 19
If you would like to secure a reservation to this brand new event,
click here and head on over to the SeaWorld official reservations page
for this event, directly on their website!