New Longest Restaurant Title Award Goes to
August 14th, 2015
Epcot's "L'artisan des Glaces Ice Cream and Sorbet" has had the proud distinction of having the longest eatery name in all four Disney theme parks in Central Florida... until now.
If you remove all the punctuations, the newly announced "Jungle Navigation Co., Ltd. Skipper Canteen" has tied the popular French Ice Cream shop for the "longest name ever" award. If you also remove all the blank spaces... our beloved L'artisan falls to second place by one letter. So sad.
However, the abbreviated "Jungle Skipper Canteen" sounds like it might be a pretty cool place. Magic Kingdomites love the Jungle Cruise, and most guests that were around in the 90's and early 2k's also loved, (and now miss) the Adventurers Club, at what then was then called Pleasure Island.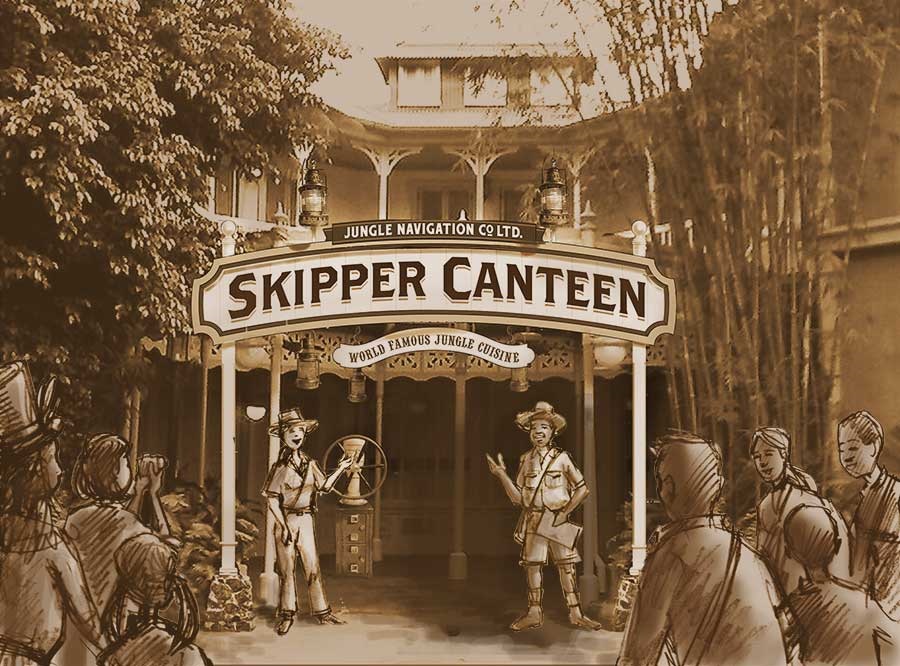 Concept photo Copyright ©Disney.
The newly announced "Jungle Skipper Canteen" inside the Magic Kingdom will offer both lunch and dinner periods and is set to feature a mix of African, Asian, and South American cuisines. We're not sure how all of that will play out, but here's hoping the "wetness" that just might be one of the better parts of eating at "Be Our Guest" is carried over to the new location.
We believe that one of the biggest issues with bringing "adult beverages" to other Magic Kingdom restaurants, such as the Crystal Palace or Tony's, isn't some long-standing mantra about the family oriented park being "dry"... but instead... it's simply a lack of operating and storage space.
With the Jungle Skipper Canteen being as close to a new build as tax laws will allow inside the Magic Kingdom (and the word "Canteen" appearing right there in the title)... we're fairly certain that there will be "magic juice" and adult beverages on hand.
From Disney media... "At the Jungle Skipper Canteen, guests will be able to experience 'World Famous Jungle Cuisine' in one of several unique dining rooms – including a crew mess hall and a once-hidden secret meeting rooms of the famed Society of Explorers and Adventurers. The restaurant will also be staffed by Jungle Cruise Skippers."
The new restaurant is set to open in late 2015.
We have added the new location to our directory as having separate lunch and dinner periods, but at this point, do not know if that will be the case. It's just a hunch on our part.
So what do you think? Would you be okay with adult beverages being available at the new location? Maybe just in the mentioned "once-hidden secret meeting room"? Hummm??? Let us know in the comments below!