The Seafire Inn Goes Tex-Mex
August 15th, 2015
The
Seafire Inn
, located in
SeaWorld - Orlando
, once played host to the Makahiki Luau and offered not only a memorable evening of entertainment, but a great meal as well. Sadly, those days are long over and the Seafire Inn, it seems, is languishing in thematic limbo.
If you've ever performed… anything, on any stage, at any level… you'll feel right at home eating lunch in the shadows of the dark stage. It still holds the promise and allure of any stage, anywhere in the world. The grand applause and laugher are, in the air, but just out of reach. It seems the only performers around these days are the somewhat melancholy janitorial staff. Hiding in the cool darkness of the main performance room, away from those icky dirty tables that are located in the various other dining areas of what is all considered, today's Seafire Inn.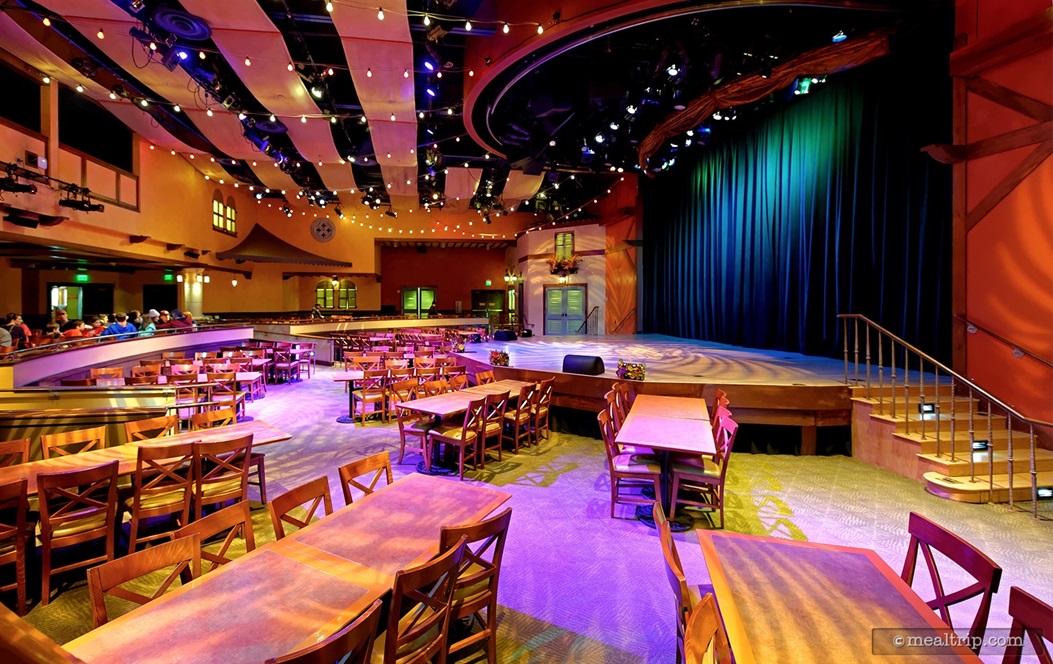 The Seafire Inn stage once played host to the Makahiki Luau.
If memory serves, there may be a Sesame Street Show that is occasionally is performed at the Seafire stage in the fall, but I don't think that involves eating or food in any way.
You can imagine my excitement though, when hearing that the Seafire had abandoned it's cafe-style "whatever" menu in favor of a tightly themed Tex-Mex menu. Could this be the beginning of a Spanish Conquistador makeover for the Seafire Inn?
Well, it's too early to tell if we're going to see any major changes in the restaurant itself, but the new direction in cuisine should, at the very least, get a rousing round of applause.
It's different. That's the first big win for theme park foodies. It's not just sandwiches and burgers… it's Tex-Mex, and Tex-Mex isn't available anywhere else in the park.
While I haven't had the chance to work my way through the menu yet, I did stop in to check out the Tex-Mex Rice Bowl, which is said to be "Fajitas Unwrapped" with Rice, Black Beans, Seasoned Corn, Peppers, and Onions topped with Pico de Gallo and Sour Cream. Most of the items can be made with your choice of chicken, steak, or a combination of chicken and steak.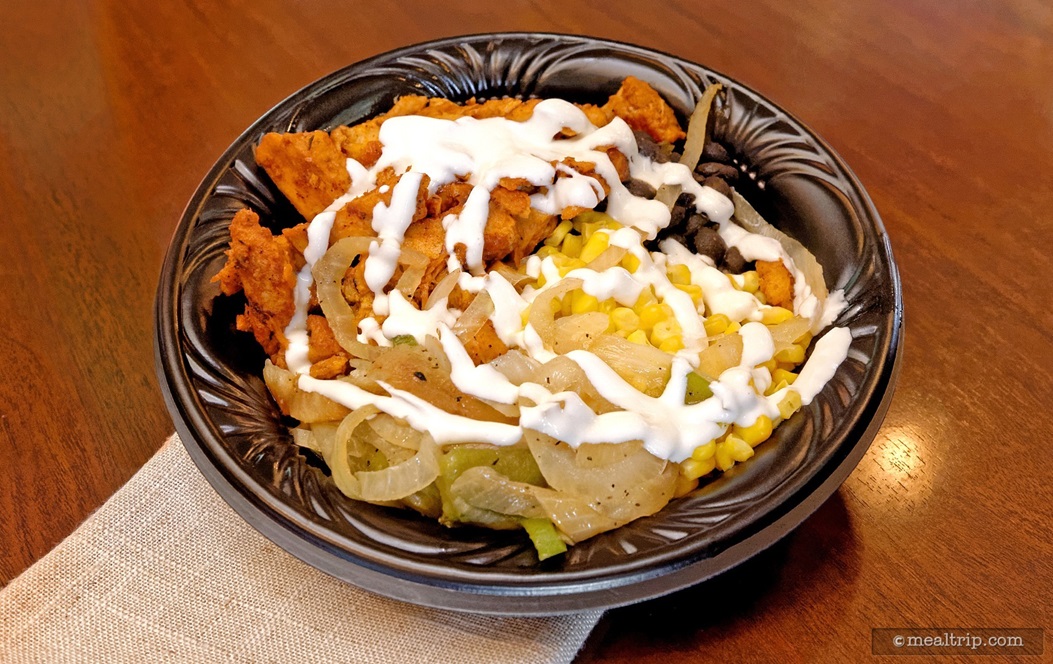 Seafire Inn's "Tex-Mex Rice Bowl" features Rice, Black Beans, Seasoned Corn, Peppers, and Onions topped with Pico de Gallo and Sour Cream. The entree can be made with chicken, steak, or a combination of both.
Fajitas (and to a lesser extent, Tex-Mex in general), is nothing, if not for the sum of it's part… and I'm happy to report that all the ingredients had the flavors and textures that they are supposed to have. There was no mass "keep-warming" going on, all the elements were in separate containers until plated.
The chicken was breaded, or coated with a thick something... and not grilled. That was a bit different, as I'm used to having grilled chicken in Fajita dishes, but other than that, this could easily rival any fast-causal Tex-Mex that's out there. The portion size may be a little smaller than what you would get outside the gates for the same price, but the same thing can be said for most theme park food (sigh).
Just for reference, it's clearly not going to beat your favorite table-service Tex-Mex location, but if we're just comparing food quality… I would rather eat here at the new Seafire Inn, than at the
Magic Kingdom's
"
Tortuga Tavern
". I know… that's not saying much because the poor Tortuga doesn't have the best reputation for culinary delights, but still… it's worth a mention.
If only the decor were to follow suit. A turn of the century, seafaring, Tex-Mex, pirate-like, makeover would be very, very cool. There's no indication that is even on the drawing board. It's just wishful thinking on my part.
Hopefully, I'll get a chance over the next couple of months to sample more of the menu at the Seafire Inn, and find out if some of the other items on the menu are as great as they sound. I'm really curious about the steak quality in any of the dishes, along with the Fajita Sandwich and Baja Cobb Salad. Those both sound like they could be great!
As far as we know, the
Seafire Inn is still serving a standard (non-Tex-Mex) continental breakfast
as well, which usually starts at park-open and is available for about 90 minutes.
If you've tried any of the new Tex-Mex items at the Seafire Inn, let us know in the comments below, or even better, visit our
directory and review page for the Seafire Inn
and leave a review!