It's The 2023 Mardi Gras Menu from Busch Gardens Williamsburg
The Big Easy Meets Big Thrills at the Popular Friday through Sunday Festival
January 13th, 2023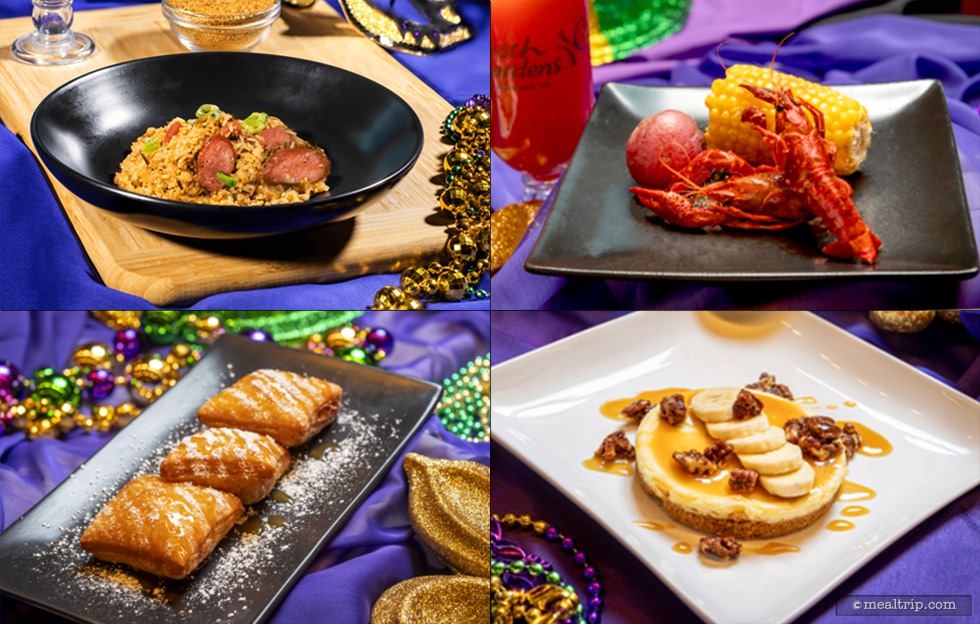 It's only a month long, but there's nothing quite like hot food on a cold day. From
Friday, January 27th through Sunday February 26th, 2023
— guests at Busch Gardens, Williamsburg can enjoy some great food and beverage items while letting the good times roll — (but only on Fridays, Saturdays, and Sundays only… plus President' Day, Monday February 20
th
, 2023).
There's over 30 food and beverage items on this year's festival menu and the popular Mardi Gras Sampler Lanyards are back too! A 5 Item Sampler Lanyard is available for $40 (plus tax) while a 10 Item Sampler Lanyard is available for $60 (plus tax). The sampler lanyards make picking up food and beverage items so much easier, and you can save a couple bucks in the process. Sampler Lanyards can be used over multiple festival days between Jan. 27th and Feb. 26th, so you don't have to eat 10 things all in one visit!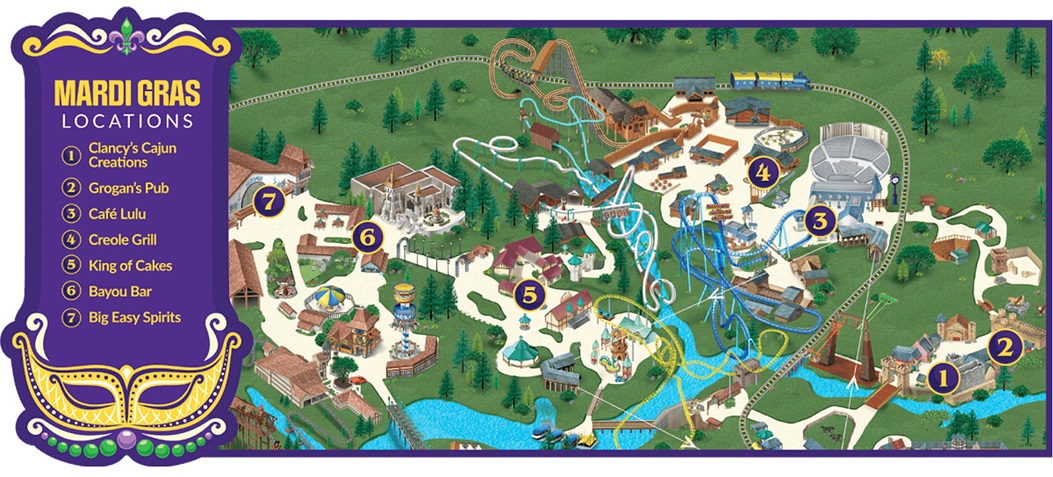 Here's a map for the 2023 Mardi Gras food and beverage locations at Busch Gardens Williamsburg.
Most of the food and beverage locations are open from 3pm - 8pm on Fridays, and from 12pm - 6pm on Saturdays and Sundays.
01 - Clancy's Cajun Creations
FOOD
Oyster Po' Boy - NEW
Shrimp Étouffée - FAN FAVORITE
Chicken & Andouille Gumbo - FAN FAVORITE
Red Beans & Rice
Fried Okra
Cajun Hushpuppies
BEVERAGE
Grasshopper Specialty Cocktail
02 - Grogan's Pub
FOOD
Cajun Meatballs
King Cake Shooter
BEVERAGE
French 75
Hurricane - FAN FAVORITE
03 - Café Lulu
FOODBEVERAGE
Passionfruit Hurricane - NEW
04 - Creole Grill
FOOD
Crawfish Boil - FAN FAVORITE
Blackened Chicken
Mardi Gras Corn
BEVERAGE
05 - King of Cakes
FOOD
Banana Fosters Cheesecake - FAN FAVORITE
Mini Mardi Gras Funnel Cake
Beignets
06 - Bayou Bar
FOODBEVERAGE
Bayou Margarita
Southern Spiked Lemonade
King's Cup Daiquiri
07 - Big Easy Spirits
FOOD
King Cake Cinnamon Roll - FAN FAVORITE
BEVERAGE
Cajun Bloody Mary - NEW
Magic Mimosa
King Cake Shot
Naturally, to partake in any alcoholic beverage, you'll need a legal ID proving your 21 or older. All food and beverage is "in addition to" your normal park admission charge. And as always, everything is subject to change without notice.
For the most up-to-date and offical informaiton about the
Busch Gardens Williamsburg Mardi Gras festivities
(and to purchase tickets and a Sampler Lanyard) — head on over to the
Mardi Gras page on the offical Busch Gardens Williamsburg
web site. (
Click Here
).
If you want to compare this event to what's going on at this year's
Seven Seas Food Festival at SeaWorld, Orlando
check out our
Seven Seas Food Festival page
where we will post all the food and beverage menu items for that festival.