Harry's Sip & Savor Menu for March 25, 2023
Featuring Big Storm Brewing Company Beer
March 9th, 2023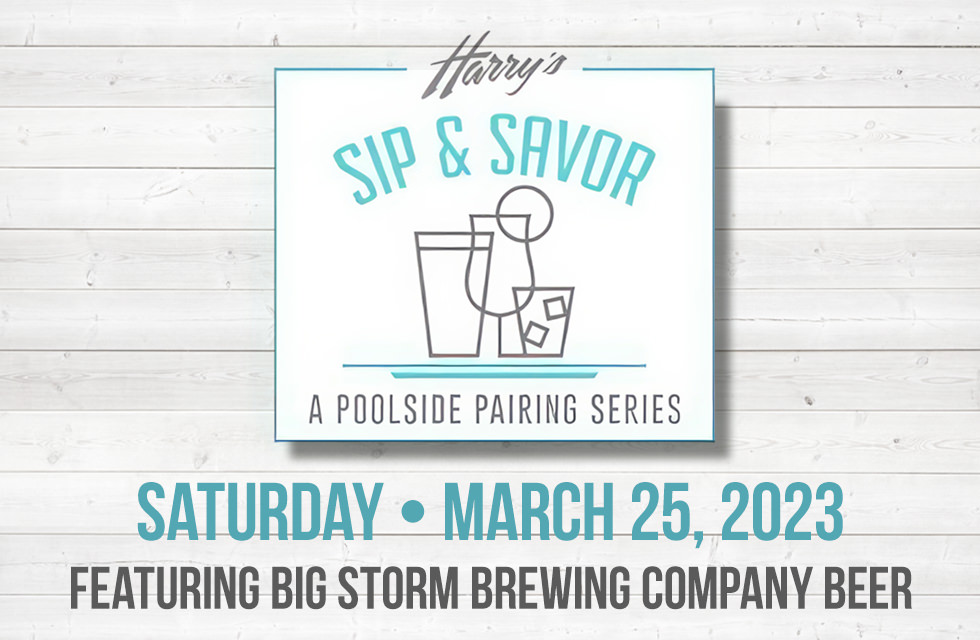 Every now and then Harry's Poolside Bar & Grill
at the Rosen Center hosts a fancy, culinary forward pool party. The Saturday, March 25th, 2023 event will feature several beers from the
Big Storm Brewing Company
and culinary pairings by chef Tello Luna.
The event begins at 6:30pm, runs about 90 minutes (give or take), and costs $70 (plus tax and service charge). The event sounds pretty cool, it's maybe even something I'd go to ... but I've never been able to figure out how to get a ticket. The email they send me goes to an Open Table booking system page for a "Harry's Bar & Grill" dining reservation, but not an event ticket. Maybe you'll have better luck than me though.
Here's a link (
Click Here
) to the official March 25, 2023 event and menu — located on the Harry's Poolside website.
Harry's Sip & Savor Features Big Storm Brewing Company
Saturday — March 25th, 2023
Seared Ahi Tuna
Pepper-Crusted Tuna, Spiced Pineapple and Farro Salad, Shishito Puree
Tropic Pressure Golden Ale
Fried Green Tomatoes
Goat Cheese-Stuffed Fried Green Tomatoes, Roasted Red Pepper Butter, Bacon Jam
Starkey Strawberry Blonde Ale
Coconut, Mango & Saffron Sorbet
Peach Vodka Soda Float
Pork Tenderloin
Black Eyed Peas, Date and Cilantro Relish
Wavemaker Amber Ale
Pistachio-Curry Crusted Salmon
Avocado Crema, Fennel Salad, Cumin Vinaigrette
Bay Beer Light Lager -and- BroMosa Tangerine IPA
Passion Fruit & Key Lime Pie
Tequila Whipped Cream
Hurricane Party
Cherry Watermelon Sour Ale
If anyone can figure out how to get a ticket online, let us know!