The 2023 Easter Brunch Menu at Rosen Center Orlando
Easter Buffet at Café Gauguin
March 10th, 2023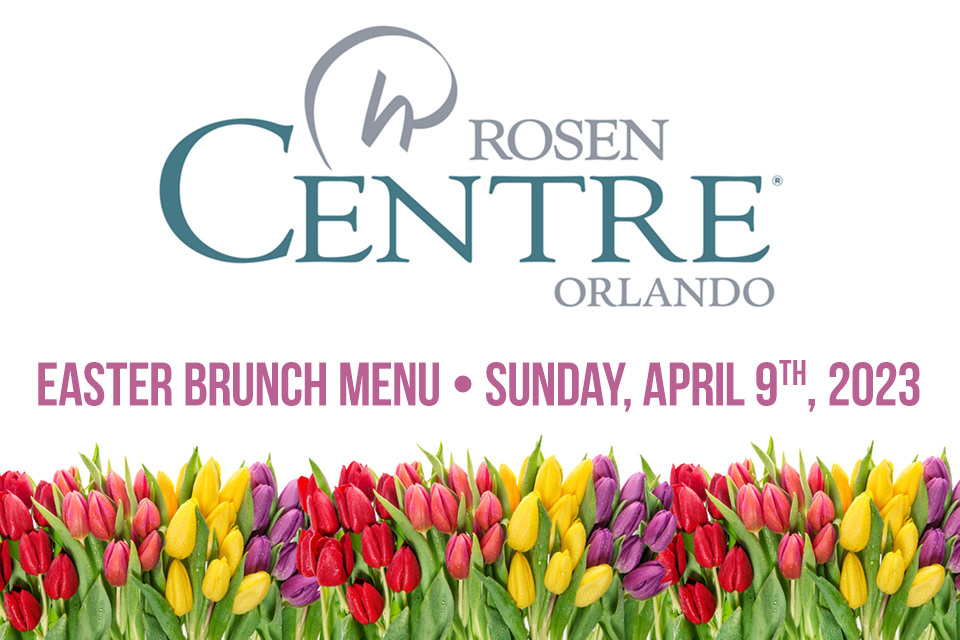 Easter is in April this year. Yay! It's April 9th, 2023 to be exact
, and Café Gauguin in the Rosen Center, Orlando is hosting a pretty big
Easter Brunch Buffet spread
.
Let's see if we can unpack some of the details before looking at the menu… the Brunch takes place on April 9th, 2023 and there's seating available from 11:00am - 4:30pm. There's a couple different prices though… if you make a reservation and pre-pay, it's $58.95 (plus tax, plus service fee) per adult, children 4-12 are $24.95 (plus tax, plus service fee), and children 3 and under are free.
However, if you make a reservation and choose to pay in-person, on Easter Sunday (or don't make a reservation, and just try to walk-up to the restaurant) that adult price rises to $65.05 per person (plus tax, plus service fee) … and the children's prices remain the same. Interesting.
Self-parking is free and Valet Parking is discounted to $15. Reservations are highly recommended, and if there's six or more people in your party… reservations are actually required. A credit card is required to hold reservations for all party sizes.
Champagne and Mimosas are bottomless
(aka "unlimited"). Sorry if that felt like an abrupt change in my narrative, but I didn't want to burry one of the main perks. There's nothing quite as fun as a brunch with bottomless mimosas.
Café Gauguin is normally a buffet style restaurant, with plenty of seating and this Easter Brunch event is no exception. Let's take a look at the menu for the
2023 Easter Brunch Buffet
…
Soups
Smoked chicken and corn bisque (GF)
Vegan chickpea and lemon soup (V, GF)
Market Salads, Fresh Seasonal Fruits and Berries
Fresh salad greens with assorted toppings and dressings
Rosen Centre seafood salad (GF, DF)
Roasted cremini salad, candied pecans, berries, and arugula in raspberry vinaigrette (V)
Cucumber watercress salad with tzatziki and feta (Veg, GF)
Jerk chicken and golden pineapple salad with baby kale, spinach, trio of sweet peppers, mango-pineapple dressing (GF, DF)
Fresh-cut cantaloupe, honeydew, pineapple, watermelon, blueberries, strawberries, raspberries, and cracked coconuts
Antipasto Display
Roasted red and yellow peppers, marinated artichokes, asparagus, olives, Peppadews
Pesto-marinated heirloom tomatoes
Tropical mahi-mahi escabeche
Capicola, mortadella, salami
White bean hummus with toasted naan bread
Local and Imported Cheese Selection
Cheddar, Swiss, provolone, Gorgonzola, Cahill's Porter, ruby port, Boursin Festival Stilton, manchego, sage Derby
Seafood Station
Jonah crab claws, Gulf shrimp, New Zealand green shell mussels
Cocktail sauce, Kick 'N' Bayou Sauce, lemons, limes
Smoked salmon with accompaniments
98Forty
Made-to-order steak tacos with green apple slaw, queso fresco, and avocado sauce
Chef Tello's Mexican street corn dip with festive tortilla chips
Banshoo Sushi
California roll, spicy tuna roll, shrimp tempura roll
Pickled ginger, wasabi, soy sauce
Pasta Station
Rigatoni pasta, spinach, roasted peppers, and tomatoes with Italian sausage Bolognese
Four-cheese tortellini with mushrooms, artichokes, rapini, and black pepper Alfredo sauce (Veg)
Spanish paella with chicken, chorizo, shrimp, clams, peppers, green olives, and peas (GF, DF)
Breakfast Station
Omelets made to order, smokehouse bacon, breakfast sausage
Tri-color potatoes, eggs Benedict
Buttermilk waffles, candied pecan pancakes with chocolate pearls
Flavored butters, maple syrup, strawberry syrup
Assorted breakfast pastries to include coffee cakes and fruit Danishes
Mini croissants and muffins
Carving Station
Slow-roasted leg of lamb (GF, DF)
Garlic lemon-thyme marinade, pan sauce, mint jelly
From the Hot Buffet
Skillet-seared chicken breast with kale and smoked almond pesto (GF)
Roast sirloin of beef with balsamic cipollini and honey-bourbon sauce (GF, DF)
Baked cod fish with coconut curry sauce (GF)
Chef's spring medley of local vegetables (GF, V)
Parmesan au gratin potatoes (GF)
Roasted corn risotto (GF, Veg.)
Children's Buffet
Crispy chicken tenders, buttered corn
Mac and cheese, mini marinara meatball mozzarella
Sweet Indulgences
Mini pastries and petits fours, chocolate Easter eggs and jelly beans
Snickerdoodle cupcakes, sweet shots, spring babas, little chick lemon tarts
Mississippi mud pie, chocolate cream torte, pineapple upside-down cake, Key lime pie, cannoli cake
Mocha java torte, Southern pecan pie, white chocolate cheesecake, tropical coconut cake
Lavender shortbread cookies, chef's bread pudding
A selection of no-sugar-added desserts
Soft serve ice cream with toppings
Made-to-Order Crêpe Station
Chocolate peanut butter crêpes
Chocolate custard, peanut butter sauce, whipped cream, salted caramel pearls
Like most dining events at the
Rosen Center
, I have the hardest time actually finding any way to buy tickets for them online. There's generally a micro-site or web page just for the event, with a "make reservation" button — which simply takes you to an "Open Table" booking system for normal dining and not specifically the Easter Brunch event.
I do however, have a phone number for this one.
It's (407) 996-3969
. I'm not sure if that's the hotel concierge, or a "dining reservations" hotline, but that's the only official number I have! If anyone happens to find a direct link to tickets or reservations to this specific event online… please let us know!