Festival of the Arts Walkabout
January 22nd, 2017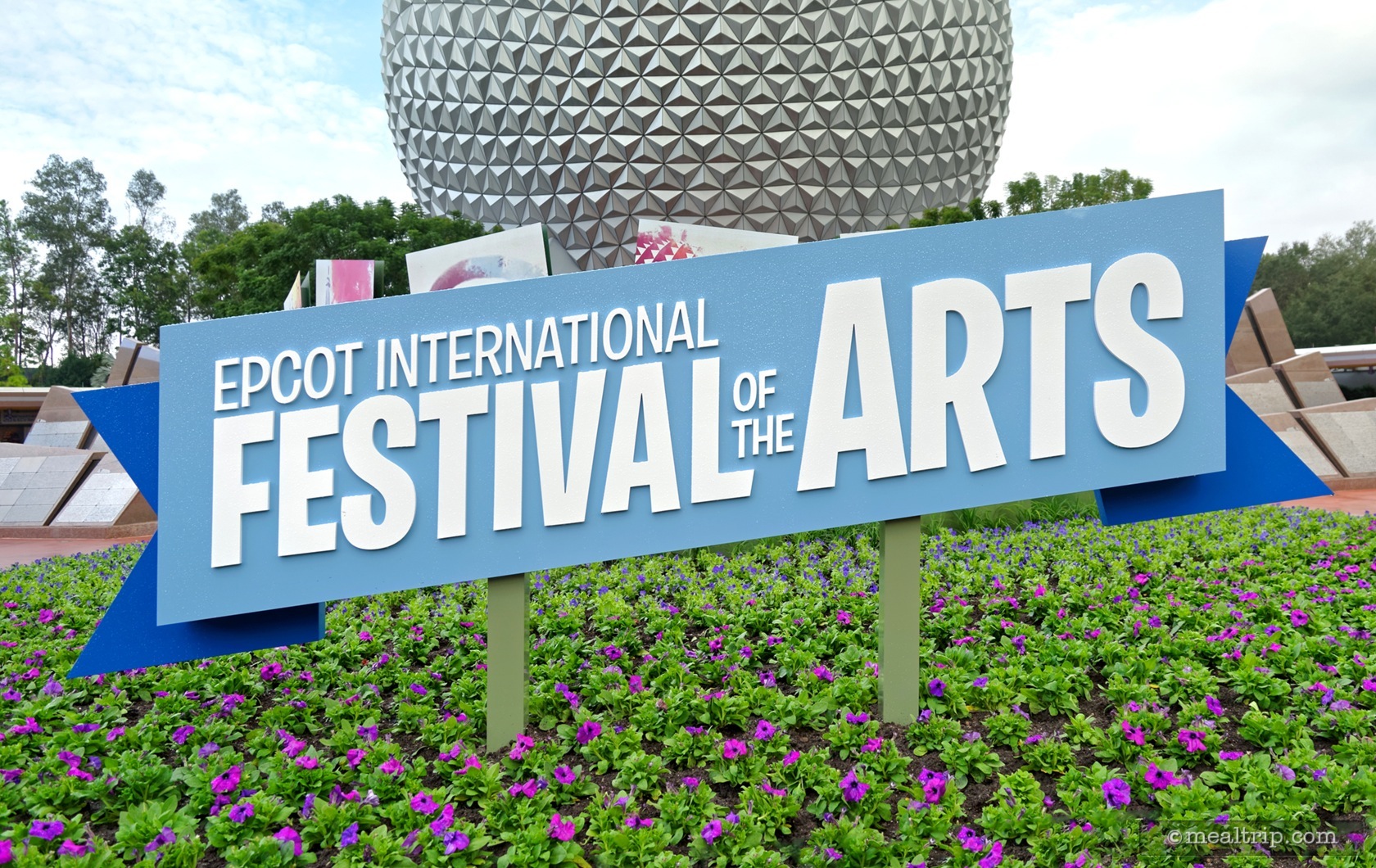 My Festival of the Arts Walkabout produced around 50 photos and mostly contains food, food kiosk, and a couple of general environment shots. I have not been to one of the larger "Disney on Broadway Concert Series" shows at the America Garden Theatre yet. I do hope to see one before the festival is over.
The theme of the festival on the first few days seemed to be "Oh, that starts today?". The front entrance area seemed quite sparsely decorated, but has since come to life for the second week of the festival.
I don't want to dive too far into editorial here, but there's no doubt in my mind that everything amazing you see (plant, topiary, and flower-wise) from week 2 on… is because of a 120% effort from Eric Darden and the Flower & Garden team. I can't imagine how much work they're doing right now. Good for you guys!
Since our focus here at Mealtrip is on food, I walked around World Showcase and took photos of the booths, signs, menu boards (you can find those menu boards with prices on our site (
click here
), on
Pinterest (located here)
, or back on our site in
text-only form here
), and sampled a few food items that sounded good to me.
To see all of the photos from this little walkabout, click on this article's photo gallery button (
Reading takes too long… just show me the photos
) or
click here
.
The permanent Mexico food kiosk received a new sign and is (temporarily) called El Artista Hambriento. The $8.50 Flank Steak Huarache looks amazing.
I saw several of these pass by as I was walking around the area and had to find out more. Even though the cost is a little high, the dish is made with quality ingredients that are on-par with the appetizers being served at the San Angel Inn. There are distinct flavors and textures in the dish. I found the baked corn-based bottom layer to be a bit difficult to eat. It is traditional on this dish, but unless you eat the whole thing very quickly, the bottom layer gets soggy with the drippings from everything above it.
Next up, the oddly named E=AT2 booth seems to feature deconstructed things.
The Cobb Salad with Smoked Duck Breast is one of the staged food photos that Disney released very early on, but I genuinely like Cobb Salads, so I was very curious as to how this one stacked up. At $7.50, it's close to the "average" price of the food items at this festival.
Here again, it doesn't look like there's much on the plate, but what is there, is high quality and well executed. Nueske's Duck and Bacon products are great, the blue cheese here added some weight and contrast to the smoked meats and the other components (hard boiled egg, tomato chutney, avocado mousse and micro-greens) provided a third light and fresh contrasting component to the plate.
Here and there, you'll find all manor of pop-up shops (presumably vendors) selling art and craft type items. Some, are pricey while others are more accessible as "souvenirs". It's fun to look around as you stroll.
My next food booth was Cuisine Classique booth (sort of in-between the Germany and Italy pavilions). I always like seeing Red Snapper on any menu and while the Braised Beef Short Ribs here are getting great reviews, I decided to go with my fish-dish.
The $7.50 Seared Red Snapper was served with a tomato-based Ratatouille (a mix of stewed vegetables) and a Lemon-Thyme Beurre Blanc sauce. Here again, the flavors were spot-on. It reminded me of some of the amazing dishes that used to be part of the Food & Wine festival 10 years ago (which have gone missing in recent years). Triple the size of this one (and the price), and you would have a main entree that any restaurant would be proud to serve.
Moving on to the always cute American pavilion kiosk (named "The Artist's Table" for this festival) I opted for the Roasted Pork Roulade (which is basically a way of preparing a pork loin and stuffing with various things).
At $6.50 this is actually one of the lower cost items available. While the smattering of vegetables here and there were very delicately placed, (few and far between), the two pork roulade slices I received were thick and tender throughout. There was a kind of Americana wholesomeness to the dish, it's a very solid entry and well executed for a Roasted Pork Roulade.
Working my way around the giant loop of countries I found the Masterpiece Kitchen between the UK and Canada Pavilions.
There was not enough money left on my $40 gift card to sample any of the items there though. Sadly, I am sticking to my budget on this one and the main items at the Masterpiece Kitchen range between $9 and $14 dollars.
My final stop was at the Decadent Delights booth (which is normally the "Refreshment Port" building) and time for dessert.
The $6.50 Deconstructed Purple Sweet Potato Pie sounded rather interesting, but in reality, fell quite short of my lofty expectations.
For starters, the age-old issue that I run into every single time when dining at festival food booths, raised it's head… consistency issues. The item that was given to me, was missing two components… a mint leaf and some little candied frosting bits. You may think I'm being too harsh… but with a price of $6.50 and at a festival where the whole idea is "artistic food"… it's a big deal. Nothing was mentioned about the missing components… and so this leads me to wonder just how many of the other things I sampled today… were made incorrectly, or with missing items.
It's too bad really. I can't pretend to know if this is a training issue, a food supply issue, or a "my boss isn't looking so I'll cut a few corners" issue… but it is another one of the reasons I stopped reporting on "all of the items" at the food booths. You really can't put too much stock in anyone's item reviews… if there's no consistency in the items being handed out.
For me, and based on the sample I was given… this was a very one-note dessert. Unique tasting and looking, but after the first bite… there really wasn't much more you wanted to explore and were left with a portion that just seemed too big. I would very much like to see the "trio of desserts" concept return, where three very different, but smaller portions were plated side-by-side.
Continuing around the loop, another kiosk I did not get to try anything at was Pop Eats! Aside from having a nearly empty gift card, nothing here really appealed to me.
The final "food booth" location is actually inside the Odyssey building. Unfortunately, there's waaaaaay too much stuff crammed into the space for this festival, and so in addition to already having run through $40, and not really being hungry anymore, there really just isn't a comfortable vibe in the building.
There are some standing tables (but not enough), a large area that has been roped off for demos (that may or may not be going on at any given time), and some very expensive gallery-like artwork stuffed into an already small space. The thought of trying to balance a plate of food here… was even less appealing than trying to find someplace to stand and eat outside.
All in all, the food quality and execution is higher than what's being done at the Food and Wine Festival these days (but at a higher cost), in fact, the food did remind me of the kind of dishes that made the Food and Wine Festival great so many years ago. Consistency issues still remain, and that's too bad. I did have fun though, and with the exception of my dessert selection, all of the food was freshly prepared, and had multiple levels of flavor and texture.
I am looking forward to seeing how (if) the festival develops in the coming years (and/or weeks). Concepts at other parks ("
Animal Kingdom's Harambe Nights
" comes to mind) seemed like great ideas, that if were allowed to continue, would have turned into something great. We'll have to see if the bean counters leave Festival of the Arts alone long enough, for it to find it's own footing, and turn into another great annual festival.