2023 Mother's Day Brunch Menu at the Rosen Shingle Creek Orlando
Chef Stations, Prime Rib, and Bottomless Champagne and Mimosas
April 25th, 2023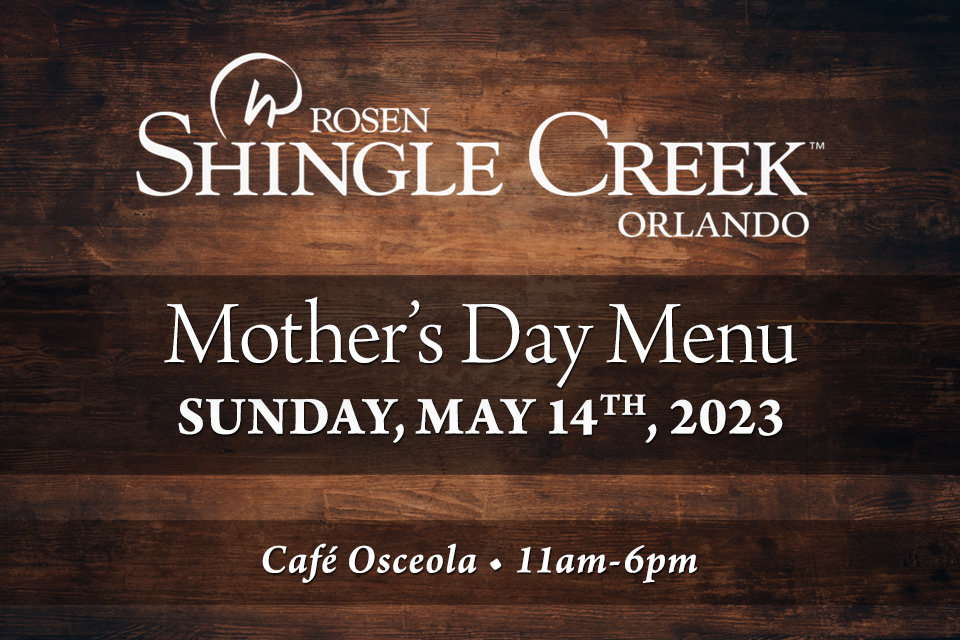 Mother's Day is Sunday, May 14th, 2023
and the Rosen Shingle Creek is serving up a buffet style brunch at Café Osceola form 11am-6:00pm.
The Rosen properties seem to have complicated pricing for these special event buffets — this one isn't much easier to calculate than the nearby
Mother's Day Brunch Buffet at the Rosen Center
(International Drive location). So for the Mother's Day Brunch here at Café Osceola, it's...
Adults : $89.95
Children (Ages 4-11): $37.95
Children (Ages 3 & Under): Free
However, there's a 25% "service charge" on top of your per-person total — the "service charge" and per-person price are both taxable (at 6.5%). So it's actually…
Adults : $119.75
Children (Ages 4-11): $50.52
Children (Ages 3 & Under): Free
I think. (I'm not great at math so don't quote me on those prices). I really wish they would just publish the actual final price. So do you tip too? My guess is… yes? Someone should really go to one of these and report back. I'm really curious.
Champagne and Mimosas are bottomless (aka "complimentary" as the Rosen Shingle Creek puts it), which is very cool — there's nothing quite as fun as a brunch with bottomless mimosas!
Self-parking is free and Valet Parking is discounted to $15. Reservations are highly recommended, and if there's six or more people in your party… reservations are actually required. A credit card is required to hold reservations for all party sizes. There's a no-show fee of $25 per person if the reservation is not canceled within 24 hours of the reservation time.
So how do you make a reservation? Call (407) 996-3663 and inquire about the "Mother's Day Brunch at Cafe Osceola" or you can make a reservation online through OpenTable. Here's a link to the official
Rosen Shingle Creek Mother's Day Brunch page
… about halfway down there's a "Make Reservation" button that should lead to the OpenTable booking page.
Whew… let's look at the menu!
Soups
Corn Chowder
Lobster Bisque, crème fraîche
Small Bites
Pastrami Smoked Salmon, pumpernickel, lemon caper cream cheese, chives
Tuna Poke Taco, crisp wonton, avocado
Compressed Watermelon & soft goat feta, garden mint
Seasonal Fruit & aged country ham
Mushroom Toast, local mushrooms, sherry wine, stracciatella
Farm-Fresh Salad Bar
Grilled Broccoli, Roasted Asparagus, Cherry Tomato, Cucumber
Sliced Radish, Kalamata Olive, Feta Cheese, Carrots
Sunflower Seeds, Toasted Chopped Pistachios
Assorted Dressings
Composed Salads
German Potato Salad
Casarecce Pasta Salad, creamy feta vinaigrette, radish, grilled rapini, artichoke
Green Bean Salad, blackened cauliflower, roasted carrots, shaved fennel
Steakhouse Wedge, heirloom tomato, smoked bacon, blue cheese, buttermilk dressing
Artisan Cheese
Local & Imported Cheese Selection
Assortment of jams, local honeycomb, breads & crackers
Assorted Bread Display

Antipasto Market
Imported & Domestic Cured Meats
Grilled Marinated Vegetables
Pâté
Dried Fruit Mostarda
Bruschetta Bar
Spring Pea Hummus, marinated heirloom tomato, pickled mushrooms
Whipped Ricotta, aged Parmesan, stracciatella, basil pesto, tapenade
Seafood Station
Chilled Canaveral Shrimp
Gulf Oysters
Bay Scallop Ceviche
Smoked Local Fish Dip
Hot Sauce Bar
Banrai Sushi & Dim Sum
Nigiri and Sashimi
Spicy Tuna, Cucumber & Rosen Rolls
Dancing Eel & Rainbow Rolls
Barrel-aged Soy, Wasabi, Pickled Ginger
Gyoza Dumplings
Shumai
Beef Momo
Ponzu, Chile Crunch
Kimchi Fried Rice
Chef-Attended Make-Your-Own Pasta Station
Chef's choice of fresh pasta
Orecchiette, Spinach Ravioli, Four-cheese Tortellini, Rigatoni
Mushrooms, Green Peas, Roasted Tomatoes, Kalamata Olives
Italian Sausage, Diced Chicken, Pancetta
Olive Oil & Fresh Herbs
San Marzano Pomodoro, Bolognese, Alfredo
Cala Bella Focaccia
Parmesan Cheese
Entrées
Seared Snapper, white lentil risotto, squash, romanesco, pistachio crunch, Meyer lemon butter
Korean Barbecue Short Ribs, jasmine rice, roasted mushrooms with white shoyu butter
All-natural Chicken, semolina gnocchi, confit leeks, truffle chicken jus
Shrimp & Grits, andouille sausage
Additional Side Items
Crispy Brussels, Applewood Smoked Bacon, Roasted Pine Nuts
Taleggio Yukon Gold Mashed Potatoes
Paella Valencia Carving Stations
Herb-crusted Prime Rib, Beef Jus, Horseradish Cream
Porchetta, Broccoli Rabe Pesto
Rolls
Slider Station
Crabcake, Remoulade, Pickles, Arugula
Smoked Brisket, Coleslaw, Crispy Onions
House-baked mini brioche buns
Omelet and Waffle Station
Made-to-order Omelets
Buttermilk Pancakes, Maple Syrup
Cherry Smoked Bacon, Sausage
Breakfast Pastries
Assorted Danishes
Mini Chocolate Croissants
Mini Almond Croissants
Nutella Cruffins
Sticky Buns
Chocolate Pecan Rugalach
Guava Cheese Pastries
Peaches & Cream Scones
Gruyere & Chive Biscuits
Blackberry Muffins
Chocolate Muffins
Blueberry Muffins
Plain Bagels
Asiago Bagels
Cinnamon Raisin Bagels
Chocolate Fountain
Rice Krispies Treats, Wafers, Marshmallows, Coconut Macaroons
Mother's Day Desserts
Caramel Macchiato Panna Cotta
Key Lime Tarts
Chocolate Raspberry Cheesecake
Milk Chocolate Praline Eclairs
Lemon Strawberry Bundt Cakes
Dark Chocolate Bundt Cakes
Mixed Berry Shortcake
Chocolate Orange Cannoli
Mini Peach Melba
Vanilla Bean Mille-feuille
Caramel Brûlée Hazelnut Tart
Raspberry Rose Chocolate-dipped Madeleines
Passion Fruit Coconut Meringue Torte
Warm Chocolate Almond Pudding with Chantilly Cream