SeaWorld, Orlando's Passport to Summer Rewards Program
Collect Vouchers & Get Rewards
May 21st, 2023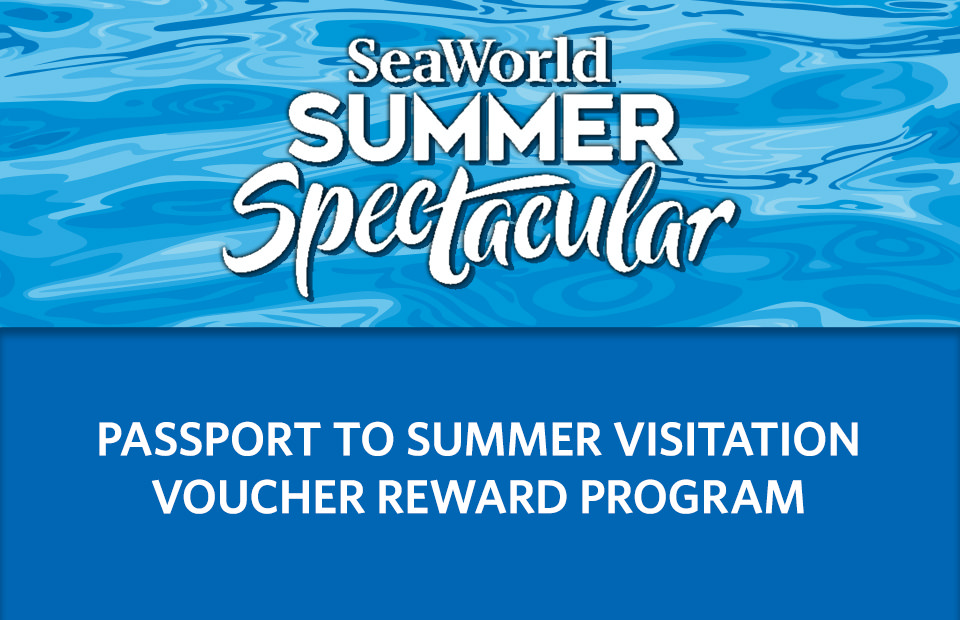 SeaWorld, Orlando has just introduced a new voucher program
for annual passholders (SeaWorld Orlando Bronze, Silver, Gold, and Florida Platinum Pass Members only), called
Passport to Summer
, where you could (eventually) collect various rewards based on how many times you visit.
Before we get to the rewards, here's how it works...
Visit SeaWorld Orlando between May 17 – June 30, 2023.
You must visit a self-service kiosk and print a "Visitation Voucher" on each visit or else it doesn't count.
The self-service kiosks are located at Manta, Flamingo Gift Shop, Ice Breaker, Infinity Falls, Journey to Atlantis, Kraken and the Pass Member Lounge.
Be sure to hold on to your Visitation Vouchers. Don't loose any of them. Lost or stolen vouchers for visitation and rewards cannot be replaced. Please be sure to keep them in a safe place
Redeem your Visitation Voucher for rewards as you reach each level.
You can not redeem all your "Visitation Vouchers" at one time.
Every time you reach and redeem a new reward level, you will receive a new voucher with your Passport to Summer status.
Once you reach a reward level, you will be given a voucher with the number of visits you have accumulated so far. You then turn that voucher in with your future visitation vouchers to reach the next reward level. This is repeated until you reach 30 visits.
There's a bunch more rules posted on the SeaWorld, Orlando official site about the Passport to Summer — that you should probably read, if you're going to participate in the program.
All the official rules and rewards can be found here.

So what kind of rewards are we talking about? Here's the list...
2 Visits = One FREE Bag of Popcorn
8 Visits = One Day FREE Reserved Seating at Park Presentations
(Based on availability and only valid at Orca, Sea Lion and Dolphin.)
15 Visits = One FREE Animal Encounter
(Dolphin or Penguin / Based on availability.)
20 Visits = One FREE All-Day Dining Entitlement
(Must be used by 9/30/23.)
30 Visits = One FREE Dinner for 2 at Sharks Underwater Grill
(Based on Availability. Dinner for 2 at Sharks Underwater Grill includes one appetizer, two entrées, and one dessert. Beverages, Alcohol, tax, tip, and gratuity not included. Must be used by 11/1/23)
All rewards are subject to change or cancellation without prior notice. See website for full reward details. Re-entries do not count toward daily visit. Pass Member must hold on to all accumulated visitation vouchers in order to redeem at a future visit. Cannot be replaced if lost or stolen. Passport to Summer visitation voucher redemptions must be completed by June 30, 2023. Rewards have no cash value and cannot be exchanged for other products. Reward expiration dates vary. Other restrictions may apply.
Happy Summer!!!!