The 2023 Busch Gardens Williamsburg Food & Wine Festival Menu
Celebrating 10 years of Virginia's Largest Spring Food & Wine Festival
May 15th, 2023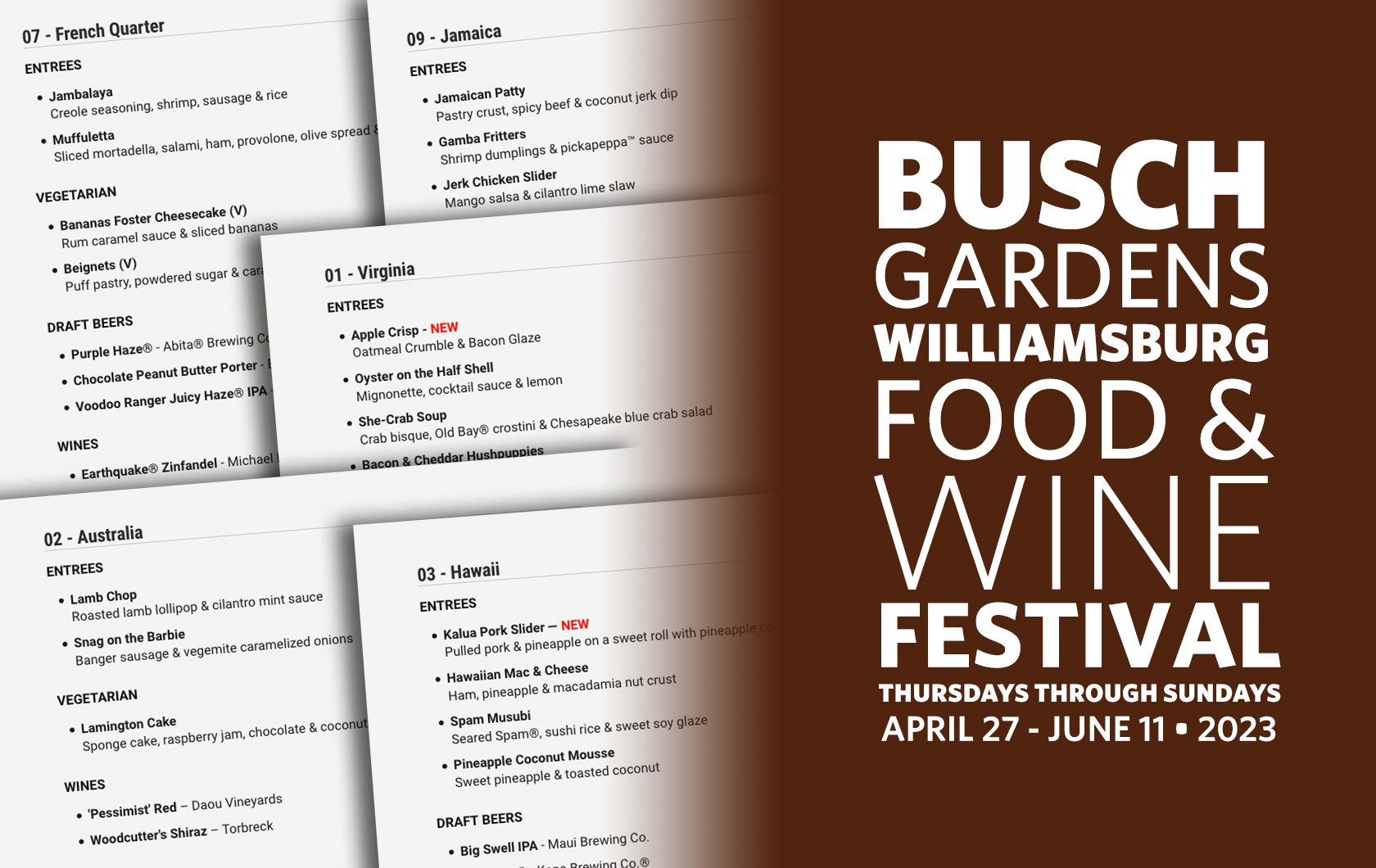 I missed posting this one by about a month, but the Williamsburg Busch Gardens Food & Wine Festival Menu for 2023 looks so good, I still wanted to add it to our system. Plus, the festival is still going on for another month… so there's plenty of time to visit!
The food booths and kiosks are open Thursdays through Sundays (from April, 27th until June 11th, 2023), plus Memorial Day Monday… from 11:30am until 30 minutes prior to the posted park closing time. While parts of the event are free with park admission — food and beverage samples do require an additional purchase. Sampler Lanyards are also available (more on those below) and are a pretty good value if you're going to be sampling may things during the festival.
In addition to the 15 tasting locations that are the same for the duration of the festival, there's a 16th kiosk called "Decade of Delights" that pays tribute to some of the top food and beverage items over the past 10 years by offering a rotating menu that changes every couple of weeks.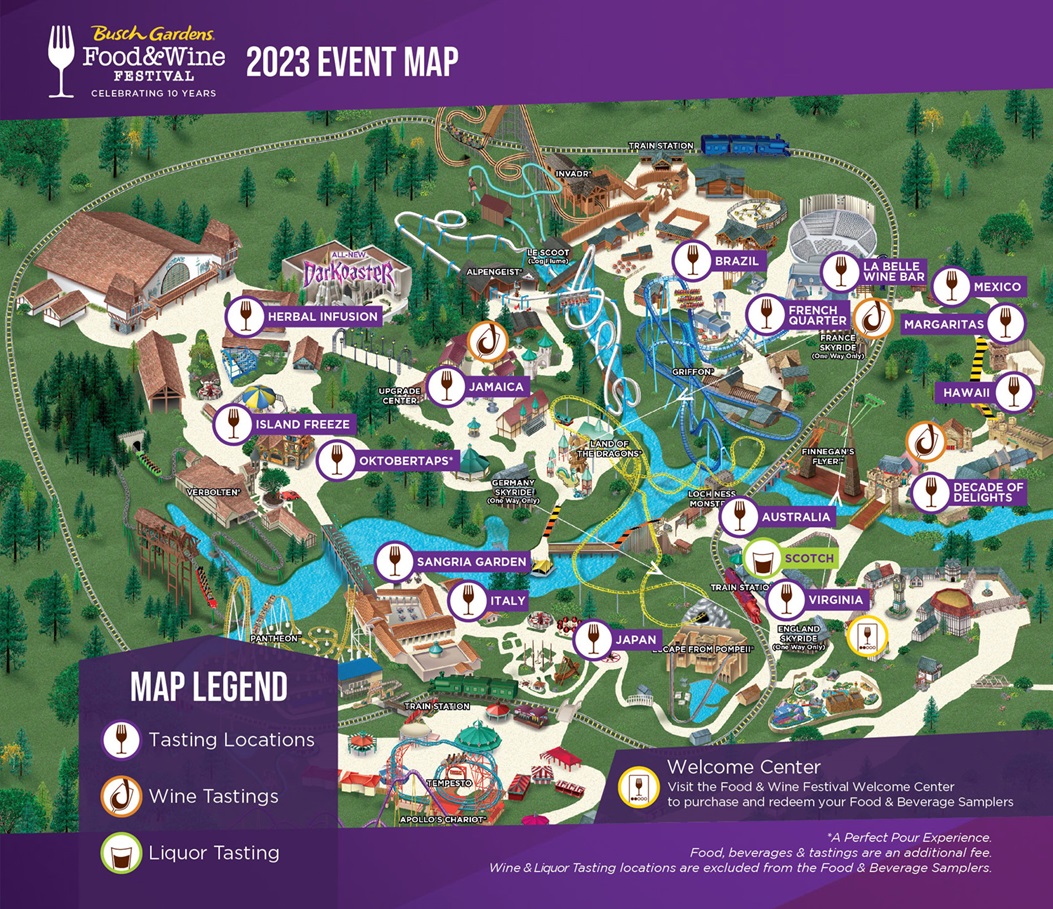 Here's a map of where all the food and beverage kiosk are for the 2023 Food & Wine Festival at Busch Gardens, Williamsburg.
Here's a look at the menu items from the 15 "all festival long" locations, and then we'll take a look at the "Decade of Delights" food booth menu after that.
(V) indicates vegetarian. (PB) indicates plant-based items. (NA) indicates non-alcoholic.
01 - Virginia
ENTREES
Apple Crisp - NEW
Oatmeal Crumble & Bacon Glaze
Oyster on the Half Shell
Mignonette, cocktail sauce & lemon
She-Crab Soup
Crab bisque, Old Bay® crostini & Chesapeake blue crab salad
Bacon & Cheddar Hushpuppies
Cornmeal fritters & honey butter
DRAFT BEERS
Blood Moon Bliss Orange IPA - Midnight Brewery
Chesapeake Pale Ale - Alewerks®
Tangerine Creamsicle Ale - Caiseal Beer & Spirits Co.
Saving Daylight - The Virginia Beer Co.®
WINES
Governor's White - Williamsburg Winery®
Riesling - SEAGLASS
COCKTAILS
Oyster Shooter
Oyster, cocktail sauce & shot of moonshine
Apple Pie Moonshine
Apple & Cinnamon
SPECIALTY BEVERAGES
Strawberry Lemonade (PB)
House-Made Lemonade & Strawberries
02 - Australia
ENTREES
Lamb Chop
Roasted lamb lollipop & cilantro mint sauce
Snag on the Barbie
Banger sausage & vegemite caramelized onions
VEGETARIAN
Lamington Cake
Sponge cake, raspberry jam, chocolate & coconut
WINES
'Pessimist' Red – Daou Vineyards
Woodcutter's Shiraz – Torbreck
BEERCOCKTAILS
Aussie Mule
Ginger beer, Myers® dark rum & lime
SPECIALTY BEVERAGE
Bondi Beach Punch (NA)
Cranberry, lemonade, hibiscus
PLANT BASED
Ginger Beer
Spicy ginger soda
03 - Hawaii
ENTREES
Kalua Pork Slider — NEW
Pulled pork & pineapple on a sweet roll with pineapple coconut slaw
Hawaiian Mac & Cheese
Ham, pineapple & macadamia nut crust
Spam Musubi
Seared Spam®, sushi rice & sweet soy glaze
Pineapple Coconut Mousse
Sweet pineapple & toasted coconut
DRAFT BEERS
Big Swell IPA - Maui Brewing Co.
Big Wave® - Kona Brewing Co.®
WINES
Rosé - VillaViva®
A Midsummer Night's White - The Williamsburg Winery®
COCKTAILS
Aloha Beaches
José Cuervo® tequila, Malibu coconut rum & mojito
Frozen Blue Hawaiian
Tito's® vodka, coconut cream & pineapple
SPECIALTY BEVERAGES
Hibiscus Lemonade (PB)
Fresh lemonade & hibiscus flower
04 - Margaritas
DRAFT BEERS
I Said What I Said Key Lime Margarita Sour - Evil Genius Beer Company
Negra™ Lager - Modelo®
WINES
Branco - Aveleda
Red Wine Blend - Cooper & Thief Cellarmasters
COCKTAILS
Prickly Pear Margarita
José Cuervo® tequila & prickly pear
Frozen Lime Margarita
Jose Cuervo® tequila & fresh lime
Frozen Watermelon Margarita
Jose Cuervo® tequila, lime, & watermelon
05 - Mexico
ENTREES
Crispy Shrimp Taco
Sweet chili sauce, pico de gallo & cilantro lime slaw
Carne Asada Taco
Marinated citrus & soy beef, queso fresca, cilantro, guacamole & corn tortilla
VEGETARIAN
Chili Chocolate & Horchata Mousse
Spicy chocolate & cinnamon
SPECIALTY BEVERAGE
Horchata (NA)(PB)
Sweet rice milk, cinnamon & vanilla
06 - La Belle Wine Bar
Use your Food & Wine Sampler at La Belle Wine Bar, offering a robust portfolio of delicious wines!
07 - French Quarter
ENTREES
Jambalaya
Creole seasoning, shrimp, sausage & rice
Muffuletta
Sliced mortadella, salami, ham, provolone, olive spread & cajun slaw
VEGETARIAN
Bananas Foster Cheesecake (V)
Rum caramel sauce & sliced bananas
Beignets (V)
Puff pastry, powdered sugar & caramel
DRAFT BEERS
Purple Haze® - Abita® Brewing Company
Chocolate Peanut Butter Porter - Evil Genius Brewing Co.
Voodoo Ranger Juicy Haze® IPA - New Belgium® Brewing
WINES
Earthquake® Zinfandel - Michael David Winery
Moscato - La Perlina
COCKTAILS
Frozen Hurricane
Flor de Cana® rum, Myers® dark rum, passion fruit & orange juice
08 - Brazil
ENTREES
Cocada de Forno
Brazilian baked coconut
Churrasco
Grilled beef & chimichurri sauce
Linguiça
Grilled sausage, portabella mushrooms & peppers
VEGETARIAN
Abacaxi
Grilled pineapple & coconut caramel sauce
WINES
Estate Malbec - Alta Vista®
Prosecco - Caposaldo
COCKTAILS
Mango Caipirinha
Cachaça, mango & lime
SPECIALTY BEVERAGE
Brazilian Lemonade (NA)(V)
Frozen limeade & sweetened condensed milk
09 - Jamaica
ENTREES
Jamaican Patty
Pastry crust, spicy beef & coconut jerk dip
Gamba Fritters
Shrimp dumplings & pickapeppa™ sauce
Jerk Chicken Slider
Mango salsa & cilantro lime slaw
Pineapple Upside-Down Cake
Pineapple, rum & brown sugar glaze
DRAFT BEERS
Tropication® IPA - Hardywood Park Craft Brewery
Tangerine® Wheat Ale - Aleworks
Lager - Red Stripe®
WINES
Malbec - The Seeker
Heaven-on-Earth Sweet Muscat - Stellar Winery
COCKTAILS
Dark & Stormy
Myers® dark rum, ginger & lime
Frozen Jamaican Punch
Sailor Jerry® spiced rum, Malibu® coconut rum, lime, orange & pineapple juice
SPECIALTY BEVERAGE
Ginger Limeade (NA)(PB)
Fresh ginger, brown sugar & lime juice
10 - Herbal Infusion
ENTREES
Strawberry Basil Mousse - NEW
Strawberry mousse with basil whipped cream
WINES
Infused Moscato
Lemon & rosemary
COCKTAILS
Green Goddess
Tito's® vodka infused green tea, mint & arugula with lime
Watermelon Mojito
Puréed watermelon, lime, mint & rum
Mint Julep
Kentucky bourbon, mint & sugar
SPECIALTY BEVERAGE
Lavender Lemonade (NA)(PB)
Fresh lemonade & lavender flowers
11 - Island Freeze
FROZEN COCKTAILS
Frozen Tropicolada - NEW
Blake's Brewing Co.
Piña Colada
Bacardi® rum, coconut cream & pineapple
Bahama Mama
Bacardi® rum, pineapple, orange & grenadine
Strawberry Daiquiri
Bacardi® rum, strawberry & lime
Bellini
Prosecco, peach schnapps & mango purée
Frosé
Rosé sangria
DRAFT BEERS
Mango Cart® - Golden Road® Brewing
Tropicolada - Blake's Brewing Co.
SPECIALTY BEVERAGE
12 - OktoberTaps
DRAFT BEERS
Toast to a rotating selection of craft brews like:
Buskey Dry Cider, O'Connor El Guapo, Lagunitas Island Beats and more at this all-new Perfect Pour Experience.
COCKTAILS
Aussie Punch - NEW
Tito's® vodka, strawberry
Green Tea Shooter - NEW
Jameson® Irish Whiskey & peach schnapps
Bayou Mule - NEW
Sailor Jerry® spiced rum
Hibiscus Paloma - NEW
José Cuervo® tequila & hibiscus
13 - Sangria Garden - Opens May 11
ENTREES
Sangria Cupcake - NEW
Berry & merlot cupcake with wine reduction buttercream
COCKTAILS
Sweet Tea Sangria - NEW
Moscato, sweet tea, peach & raspberry
Red Sangria
Red wine, orange, lemon, lime & cherry
White Sangria
White wine, lemon, lime & orange
Rosé Sangria
Rosé wine, lime & strawberries
14 - Italy
ENTREES
Giant Meatball - NEW
Marinara & shaved asiago cheese
Lemon Ricotta Cake - NEW
Lemon & ricotta, topped with toasted almonds
VEGETARIAN
Fettuccini Alfredo (V)
House-made pasta, sun-dried tomatoes, spinach, & Kalamata olives
Caprese (V)
Fresh mozzarella, tomatoes, balsamic glaze & basil pesto
WINES
Chardonnay - Tormaresca
Chianti Classico - Castello Banfi
CORDIALS
15 - Japan
ENTREES
Impossi-Bao (PB)
Impossible® plant-based meat, Asian slaw & steamed bun
Spicy Tuna Sushi Cup
Sushi rice, nori flakes & spicy mayo
Mushi-Gyoza
Steamed chicken dumpling & citrus ponzu sauce
VEGETARIAN
Matcha Ice Cream (V)
Green tea ice cream, sweet soy glaze & sesame cookie
COCKTAILS
Pineapple Jalapeño Sake Sangria - NEW
Sake wine, pineapple juice, jalapeño & mint
SPECIALTY BEVERAGE
Bubble Tea (NA)(V)
Sweetened tea & fruit boba
Decade of Delights
LIke I mentioned above, there's a 16th "Decade of Delights" food booth that features a rotating menu that changes every couple of weeks. Here's a look at everything that's being offered and on what dates.
WEEK 3 – MAY 11 - 14ENTREES
FRANCE 2014-2016

Steak Au Poivre
Peppercorn-crusted beef sirloin with brandy cream sauce

GREECE 2013-2016

Souvlaki Tzatziki
Marinated roasted pork & sweet peppers with cucumber, dill & yogurt sauce

GREECE & MEDITERRANEAN 2013-2018

Baklava
Sweet pastry with nuts & honey between thin crispy filo pastry layers
COCKTAILSWEEK 4 – MAY 18 - 21
ENTREES
CARIBBEAN 2014-2018

Jamaican Jerk Chicken
Jerk-marinated chicken drumsticks with guava barbecue & grilled pineapple salsa

CARIBBEAN 2014-2018

Shrimp & Heart of Palm Salad
Citrus & garlic marinated shrimp on heart of palm, black beans & corn relish with lime cilantro vinaigrette

FRANCE 2014-2016

Tartelette au Citron
Lemon tartlet with fresh raspberries
COCKTAILSBEER
CARIBBEAN 2014-2018

Zombie Dust Pale Ale - 3 Floyds Brewing Co.
WEEK 5 – MAY 25 - 29
ENTREES
SCANDINAVIA 2013-2015

Köttbullar
Swedish meatballs braised in a cream sauce with lingonberry jam

IRELAND 2013-2019

Bangers with Colcannon
Irish sausage with potato cabbage casserole & Guinness® brown sugar gravy

IRELAND 2015-2019

Guinness® Mousse
Dark chocolate & Guinness® Mousse with whiskey-infused whipped cream
COCKTAILSBEERWEEK 6 – JUNE 1 - 4
ENTREES
HAWAII 2016-2018

Spam® Slider
Fried Spam® with sriracha mayonnaise & grilled pineapple served with pineapple-coconut coleslaw

SPAIN 2013-2018

Venera con Jamón
Scallop wrapped in cured ham with saffron rice & romesco sauce

HAWAII 2014-2018

Haupia
Sweet coconut mousse with kona coffee ganache
SPECIALTY BEVERAGEWEEK 7 – JUNE 8 - 11
ENTREES
AMERICAN SOUTHWEST 2014-2018

Fish Taco
Chile-spiced tilapia, red cabbage slaw, pico de gallo & cilantro lime sauce

SCOTLAND 2013-2015

Scotch Egg
Breaded, sausage-wrapped hard-boiled egg, sweet & spicy mustard sauce

AMERICAN SOUTHWEST 2014-2018

Chocolate Lava Cake
Fudge brownie cake & molten ancho-spiced chocolate filling
SPECIALTY BEVERAGE
Just like many of the
food festivals a the Busch Gardens in Tampa
, there's a Sampler Lanyard program that really does save a couple of bucks if you're going to be trying many different things. Plus, it makes the whole experience more fun by simplifying the checkout process at each food and beverage location.
Basically, you buy a lanyard once that includes 10 or 15 item entitlements. If you go to any of the festival booths and select an item, they'll scan the back of your lanyard, and "punch out" one of the little numbers on the lanyard, so you can keep track of how many samples you have left. The lanyards can be used by anyone in your party and they can be used all festival long, so you don't have to sample everything all on one day. The Sampler Lanyards are a great deal for annual pass holder that like strolling around the park on weekends.
There's a 10 Item Sampler Lanyard for $65.00 (plus tax) that basically makes each item just over $6.50 each — and then there's a 15 Item Sampler Lanyard for $85.00 (plus tax) which makes each item just over $5.67.
For more information about the Sampler Lanyards, Specialty Beverage and Wine Tasting programs and Live Music and Entertainment offerings that are part of this year's festival —
click here to visit the Busch Gardens Williamsburg official website
.