2023 Father's Day Picnic Buffet Menu at Rosen Center Orlando
Harry's Poolside Bar & Grill Goes Caribbean for Father's Day
June 1st, 2023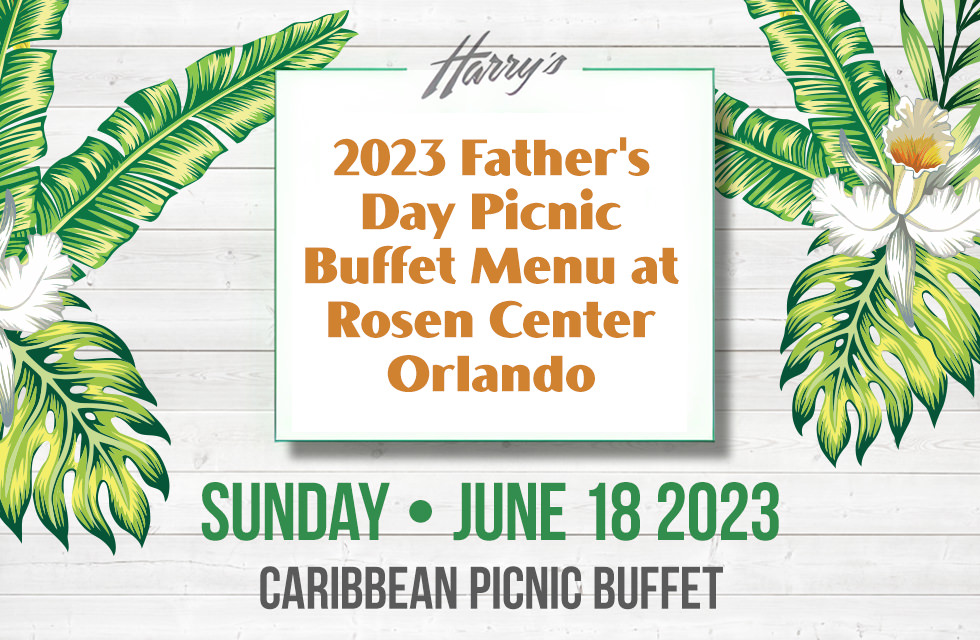 Father's Day is Sunday, June 18th, 2023
and the Rosen Center is serving up a pretty cool sounding picnic buffet at Harry's Poolside Bar & Grill from 12pm-6pm.
Adults are $49.95 and children ages 4-12 are $22.95. Tax and a service charge are not included in those prices. Reservations are highly recommended and can be made by calling (407) 996-3970.
Dads get one FREE Draft Beer! I'm not sure what everyone else gets to drink. I'm assuming there's soda and water, but alcoholic beverages are probably extra.
The theme is Caribbean Picnic BBQ and the food is all you care to enjoy. Let's take a look at this year's menu!
Soup & Salads
Puerto Rican Sancocho Soup
Harry's Baby Greens Salad with Fresh Berries and Balsamic Vinaigrette
Baby Heirloom Tomato and Fresh Mozzarella Salad with Smoked Almond and Kale Pesto
Caribbean Potato Salad with Malanga, Boniato and Purple Potatoes
Fresh Florida Watermelon
International and Domestic Cheese and Fresh Fruit Display
Grilled Portabella Mushrooms, Long Stem Artichokes, Olives and Roasted Peppers
Chilled Jerk Shrimp, Lemon and Lime Wedges, Cocktail and Kickn' Bayou Sauces
BBQ Smoker and Grill
15-hour Smoked Beef Brisket with Chef Tello's White BBQ Sauce
Chicken Osso Bucco with Guava BBQ Sauce
Harry's Dry Rub Pork Ribs
Mahi Mahi Baked in Banana Leaves with Cilantro, Passion Fruit and Coconut
Chef Tello's Mexican Street Corn with Lime, Tajin and Queso Cotija
For the Kids
Cheeseburger Sliders
Mini Hot Dogs
Mac and Cheese
Potato Wedges
Harry's Sweet Station
Chocolate Fudge Cake
Pecan Pie
Key Lime Mousse
Chocolate Cigars
Bailey's Cheesecake
Caramel Banana Cake
Mini Cupcakes and Cookies