Shake and Indulge Like the French
October 15th, 2014
If you have always wondered what those second story windows were for on top of Chefs de France, it's a great little restaurant that goes by the name of "Monsieur Paul". It is one of the pricier meals at Epcot, to be sure, however the Shake and Indulge Like the French event (which takes place in the same space) is one of the less expensive ways that you will find, to get a peek into this beautiful area.
The tables are set up for the Shake and Indulge Like the French event at Monsieur Paul.
Once you're checked in, and have ascended to the second floor, you'll notice that all of the tables have been pre-set with all the Grand Marnier and mixologly accoutrements that you will be using. The seats have been pre-assigned, and a maître d' will show you to your table.
Each place setting has four pre-measured shots of different Grand Marnier product.
While I don't want to give away too many of the great little details that you'll find at your place setting, the one thing you can't miss are the four golden shots of pre-measured Grand Marnier that you'll be using for your drinks. While there's not really a guided opportunity for you to taste the different Cognac's straight, you're more than welcome to do so. Keep in mind though, the more you "taste", the less there will be for your cocktails later in the presentation.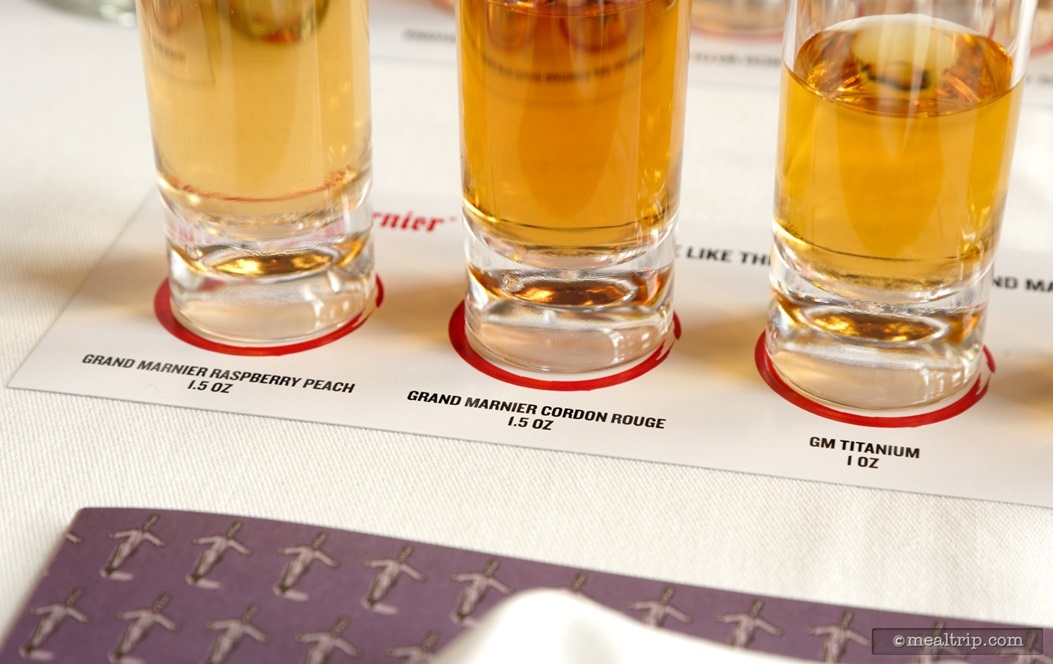 There is a slight color difference in the various pours of Grand Marnier.
Once seated, the only pre-made beverage of the afternoon was brought to us. The Grand Kappa Sour, was quite nice as a "welcome" cocktail. A brief history of Grand Marnier was (I'm sorry to report) read to us off of cue cards, by our master mixologist. Those that have difficulty understanding presenters with a French accent won't have any issues here, as our guide for the afternoon was almost assuredly from Central Florida.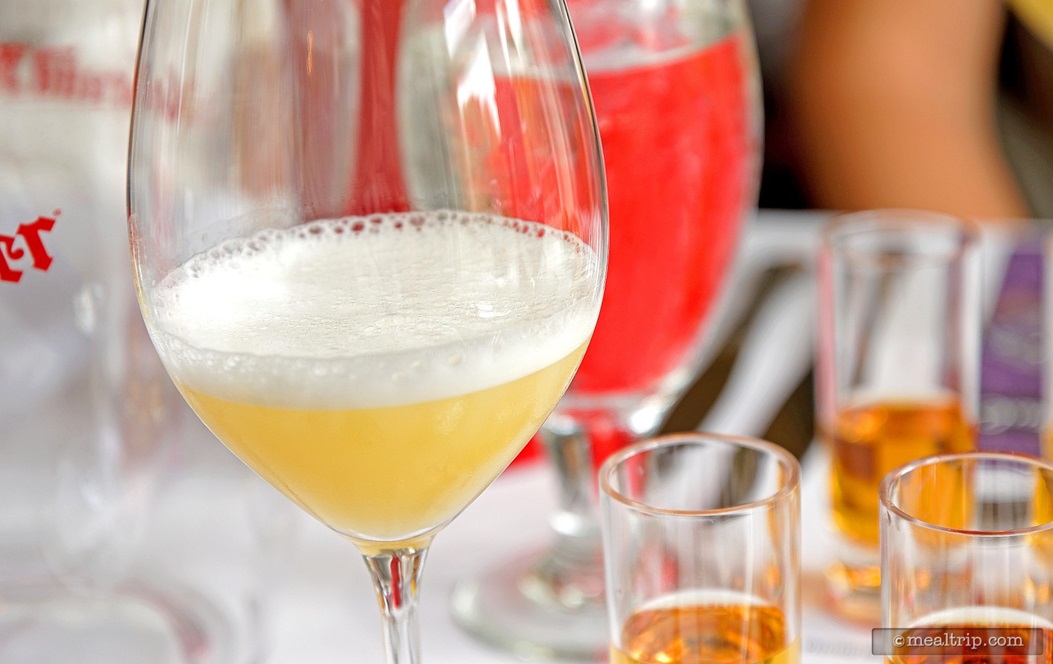 The Grand Kappa Sour.
While you don't really get the sense that she had any vested interest in the Grand Marnier product, she was easy to understand, and was quite
knowledgeable
with regard to mixing cocktails in general. After a couple more presentations, I'm sure she will start to feel more comfortable with a room full of people, and be able to break away from the note cards a bit more.
Before you knew it, the time had come to make our first drink, a Parisian Smash, which combines Grand Marnier Raspberry Peach with fresh lemon, orange, raspberries and mint. You definitely get "hands on" with this one, as you have to mash and muddle the fresh fruit slices yourself, and then shake the daylights out of the whole mix in your own cocktail shaker. I (sadly) used the wrong glass to "shake" in and am not coordinated enough to properly use a strainer, so I have a slightly "dirty" Parisian Smash in a Blue Glass. Hey, that rhymes… maybe it will catch on and soon everyone will be asking for a Dirty Parisian Smash in a Blue Glass.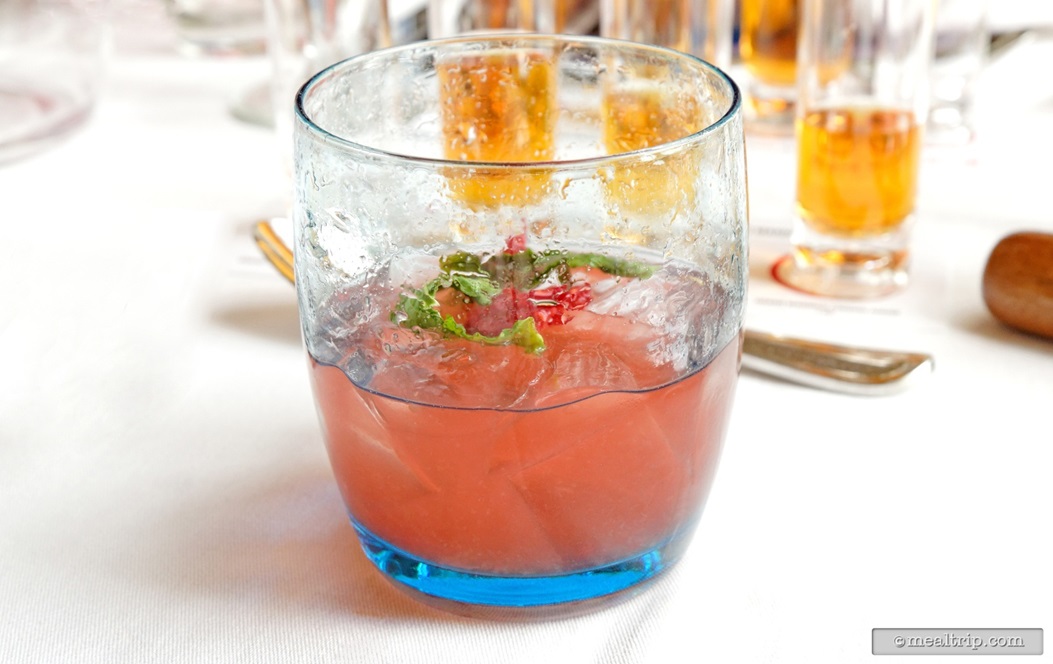 The Parisian Smash.
The pâtisserie chefs created three masterful desserts to pair with the cocktails, all of which contain one or more forms of Valrhona chocolate.
Before showing the dessert though, I will mention that this was one of the only grumbling points at our table of six people (three different groups of two). All of the desserts presented were above par (size and quality wise) compared to the desserts that you could purchase from the menu at Chefs de France (downstairs), which is to say, they were amazing.
With all three chocolate desserts, one right after another, some thought the whole event was too sweet, and were hoping to find a savory cheese plate somewhere. I love desserts though, and while I could not have fully enjoyed a fourth such dessert, the three that were presented were just right for me.
The dessert pairing with our self-made Parisian Smash was this beautiful Macaron Opalys Framboise, made with almond macarons, Opalys (a 33% cocoa product) white chocolate cream, raspberries, and homemade raspberry jam. A great pairing and a beautiful dessert (although the plate wasn't quite as pristine once I was finished with this one).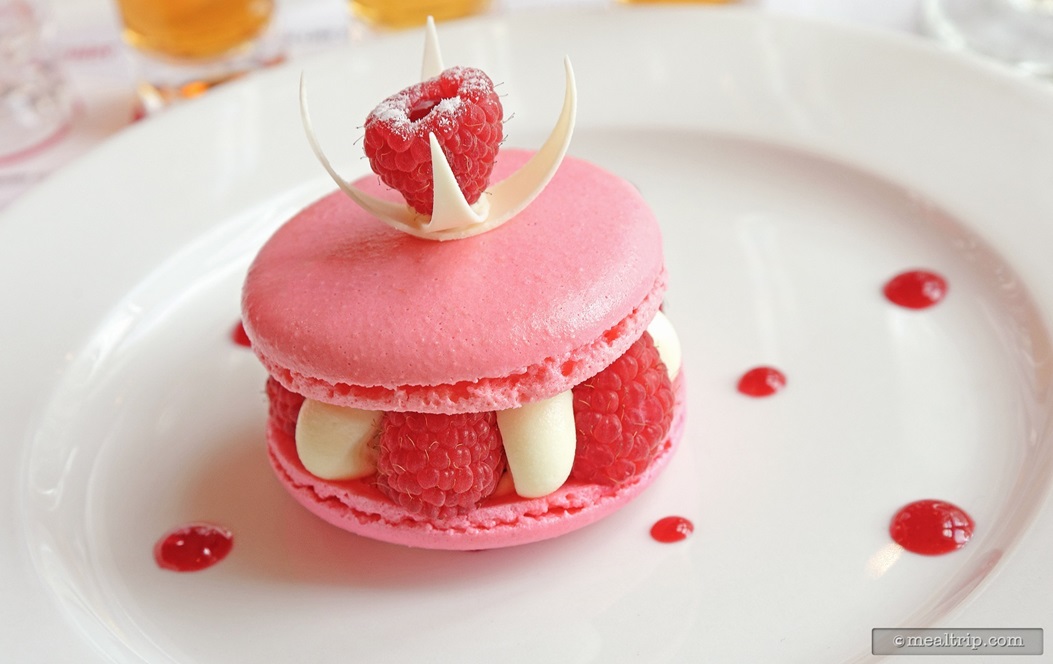 Macaron Opalys Framboise, made with almond macaroni, Opalys white chocolate cream, raspberries, and homemade raspberry jam.
Next up, a simpler cocktail, an Orange Spritz with Grand Marnier Cordon Rouge, club soda, and lemon (I went a a little heavier on the club soda, to give it that nice two-tone effect).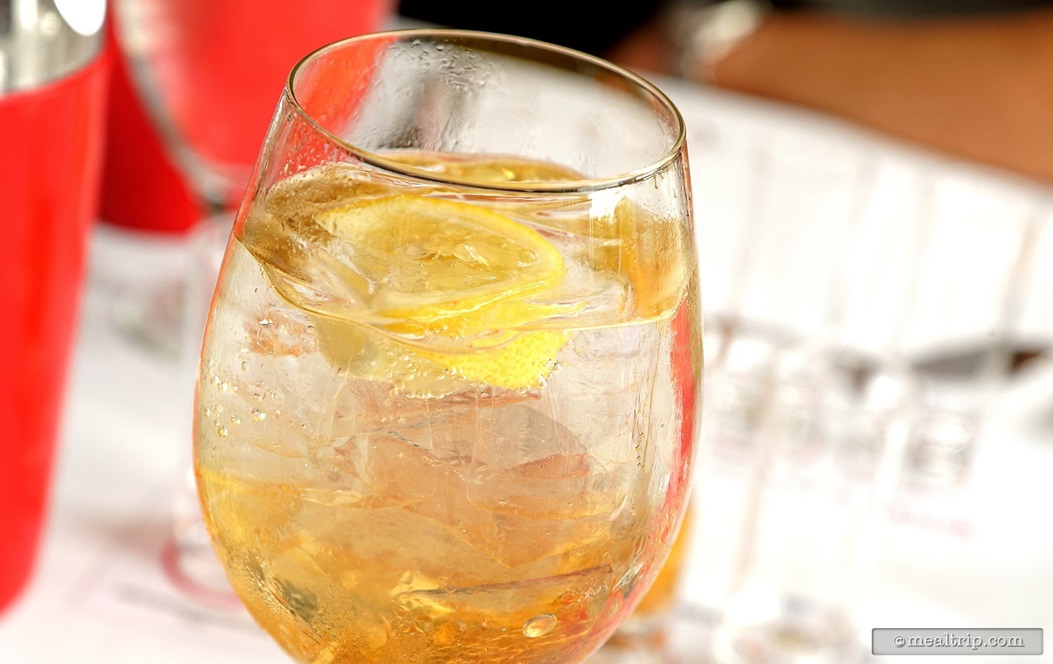 Orange Spritz with Grand Marnier Cordon Rouge.
The dessert pairing with the Orange Spritz was more complicated than the drink... a crusted choux puff, with Dulcey caramel Fleur de Sel cream, Bahibe light cream, Dulcey chocolate pearls with just a hint of lime zest and coconut. (Dulcey is one of Valrhona's blond chocolate products and Bahibe is their 46% cacao milk chocolate.)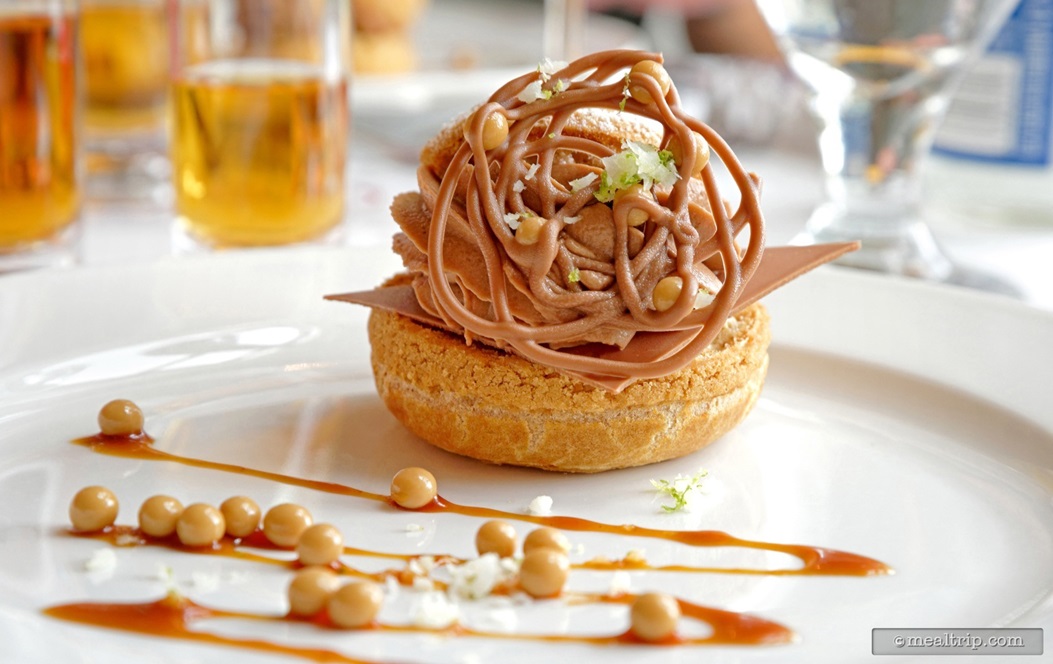 Dulcey Caramel Crusted Choux Puff.
Another great pairing, but right about here in the program is where some were wanting a good crisp slice of bacon. I'm glad I went a little heavy on the club soda in my cocktail, to give it a crisper, non-sweet note.
Finally, we used two of our remaining shots of Grand Marnier (the Grand Marnier Titanium and Cordon Rouge) to make a Ginger Spice Side Car. I once again deviated from the instructions and kept mine "on the rocks" (the ice was only intended to chill the Side Car while it was in the cocktail shaker). Side Cars are a bit strong for me so the ice helped out a bit. Fortunately, I could not use the wrong glass this time, the waiter brought out special sugar rimmed glasses, so it was quite obvious which glass to use.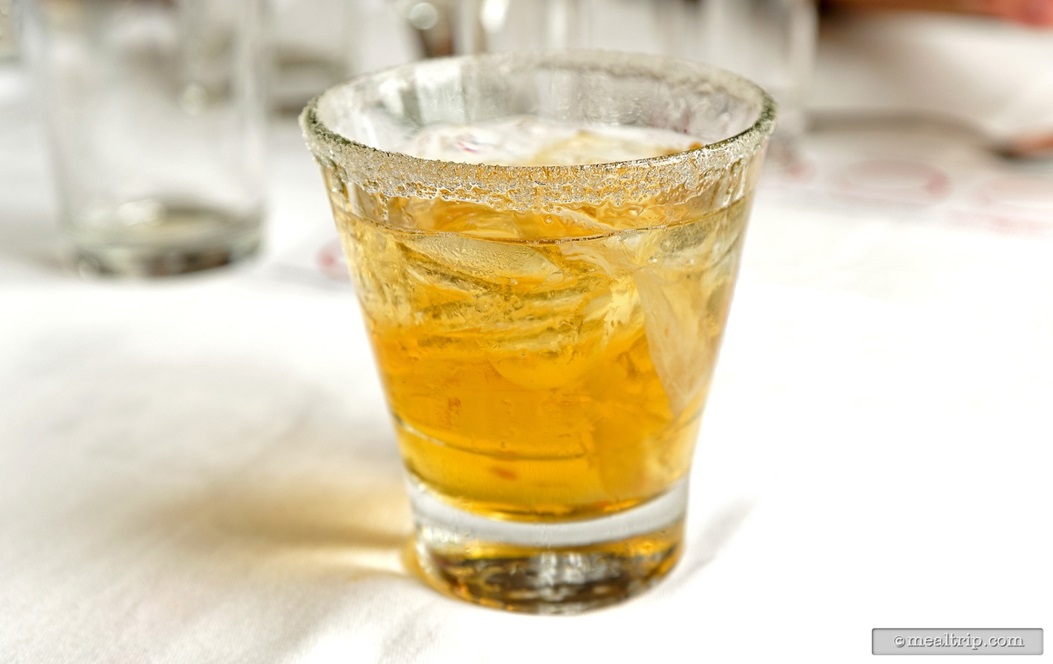 The Ginger Spice Side Car in a sugar rim glass.
Not to be outdone by any of the desserts that preceded it, the final pairing was to be a dark chocolate Finger Satilia Tainori. While not being as sweet as the others, it was full of dark chocolate. A flour-less Satilia (62% cocoa) chocolate cake, praline and Tainori (a 64% cocoa that hints of dried fruit) chocolate crunch, Tainori chocolate mousse, and chocolate meringues.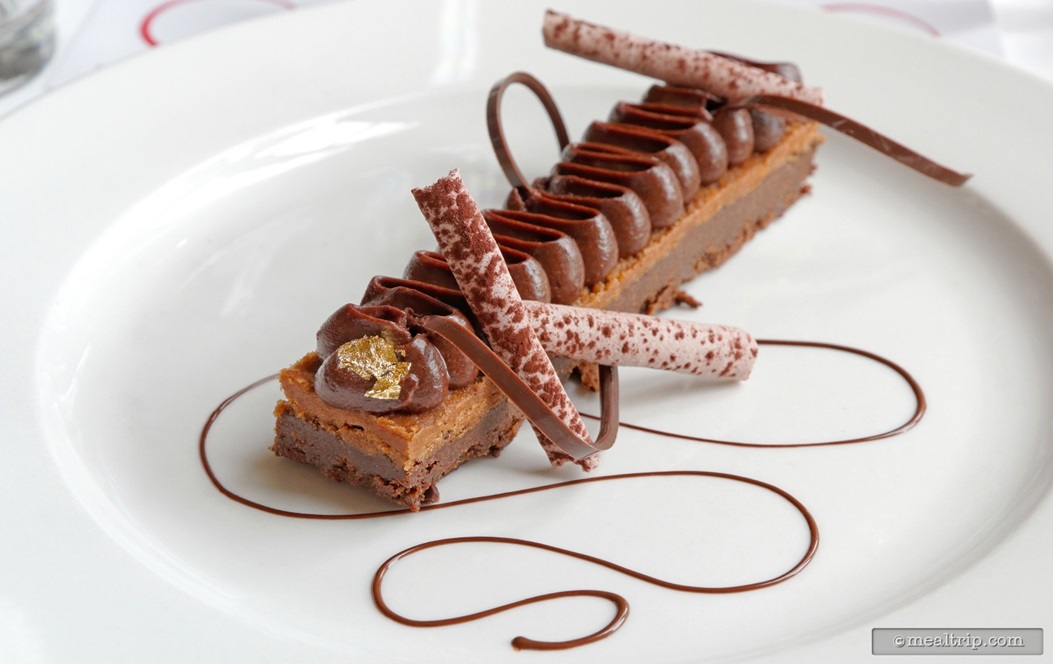 The dark chocolate Finger Satilia Tainori.
The staff was very diligent, (but not overbearing), in clearing away finished plates, utensils and fruit bits that had been spent on making the various cocktails, and a great time was had by everyone at our table. With other 90-120 minute events pushing closer to the $100 area, everyone thought that the event was a great value, and definitely worth the price being charged.
As if the amazing desserts and cocktails were not enough, everyone was handed a great, red goodie bag on the way out, embossed with the words "Grand Marnier", which ended up being a focal point for many other guests as I walked around Epcot after the event. "Hey, where did you get that? What's in there?" ... was heard more than once.
And so the little red goodie bag became a great source of pride throughout the day, as I proudly held it in a way to make it very obvious to all passers-by.
The goodie bag itself contained the recipes for the drinks and a brief history of Valrhona chocolate printed on a card and booklet, a red Grand Marnier drink ball, similar to those that they serve drinks in over the holiday's at Epcot, a mini Grand Marnier cocktail shaker for mixing our own drinks, a Grand Marnier key chain surfboard, and an entire bar of Valrhona Gran Couva chocolate, which is a dark chocolate that is estate grown in Trinidad.
Goodie bags are of course, never necessary or expected, but when you go to one of these event, and they don't give you any little memento, you really miss it. I'm so glad they handed these out and it leaves you with great feelings about Grand Marnier, Valrhona, and France in general. Vive la Goodie Bag.
This year's Shake and Indulge Like the French event is $55, and takes place on Saturday's only and is held in the beautiful Monsieur Paul above Chefs de France.
Click Here to visit Disney's site for more information.
Have you been to the Shake and Indulge Like the French event at Epcot's Food and Wine Festival?


What did you think? Too sweet… or just right?
You can comment below, or...