Mixology Seminar featuring Lucas Bols & Presented by Anthony Pullen
October 7th, 2014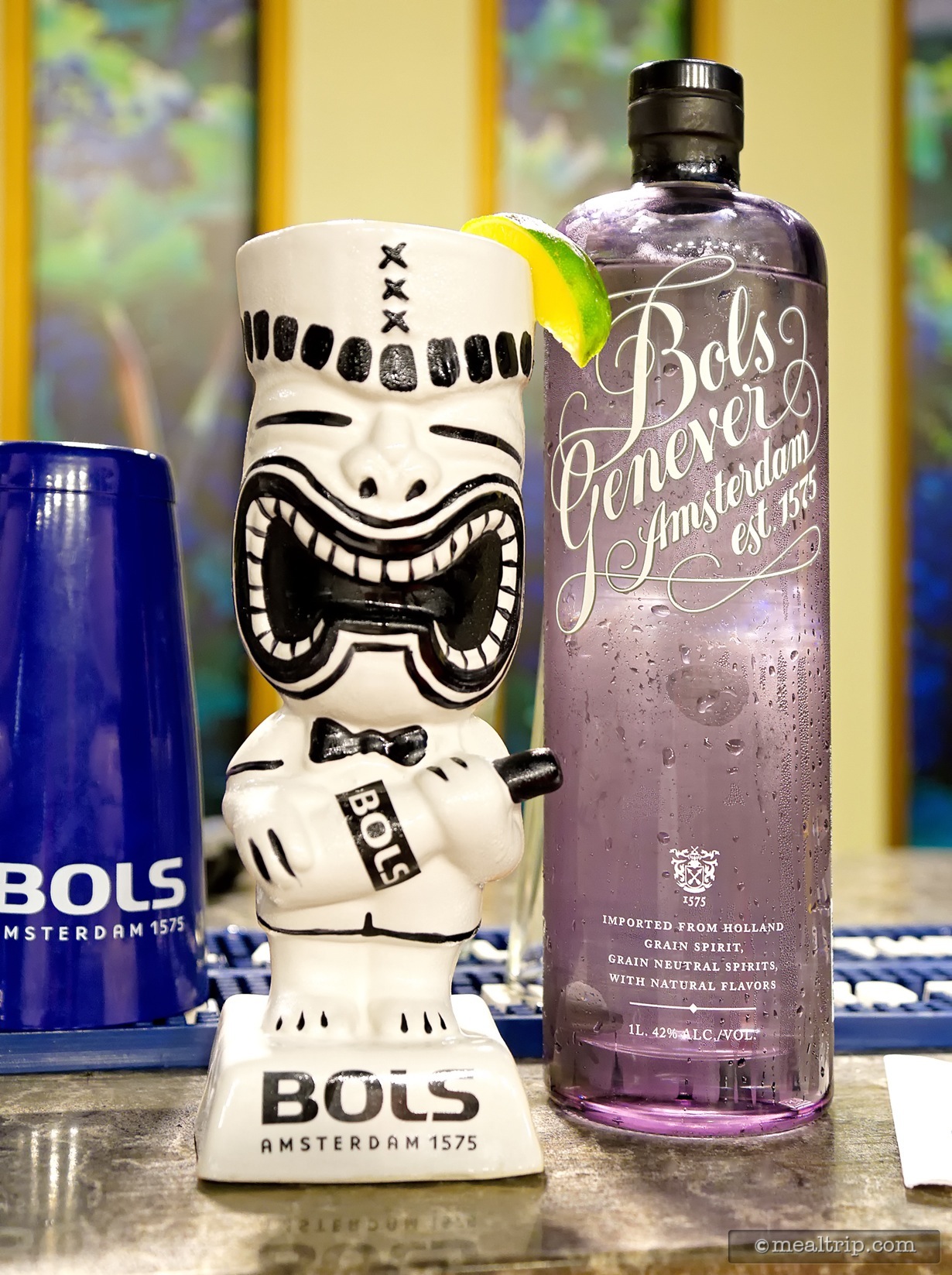 Each day during the Epcot Food and Wine Festival a "Mixology Seminar" is held in the Festival Welcome Center at 6pm. The 45 minute demonstration is often curated by a representative of a particular beverage manufacturer and combines information, entertainment, and of course three mixed drinks to sample. If you enjoy mixed cocktails, this event is one of the best "deals" of the festival. The $15 per person ticket is easily justified, as any one of the three 4oz to 7oz samples that you're presented with, would fetch $4 or more outside at the kiosk (the cocktail type of beverages served at the kiosks are a bit larger, but do cost a bit more, I'm just thinking about an ounce for ounce breakdown).
New to the festival this year, several
Lucas Bols
spirits were presented by Anthony Pullen. Being the Brand Development & Education Manager for
Lucas Bols USA
, Anthony seemed very comfortable in front of a large group, and got the "mix" of information and entertainment just right.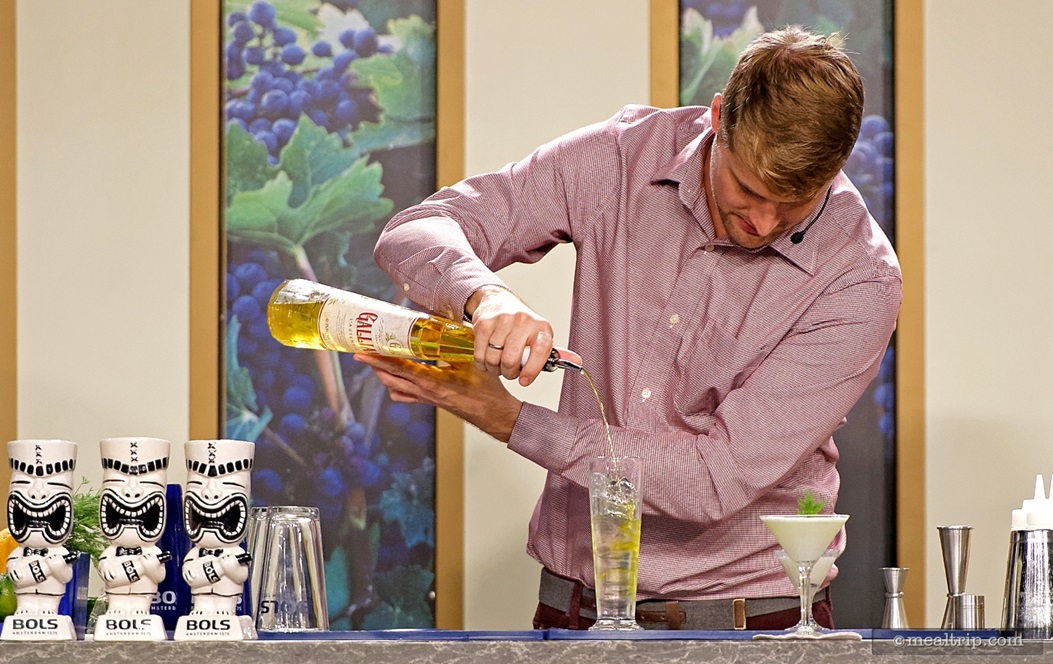 Anthony Pullen pouring the Galliano for a Harvey Wallbanger.
Lucas Bols has an interesting story
in it's own right. The privately held Dutch company has been making spirits since 1575 when the Bols family first arrived in Amsterdam. Of course these days, worldwide distribution rights are chopped up like so many slices of pizza, but it's nice to know that way back when, there were recipes and manufacturing principles in place that would drive the brand for nearly 450 years.
But enough history, let's take a look at the drinks...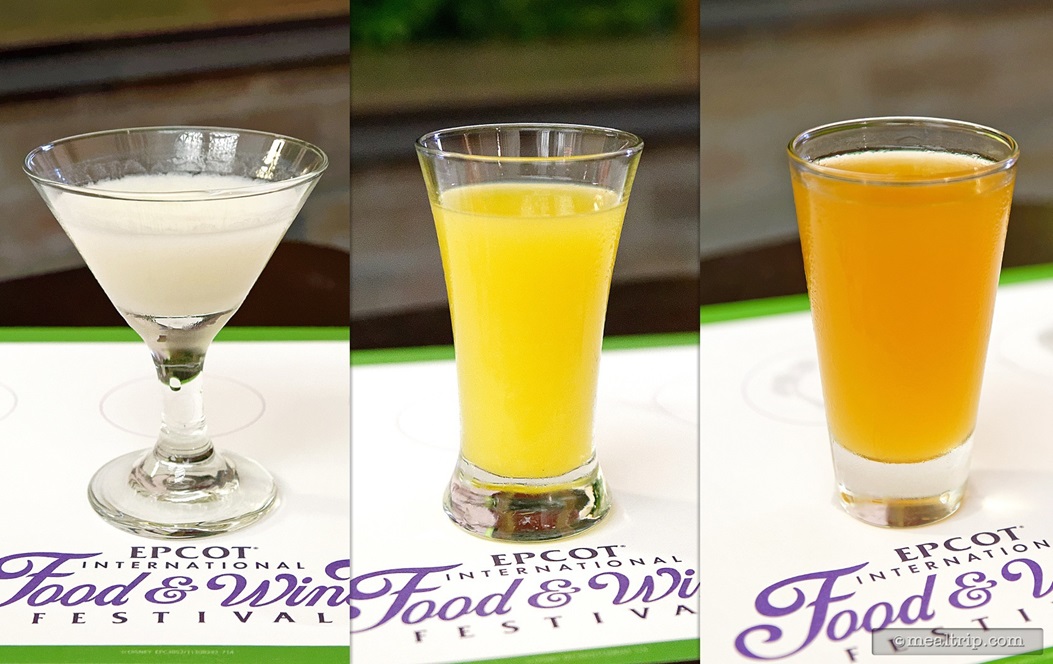 Each of the 4oz to 7oz samples of each cocktail that you receive, from left to right, the Tzatziki Martini, Harvey Wallbanger, and Oh Mai.
First, Anthony made a Tzatziki Martini which combines Cucumber Vodka, Bols Yogurt, simple syrup, lemon juice, and dill. Now, I have not been motivated to try any of the white yogurt based drinks that are gaining in popularity recently, so I was glad to see I'd get a chance to here. I have to say, the Tzatziki Martini would not only make for a great "starter" conversation drink, but I would also like to try pairing this one with some tapas style dishes.... a spicy shrimp dish, or a chicken gyro would be where I'd start! The Tzatziki Martini was a little sweet but you can definitely pick up the cucumber and lemon. The biggest thing I was concerned about was the Bols Yogurt making the drink too thick, but that wasn't the case at all. Now I'm inclined to try more of the "white" dairy cocktails that are popping up everywhere.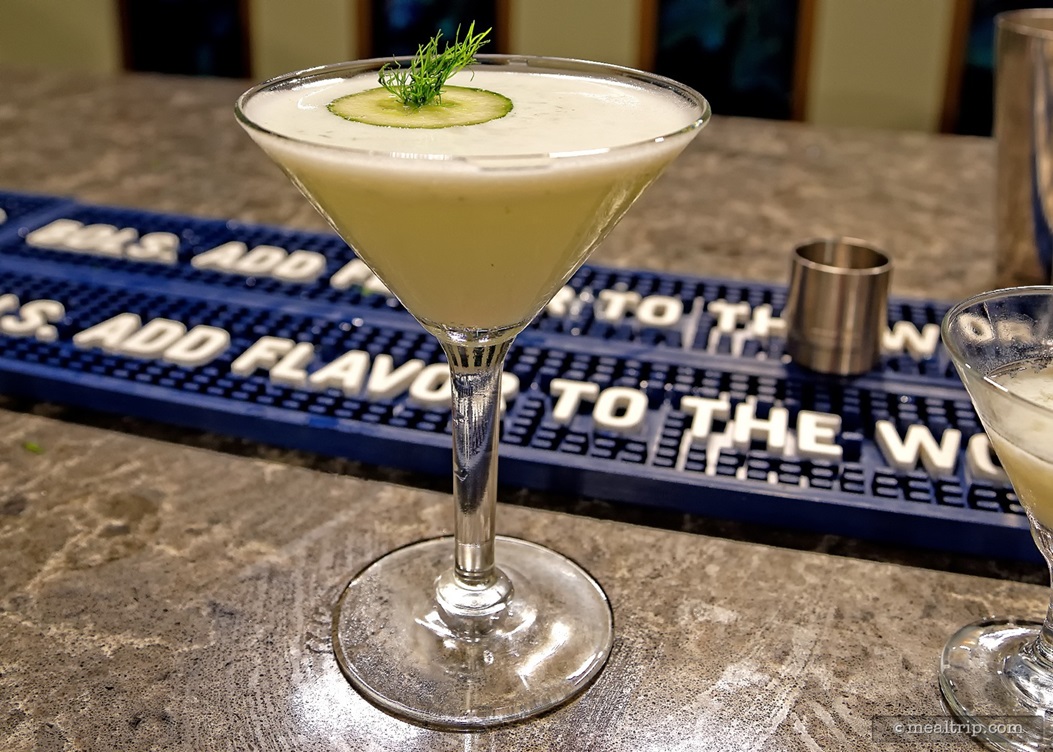 The Tzatziki Martini
Next, Anthony went more classical and mixed up a Harvey Wallbanger. Vodka, fresh orange juice, and Galliano... you really can't go wrong with this one. While the 6 or 7oz sample that we were served was a perfect size for the demonstration, the Harvey Wallbanger is a very "drinkable" drink, and you'll generally see them in much larger 12oz Collins glasses.
Finally, a Bols take on the traditional Mai Tai was presented, named the Oh Mai. And boy, was this one loaded up with some "product"... Bols Genever, Rye Whiskey, Bols Amaretto, Bols Orange Curacao and fresh lime juice. The sample we were given at the presentation... was just the right size... if you still wanted to walk out of the presentation without knocking anything over!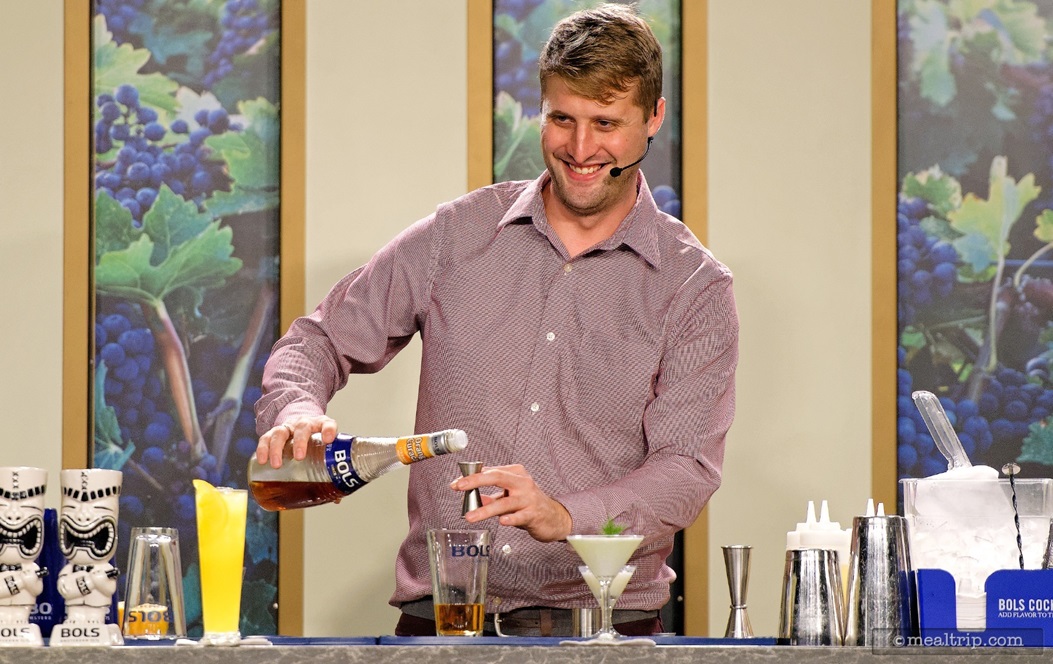 Bols Orange Curacao is one of the ingredients in the Oh Mhi, Anthony Pullen's take on the Mai Tai.
Mai Tai's are a bit "spiced" to me, and the Oh Mai fit that description, and then some. I'm not a mixologist, but I think the Bols Genever and Orange Curacao are the "stars" in this one. In fact, Bols makes a Red Orange and a Passion Fruit liquor that I would like to do a little "testing" out on, with this recipe in mind.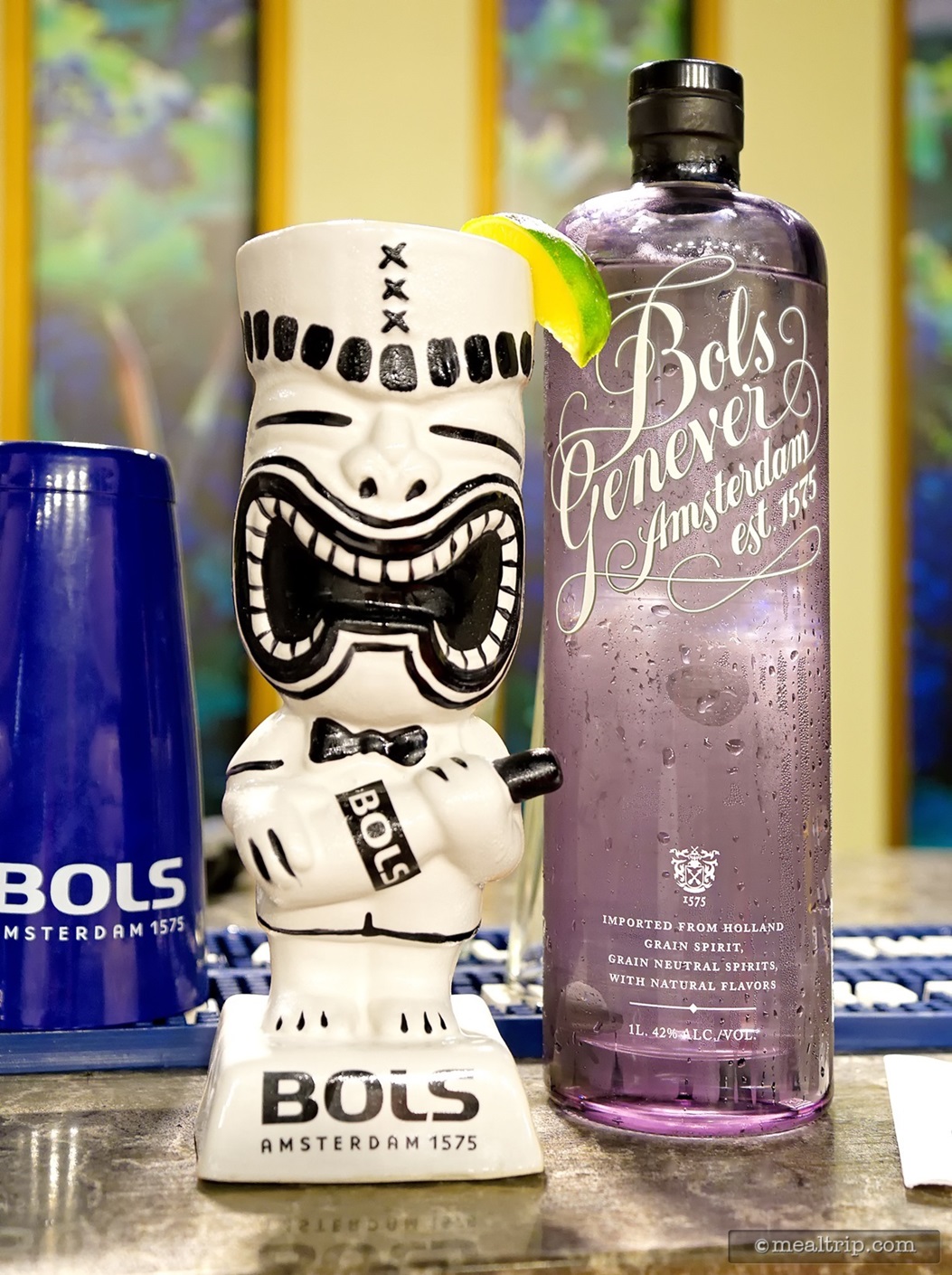 The Oh Mai, should be served in one of these great looking Bols tiki glasses, which are not for sale, so sad. But a great drink none the less.
It's worth noting, that there are small baskets of crackers on the tables, placed between every four guests or so... and the make great "palate separators" between the drinks.
While the drinks, sponsors, and presentations change every couple of days, you really can't go wrong with any of the Mixology Seminars at the Food and Wine Festival. If you like mixed cocktails, it's a good "deal" money-wise, and you might even get to sample something that you wouldn't necessarily order a full glass of, and possibly even find a new favorite drink!
I have been to a few of these over the years, and in most cases, you will receive a recipe card with the ingredients and pour amounts, so that you can try the beverages at home. Only occasionally, have I run into a presentation where the "presenter" just didn't seem to be comfortable or familiar with speaking in front of a large crowd. In almost all cases, the folks giving the presentation are very skilled mixologist, but they do... usually only "work" in front of a few people at a time. A large crowd of 100 people or better, staring at you, can be quite jarring for some. Fortunately, this seems to be happening less and less, as word gets out about the format and size of the group.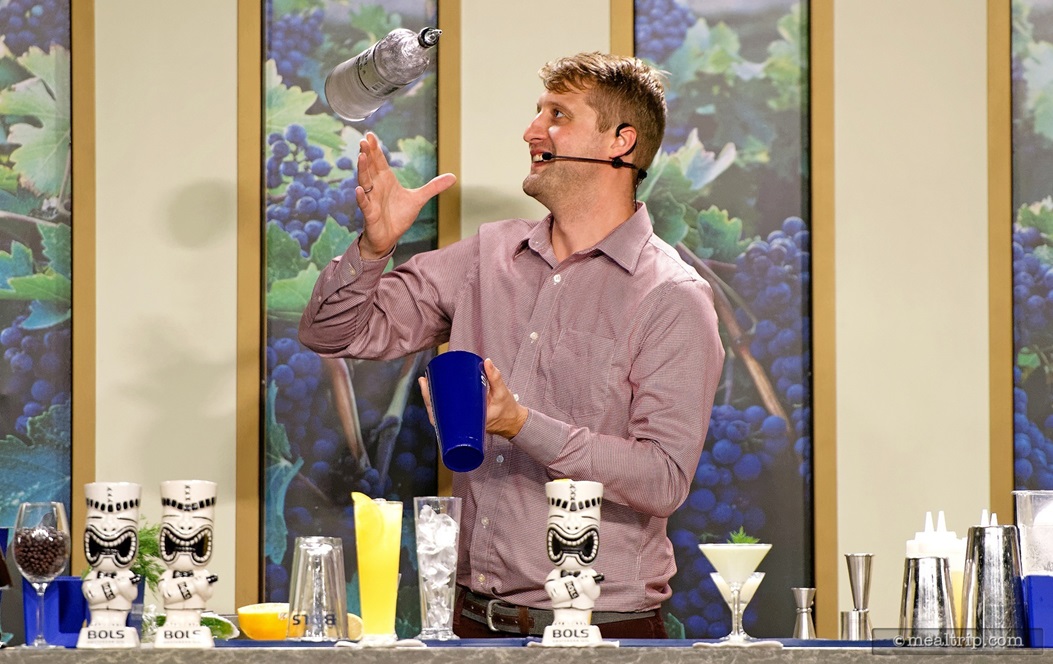 Anthony Pullen showing off his bottle throwing abilities, but did he catch it? Of course he did! Don't try this at home, or at least fill the bottle with water first. You wouldn't want to risk losing any Bols product.
In the case of this Lucas Bols Seminar, Anthony Pullen did a great job... and I would gladly sign up for another presentation, based on seeing his name alone! Here's hoping we get to see Lucas Bols and Anthony back next year, for the 20th Anniversary of Epcot's Food and Wine Festival!
Have you attended any of the Mixology Seminars
at Epcot's Food and Wine Festival?
Which Seminar and beverage manufacturer's seminar did you attend?
Would you sign up for another one based on your experience
or is once enough?
Let us know what you think of the series... and don't forget to check out all the
food booth items this year on our Rate and Review Scorecard!