Mexican Tequila Lunch Pairing at La Hacienda de San Angel
October 25th, 2014
Our presentation was lead by Hilda Castillo, La Cava's Tequila Ambassador. Hilda has the unique ability to not only make any presentation fun and informative, but also stays in control and keeps things on track… which is not easy to do when all of your guests are drinking tequila.
Throughout the presentation, you have the opportunity to learn and sample three ages of tequila by using various olfactory triggers such as citrus rind, coffee beans, and cinnamon sticks, (along with being able to taste the Tequilas of course). You are encouraged to save some of each tequila for food pairings. So the format of the presentation is learn, smell and taste, eat, and repeat... over four distinct courses (plus a "welcome" margarita, which is pretty nice way to "welcome" your guests).
Paired with the first tequila, a Casamigos Tequila Blanco, is La Hacienda's Mayan Ceviche.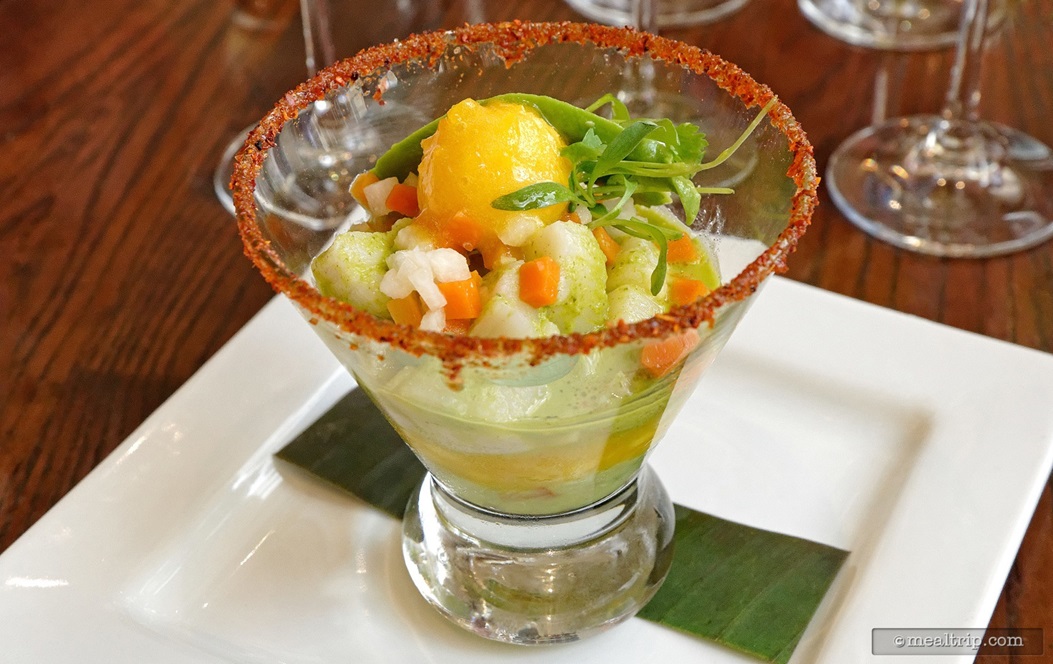 Combining scallops, onions, cilantro, avocado and lime juice, the Mayan Ceviche was served in a salt rimmed, margarita glass with a tiny scoop of mango sorbe.
The chef's at San Angel, La Cava and La Hacienda have been responsible for some of the best Ceviche that I've ever had, and this one was no different. Combining scallops, onions, cilantro, avocado and lime juice, it was served in a salt rimmed margarita glass with a tiny scoop of mango sorbet. If you don't like the idea of ceviche, but are willing to give it a try, this is the place to do it. It's my de facto standard in ceviche, if you don't like it here, you won't like it anywhere.
Next up is an amazing Sweet Potato Cream paired with Dos Lunas Tequila Reposado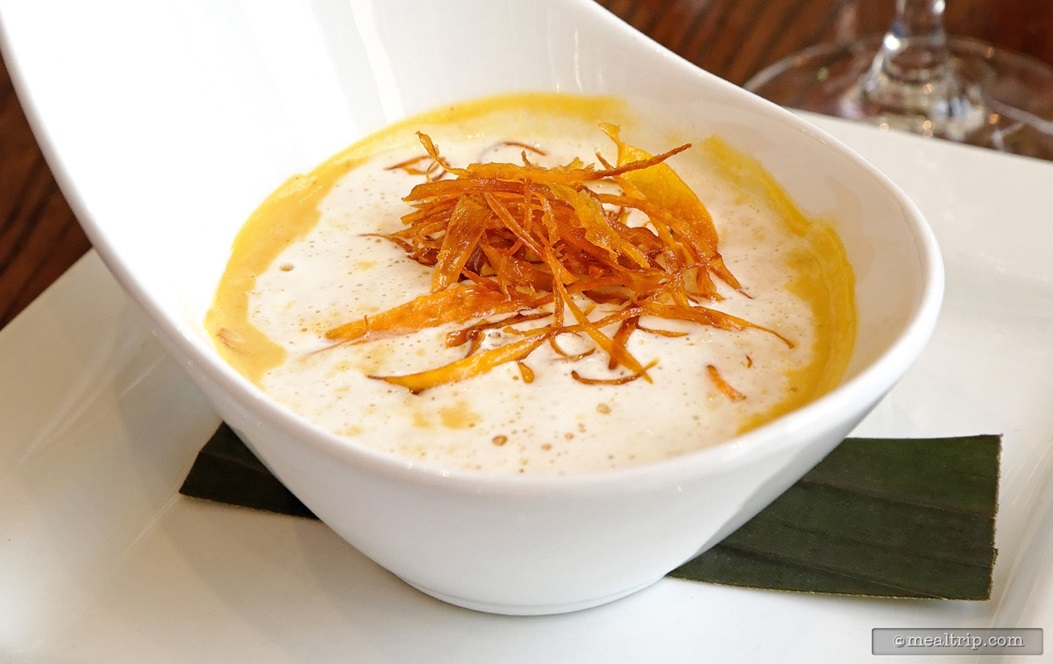 Sweet Potato Cream topped with queso fresco foam and cinnamon oil.
The delicious soup-like cream was served warm, and prepared with the same octopus that we were tasting, roasted sweet potatoes, heavy cream, and a Tequila reduction, topped with queso fresco foam and cinnamon oil.
The third course (our main plate of the lunch) was simply called Land and Sea, and is paired with a Casa Noble Tequila Anejo.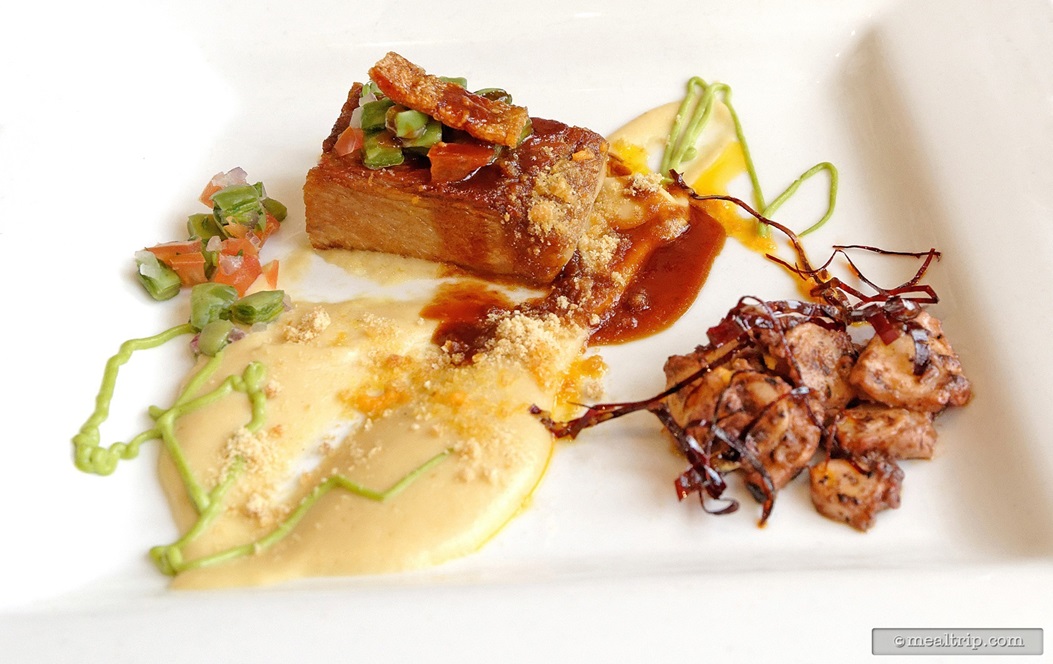 The main Land and Sea course.
The two protein components on the plate are pork belly carnitas with a tequila gastrique reduction, and octopus seared in an Ajillo pepper sauce.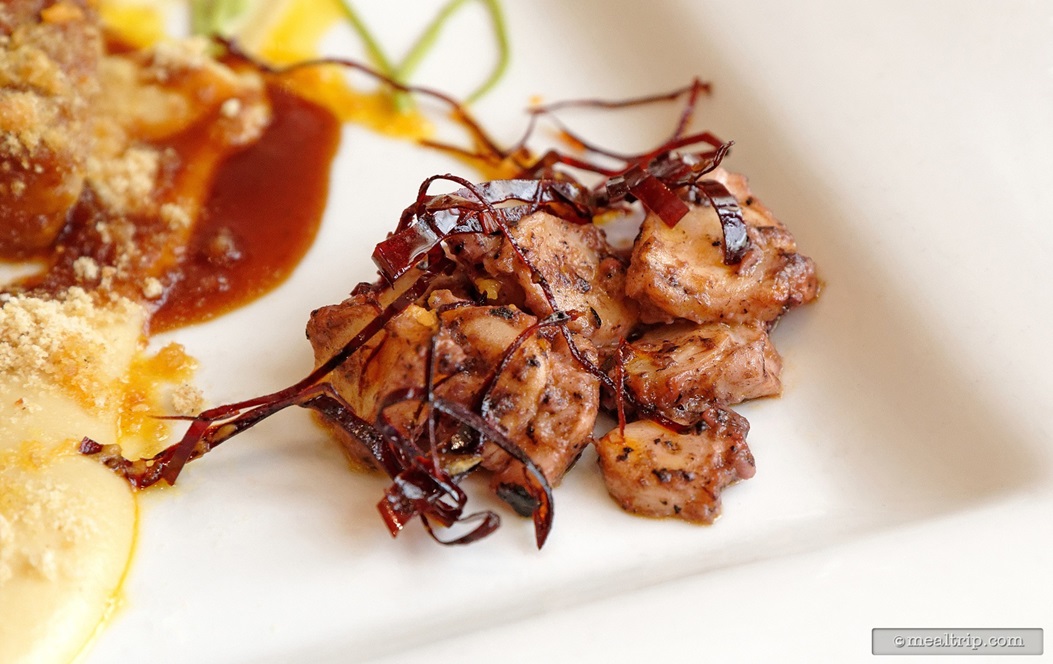 Octopus seared in an Ajillo pepper sauce.
This was also a small cactus leaf salad and corn puree with cilantro oil on the plate.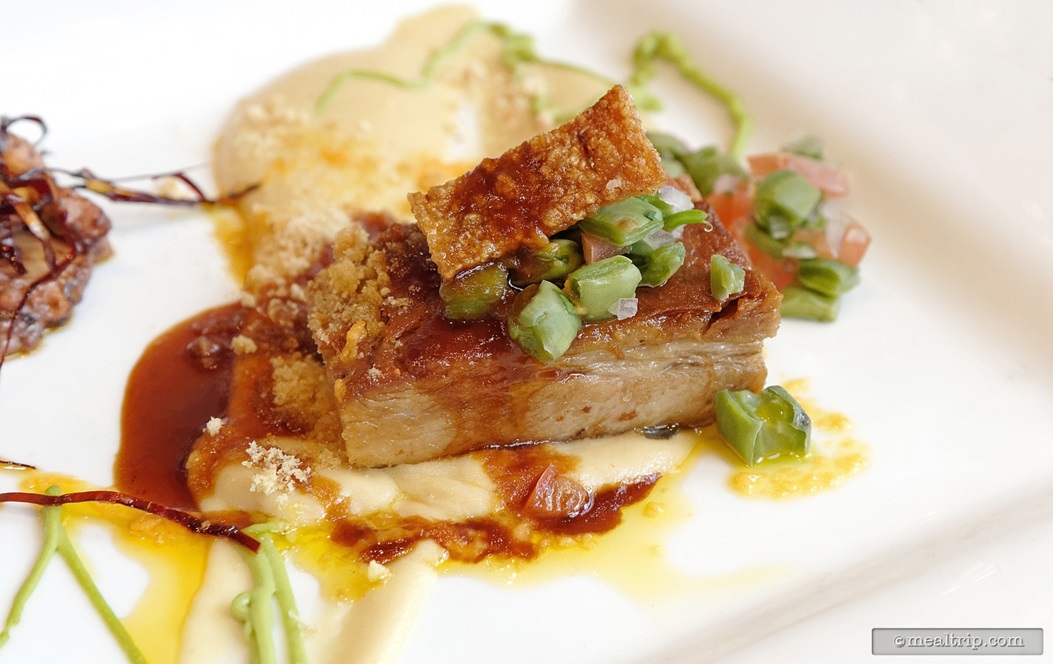 Pork Belly Carnitas with a tequila gastrique reduction.
Finally, an Ultimo Agave Almond tequila liquor was paired with a Tequila Tres Leches Cake.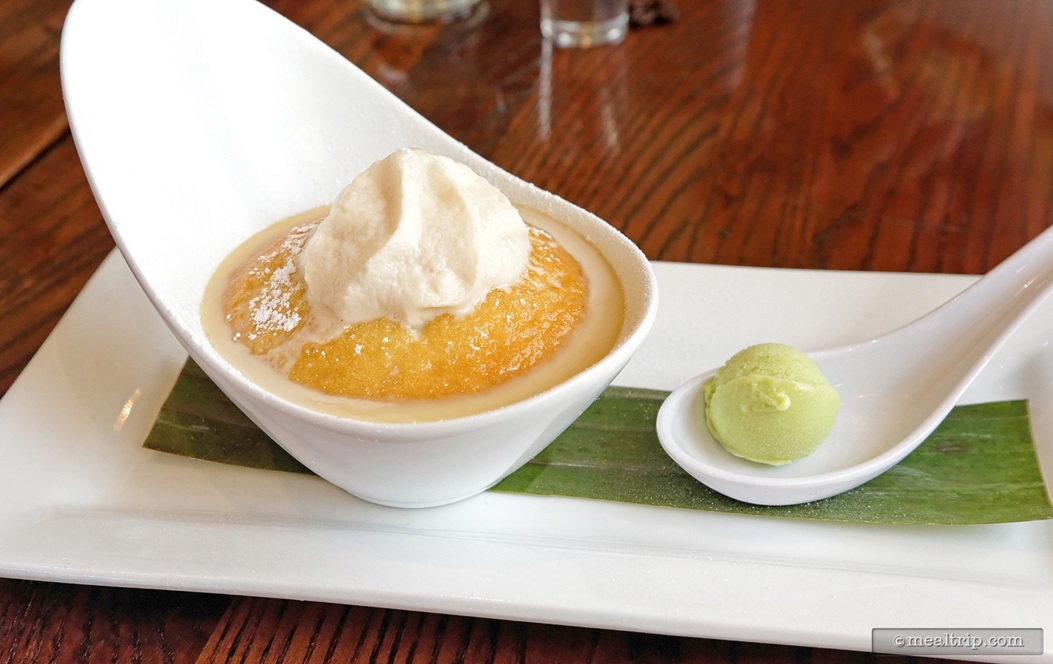 Tequila Tres Leches Cake with Avocado Mint Ice Cream.
After getting just a small taste of the almond liquor, we were encouraged to pour a bit into the warm tres leeches cake, which would then be dripped in the tequila liquor and topped with coffee whipped cream. This was served with a small scoop of avocado mint ice cream, which was a real treat, and acted as a bit of a palate normalizer, as the tres leeches cake was properly sweet and rich.
Each year, the food items change a bit, so that if you have attended before, you can go again and have some different tastes and pairings to look forward to. The quality of the food, and the care with which it's produced, remains on a high level. If you've enjoyed dining at either San Angle Inn or La Hacienda in the past, as good as they are, the Tequila Lunch always seems just a notch above.
Although I'm sure most of the remaining dates this year are full, it wouldn't hurt to check with guest services or call (407) 939-3378 if your interested the the Mexican Tequila Lunch. It takes place during the Food and Wine Festival only, on Thursday, Friday and Saturday beginning at 12pm. I highly recommend it, and even if you're a tequila pro, the food pairings are simply incredible.
If you went to this year's Mexican Tequila Lunch at La Hacienda de San Angel, tell us what you thought in the comments area below, or rate the experience on our
rate and review page
!