2023 Thanksgiving Day Menu at the Rosen Center
Thanksgiving Day Buffet at Café Gauguin
November 2nd, 2023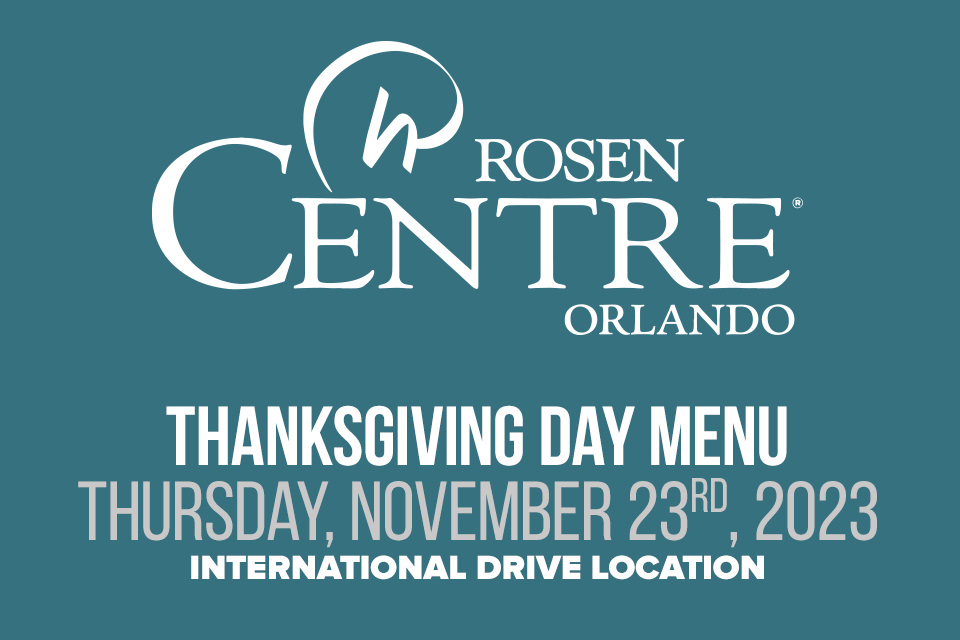 If you're still searching for Thanksgiving dining options, Café Gauguin at the Rosen Centre on International Drive has a special buffet planned for that day.
The Thanksgiving buffet is being served on Thursday, November 23, 2023 and from 11am - 6:30pm only. Here's the pricing details...
$64.95** Per Adult
$27.95** Per Child (Ages 4-12)
Children 3 & Under Eat Free
Free Self-Parking (Valet Parking Discounted at $15)
Unlimited Champagne and Mimosas
**Keep in mind… all prices plus taxable 22% service charge and 6.5% tax. Gratuity is based on full-priced purchases. (So if I'm doing the math right, the adult price is actually $84.45 and the child price is $36.32 — and then you have to tip on top of that.)
Walk-ins are welcome but are based on availability. Other restrictions may apply. Menu subject to change.
Thanksgiving Buffet at the Rosen Center 2023
Soups
Cauliflower, Apple, and Brie Bisque
Italian Sausage, Fall Greens, and Potato Soup
Market Salads
Mixed Greens Salad Bar with Condiments and Dressings
Autumn Farro Salad with Baby Kale, Roasted Pumpkin, Pomegranate
Chicken Shawarma Salad with Tomato, Red Onion, Cucumber, Yogurt
Beef and Noodle Salad with Bok Choy, Carrot, Red Pepper, Red Miso Vinaigrette
Rosen Centre Seafood Salad
Local and International Cheese and Tropical Fruit Display
Derby Sage, Stilton, Amber Valley Port, Drunken Goat Cheese, Manchego, Irish Porter
Seasonal Melons and Berries, Pineapple, Mango, Papaya, Mandarins, Cracked Coconuts
Antipasto Display
Marinated Artichokes, Asparagus, Olives, Fresh Pesto Mozzarella, Heirloom Tomatoes
Peppadews, Roasted Red and Yellow Peppers, Capicola, Mortadella, Salami
Marinated White Beans with Roasted Tomatoes and Torn Basil
Seafood Station
Chilled Shrimp, Jonah Crab Claws, New Zealand Greenshell Mussels, Thai Coconut Calamari Salad
Smoked Salmon with Capers, Diced Red Onion and Hard-Cooked Egg
Lemon and Lime Wedges, Cocktail Sauce, Kickin' Bayou Sauce
Pasta Station
Vesuvio Pasta, Roasted Chicken, Rapini, Trumpet Mushrooms, Tomato Ragu
Creamy Pumpkin and Mascarpone Ravioli, Roasted Heirloom Carrots, Cinnamon-Salted Pistachios
Spanish Vegetable Paella Andalusia
Banshoo Sushi
Horizon Roll with Spicy Sriracha Tuna, California Roll with Crab, Avocado, and Masago
Pickled Ginger, Wasabi, Soy Sauce
98Forty
Shredded Chicken Flautas, Cheddar and Manchego Cheese, Sweet Peppers
Acapulco Style Ceviche Shots
Made to Order with Citrus Juices, Tomatoes, Red Onion, Cilantro
Choose from Lobster or Mahi-mahi
Breakfast Station
Omelets made to order, Smokehouse Bacon, Breakfast Sausage
Breakfast Potatoes, Eggs Benedict
Buttermilk Waffles, Red Velvet Pancakes with Chocolate Pearls
Flavored Butters, Maple Syrup, Strawberry Syrup
From the Hot Buffet
Carved Round of Beef, Caramelized Onion Chutney Horseradish Sour Cream
Sliced Turkey Roast, Apple Cider Pan Gravy, Fresh Cranberry-Orange Relish
Granny Smith Apple and Parsnip Stuffing
Yukon Gold Mashed Potatoes
Herb-Basted Salmon with Olive Tapenade, Tomatoes, and Capers
Chef's Roasted Local Fall Vegetables
Kids' Buffet
Crispy Chicken Tenders, Mac and Cheese, Buttered Corn
Mini Meatball Mozzarella in Marinara Sauce
Dessert Station
Assorted Breakfast Pastries include Coffee Cakes, Fruit Danish, Mini Croissants and Muffins
Spiced Pumpkin Cheesecake, Mocha Torte, Red Velvet Cake, Pumpkin Pie, Key Lime Pie, Apple Streusel Pie, Chocolate Indulgence Cake, Pecan Pie, German Chocolate Cake
Sweet Shots, Mini Cupcakes, Petit Fours
Warm Raspberry-White Chocolate Bread Pudding, Rum Vanilla Sauce
No Sugar Added, Gluten-Friendly Selection
Soft Serve Ice Cream with Toppings
Chef-Attended Station
Warm White Chocolate Pumpkin Crepes
Pumpkin-White Chocolate Mousse, Craisins, White Chocolate Pearls, Raspberry Sauce