2023 Thanksgiving Buffet at the Renaissance Orlando
Enjoy Thanksgiving at the Tradewinds Restaurant
November 2nd, 2023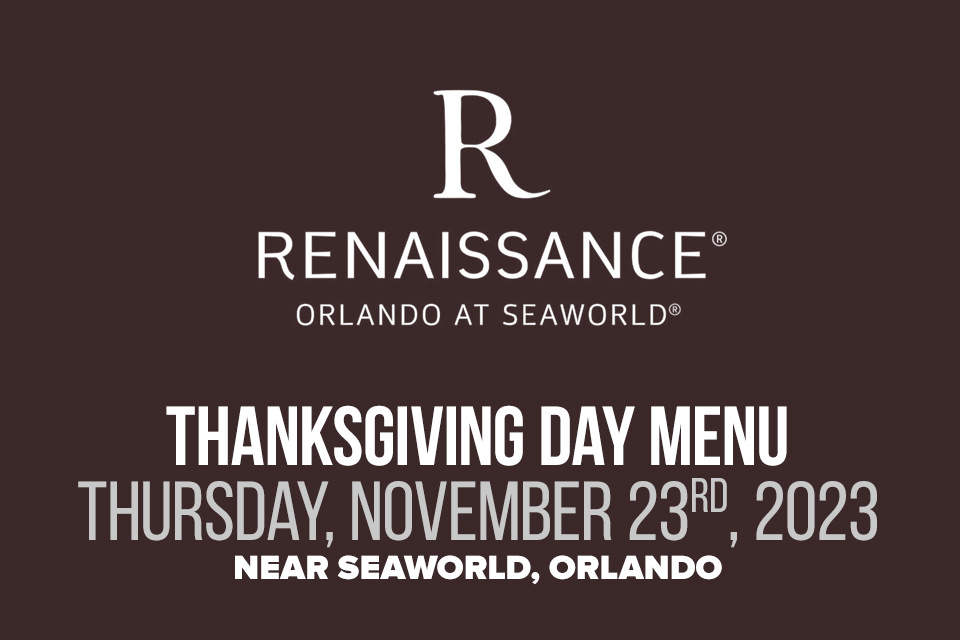 We've got another Thanksgiving Day Buffet menu to look at this year and it's from the Renaissance Orlando near SeaWorld.
The special buffet will be available from 1pm - 6pm and on Thanksgiving Day - Thursday, November 23rd, 2023 only. Here's the pricing info…
$70 Per Adult
$23 Per Child (Ages 12 and under)
I don't know anything about parking at the Renaissance Orlando (so I'm not sure if there's a fee). It's also safe to assume that tax and gratuity are not included in the above prices.
Walk-ins are welcome but are based on availability. Other restrictions may apply. Menu subject to change.
2023 Thanksgiving Buffet at the Tradewinds Restaurant in Renaissance Orlando…
Salad Bar
Garden Greens
Tomatoes
Cucumbers
Shredded Carrots
Radish
Honey Glazed Squash
Roasted Pears
Citrus Beets
Dried Cranberries
Candied Walnuts
Shaved Parmesan
Feta Cheese
Kalamata Olives
Croutons
Pesto Marinated Mozzarella
Florida Citrus Vinaigrette
Buttermilk Ranch
Caesar Dressing
Charcuterie
Prosciutto de Parma
Salami
Soppressata
with Pickled Vegetables, and Marinated Peppers
Artisan Cheeses & Spreads
Creamy Brie
Aged Cheddar House Pumpkin Jam
Garlic Hummus
with Gourmet Pickles, Marcona Almonds, Honey, and Grapes, Grilled Naan, Crostini, and House-made Bread
On Ice
Shrimp Cocktail
Smoked Clams
with Smoked Salmon Dip, Local Hot Sauce Bar, Lemon, Cocktail Sauce, and Drawn Butter
Sushi
California Roll
Spicy Tuna Roll
Cucumber Roll
with Wasabi, Pickled Ginger, and Soy Sauce
Traditionals
Traditional Stuffing
Whipped Yukon Gold Potatoes
Candied Sweet Potatoes with Pecans and Marshmallow Topping
Green Bean Casserole with Mushroom Cream and Crispy Onions
Farro Risotto with Kale
Salmon with Wild Mushroom
Roasted Chicken and Gnocchi with Garlic Spinach and Herb Gravy
Parmesan and Butternut Squash Soup with Gingerbread Croutons and Candied Pumpkin Seeds
Rigatoni with Roasted Garlic Cream, Charred Broccolini, House-made Sausage, and Ricotta Salata
Roasted Sweet Baby Peppers, Cauliflower, Broccoli Vegan Cauliflower Gratian
Carving Station
Free Range Roasted Turkey
with Gravy and Cranberry Sauce
Smoked Prime Rib
with Au Jus and Horseradish Cream
Honey Bourbon Glazed Ham
with Ale Mustard
Desserts
Pumpkin Brownies
Ginger Molasses Cookies
Chocolate Amaretto Tarts
Pecan Squares
Apple Pecan Crisps
Pumpkin Pie
Sweet Potato Pie
Vegan Carrot Cake
Chocolate Pumpkin Cheesecake
Cranberry Cheesecake
Pumpkin Roll