Pam Smith, RDN
Chili Lime Rubbed Salmon with Apple and Red Pepper Slaw
Original Event Date, Monday, September 28, 2015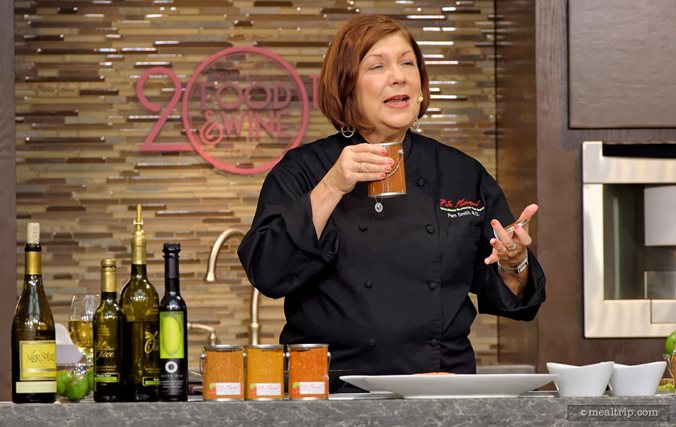 RDN, Festival Host, Culinary Nutritionist, Author and Chef
Pam Smith
prepared a delicious Chili Lime Rubbed Salmon dish for this 2015 culinary demo.
Chef Smith's very own
P.S. Flavor! Spice Rubs
were used in the plate... the Chili Lime Rub on the Salmon and the light and refreshing Citrus Spice Blend in the Apple and Red Pepper Slaw. The medium heat (spice-wise) on the warm salmon paired perfectly with the cool and crunchy julienned apple and pepper slaw, which highlights the fact that the
P.S. Flavor! Spice Blends
are part of a "flavor system", and can be used together on the same plate, to really help create a unique "signature" dish, every time.
The salmon was paired with
Mer Soleil's Silver Unoaked Chardonnay
, which... frankly Mer Soleil just goes with everything. You would be hard pressed to find a better Chard than Mer Soleil's Silver. Can you tell I'm a fan? While it does seem like "wine" is becoming more and more of a rarity at the "Food and Wine Festival"... if you see anything Mer Soleil being offered, try it. It's the real deal.
Pam Smith, RDN
Festival Emcee, Nutritionist, Author and Creator of P.S. Flavor! Wholesome Blends
Monday, September 28, 2015 | 3:00pm
THE DISH : Chili Lime Rubbed Salmon with Apple and Red Pepper Slaw
WINE PAIRING : Mer Soleil Silver | Unoaked Chardonnay