A Few New Kiosk Items for the 2014 Food and Wine Festival
August 25th, 2014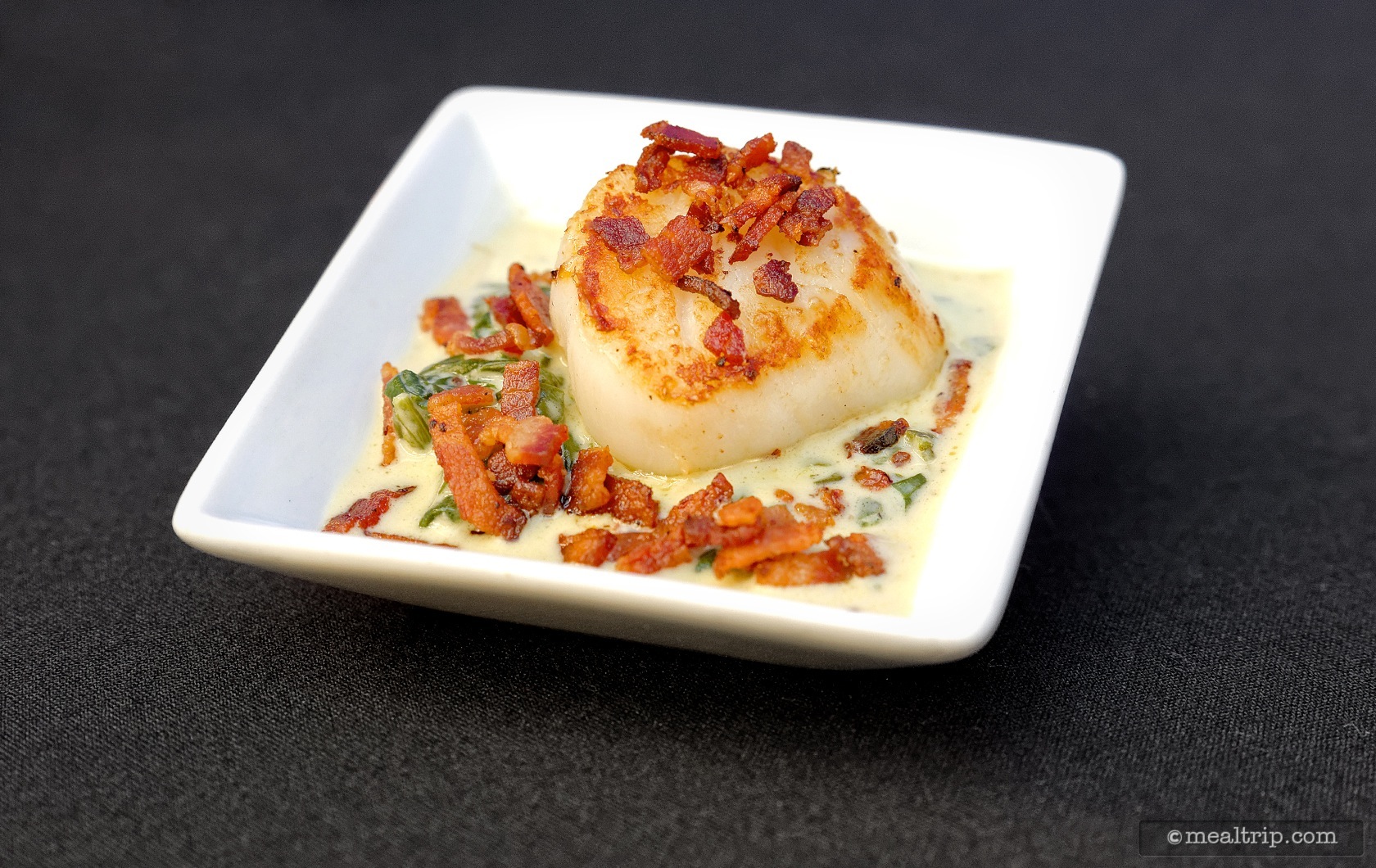 Early in July, I had an opportunity to try a few of the items being featured at this year's Food and Wine Festival. It's an event that I usually enjoy, but this time... the event itself felt a little too large, and was missing some of the true foodie-like details of years past.
This however, is not a review about the event, but a chance to show a few pictures and talk about a couple of the items that will be appearing at the kiosk this year, around World Showcase.
New to the Africa kiosk is a gluten free item, the "South African Bobotie with Turkey and Mushrooms".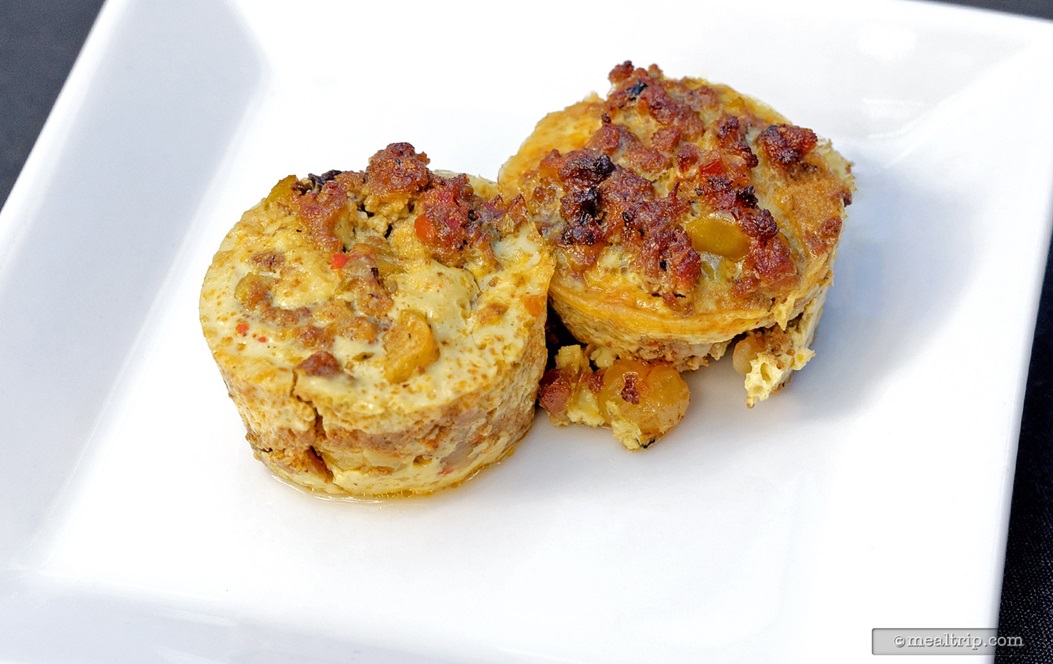 South African Bobotie with Turkey and Mushrooms.
If you have not tried (Americanized) Bobotie, it's a mix of spiced, minced meat and a scrambled egg-like topping… with a some other supporting flavors tossed in the mix. A bit like a better formed omelet. Much of the time, a lower grade ground beef product is used as the meat, and it tends to draw most of the moisture out of the dish (and your mouth).
Initially, I was little skeptical seeing Turkey in this dish, but it really works quite well. The meaty protein quality remains, but without any of the dryness from often overcooked ground beef. There's just a hint of sweetness to this dish as well, probably from some brushing of maple syrup somewhere, and the mushrooms add a nice flavor, without being overpowering. Bobotie is not for everyone, but this is one of the better variations that I've tried, so if you're curious… I'd give this one a go. It will make for a great "starter" in the morning as it has many breakfast-like qualities.
Another gluten free offering is the Seared Sea Scallop with Spinach-Cheddar Gratin and Crispy Bacon from the Scotland kiosk.
Seared Sea Scallop with Spinach-Cheddar Gratin and Crispy Bacon from the Scotland kiosk.
Even though I consider it a bit of an Italian faux pas to combine anything cheesy with seafood, I've noticed that it's perfectly accessible in Scottish cuisine, and this dish does seem to work quite well. You can't go wrong with topping anything with bacon these days, and while I think I might like to see more Spinach than cheddar liquid under this dish, the caramelized goodness of a freshly seared scallop is hard to beat.
From the new Patagonia booth (South American) I got a chance to try the Roasted Verlasso Salmon with Quinoa Salad and Arugula Chimichurri, which was just kind of so-so in my mind.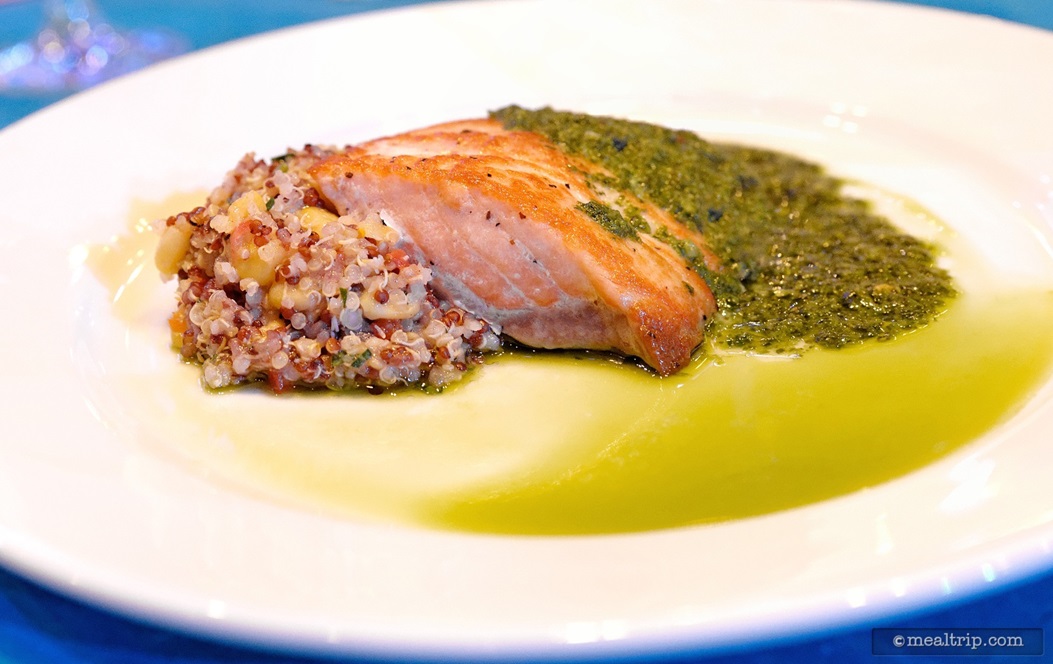 Roasted Verlasso Salmon with Quinoa Salad and Arugula Chimichurri from the Patagonia booth (South American).
The salmon itself was decent enough, and I do like quinoa in all it's varieties, but the arugula chimichurri didn't really do anything to the dish, other than make a green broth. I expect a certain punch when I see the word "chimichurri", that just wasn't there. I've never been to Patagonia so maybe it's just how they do things down there.
I'd like to say the last savory dish that I have to show, tasted better than it looks. Unfortunately, that's not the case. The Slow-braised Beef with Puerto Rican-grown Rice from the Puerto Rico kiosk should be a real winner.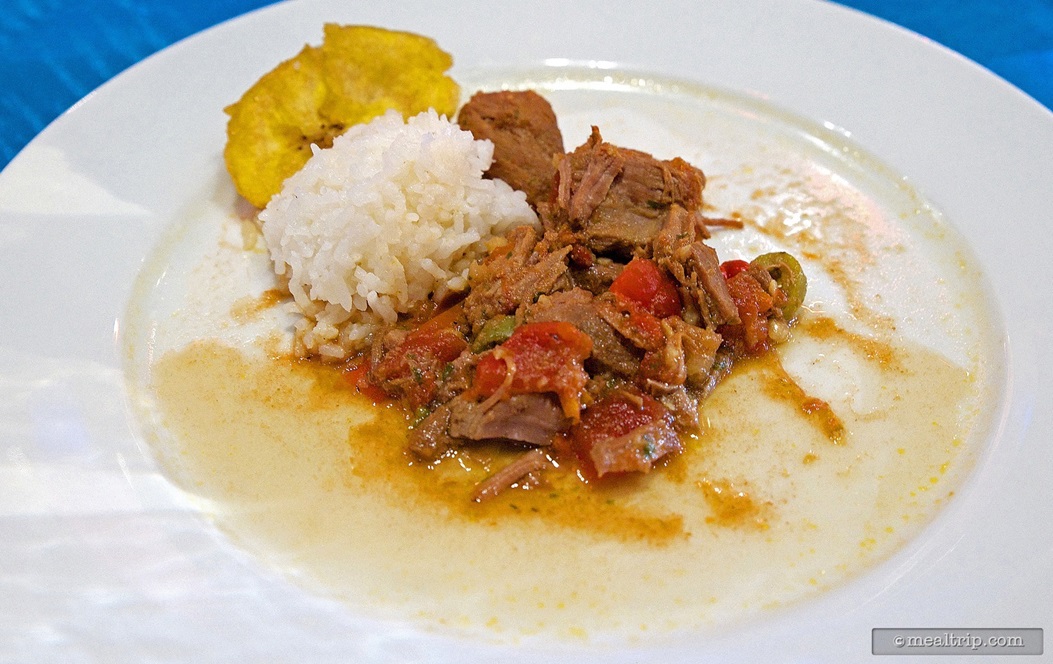 Slow-braised Beef with Puerto Rican-grown Rice from the Puerto Rico kiosk.
First things first though… it's going to be served in a cardboard boat, so you don't have to worry about it looking like this, but I just HAVE to say… you either need to have enough brine on the plate to completely cover the plate, but not extending beyond that inner lip… (that's what the lower part of the plate is for). Or… you need to wipe away all the murky reside and present it clean. There's no in-between here. I had not started eating what you see here in the photo. That's how it was placed in front of me.
As far as the taste goes… I'm sure our table must have gotten a bad batch. There was enough salt in the slow-braised beef to lead me to believe that's what killed the cow. The poor thing just ate too many salt licks or went swimming in the Atlantic Ocean. No one outside of our table was really talking about it however, so while it may have been an isolated incident, this was the one item of the evening, that was only "tasted" by everyone at our table, and not "finished".
Finally, while not being new to the festival this year, Ghirardelli hosts a small counter and informational presentations (signs and such) inside the Festival Center, which they call "The Chocolate Experience: From Bean to the Bar". At that counter, one of the indulgent beverages they offer is a Warm Drinking Chocolate.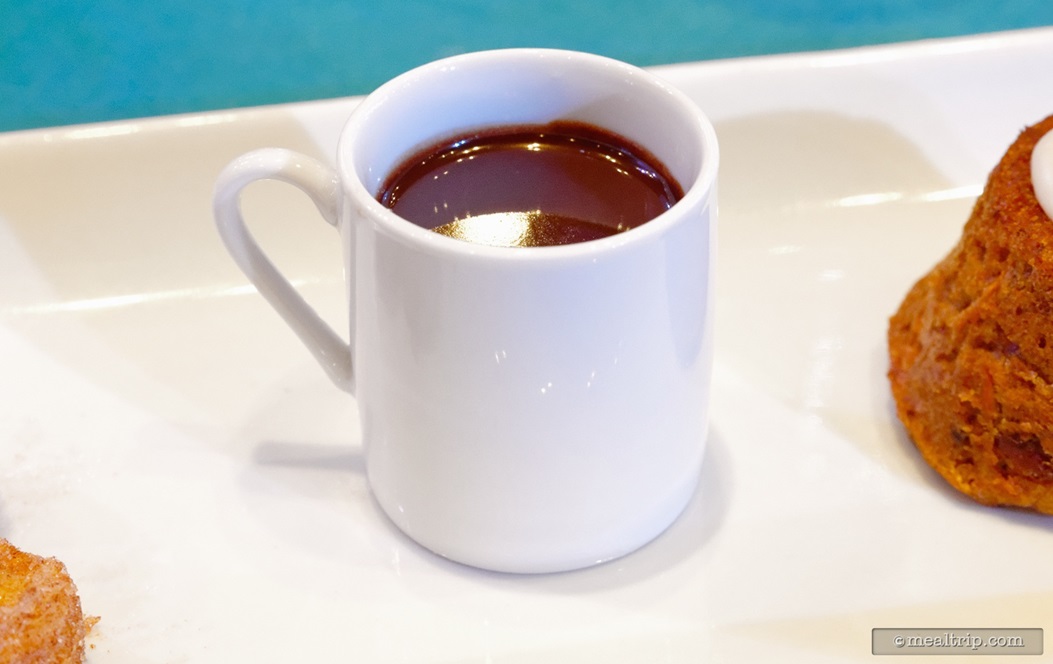 Ghirardelli's Warm Drinking Chocolate.
Even though I do like chocolate quite a bit, I have not been brave enough to try a cup… now that one has been placed in front of me however, I'm only too happy to sample it. Ghirardelli makes great stuff, so if you've wanted to sample this somewhere… this is the place. I was a bit worried that the consistency would be a problem, but they've managed to strike a nice balance between keeping it fluid, while still giving you that feeling that you're drinking a bar of chocolate. It was served warm, (and not hot), a perfect temperature for drinking… and even as it stared to cool down a bit, the dessert beverage still remained quite drinkable.
All in all, there were some great dishes presented that night, and a couple that could use some improvement. If year's past hold any indication though, this "first showing" for some of these items… is just that… a chance to get feedback and see what works, and what doesn't. Previously, a bit of tweaking has gone on in the two months that separate this preview dinner and the actual festival. I'm sure that once September 19th rolls around… everything will be tweaked to culinary perfection.
And don't forget, the
Mealtrip Kiosk Food Item Rate and Review System
, (with photos), will be available shortly after the festival begins, so you can plan, score, and keep track of all the Food and Wine Festival kiosk items that you have tried.