Epcot Food and Wine Festival – Eat to the Beat Concert Series List and Schedule for 2022
May 21st, 2022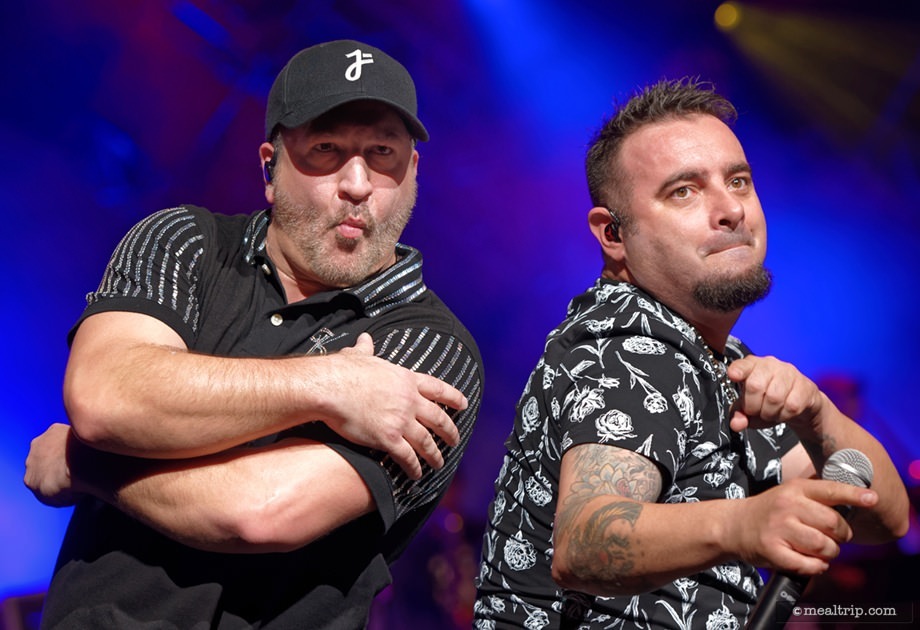 The Eat to the Beat Concert Series (which is part of
Epcot's International Food & Wine Festival
) features three nightly performances from popular bands at the American Garden Theater which is located in the American Pavilion at the back of Epcot. While the concerts are free with your admission to Epcot, you can also purchase an "Eat to the Beat" Concert Dining Package, which includes a sit down meal at a pre-determined restaurant and a guaranteed seat for one of the concerts.
The Eat to the Beat" Concert Series will take place on Friday, Saturday, Sunday, and Monday's only — for the duration of the Food & Wine Festival. Showtimes are listed as being at 5:30pm, 6:45pm, and 8:00pm
On Tuesday, Wednesday, and Thursday's – cover bands (local to Central Florida) will take the stage.
(Entertainment subject to change without notice.)
July
Baha Men
July 14 • 15 (Thursday & Friday)
Big Bad Voodoo Daddy
July 16 • 17 • 18 (Saturday, Sunday, & Monday)
TBD
July 22 • 23 (Friday & Saturday)
TBD
July 24 • 25 (Sunday & Monday)
Taylor Dayne
July 29 • 30 (Friday & Saturday)
Tiffany
July 31 • August 1 (Sunday & Monday)
August
Joey Fatone & Friends
August 5 • 6 • 7 • 8 (Friday, Saturday, Sunday, & Monday)
The Devon Allman Project
August 12 • 13 (Friday & Saturday)
Christopher Cross
August 14 • 15 (Sunday & Monday)
Journey Former Lead Vocalist Steve Augeri
August 19 • 20 (Friday & Saturday)
Air Supply
August 21 • 22 (Sunday & Monday)
TBD
August 26 • 27 (Friday & Saturday)
TBD
August 28 • 29 (Sunday & Monday)
September
Southern Avenue
September 2 • 3 (Friday & Saturday)
Kris Allen & David Cook
September 4 • 5 (Sunday & Monday)
Hoobastank – NEW
September 9 • 10 (Friday & Saturday)
TBD
September 11 • 12 (Sunday & Monday)
Los Amigos Invisibles - NEW
September 16 • 17 (Friday & Saturday)
TBD
September 18 • 19 (Sunday & Monday)
BBMAK
September 23 • 24 (Friday & Saturday)
TBD
September 25 • 26 (Sunday & Monday)
Stokley - NEW
September 30 • October 1 (Friday & Saturday)
October
Shelia E.
October 2 • 3 (Sunday & Monday)
Mark Wills
October 7 • 8 (Friday & Saturday)
38 Special
October 9 • 10 (Sunday & Monday)
TBD
October 14 • 15 (Friday & Saturday)
TBD
October 16 • 17 (Sunday & Monday)
TBD
October 21 • 22 (Friday & Saturday)
Billy Ocean
October 23 • 24 (Sunday & Monday)
Hanson
October 28 • 29 • 30 • 31 (Friday, Saturday, Sunday, & Monday)
November
Boyz II Men
November 4 • 5 • 6 • 7 (Friday, Saturday, Sunday, & Monday)
TBD
November 11 • 12 (Friday & Saturday)
TBD
November 13 • 14 (Sunday & Monday)