If you enjoy this post, we'd love a like or share!
Epcot Food & Wine Festival Center Flashback...
Anthony Pullen
Tzatziki Martini, Harvey Wallbanger, Oh Mai
Original Event Date, Saturday, September 27, 2014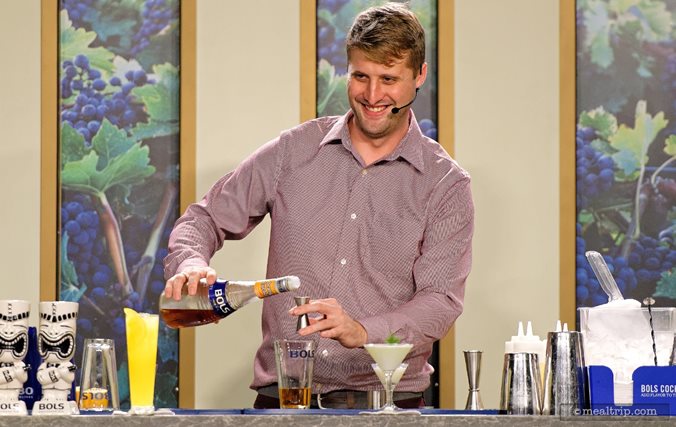 In 2014 "Mixology Seminars" were held along side the "Beverage Seminars" and "Culinary Demos" in Festival Center. Taking place once a day, a presenter or representative from a spirits company would demonstrate how to make three mixed cocktails with their products. Today, our
Food and Wine Flashback... Epcot Style
series takes a quick photographic look back a Anthony Pullen, representing Lucas Bols USA.
If you ever get a chance to see Anthony at a demo or even just behind a bar, spend some time with him, and see if you can get him to toss a couple of bottles around. He is not only entertaining, but very knowledgeable about the history of mixed drinks in America and the UK.
Anthony Pullen

Lucas Bols USA (Netherlands)
Saturday, September 27, 2014 | 2:00pm
THE DRINKS : Tzatziki Martini, Harvey Wallbanger, Oh Mai
Have You Seen?
Have you seen Anthony Pullen at the Epcot International Food and Wine Festival? Would you like to attend one of these amazing seminars that are part of the festival? Let us know in the comments below!