SeaWorld Orlando's New Seven Seas Food Festival
January 18th, 2017
SeaWorld Orlando
has smashed together what used to be the
Bands, Brew & BBQ Festival
and the
Viva la Musica Festival
, added a few more dates, even more food and more concerts and are calling the brand new festival the Seven Seas Food Festival.
We have put what we know so far into the
Mealtrip.com
distiller, and this is what we have…
GENERAL INFORMATION
"Seven Seas Food Festival" is the name of the event. There has been no mention of the word "international" or "annual". Read into that, what you will.
This year's official marketing line... "Set Sail on a Taste Adventure". The concept being the presentation of street food and beverage traditions from around the world.

The festival will take place on Saturday only between the festival's start and end dates. That's a total of 14 Saturdays starting February 11th, 2017 until Saturday May 13th, 2017.
The food booths will have staggered opening times between 11am and 12pm each Saturday. By noon, all booths should be open. The booths will remain open until one hour before park close. Other activities will take place at specific times.
The "official" social hashtag for the festival is #SevenSeas. We're not sure how much traction you're going to get out of that one though, it's not a SeaWorld curated hashtag. There is #SeaWorld, but that one is fraught with things you really don't want to see or read about while at a fun new Food Festival. I know, let's use #Mealtrip ... we want to see all of your food and beverage fun!

ENTERTAINMENT
There will be 14 live acts, not all of which are music concerts. For the sake of talking about them, we're calling them "concerts". They are all approximately 60 minutes long.
The concerts will take place outdoors in SeaWorld Orlando's Bayside Stadium each Saturday of the festival. From February 11th - April 15th, 2017 concerts will begin at 4pm. From April 22nd - May 13th 2017, concerts will begin at 3pm.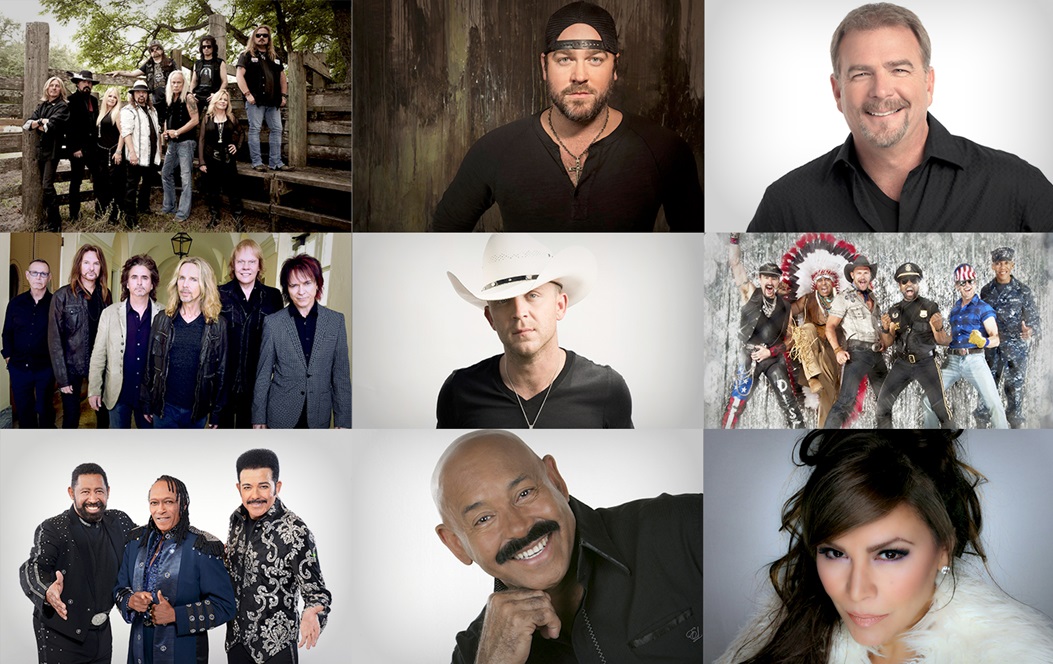 Just a few of the entertainers scheduled to appear at SeaWorld Orlando's new Seven Seas Food Festival. Please check listings for which artist will appear each Saturday during the 14 day festival. (photos courtesy seaworld)
You can attend the concerts for no additional fee (but you do obviously have to already be in the park). There will be Front Row and Reserved Seating available for an additional fee. Annual Passholders will have opportunities to book Front Row and Reserved Seating before the general public.



Feb 11 : Lynyrd Skynyrd
Feb 18 : Lee Brice
Feb 25 : Bill Engvall
Mar 4 : Styx
Mar 11 : Justin Moore
Mar 18 : ZZ Top
Mar 25 : Phillip Phillips
April 1 : TBD
April 8 : Village People
April 15 : Commodores
April 22 : Oscar d'Leon
April 29 : Olga Tanon
May 6 : Grupo Mania
May 13 : TBD
FOOD & BEVERAGE
There will be food booths. We think 11 food booths to be exact, although at most SeaWorld festivals, there are usually one or two "special festival" items available at normal restaurants all over the park.
The 11 food booths will be located in the Ports of Call Festival Area, which is located on the north side of SeaWorld's Bayside Stadium.



There are 11 food booths representing different street-food traditions from around the world. (photos courtesy seaworld)
Chef Hector Colon and team have created more than 60 unique Asian, Latin, European, Polynesian and North Atlantic dishes for the festival.
There will be wine and cocktail offerings, along with over 55 local and international craft brews.
The full menu has not yet been released. All portion sized are said to be "appetizer sized".
There will be a 10% discount for annual passholders on food and beverage items. Sampling packages (usually in the form of a punch-card that you wear on a lanyard) will also be available. For a single price, the sampling package allows you to try a set number of food or beverage items.

We do not have a complete menu
for all the food items or kiosk names yet, but here's what we know so far…
Asian Market
Peking Duck Lo Mein with Fresh Oriental Vegetables
Brazilian Market
Brazilian Churrasco with Chimichurri & Garbanzo Frito
Caribbean Market
Cinnamon Slow Roasted Pork Belly with Sweet Plantain Mash
Florida Market
Fried Kataifi Orange drizzled with Local Honey
Gulf Coast Market
Southern Creamy Cheese Grits with a Blackened Shrimp
Korean Market
Bingsu Salted Vanilla Ice Cream topped with Caramel Popcorn
Mediterranean Market
Smoked Cured Salmon topped with Sweet Dill Mustard
Mexican Market
Braised Chicken Adobo with Mole Sauce
North Atlantic Market
Banana & Caramel Cheesecake topped with Whipped Cream & Caramelized Bananas
Pacific Coast Market
Braised Pork Cheeks with Savory Apple Polenta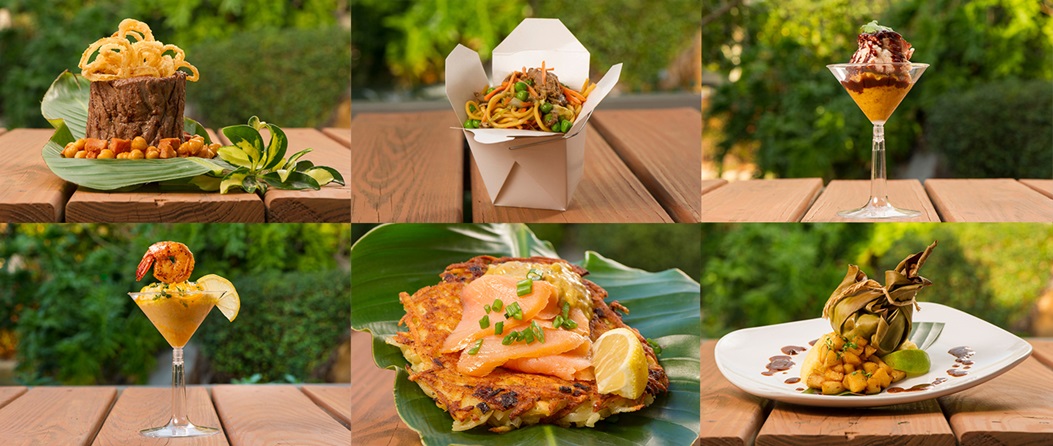 There are said to be over 60 dishes to try at the Seven Seas Food Festival along with wine, cocktails and over 55 local and international craft brews. (photos courtesy seaworld)
ANNUAL PASSHOLDER EXTRAS
Yay...
Free Drinkware for Annual Passholders
! This time, it's a free Mason Jar Glass with the 1st annual festival logo printed on it (most likely screened and not etched). It's a little hard to tell just how big it is from the photo that was released, but it's still cool. At least it's not another stemless wine glass. I give SeaWorld credit for striking out down a new road with this one.
The glass will be available to Annual Passholders only (sorry, Fun Cards and Friends and Family Passes don't count), and there is a three visit requirement.
Stop by the Wild Arctic Gift Shop (that's not at the front, it's the gift shop that's between Bayside Stadium and Shamu Stadium), and your annual pass will be scanned. One scan per day.
On your third visit, you will receive your exclusive Mason Jar Glass. Only one glass per annual pass, and there are a limited quantity of glasses available.


You can get a FREE Annual Passholder Mason Jar Glass after three visits to the new Seven Seas Food Festival. (photos courtesy seaworld)
This is a bit more challenging than it sounds because the festival is only held on Saturdays and on only 14 Saturday's to be exact. No, you can't get your annual pass scanned on a Wednesday.
Judging on how popular the free festival drinkware promotions are at other theme parks, I wouldn't wait until the last three Saturdays of the festival to start you quest. They added "limited quantities available" on there for a reason, and most likely don't realize just how popular this is going to be.
(Hint... SeaWorld never seems to have short lines for anything, there's usually no lines, or massive lines. I'm guessing that on the first Saturday, there will be massive lines, of annual passholders wanting to get their cards scanned. We'll see.)
MISCELLANEOUS
There are few more things going on, but those are the big items for now… food, concerts, and passholder glasses. For an official rundown of all the events, check out
SeaWorld's official page (click here) for the new Seven Seas Food Festival
.
Keep checking back with
Mealtrip.com for updates and information about SeaWolrd's new Seven Seas Food Festival
and all the food-included festivals taking place in Central Florida theme parks!