Maple Bacon Chocolate Cupcake at SeaWorld Orlando's Cypress Bakery
February 9th, 2015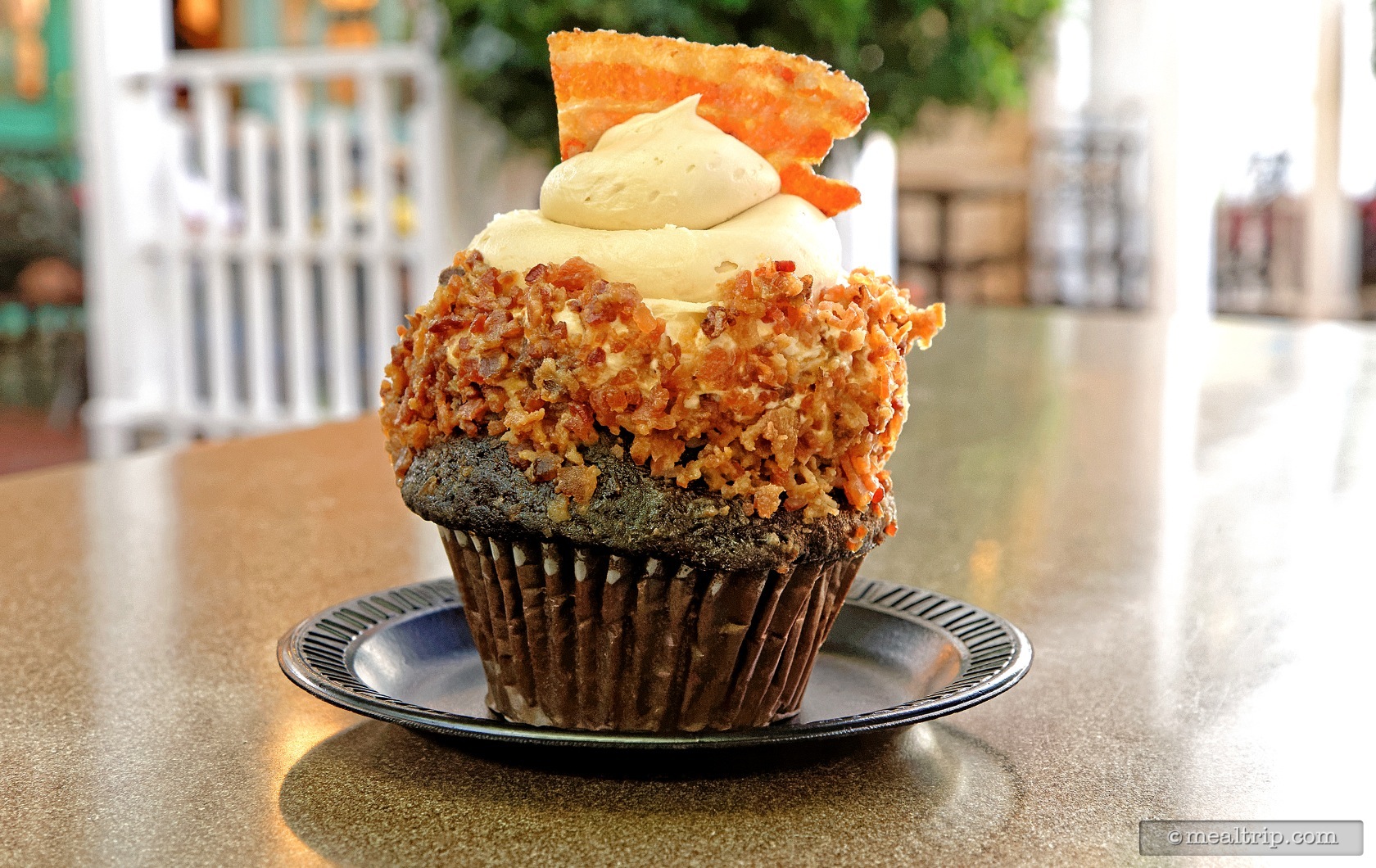 Not wanting to let Disney run completely unchecked in the gourmet cupcake category, the
Cypress Bakery at SeaWorld Orlando
has been testing a couple of beefed up (pun intended) cupcakes recently. The Maple Bacon Chocolate Cupcake we found the other day was quite delicious, especially if you like maple buttercream frosting.
There needs to be a lot of that buttercream on top, to hold all the chopped bacon in place on the sides of the cupcake. The admirable chocolate cake underneath was airy, moist, and not very dense... but that's the one thing I have mixed feelings about.
Using a more common pairing, such as a Black Forrest cupcake… the chocolate cake that was used here... would have been fine. With bacon though, you might be looking for a cake base that is a bit more dense, and maybe not having a mild chocolate profile at all. There's nothing wrong with it being there, but chocolate tends to get lost in the battle between maple and bacon.
For those who tried the
"Piggylicous" Bacon Cupcake
from
Epcot's 2014 Flower and Garden Festival
, and thought that it was a bit too dense and rich, you might find this new cupcake entry from SeaWorld, right up your alley. We ate the whole thing, including that little gem on top, which was not just a slice of bacon... but a sugar crusted piece of hickory smoked bacon. The metaphoric "cherry on top" no doubt. Kudos to you SeaWorld… I hope the gourmet cupcakes are here to stay!