Filled Pineapple-Raspberry Cupcake at Disney's Contempo Cafe
June 7th, 2016
The Contempo Cafe at Disney's Contemporary Resort seems to have a good rotation of cupcakes over the course of a year. There's not really any set schedule, but if you show up seasonally, there's a pretty good chance that there will be a couple different cupcakes in the good old bakery display case. Rounding the corner and rushing over to the chilled plexiglass box to see what's new is quickly becoming one of my favorite things to do at the Contemporary Resort.
On my most recent visit, the previous month's Churro Cupcake and the visually appealing Watermelon Cupcake were gone (so sad). In their place were a couple of disappointingly common selections, the (culinarily speaking) nondescript "Frozen" Cupcake and a Rainbow Mickey Cupcake.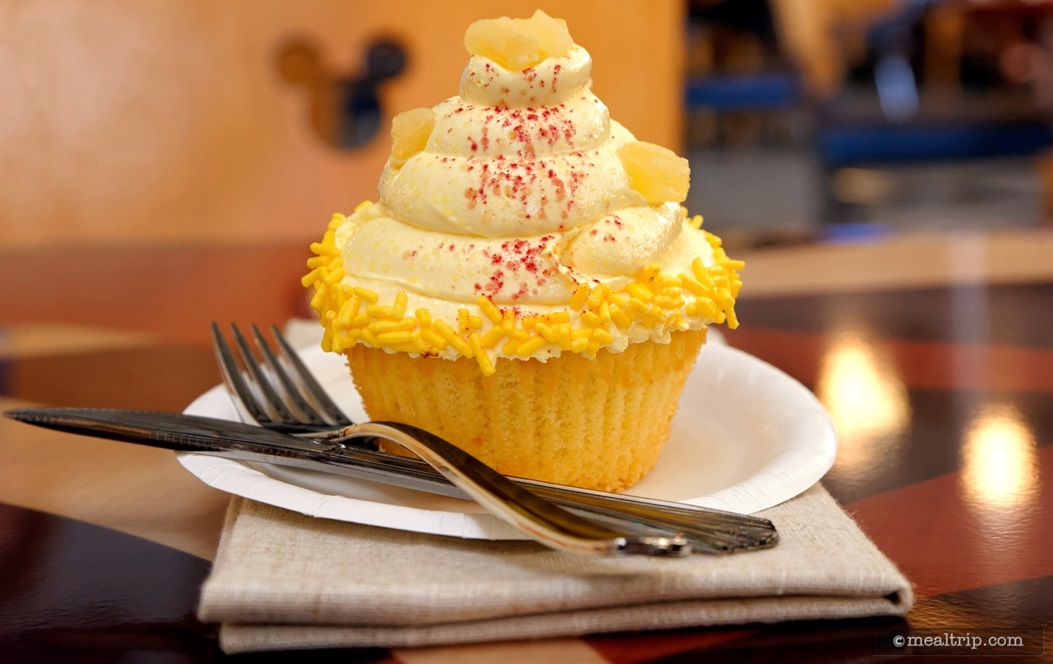 The "Pineapple Filling and Raspberry Buttercream Cupcake" from Disney's Contempo Cafe at the Contemporary Resort.
There was however, a third, brightly colored Pineapple Cupcake with Pineapple Filling and Raspberry Buttercream. While it was not quite as cute as the Watermelon Cupcake, the description made it sound more appealing than the "Frozen Cupcake".
If you like sweet desserts, you'll probably like this cupcake. It might be better to describe this one as a Candied Pineapple Cupcake. I think when we all see the word Pineapple at Disney, we instantly think "Dole Whip" which strikes a nice tropical vs sweet balance. This cupcake… is nothing like that. It's all sweet from top to bottom and inside out.
The moist yellow cake base is probably the least sweet part of the cupcake while a light pineapple flavoring seems to have been added to the filling… sort of a pineapple vanilla pudding rather than a pineapple pie filling (which I might have liked better). There are a few diced candied pineapples on top of the cupcake as well.
The description also notes that this one has Raspberry Buttercream, even though it's clearly yellow. The red sugar sprinkles on the cupcake may have been Raspberry flavored which is how they fulfilled the "Raspberry Buttercream" promise. It's a good idea (the Raspberry Sugar), but it needs to be a bit punchier to cut it's way through the cupcake. Maybe even a more candy-like sour raspberry would give your pallet something more than just sweet on top of sweet.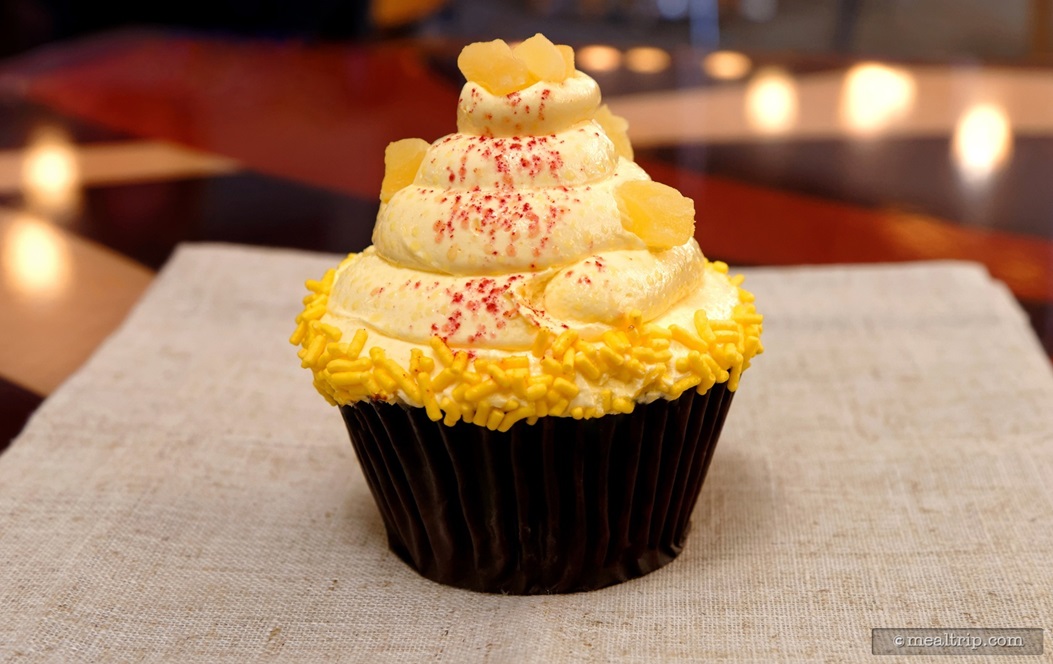 We think the red sugar on this one is raspberry flavored sugar, which is why it's said to have "raspberry buttercream" even though it's yellow.
All in all, a nice cupcake with a decent amount of filling. For me, it seemed a little "one-note" in texture and in flavor to be a top-ten contender in the cupcake world. That being said, if you like really sweet desserts, the color yellow, and candied pineapples… you'll really like this cupcake.
If you're really feeling adventurous and like "wet" cupcakes, head over to the Outer Rim Lounge (that's just steps away from the Contempo Cafe), get a shot of Coconut Rum. Peel back the wrapper on the cupcake slightly and carefully pour in the Coconut Rum. Let the cupcake soak up the rum for a couple of minutes and you'll have a much happier cupcake!