SeaWorld Seven Seas Food Festival 2022 — Walkabout Day Three
April 22nd, 2022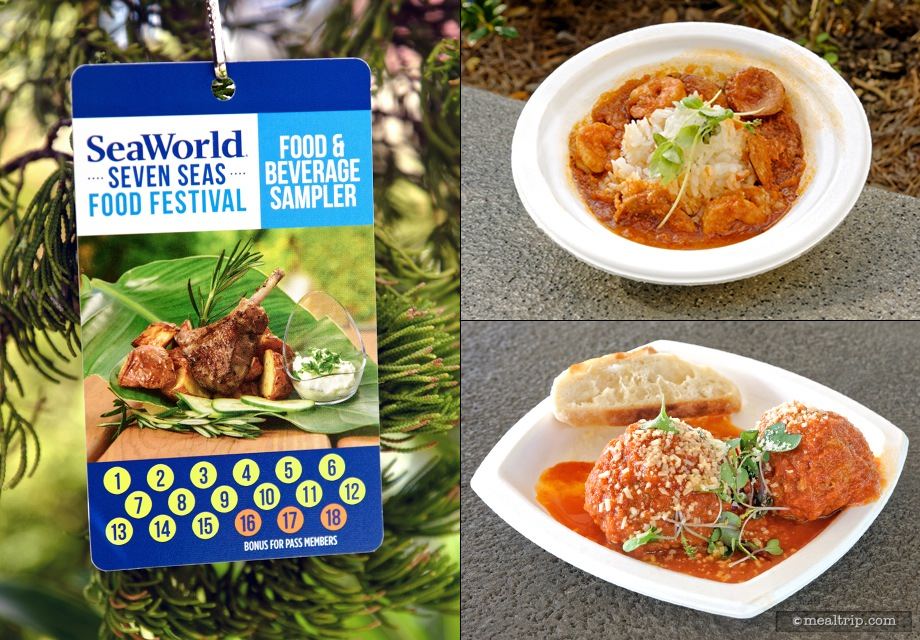 I can't believe we're already winding down to the final weeks of
SeaWorld's Seven Seas Food Festival
this year! I've got a couple more walkabout articles from the festival to get to ... and I'm having as much fun posting these items over on the
Mealtrip Instagam account
, as I had walking around and tasting all the samples!
Let's get right into this walkabout with one of my top five picks from the festival this year… it's the NEW Gulf Gumbo from the Gulf Coast Market booth.
But wait… let's talk about the area surrounding the Gulf Coast Market booth first.
A new mini area that houses both the Gulf Coast Market booth and the Mexican Market booth has taken shape between the Wild Arctic Encounter and the
Sesame Street Land
areas… and those two booths, is the closest thing you'll find to a "collection" or "festival area" for the 2022 festival.
There also happens to be a good bit of seating to one side, closer to the Sesame Street Land area.
I actually like the area, they've managed to do a lot with the little bit of free space that they have to work with — but I do hope that a dedicated festival area comes back in some form after the new coaster … ummmm … I mean, whatever they're building over there is finished.
Officially, we're not really sure what the future holds for the old festival trail that stretched from behind the Flamecraft Bar all the way over to Bayside Stadium (but there has been hints of a new coaster). Currently, the old "festival trail" area is blocked off, has been removed from most SeaWorld maps, and is currently being razed to the ground.
Getting back to the Gumbo ... while it might not be "authentic" spicy New Orleans style Gumbo… the portion I sampled, had more (spicy) heat to it than anything else at the festival this year, and the flavor profiles weren't like anything else being served at any of the other booths.
The Gumbo contained shrimp, sausage and "Cajun" broth, with a healthy dollop of rice in the middle and topped with a couple of microgreens.
Like most of the items this year, the $9.99 out of pocket, retail price on this one seems a bit high — but at least it's not at the highest price point for savory items. Any of the Sampler Lanyard prices make this more in-line with what you'd expect festival food samples to cost — and flavor-wise, this one gets a "must try" from me. It's really a great dish.
While I'm in the area, let's take a quick look at another great item from the Gulf Coast Market booth… the Bourbon BBQ Smoked Pork Po' Boy.
I've had mixed luck with pork items
dining around at SeaWorld counter service restaurants
recently — but this one stands out as one of the better ones! The Po' Boy is said to be served with Crisp Lettuce and Pickles. I think they probably ran out of "Crisp Lettuce" because it was actually served with pickled onions. I'm not going to make a big deal out of that though, because from a flavor standpoint, I'd rather have the pickled onions on there.
This was a great little slider. The smoked pork was smokey and moist, the Bourbon BBQ sauce was a little sweet but not too sweet, there wasn't too much bread (so the pork to bread portion size was right) — the pickles and picked onions added a nice crisp texture to the mix. It's a great slider, which is a little overpriced at $9.99 but here again, at the 18 Sampler Lanyard price of $4.73, I'd totally recommend this one.
Next up, a savory item from another "new" area this year, it's the Glazed Corn Beef from the Ireland Market.
The Ireland Market has been wedged into an area (broadly) between Mama's Pretzel Kitchen and the Infinity Falls area. More specifically, if you're familiar with the round-about walkway that loops behind Orca Stadium, it leads right into the Ireland Market booth.
There's a couple of standing tables around, but if you're buying a couple of things and want to sit down for a couple minutes — there's an open seating area with some umbrella covered tables near Mama's Pretzel Kitchen — and it's not too far of a walk.
The Corn Beef itself is actually not all that savory, but more "sweet" — thanks to the glaze. The menu board doesn't actually make reference to what the glaze is exactly — but my guess is that it's beer-based… like maybe a Guinness Glazed Corn Beef. However, the quickest way to make a glaze from beef broth or beer, is to reduce it with a fair amount of sugar.
The result is a sweet glaze with a little funky kick to it — a good glaze (if you like sweet glazes) but when I think "Corn Beef", I think of a salty, brine and spice flavor combo — which this Corn Beef did not have.
Also on the plate was a classic boiled potato, some cabbage and carrot slaw (it was not close to a "sauerkraut" though), and a small cube of corn bread. This is one of the more complete items I've found at the festival, and it is what I like to see on a "festival food item" plate — there's the main item, and a couple of side items — to make a complete tapas style dish.
My last item on this walkabout is from the Italian Market — which has a really nice, large, open air seating environment — it's probably the most relaxing spot at this year's festival. Technically, it's probably the
Panini Shore Cafe's
seating area, but unless you were to wander back behind the gift shop, you'd never know the whole seating area was there.
This area is also home to the "Taste of Sicily" and what I believe is the "Wine Tasting with Lakeridge Winery and Vineyards" booths — but they're not well marked locations.
This is the "Palermo Fontina Cheese Meatballs" item, and it's said to include Fontina Cheese, Fresh Herbs, and a Pomodoro Sauce (which is basically a thicker, smooth version of Marinara). It also came with a little slice of ungarnished crostini.
I gotta say, this one was a real hit — not because it was some new, crazy complex foodie item — but because it's just good, basic comfort food. The Pomodoro Sauce is also very different than anything you'll find at any of the other booths this year — it's "the" sauce you think of when you think "counter service Italian food" — and so it was a great change of pace for your palate.
I'm glad this one isn't at the highest price point, it's $9.99 — which I would still raise an eyebrow at — but with the Sampler Lanyard (I'm sounding a bit like a broken record at this point), the $4.73 is a good deal.
Unless you absolutely hate Italian food — this item is a nice change of pace, in a relaxing open-air seating area. While I didn't sample it with the Nastro Azzurro Pale Lager that's also available at the Italian Market booth — I think they would pair quite nicely.
That's all for my slightly short walkabout this time. I'll be back next week for one more walkabout article from this year's Seven Seas Food Festival.
If you would like to see and read more about the
SeaWorld Orlando Seven Seas Food Festival
—
Click Here
! We've got a whole page where you'll find menu boards and prices, food photos, concert schedules, and reviews.