Last Call for the 2022 Seven Seas Food Festival
May 5th, 2022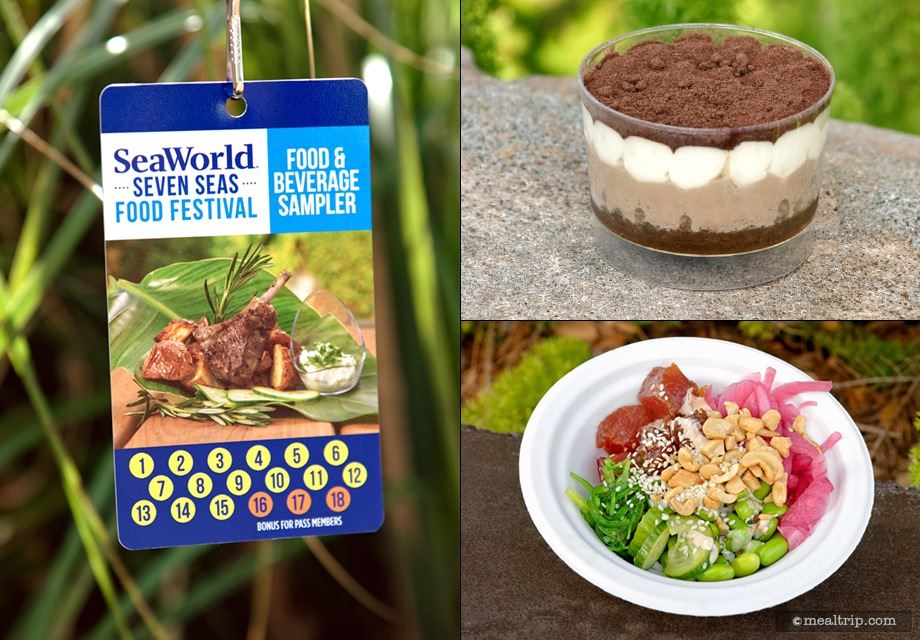 We're already down to the final weekend of this year's Seven Seas Food Festival! Even though the dedicated "festival trail" area has been under renovation the entire time, it's been another great year for this popular, annual festival.
I think the biggest takeaway this year has been — the prices are increasing. The "out of pocket" savory food items at SeaWorld this year were all higher than comparable
Epcot Flower and Garden Festival
savory items. But — they could also cost less, if you purchase and use SeaWorld's Sampler Lanyard system.
Since I have a SeaWorld annual pass, I was able to purchase an 18 sample lanyard for just over $85. That makes all 18 things that I tried, around $4.73 — which is actually less than comparable items at the
Epcot Flower & Garden Festival's Outdoor Kitchen Booths
.
Who's got the best food? Epcot's F&G food is a little more sophisticated while SeaWorld has always gone for the more familiar "comfort food" or street food classed items. For what it's worth, I'd have to give Epcot the win in the food quality and originality, and culinary complexity categories this year.
Which festival is more fun strictly from a food standpoint? SeaWorld was a lot less crowded… even on a Friday or Saturday, there was still room to stroll around casually. The only crowded bottlenecks happened when a particular show let out… at Epcot, there always seems to be a half dozen spots around "World Showcase" (where most of the food booths are) that get uncomfortably crowded… and that's draining. So I'd have to give the "causal fun" win to SeaWorld.
Value-wise? That depends. If you buy any of SeaWorld's Sampler Lanyards, you'll end up spending less money and getting a little more food at SeaWorld. However, if you're only going to get one or two items and pay the full retail "out of pocket" prices, Epcot's Flower and Garden booths ends up being a little less expensive.
Everything I just wrote, should probably be at the bottom of this article so you would have to look at as many ads as possible. But I didn't want to waste your time. Okay, honestly, I don't want to redraft this article. Either way… there you go.
So what did I sample on my final walkabout at this year's festival? Oh there's some good ones in this batch.
SeaWorld introduced a couple of mini-themed weekends at this year's festival with special entertainment acts and some environment design flourishes here and there. There's been a nod to Mardi Gras, Ireland (in and around St Patrick's Day), and these last couple of weekends are highlighting Cinco de Mayo celebrations.
The Mexican Market booth is located in a mini festival area, very close to where a stage has been set up for the special themed weekend bands — if you look with a wide enough lens, brings a festive mood to the somewhat indolent area between the new Ice Breaker coaster and Sesame Street Land.
This is the Drunken Shrimp Tostada from the Mexican Market booth.
The menu board reads "Drunken Shrimp Tostada - Tomato Aguachile, Cilantro & Avocado Crema"… those elements were all there, but the Tomato Aguachile was weak (at best). Someone must have realized this and decided to toss some quick pickled onions on top to add a little kick. Whomever did that — thank you! This Shrimp Tostada, (while not exactly being what was described on the menu board), was actually really great.
Back over at one of our favorite, out of the way, areas this year, the Italian Market booth was serving up this little Hot Mozzarella with Cherry Tomato Bruschetta plate.
So the picture on the menu board shows more of a "bowl" type presentation, where the Mozzarella would sort of be melting over the top of a large grilled Bruschetta — all on top of a bed of Cherry Tomatoes.
That's not exactly what this ended up being. The Bruschetta was clearly not grilled and the Mozzarella wasn't anywhere hot enough to be melting. But it did have a nice little drizzle of balsamic over the top of it. A deconstructed version of what was intended — but still a really good tasting dish. You're really not getting those fresh tomato, mozzarella, and balsamic flavors anywhere else at the festival this year, so it's a great, fresh change of pace from some of the other food items.
Now for something a bit heavier, it's the Crispy Pork Belly Bites from the Asian Market.
Hummm… I don't think I've shown the Asian Market booth this year. It's kind of out in the middle of nowhere with very little seating around… close to the Ireland Market booth (between the Infinity Falls area and Mama's Pretzel Kitchen areas).
This version of Pork Belly was close to "thick cut bacon" and again (for better or worse), and not quite the gorgeous and careful presentation that was shown for this dish on the menu board. But still, a great, savory bite that included a couple of slices of pickled ginger.
The next dish might win my pick for "prettiest item" this year. It's the Spicy Tuna Poke Bowl from the Polynesian Market booth.
There were a lot of elements on this "Gluten Free" item. I'm not sure it would win any awards for culinary complexity but everything in the bowl was fresh and this was definitely different from anything else you will find at the festival this year.
The menu board photo makes this look like it might be served in a small clear plastic dish, but the portion size is actually quite good for a "Poke Bowl". Here again, the elements listed on the menu board were not exactly on the dish I was given (unless "Maui Sweet Onions" are just pickled onions and "Crunchy Hawaiian Nuts" are actually Cashew pieces), but it was a really nice, cold, "salad" type of bowl, with sushi grade tuna cubes.
And that, brings me to my last bite for the 2022 Seven Seas Food Festival (sigh), but it's a great bite! It's the Tiramisu from the Italian Market.
This wins the "my favorite dessert" award for the 2022 festival. Sure, it was made ahead of time and basically just taken out of the freezer, but all the flavors were there.
Naturally, the espresso and rum flavors were a little subdued (as you might expect with a theme park dessert cup), but it was cool and chocolatey and creamy. I'm not really sure what the weird menu board photo is all about — it makes this great little cup look like a brown lasagna or something.
This turned out to be a great little dessert to end my 2022 walkabout with.
Thanks for reading along this year — and I don't know about you, but I'm already looking forward to this year's Craft Beer Festival which starts after summer — and next year's Seven Seas Food Festival!
Here's a look at some of what I found at last year's Craft Beer Festival…
SeaWorld Orlando Craft Beer Festival
And here are links to the other three walkabout articles from this year's Seven Seas Food Festival…
If you would like to see and read more about the
SeaWorld Orlando Seven Seas Food Festival
—
Click Here
! We've got a whole page where you'll find menu boards and prices, food photos, concert schedules, and reviews.