SeaWorld's Seven Seas Food Festival 2022 — Walkabout Day One
March 22nd, 2022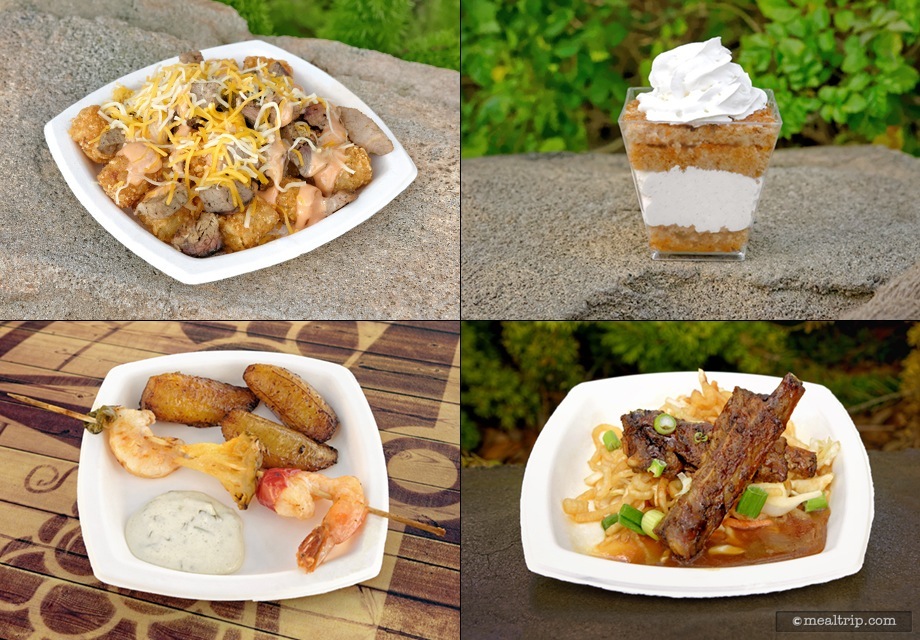 We've been having so much fun at the Seven Seas Food Festival
this year, I almost forgot to write a walkabout article! SeaWorld Orlando's annual food festival is going on now until May 8th, but only four days per week — Thursdays through Sundays. Food and beverage stations are open all four of those days, with larger concerts being scheduled on Saturdays and Sundays only. Check out our
Seven Seas Food Festival Concert List
for a list of who's performing this year.
There have been a couple of changes this year compared to pre-pandemic versions of the festival. Most noticeable, is the ever increasing prices for food and beverage samples. Almost all savory items are in the eye popping $9.99 - $10.99 price range, with most sweet items hovering around $7.99. Beverages are a little harder to track because cup sizes change depending on what beverage you're getting and if you're getting a "sample" or a full-sized portion… that being said, beverages seem to be between $5.99 and $13.99 with most coming in at around $11.99 for a full-sized portion.
While it's hard to compare item for item (because the menu changes slightly from year to year) those prices reflect a whopping 46% cumulative price increase from 2019 levels. (For comparison, inflation in the US has only gone up 10.98% in that same time period.) So does that mean SeaWorld's food is now 35% better than it was in 2019… or maybe there's 35% more food per serving???
A less obvious change is in the complexity of culinary offerings at this year's festival, compared to past years. The "Pacific Coast Market" booth in 2019 offered a Salmon Slider, Baja Fish Taco, Teriyaki Beef & Avocado Salad, and a Tres Leche Parfait. In 2022 a similar "Gulf Coast Market" booth is offering Gumbo, a BBQ Pork Slider, and Beignets. The latter items would seem to have been selected more for their ease of preparing and serving, than for any culinary "wow" factor.
All of this is well and good… if we were talking about stands at a local art festival — but if you're going to host a "Food Festival" at a nationally recognized theme park — I'm not sure SeaWorld is moving in the right direction.
In fact, the food at last year's
Craft Beer Festival
(also at SeaWorld), seemed to rise to a higher culinary standard than many of the items being offered at the
Seven Seas Food Festival
.
Does that make it less fun? No, not yet. Because none of the food is "bad", in fact, it's all pretty great... I mean, sometimes all you need is a good BBQ Pork Slider and a beer.
Not only that, but SeaWorld does still offer one item that really shifts my mindset away from some of the negatives — and that's the Sampler Lanyard.
Unlike Epcot (whom also hosts a multitude of festivals with food booths), SeaWorld does still offer a pretty great way to not only experience their festival, but it makes the festival a little more affordable too ... and that's the festival Sampler Lanyard.
For $69.23 you can purchase a Sampler Lanyard that entitles you to 10 food or beverage sample at the booths. That breaks down to each item costing just $6.92, no matter what out-of-pocket price is listed on the menu boards. At those prices… it brings the cost of each item at SeaWorld's Festival more in line with what Epcot is charging for items at the Flower and Garden Festival (which is, conveniently, taking place at the same time).
But it gets better…
SeaWorld
also offers a 15 Sampler Lanyard for $85.20 (making each item $5.68) and Annual Passholders can purchase an 18 Sampler Lanyard for $85.20 — making each item just $4.73.
At $4.73 per item, I'm not expecting The French Laundry — I'm just walking around, eating food, and having a great time. Which at the end of the day, should be what a special annual food festival is all about anyway.
For now ... that's enough about prices and culinary complexity. However, if the prices rise another 46% in three years, I'll have to re-examine the issue.
I'm going to attach an annoying price chart to the food sample photos that I post — that will show how I feel about each item if I had been paying out of pocket for it (the highest possible price) vs the 18 Sampler Lanyard (the lowest possible price)… and we'll see how things stack up.
My first stop this year was at the Polynesian Market for one of the more adventurous items on the food menu, the brand new "Lu'au BBQ Lamb Ribs" with a pineapple BBQ sauce and served with Daikon Slaw.
One of the small lamb ribs was amazing, while the other rib reminded me why I don't eat lamb ribs. At their best, they can have a very robust and grassy finished flavor that is bold, rich, and stands up nicely to any sauce. At their worst, they're gummy, oily, and make you wish you had some of that awful mint jelly to cover everything up.
Fortunately, there was one of each on my plate. Unfortunately, I ate the good one first. Still though, I have to give this one credit for being a dish that's more along the lines of what I would expect to find at a "food festival" … the sauce on the ribs was great (sweet and savory) and the Daikon Slaw was something you don't get to experience every day. (The daikon radish is often found in Asian cuisine.)
Next up is a savory item from the All-American Market, it's the Brisket Totchos which feature slowly smoked beef brisket mixed in with some hot, crispy potato tots, topped with cheese and some Kraft/Heinz Mayochup (a blend of mayo and ketchup).
The All-American Market "booth" where you'll find these, is actually part of the
Voyager's Smokehouse
building. It's a small window that has been used as a quick snack window in the past (before the food festivals become popular).
The good news here is, this is a really great value item — and it taste great too — a double win! There's probably a dozen or more tater tots on the plate and heck, probably that many slices of brisket as well. The brisket is properly smoked (thanks to the nearby
Voyager's Smokehouse
no doubt), and they do a great job with smoked meats.
This one's not exactly going to provide any sort of culinary discovery for most people. All the components are all just really good versions of what they are. I wish the Kraft/Heinz Mayochup were a little more prominent (or dare I say, in a small cup even) because I can't say as though I've really tried that anywhere yet (that I know of). It does sound like a good idea and it might have been fun to dip the various components a little more or a little less in the sauce.
I have to give this one a good "even" score, even at full retail, just because there's almost enough food on the plate to be considered a "light lunch" type of portion (considering the quick service restaurants are getting $16-$19 for a typical entree these days).
What about the drinks? Well, it's hard to do my fun little chart with those because the sample size drink that you'll get with a lanyard entitlement, is not the same size as you'll get when you buy the drink at the booth (usually). The lanyard sample sizes aren't small… they're just about the right size at the 10, 15, or 18 sampler pricing level (when compared to what other theme parks are offering) so there's not much to report on from a money standpoint.
Since I was in the area, I picked up a Frozen Lynchburg Lemonade from the Cafe de Mar booth.
This is usually where the Cheesecake Waffle Cones and several frozen drinks are offered during all the festivals that have a food component at SeaWorld. It's probably because they have full-size, legit, frozen drink machines permanently installed at the booth, along with the means to keep Cheesecake chilled.
I've not tried the Frozen Lynchburg Lemonade before so I have nothing to compare it with. I have tried the Frozen Mudslide from the Cafe de Mar booth though and it was quite good.
The Lynchburg Lemonade combines Jack Daniel's, Lemonade, Triple Sec & Sprite. For me, there was a bit too much Triple Sec and Lemonade though. If you drink it quick (when it's all still frozen) it seems to be a pretty smooth combination, but once it started to melt, even just a bit… it turned into a real pucker drink. The amount of Jack Daniel's in the mix was fine though, and about what I would expect from this type of drink. Enough so you could taste that it was in there, but not enough to get you drunk.
I just wish it had a little more "sweet" somewhere to balance everything out a little more … which I guess in looking at the ingredient list, would be more Sprite. For my two cents… stick with the Frozen Mudslide. It's hard to get any combination of Kahlua, Vodka, and Chocolate wrong.
One of the first food booths that you will probably encounter at this year's Seven Seas Food Festival is the "Caribbean Market" booth.
Unfortunately, they're serving one of my "totally skip it" items this year — the Montego Bay Spicy Shrimp. It really is too bad — that this is likely one of the first items most guests will come in to contact with at the festival. The food at the start of the "food trail" really sets the tone for the whole festival.
Just pushing aside price for a second, the best thing on this plate, were the fried plantains… they really are caramelized quite nicely. There really wasn't anything "spicy" at all about the shrimp — I mean — not even a hint of anything spicy. There were two pieces of really sad looking green and red bell peppers on the wood skewer along with a very small slice of grilled pineapple in-between two shrimp. The "Lime Aioli" tasted more like mayo with some diced pickles in it, and had no discernible "lime" flavor.
Then of course… there's the price.
Northing about the portion size and quality for these two "steamed shrimp on a stick" says $10.99. Even at the "18 Sampler Lanyard" price of $4.73, this dish seems overpriced for what it is. If you really want shrimp, there's a Drunken Shrimp Tostada over at the Mexican Market booth that delivers more shrimp and more flavor for the same price.
Now that I'm thinking about it — I really, really, really wish this wasn't the first booth at the very start of the food booth trail. It doesn't set a good tone for the rest of the festival. I only say that because my final item for this walkabout article is also from the "Caribbean Market" booth — and it too — didn't quite live up to it's description on the menu board.
The Caribbean Spicy Rum Cake did have a lightly "autumn spice" flavor profile, but that's about it. The description reads "Caribbean Spicy Rum Cake featuring Sailor Jerry Spiced Rum, Brown Sugar, and Rum Glaze".
Spicy Cake? Maybe. "Sailor Jerry Spiced Rum" Nope. Brown Sugar??? Maybe it was mixed in with the cake? Rum Glaze??? Nope. This was a pumpkin spice cake with a very thick layer of canned whip cream in the middle, and that's it.
If the ONLY words in the description of the item are "Sailor Jerry Spiced Rum, Brown Sugar, and Rum Glaze" — those things need to be on the item somewhere. Period. The description for this one should read "Pumpkin Spice Cake with Whipped Cream".
And with that — my first day walkabout article for this year's Seven Seas Food Festival draws to a less than auspicious close. I had a great time walking around and visiting the different booths, but didn't really come away with any real "wow, that's amazing" kind of foodie moments.
Maybe, if this were a County Fair, I wouldn't expect to find anything like that — but SeaWorld themselves are calling this a "Food Festival". After trying five items — I'm a little surprised that a plate of "Tater Tots" is the star item. Hopefully, I'll find some more food festival worthy items on my next walkabout.
If you would like to see and read more about the
SeaWorld Orlando Seven Seas Food Festival — Click Here
! We've got a whole page where you'll find menu boards and prices, food photos, concert schedules, and reviews.