Loews Resorts at Universal Orlando
Harbor Nights Primavera 2022 Menu Items and Prices
March 30th, 2022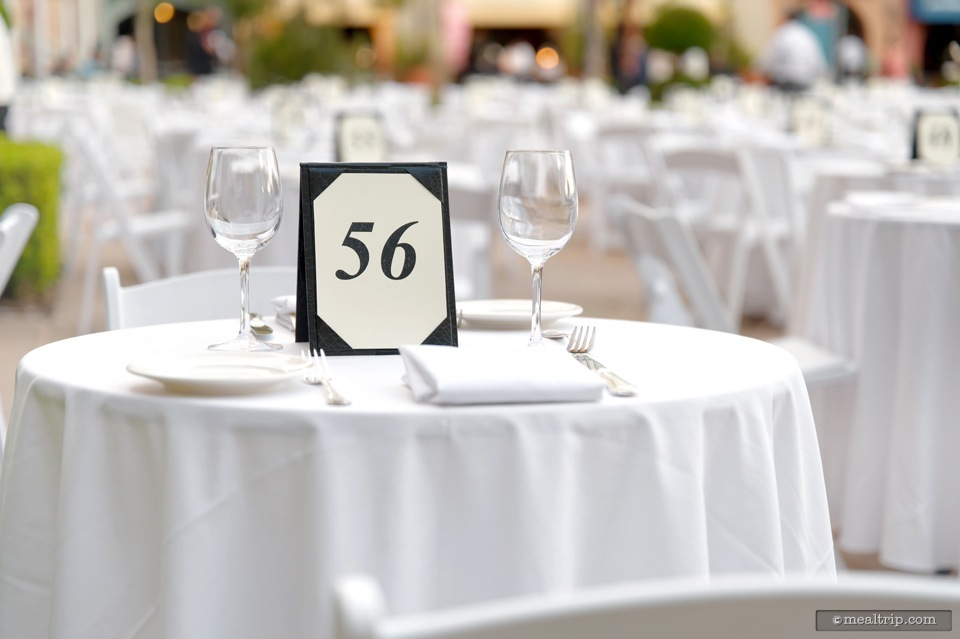 The Harbor Nights Primavera
event at Loews Portofino Bay Hotel is just over a week away (Friday, April 8th, 2022) — from 6:30pm until 9:00pm.
It's not too late to get "VIP Tickets" — there's still a few available, but they will sell out soon. The "Standing Tickets" are usually available right up until 36-hours(ish) before the event starts.
All of the Harbor Nights events follow a similar format ... but each unique seasonal night features different decor, music, and food items. The resort's restaurants bring a tapas style, plated version of a dish that represents their location, and there are Italian based wine pairings to sample with each dish.
If you would like to take a look at some photos from one of the previous
Harbor Nights Primavera
events,
click here
.
The all-inclusive event features some great entertainment with a live band and dancing area, along with a couple of opera singers for good measure, free self-parking, and as many samples of the food and beverages listed on the menu below, for the duration of the event.
A $69 (per person, plus tax and ticket fee ends up being $79.70) "Standing Ticket" includes all of the above, but does not guarantee a table or a seat. Some "high boy" type of strolling tables are available, but are very limited — and there really are only a handful of chairs here and there.
A $99 per person, plus tax and ticket fee ends up being $113.59) "VIP Ticket" includes all of the above, plus gets you a reserved table and seating in a special area with an additional hors d'oeuvres plate — along with some exclusive food and wine sampling stations (where the lines aren't as long as they are in the general "standing" area).
Here's a look at the menu for the Harbor Nights Primavera 2022 event!
Food Stations
Blue Fin Tuna Crudo
Served in a cup. Spicy preserved lemon vinaigrette, toasted pink peppercorn lavosh.
Mama Della's Ristorante
Braised Veal Shank Ragu
Black pepper cavatelli, smoked forest mushroom hand pulled ricotta.
Trattoria del Porto
Spiced Lamb on Brioche
Lamb sliders, green harissa pesto, whipped feta, pickled zucchini and tomato slaw.
Splendido Bar & Grill
Charred Mediterranean Pulpo
Grilled purple sweet potatoes, octopus, saffron aioli, pickled mustard seed caviar.
Sal's Market Deli
Four Cheese Tortellini
Creamy marsala and mushroom sauce.
Bice Ristorante
Desserts

Lemon Sorbet
Neapolitan Gelato
Vanilla Raspberry Almond Torte
Triple chocolate brownie caramel verrine.
Sparkling Wines
Prosecco Rosé DOC Extra Dry
CANDONI - Italy
Rosé Wines
Pink Flamingo Rosé
DOMAINE ROYAL DE JARRAS - France
White Wines
Pinot Grigio Delle Venezie
CAPOSALDO - Italy
Mango Moscato
TROPICAL MOSCATO - Italy
Orvieto Classico
MELINI - Italy
Laguna
CÀ MAIOL - Italy
Red Wines
Terre Siciliane Rosso IGT
PICCOLO FIORE - Italy
Barbera DOC
RIVA LEONE - Italy
Montepulciano d'Abruzzo DOC
COLIMORO - Italy
Barbera Piemonte DOC
ALVERDI - Italy
Sangiovese Maremma Toscana DOC
TENUTA SASSOREGALE - Italy
Valpolocella Classico, DOC
LE RAGOSE - Italy
Giomè
CÀ MAIOL - Italy
Montepulciano d'Abruzzo DOC
COLLEGIATA - Italy
Chianti DOCG - Fiasco
OPICI - Italy
Passionesentimento Veneto Rosso
FAMIGLIA PASQUA - Italy
More information and a direct link to purchase tickets is available directly from the Harbor Nights Primavera 2022 official event page —
click here
to open that in a new window.