Ignite 360 Private Viewing Happy Hour and The Coke Studio & Tasting Lounge
July 10th, 2022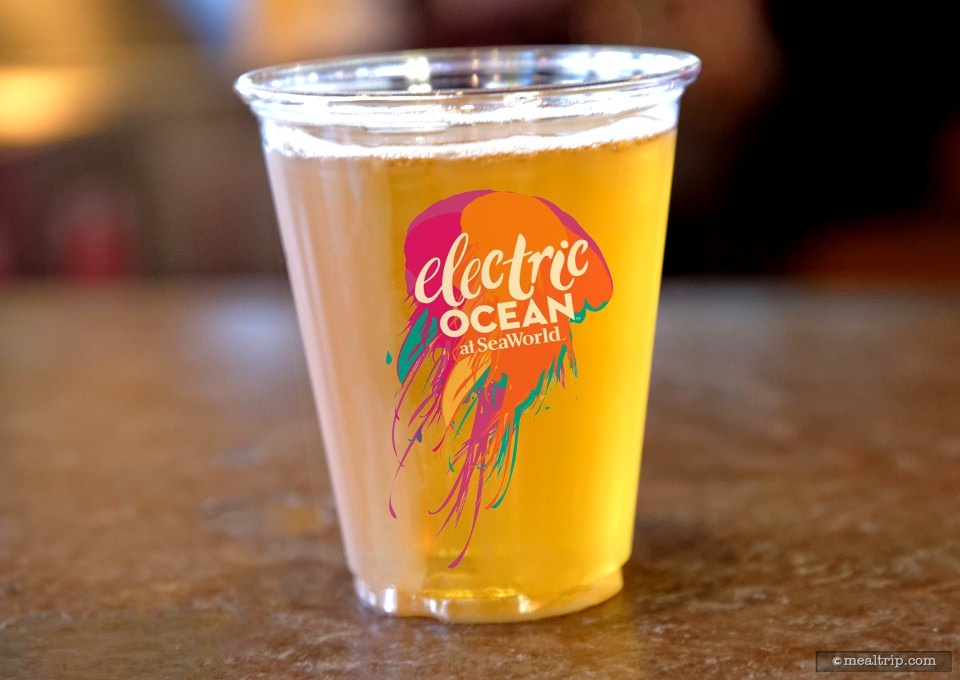 There's quite a lot going on at
SeaWorld
this summer, mostly as part of the park's
Electric Ocean Festival
period. It's a little difficult to keep track of everything this year because Electric Ocean looks like it's going to run right into the
Craft Beer Festival
(which starts at the beginning of August) and most of the festivities will continue (at least on weekends) all the way until the Craft Beer Festival ends… early in September.
I wanted to take a second and cover two new additions to the Electric Ocean Event for 2022. Even though both of these have already started, I've not seen or heard of anyone actually going to either of these yet, and all the info I have — is more or less what SeaWorld has published in various emails and on their site.
Coke Studio & Tasting Lounge
This one seems to have many, many time slots available (every half hour from noon to 4pm-ish) and takes place in lock-step with the published Electric Ocean dates. So basically, it takes place most every day in July, but switches to a Friday, Saturday and Sunday only schedule in August. Since it's best to pre-purchase tickets for this, you'll see and have to select a date and time from the available slots on the SeaWorld website.
So what is it? Well here's the fullest description I have...
From Coke Studio music to fun food and drink mixing, this is the spot to enjoy a break this summer at SeaWorld! Cool off in our swanky VIP lounge with an exclusive new culinary experience while the hottest Coke Studio artists' music fills the room. Hear from your very own mixologist, who will share tasty beverage infused food and drink pairings with you. This brand-new 20-minute experience is available with or without alcohol and is available everyday during Electric Ocean this summer.
This looks like it's taking place in a section of the Annual Passholder lounge (in the
Waterway Grill
building), but you don't need to be a SeaWorld Passholder to attend this experience.
It also sounds like alcohol is part of the experience, because there's two ticket options… a $29.99 ticket (with alcohol included) and a $19.99 ticket (without alcohol)… and guests will need to present a valid ID upon check-in.
Beyond that — I'm not sure what all is included. It does say "beverage infused food and drink pairings" which would seem to suggest there's at least one food item and two beverages included — but that's just a guess on my part.
Ignite 360 Fireworks Private Viewing Happy Hour
The second event is a little more interesting — and a lot more expensive. It reads more like one of those cool Firework Dessert Parties that I really do enjoy — but instead of dessert, there's bar food and cocktails! So far so good.
This one is only taking place on Saturday nights only — from now until September 3rd, 2022. The cost is $79.99 (ages 10 and up) and $29.99 (ages 3-9)... humans two and under are free. You'll have to add tax to all those listed prices.
Cockatils are also part of this one, but there's no separate "no alcohol" ticket… guests 21 and over will need to present a valid ID upon check-in.
So what all is this one about? Here's what I have so far…
Enjoy an all-inclusive happy hour featuring specialty cocktails and Mediterranean inspired food while you experience our breathtaking night time spectacular from a private waterfront patio.
FOOD ITEMS
Panko Shrimp - Chili Aioli
Grilled Chicken Kabobs -Tzatziki Sauce
Pita Chips and Hummus - Feta Cheese, Tomatoes, Olives
Cuban Sandwich - Pulled Mojo Pork, Ham, Swiss Cheese, Pickles
COCKTAILS AND DRINKS
Ice Breaker - Reyka Vodka, Watermelon Juice, Lavender, Lime
Kraken - Monkey Shoulder Whiskey, Almond, Orange Juice, Angostura Bitters
Manta - Sailor Jerry Spiced Rum, Passion Fruit Puree, Hibiscus, Lemonade
Mako - Milagro Tequila, Blueberry, Pineapple Juice, Citrus Sour
Assorted Draft Beer Selection
I do know that this one is taking place on a little jetty behind a gift shop near the Mako coaster… so it is a pretty cool waterfront spot that should provide a great view of the fireworks. There are sit down tables and chairs up there, but some of them are under full cover. If you want really great views of the fireworks from this spot, you'll probably have to stand up and get away from the overhang a bit.
How many guests are going to be in that area for this event… and how good are the food items and cocktails? These are the two questions I have when thinking about this one. Until someone goes, I'm not sure we'll have answers.
SeaWorld usually does pretty good with cocktails (in the sense they get the alcohol balance right, and don't just serve juice mixes). There is a "draft" beer setup in that area, so there's that.
Food-wise, I can only guess… but two of these items are very similar to what's offered at the nearby
Lakeside Grill restaurant
, one sounds like it might come from
Panini Shore Cafe
, and another (the Panko Shrimp) might be from
Sharks Underwater Grill
. Then again — it could all be custom catered at a higher level that what's offered at those locations. It's hard to tell for sure.
Both of these experiences should probably be booked and paid for in advance (I'm not sure if you can even buy into either of these day-of, "spur of the moment" style)… and those reservations and tickets are available on the
official SeaWorld web site
.
Here's a quick link to the page on their site ...
Summer Flavors at Electric Ocean Special Experiences
(just scroll down under the large map, about half way down the page).