SeaWorld, Orlando Craft Beer Festival Menu Boards with prices for 2021
August 16th, 2021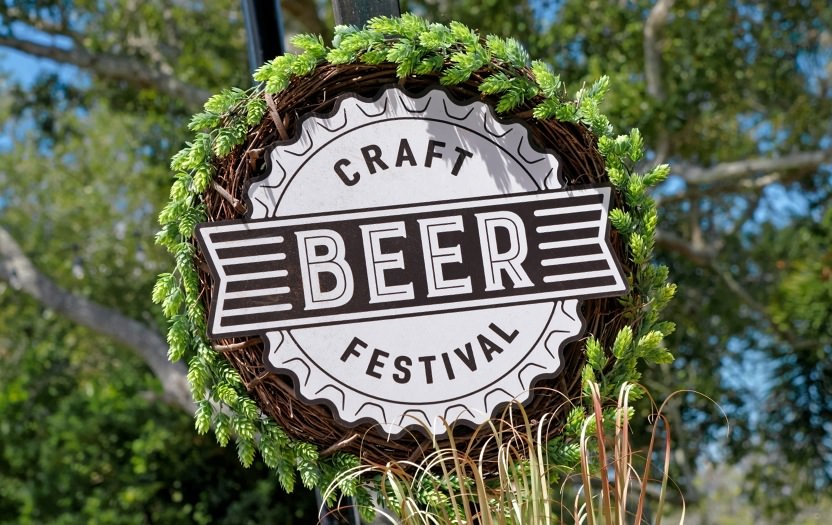 I have just uploaded the SeaWorld, Orlando Craft Beer Festival Menu Boards
with pricing over at Pinterest.
Here's a quick link to those over on the Pinterest site
. I'm also posting them here on Mealtrip in their own article.
The first sign seems like a good place to start — it's the Yuengling Welcome Center booth! While they don't offer any food but there are a couple of Yuengling beers on tap — and more importantly, this is a great place to purchase a Sampler Lanyard for the festival. If you're planning on trying out 8 things (or more) at the festival, it really does offer some savings, and it's more convenient than paying with a credit card at each booth or kiosk.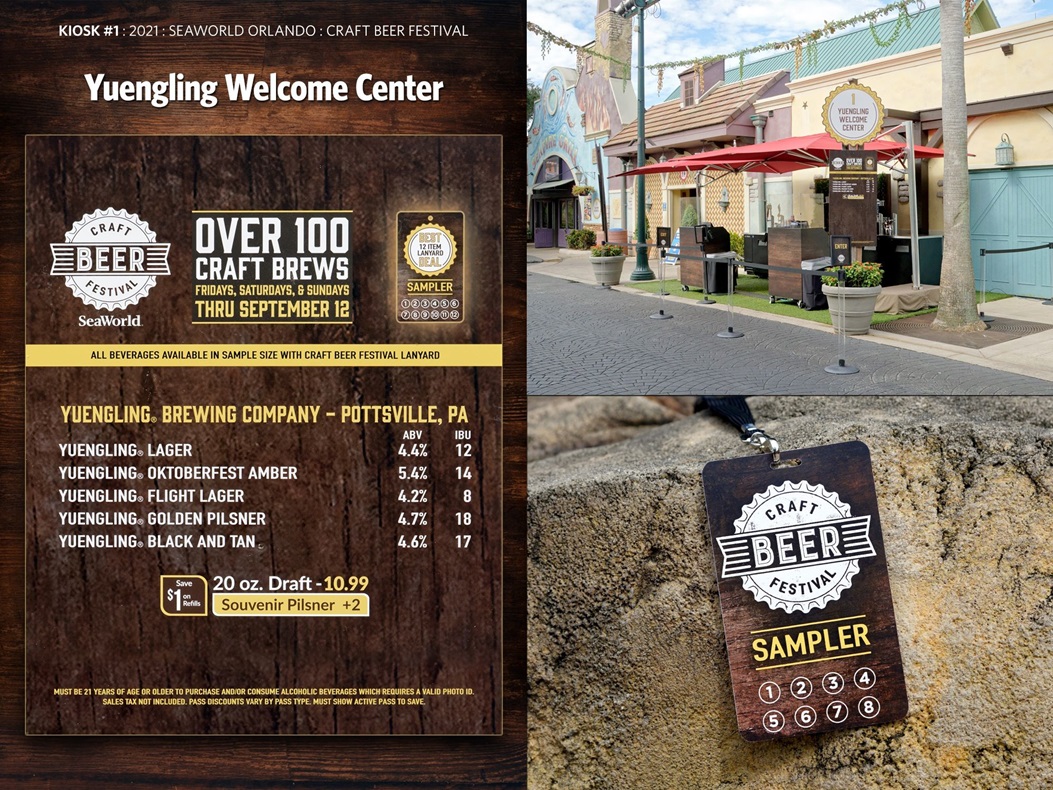 Large menu signs are placed somewhere near each of the festival's dedicated kiosk locations. Here's a look at the Festival Welcome Center, which also happens to be the Yuengling kiosk.
There were fewer dedicated festival signs this year than in the past (unless they were hiding them from me), mostly because a couple more "beverage only" locations have moved into SeaWorld restaurants. I'll talk a bit more about that in my first walkabout article — but as it relates to "pricing signs" — I popped into a couple of these locations and couldn't really identify any uniform "festival signs" to take photos of.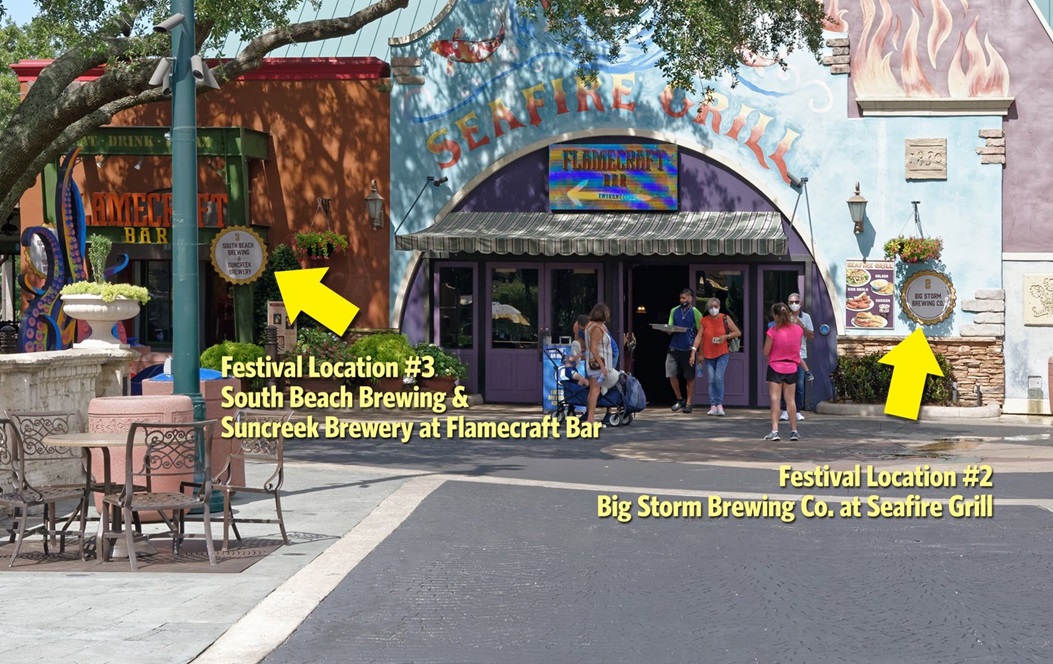 These festival number placards are located near the main entrance of each SeaWorld restaurant or dining location that has special Craft Beer Festival offerings for 2021. They correspond to the numbers on the festival brochure, which can be found at the Yuengling Welcome Center.
You'll find "festival location number placards" attached near the main entrance door of each restaurant that has special festival offerings.
Most of the festival locations offer craft beer and one or more cocktails. The locations that have names beside them on the map below, also offer special festival food items.
The locations with names on this map, have special festival food offerings. The number only locations have special beverage offerings only.
So… without further ado, here are the
SeaWorld, Orlando Craft Beer Festival
Menu Boards with prices for 2021!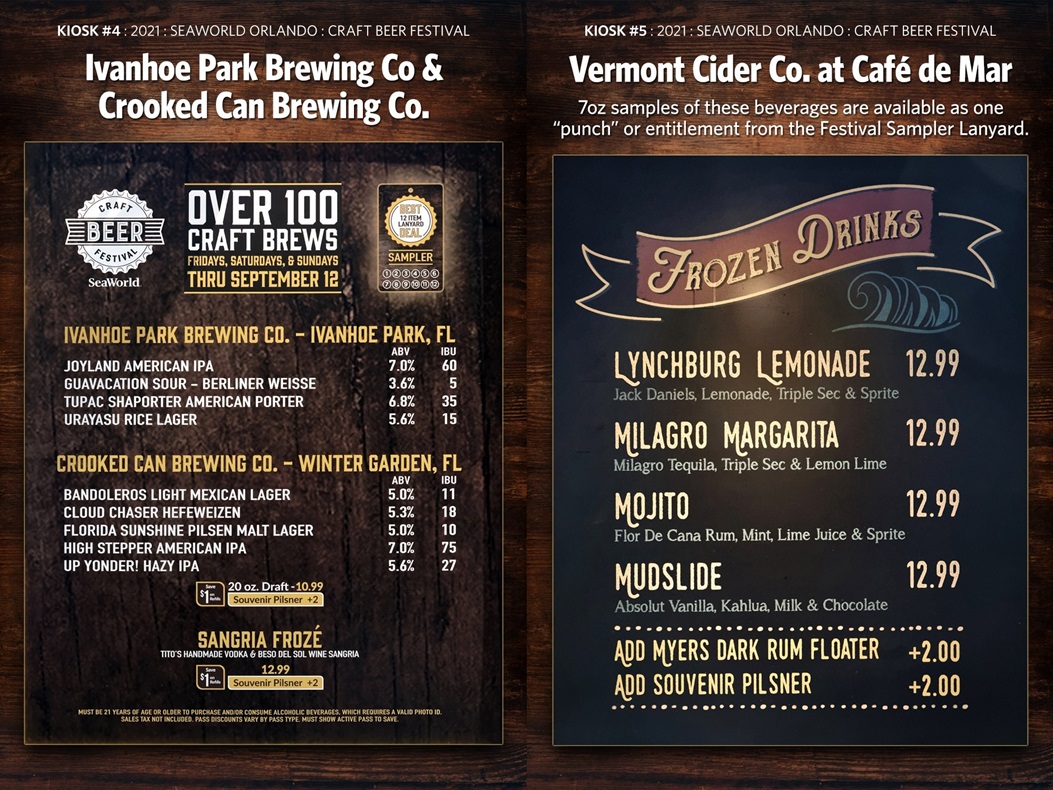 Here's the menu boards for kiosk Number 4 and 5. The "Number 5" location is actually the permanent "Café de Mar" booth.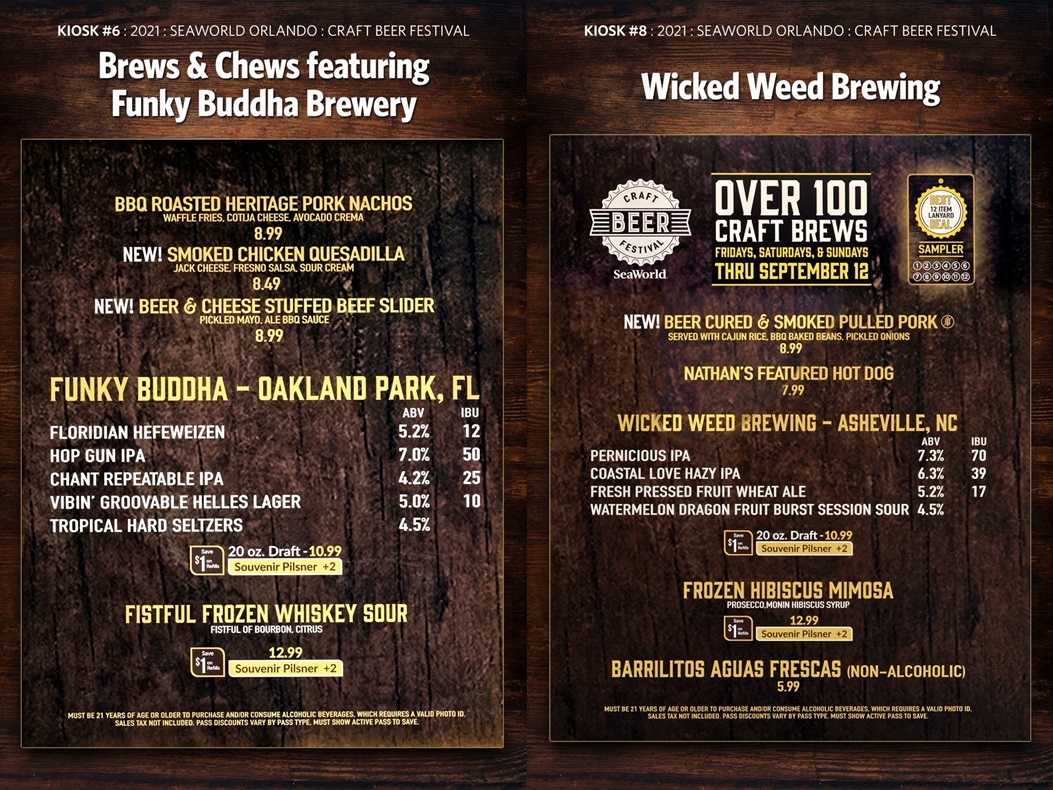 Kiosk Number 6 and Number 8 are both dedicated festival booths.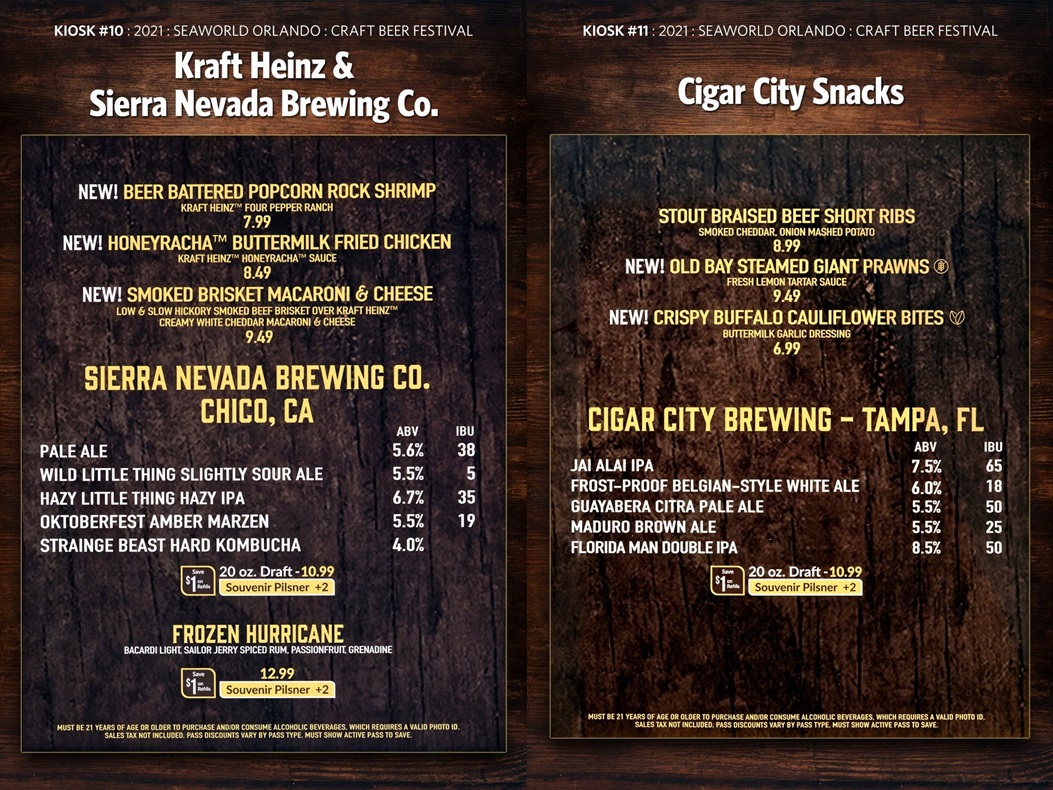 Kiosk Number 10 and Number 11 are also dedicated festival booths.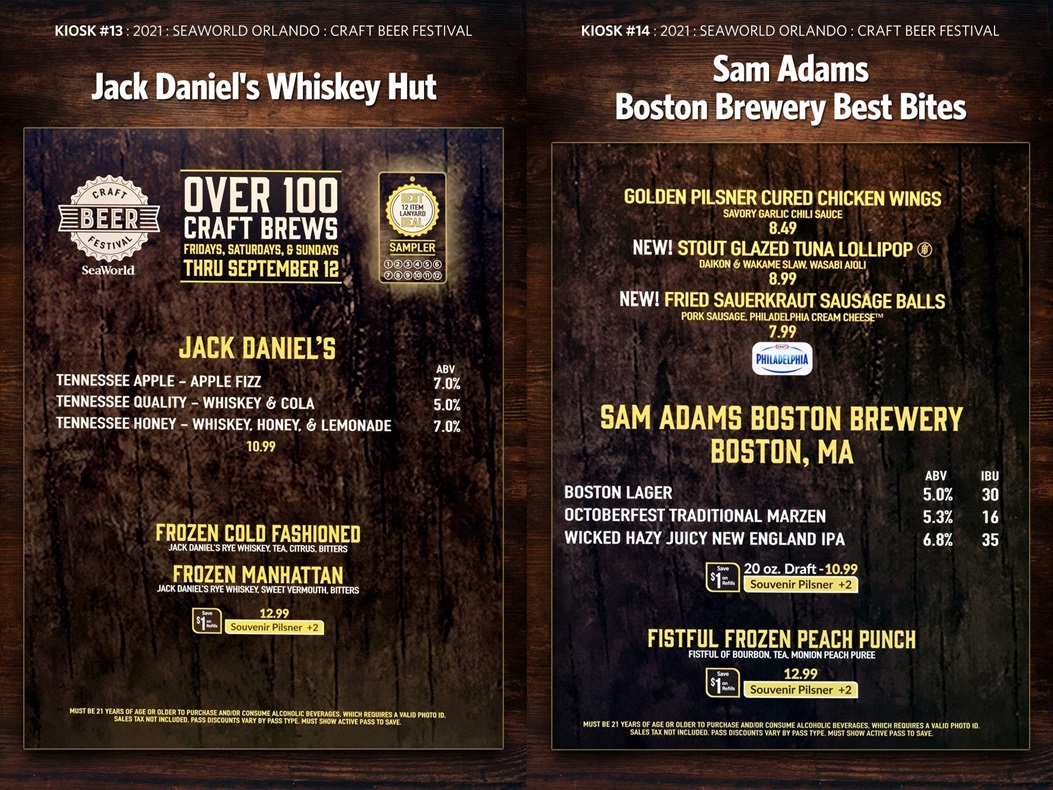 Kiosk Number 13 is one of the smaller "beverage only" booths, while booth Number 14 is one of the larger food booth locations.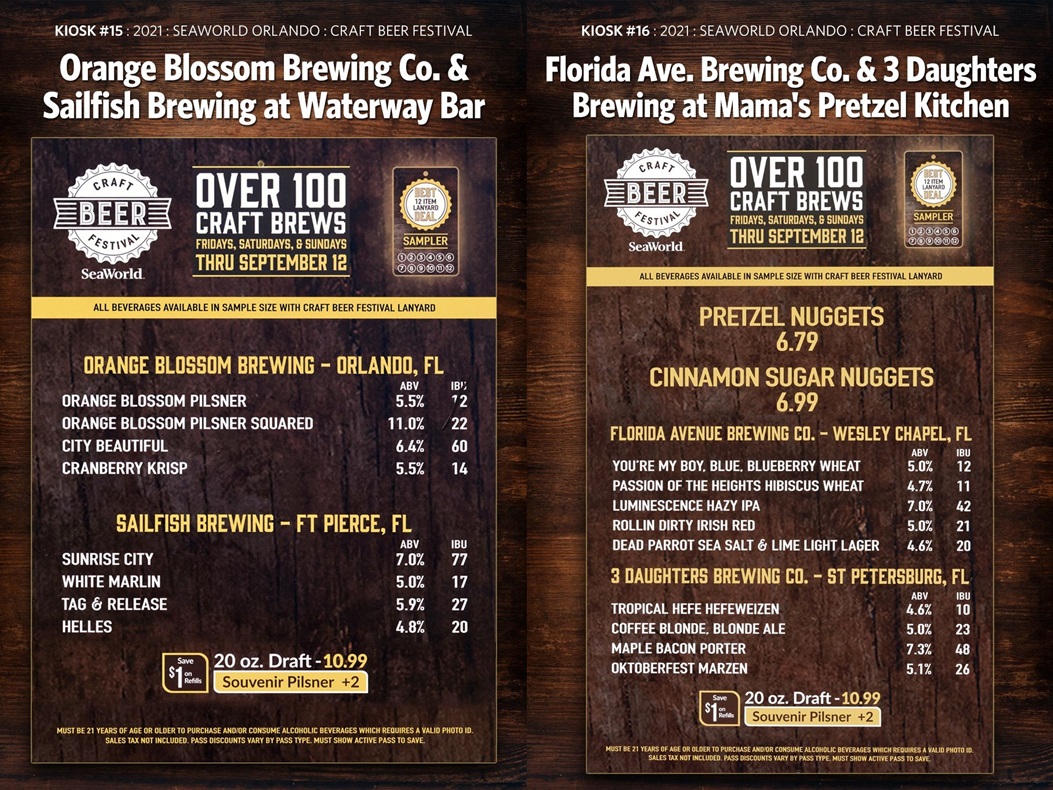 Kiosk Number 15 does have it's own sign, but it's located inside the Waterway Grill restaurant. The "Waterway Bar" is a walk-up counter area in the center of the dining location. Kiosk Number 16 is located inside Mama's Pretzel Kitchen. There's also a festival kiosk just outside Mama's Pretzel Kitchen (that would be kiosk Number 17), which doesn't have it's own stand up sign, but is offering craft beers from New Holland Brewing Company and a Pretzel Wrapped Bratwurst.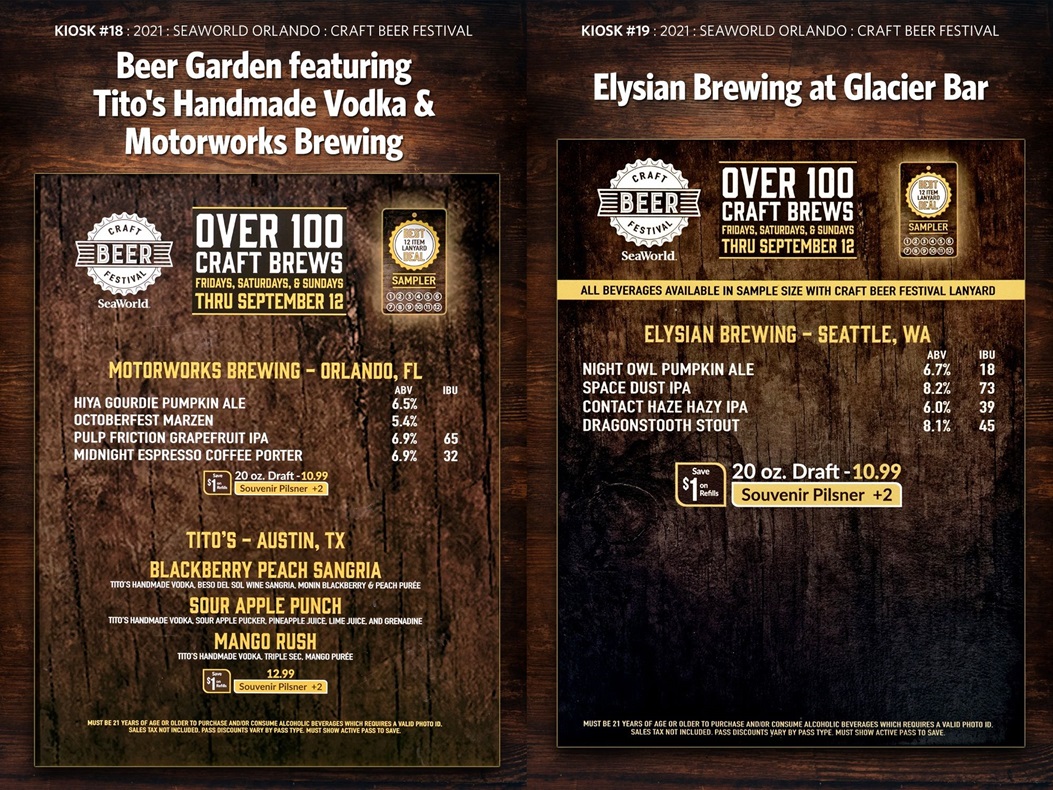 Kiosk Number 18 is just outside the Sesame Street area, and is actually kind of a whole "location". It has some additional seating in a large grassy field. Kiosk Number 19 is, more or less, the Glacier Bar.
If you want to see some photos and read more about the
SeaWorld, Orlando Craft Beer Festival
— check out our
Craft Beer Festival event page
! I have also posted a
text list that contains all the location names along with the food and beverages that they are offering this year
.