Spring Breakers Get to Check Out Select Food & Beverage Kiosks Everyday
March 15th, 2017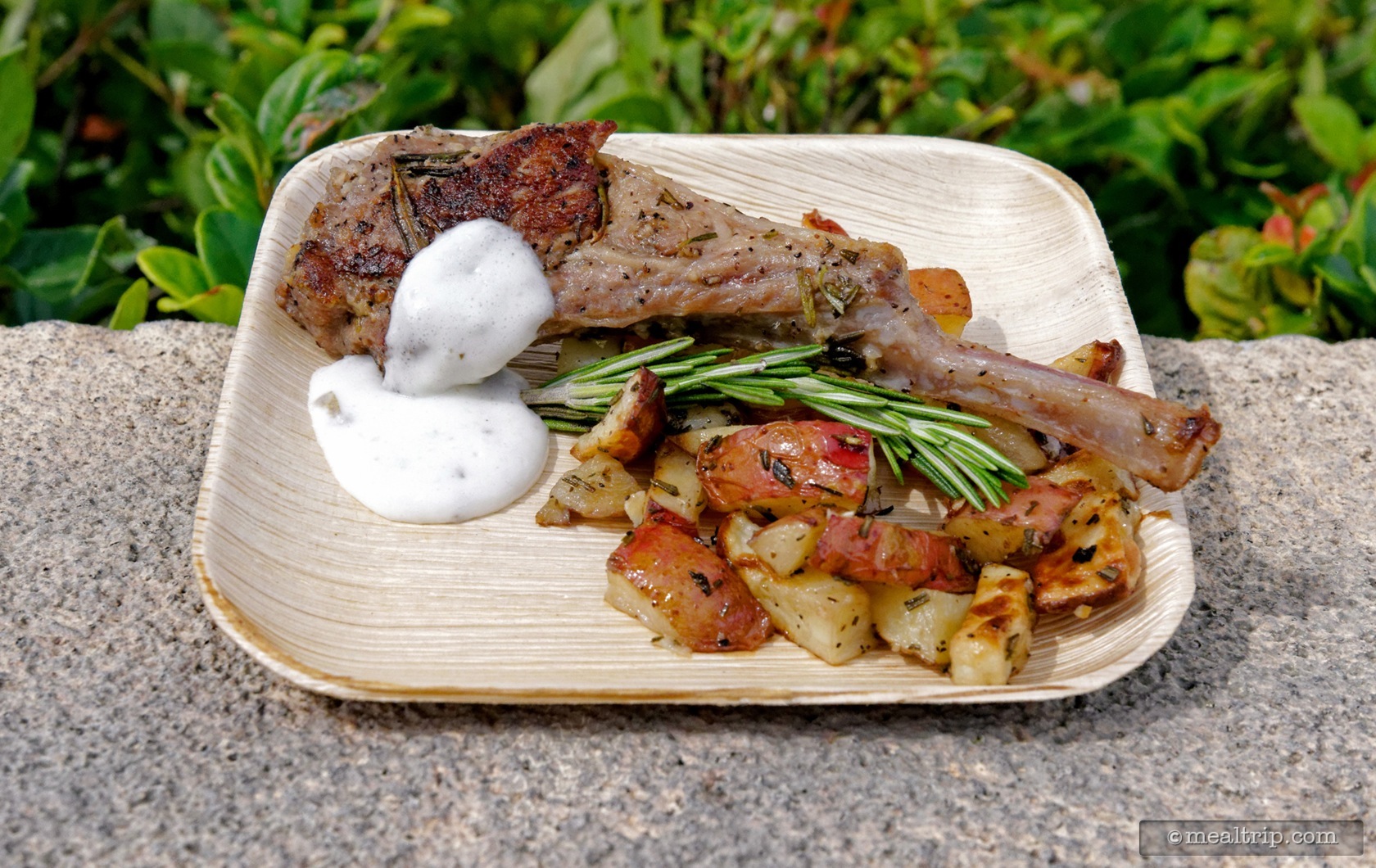 We heard about this "everyday" Seven Seas Food Festival news in a SeaWorld Passholder email about a week ago, but specific information was a little sparse at that time. We now have a bit more clarification from SeaWorld on just what part of the popular food event will be going on "everyday".
The
SeaWorld Orlando Seven Seas Food Festival
has been running on Saturdays only (and it still is), but from March 17th until April 16th, 2017 (i.e. the peak "Spring Break" period) four of the Food Booths from the festival will be open every day. This is a great idea actually, even for non-spring breakers that happen to be visiting the park on a week day. It gives everyone a chance to taste what a Saturday in the park is like while the festival is going on.
Fortunately, the four booths that will be open offer a really good cross section of food and (adult) beverages to sample… enough so that we still think the 10 sample lanyard ($40) or the 15 sample lanyard ($55) are the way to go here. The "sampling lanyards" can bring the cost of each food or beverage item down to a "really good deal" level that any Spring Breaker will appreciate.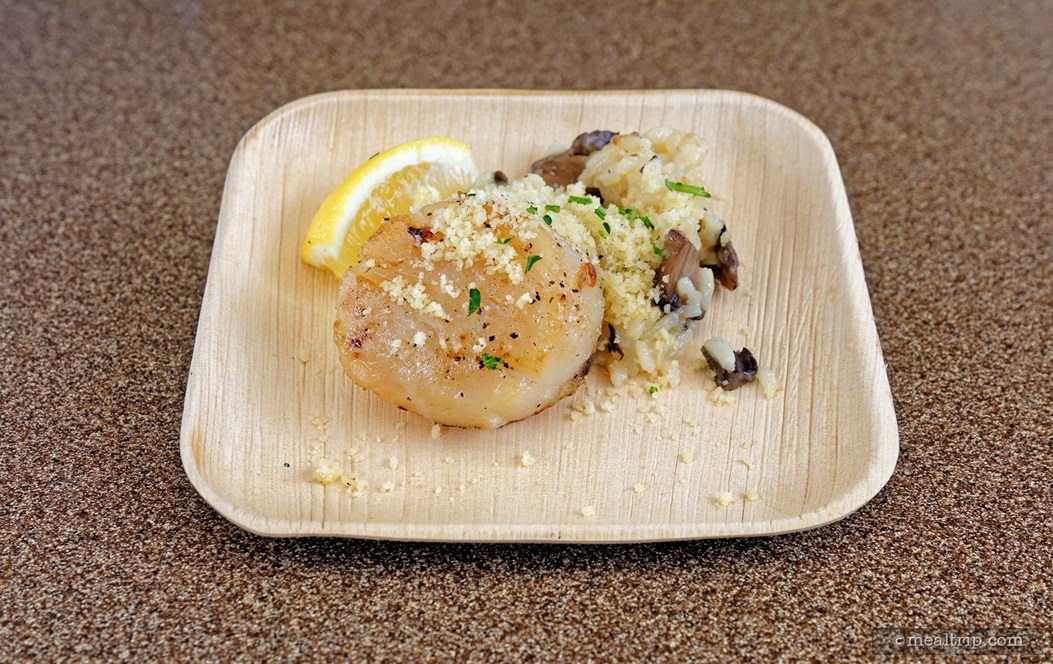 The Sea Scallops Provençal Served with Wild Mushroom Risotto is one of the items from the Mediterranean Market kiosk that will be available everyday from March 17th until April 16th at the Seven Seas Food and Wine Festival.
SeaWorld has stated that the everyday booths will include the Caribbean, Mediterranean, Brazilian and Polynesian booths. If that is the case, below are a list of the food and beverage items that will be available.
Concerts and any other festival activities are still Saturday only, and there are a couple of big names performing over the next few weeks including ZZ Top on March 18th and American Idol winner Phillip Phillips on the 25th.
Caribbean Market
FOOD
• $5.75 : Shrimp Cake with Jicama Slaw & Key Lime Mustard
• $5.00 : Seafood Ceviche with Roasted Sweet Potato
• $5.50 : Cinnamon Slow Roasted Pork Belly with Sweet Plantain Mash & a Red Wine Reduction
• $4.75 : Chocolate Tres Leche Traditional Latin Dessert with Chocolate Cake Soaked in Condensed Milk, Evaporated Milk and Milk Chocolate
BEVERAGE
• $3.75 : Carib Lager - Trinidad & Tobago Lager ABV 5.2%
• $4.75 : Lapostolle Chardonnay Grande Selection (Chile)
• $4.50 : Graffi gna Centenario Malbec (Argentina)
• $4.00 : Caribbean Sunset (Non-Alcoholic) - House Made with Lemonade, Orange Juice, Grenadine and Sprite
Mediterranean Market
FOOD
• $6.50 : Sea Scallops Provençal Served with Wild Mushroom Risotto
• $6.00 : Smoked Cured Salmon with Potato Cake & Topped with Sweet Dill Mustard
• $6.25 : Grilled Lamb Chop Marinated with Rosemary Mint and Served with Roasted Potatoes and Greek Tzatziki Sauce
• $4.50 : Dark Chocolate Guinness Mousse Parfait Topped with Baileys Infused Whipped Cream
BEVERAGE
• $3.75 : Mahou Cinco Estrellas - Spain Lager ABV 5.5%
• $4.75 : Boutari Moschofi lero - (Aromatic, Spice-Dominant White)
• $4.75 : Pertinace Barbera D'alba (Italy)
• $4.00 : Blue Lemonade (Non-Alcoholic) - House Made with Lemonade & Blue Raspberry
Brazilian Market
FOOD
• $6.00 : Brazilian Churrasco Grilled Skirt Steak with Chimichurri & Garbanzo Frito
• $4.75 : Feijoada Black Bean Chili with Beef & Sausage
• $5.00 : Salpicao Brazilian Chicken Salad Chicken, Ham, Raisins, Carrots, Apples and Olives Topped with Shoestring Potatoes
• $3.75 : Pão de Queijo Brazilian Cheese Bread
BEVERAGE
• $3.75 : Imperial - Costa Rica Lager ABV 4.6%
• $4.50 : Don Guerino Chardonnay Reserve
• $4.00 : Brazilian Frozen Lemonade (Non-Alcoholic)
Polynesian Island Market
FOOD
• $7.25 : Ahi Tuna Tartar with Sesame Lavosh, Wakame Salad and Sweet Chili Sauce
• $5.25 : Hawaiian Pulled Pork Slider with Caramelized Onions & Pepper Jam on a Sweet Bread Bun
• $6.00 : Loco Moco Grilled Spam, White Rice, Scrambled Egg and Brown Gravy
• $4.25 : Hawaiian Pineapple Dream Cake Pineapple Cake Topped with Cream Cheese, Whipped Cream and Pineapple
BEVERAGE
• $4.00 : Kona Big Wave - Golden Ale ABV 4.4%
• $4.00 : Kona Fire Rock - Pale Ale ABV 5.8% IBU 35