Loews Resorts at Universal Orlando
Jake's Beer Dinner featuring Kona Brewing Company
March 28th, 2017
I went to a great little food and beer pairing event last year at the Loews Royal Pacific Resort called
Jake's Beer Dinner
. Having the opportunity to go to quite a few of the "theme park resort" special events over the course of a year, I found Jake's Beer Dinner to be not only a lot of fun, but a really great value when compared to Disney Resort-based special events.
Check out my
full review of Jake's Beer Dinner
or peruse the
photo gallery
for the event.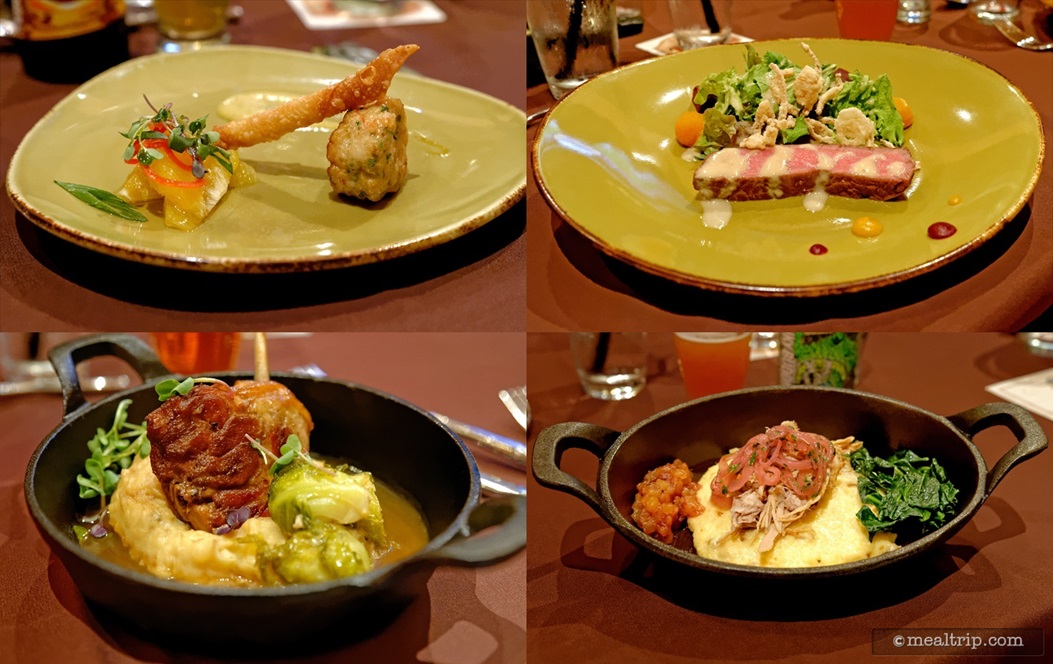 Four of the five courses at a 2016 Jake's Beer Dinner featuring Funky Buddha Brewery. (Pictured here are the Amuse, First, Second, and Third courses. Each course was paired with a different beer.)
They (whomever) have not always done a great job of getting the word out on when the next Jake's Beer Dinner will be taking place. The five-course dinner happens... maybe four times a year, or possibly more. It seems like you'll never find out about it, unless you're looking for it though. I found out about the last event three days before it happened and had already made plans elsewhere. So sad.
I'm happy to report that we actually know about the next event a full month in advance! It sounds like it's going to be another great beer and food pairing dinner, and so I just wanted to let everyone know about it… as soon as I knew about it. If you've recently been to a Disney Resort-based special event, (and if a beer pairing dinner sounds like fun), I'd encourage you to check this one out. If you like it… please, tell them you heard about it on
Mealtrip.com
!
I'll be attending this one as well because I'm intrigued by a couple of things on the menu. Yes... I pay to go to these, just like everyone else, so no… this isn't a paid promo. I really do enjoy the Jake's Beer Dinner event.
Jake's Beer Dinner featuring Kona Brewing Company
Friday, April 28th 2017 at 6:30pm
Tickets are $55 (plus $7.86 fee & sales tax)

Click Here to visit Eventbrite for more ticket information.

Hint… there are usually unadvertised, waiting-area, passed appetizers before the event begins. "Dinner" actually starts at 7:00pm... but the passed appetizers and pre-start beer samples are just so good… you'll want to get there at 6:30pm for sure. This is an event where you drink beer, so there are no lower cost "children tickets" available.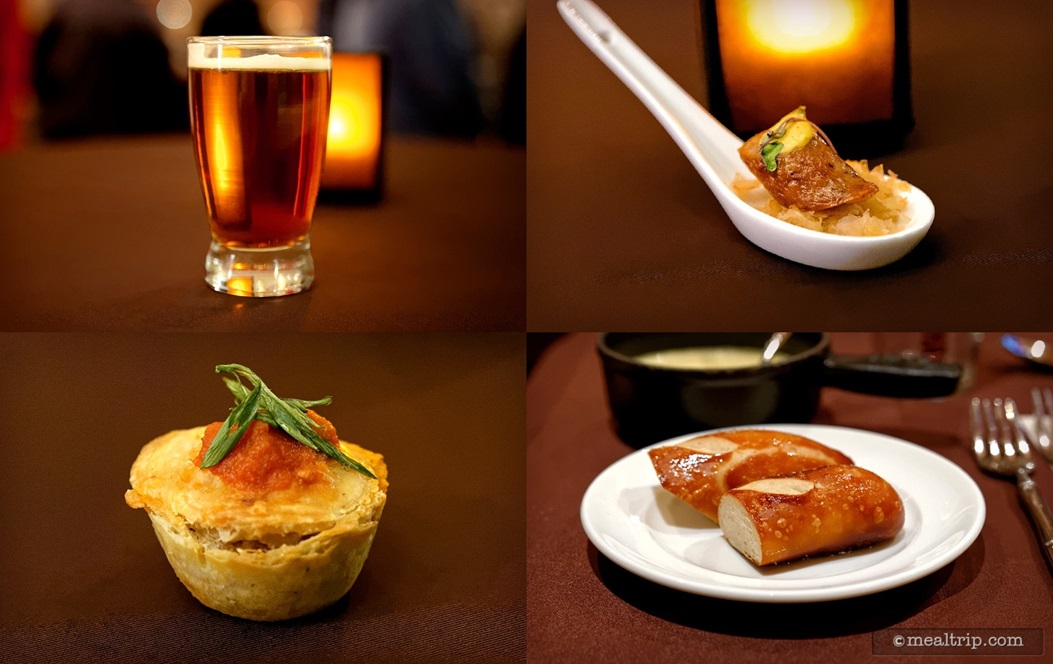 Some of the passed appetizers and beer sample before the event begins.
Each of Jake's Beer Dinners features a different brewery and therefore a different menu at each event. No two are the same. The five course meal (Amuse, First, Second and Third course, plus a Dessert course), pair five different beers from the same brewery with each course.
The featured brewery for the April 28th, 2017 event is the
Kona Brewing Company
and there's at least two beers on the list that are a little difficult to find around here at the moment. Here's a rundown of the menu and beer pairings planned for the night.
Amuse Course

Tuna Poke with Kataifi Crostini, Japanese Cucumber Salad, and Micro Cilantro
Beer : Kona Big Wave Golden Ale
First Course
Duck Prosciutto Salad with Frisee, Endive, Fig Marmalade and Black Vinaigrette Foam
Beer : Kona Wailua Wheat (This one is not easy to find off-island, it's brewed with passion fruit.)
Second Course
Char Siu Pork Belly with Sweet Bamboo Rice, Pickled Daikon and Grilled Bok Choy
Beer : Kona Hanalei IPA (This one is trying to get rolled out en-mass but might be hard to find at the moment. It's a POG blend beer infused with passionfruit, orange and guava juices.)
Third Course
Bulgogi Bone-In Beef Prime Rib with Five Spice Roasted Fingerling Potatoes, Apple Kimchee and Scallion
Beer : Kona Fire Rock Pale Ale
Dessert Course
Dark Chocolate Coconut Haupia Pie with Koko Brown Sorbet
Beer : Kona Koko Brown Nut Brown Ale
Here's a direct link to the ticket and information page if you are interested in attending. Happy Mealtrip!!!