Vegetarians Look Away, Giant Three Meat Burger Debuts at The Plaza Restaurant
June 11th, 2014
The Plaza Restaurant on the end of Main Street at the Magic Kingdom, has long had one of my favorite vegetarian sandwiches, aptly named the "Vegetarian Sandwich". It's unique in the world of vegetarian sandwiches because there's not an eggplant to be found anywhere. It's a delicious mix of cucumber, basil pesto, roasted pepper, tomato, hummus, and mozzarella on a freshly baked focaccia bread.
No worries, it's still there... and as yummy as ever. As if to introduce a universal yang to the yin though, The Plaza now added a "Beef Brisket Burger" to the menu... one of the only hot pile-o-meat sandwiches that I know of in the parks.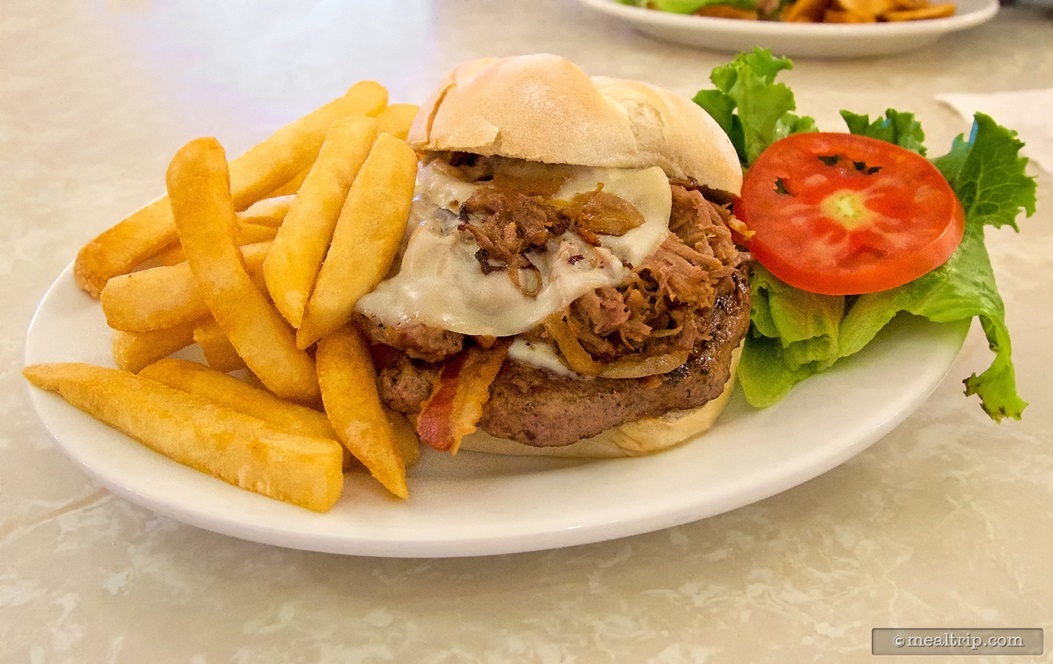 The new Beef Brisket Burger at The Plaza.
The burger itself is the standard medium-grade patty that you'll find at most of the table service locations in Disney, (which is not a bad thing, it's about what you would expect to find at a similarly priced chain outside of the gates). The real bonus here is, there's also a couple of strips of bacon, grilled onions, an ample pile of hot shaved beef, all topped off with a slice of melted provolone cheese. A Kaiser bun holds the mountain of meat together... and it is a mouthful.
The shaved beef (aka "beef brisket" in menu marketing speak), doesn't add so much in flavor by itself as it does in substance and mouthfeel. It acts as a "loose meat" sponge, locking in all the flavors of the grilled onions and bacon drippings and helps to keep the sandwich so juicy, you may not need any condiments at all.
I'm no stranger to going all in with the calorie count and pairing a burger like this with a cold vanilla milk shake, but this burger is just crying to be paired with a decent beer. Sadly, the Plaza is still a dry location. One can always hope, in a place where dreams come true, that I'll one day find a way to pair this delicious new addition to the Plaza menu, with a golden frothy brew.
Have you tried the new Beef Brisket Burger at the Plaza yet? Even if you haven't, we'd love to hear about your last meal at The Plaza.
Click here to go to our Plaza Restaurant review page
, and rate your experience based on food, environment, service, and value!